Here are the 400 most famous short quotes about living life to the fullest and having a happy life.
"Don't count the days, make the days count."
Muhammad Ali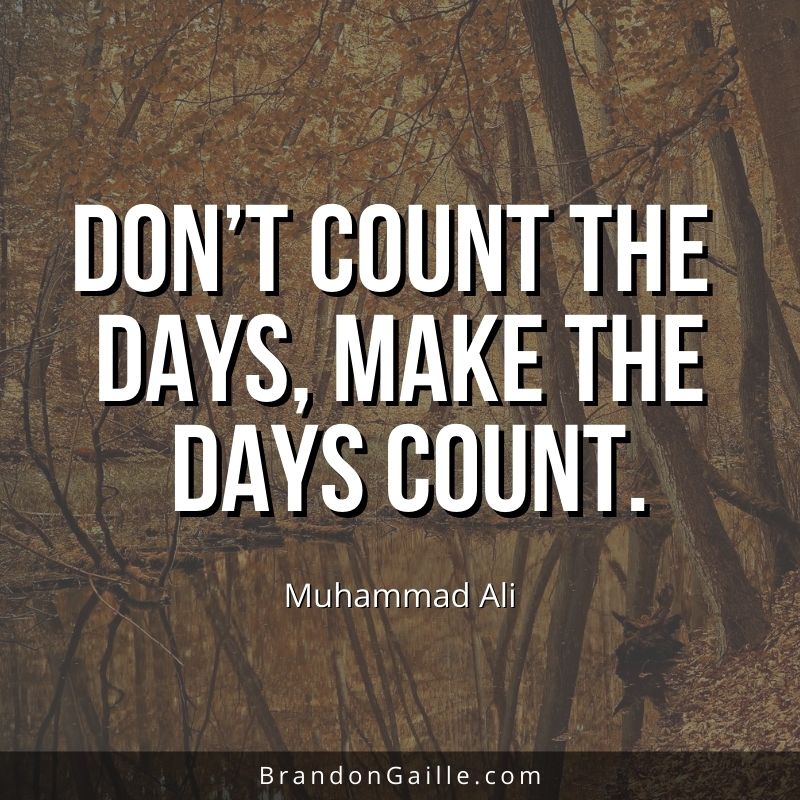 "And still, I rise."
Maya Angelou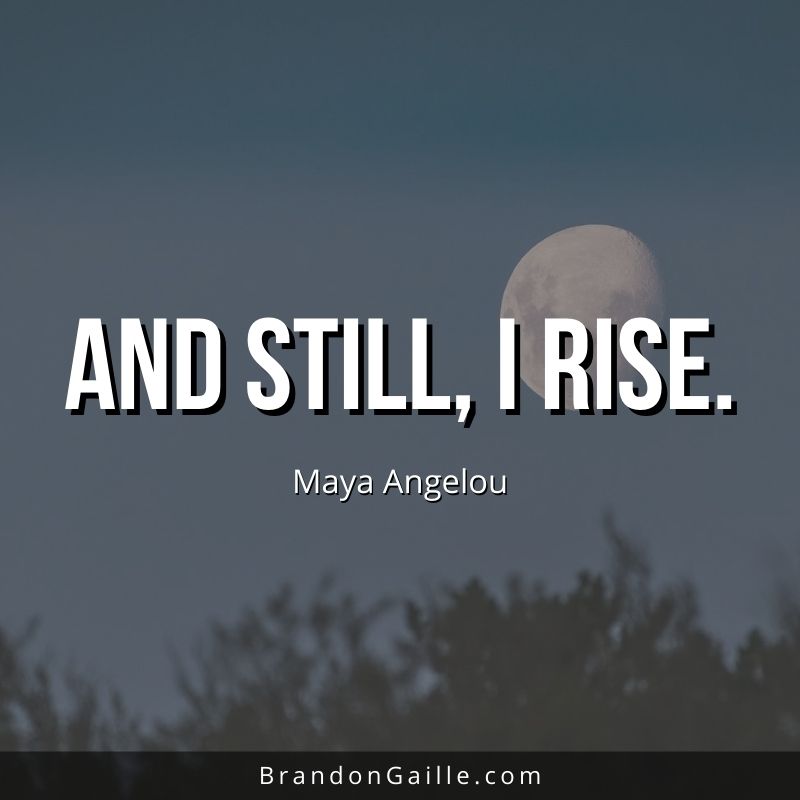 "Life is lived on the edge."
Will Smith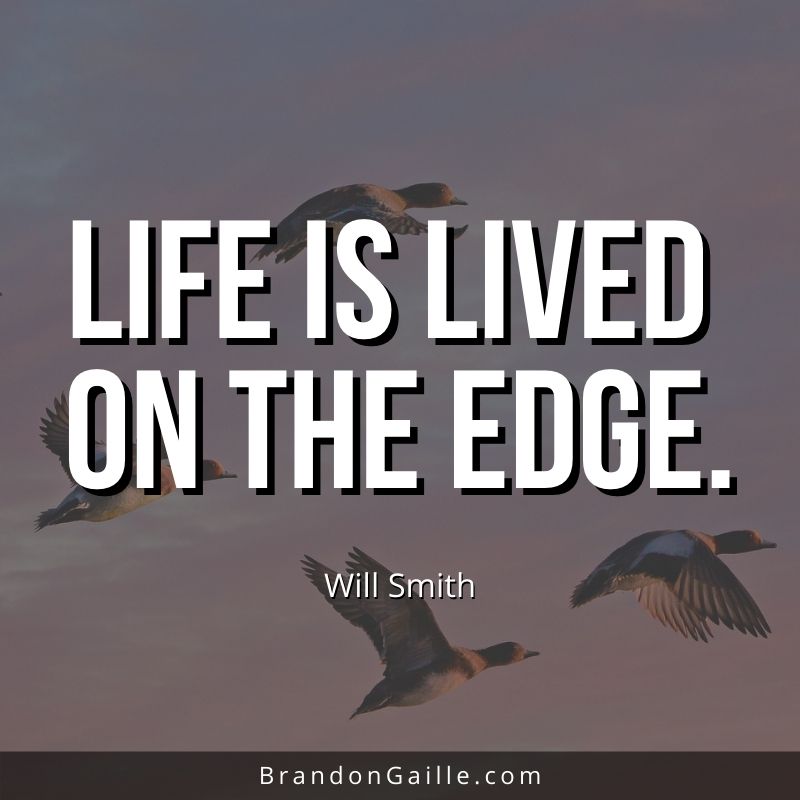 "Strive for greatness."
LeBron James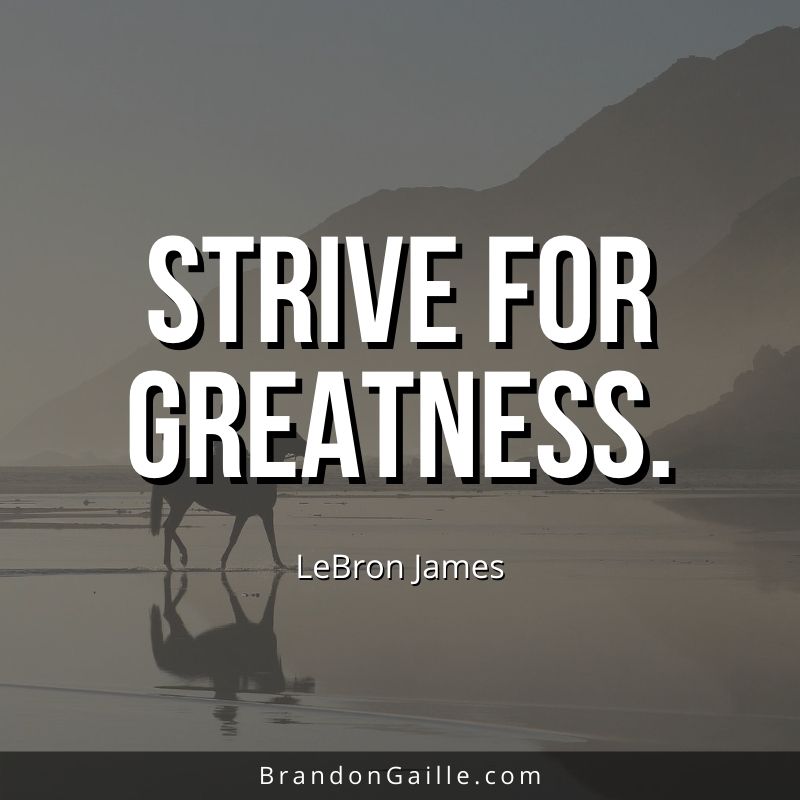 "Don't just survive. Shine."
Tom Fletcher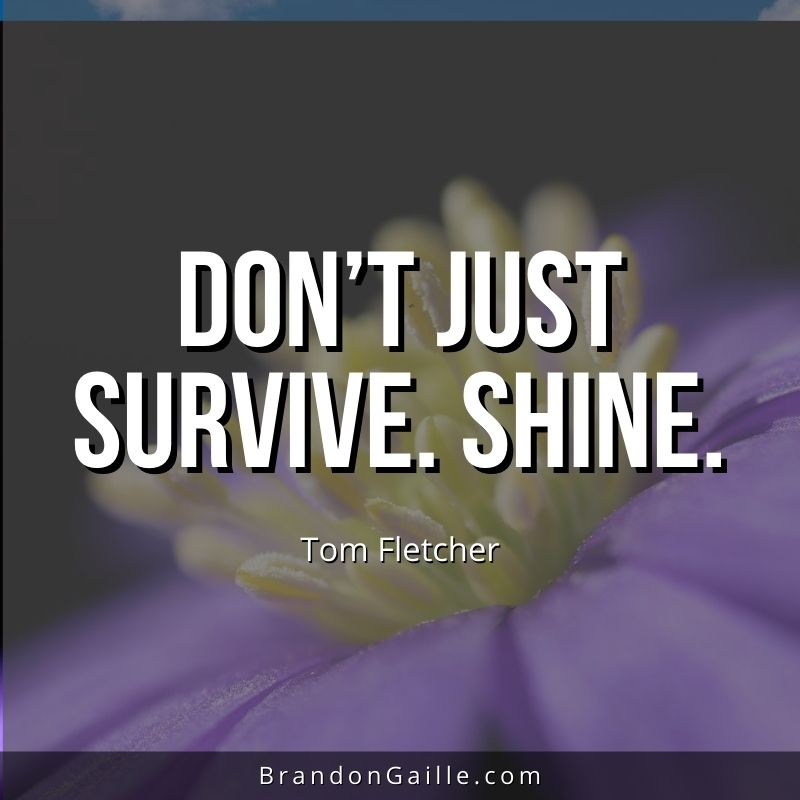 "My life is my message."
Mahatma Gandhi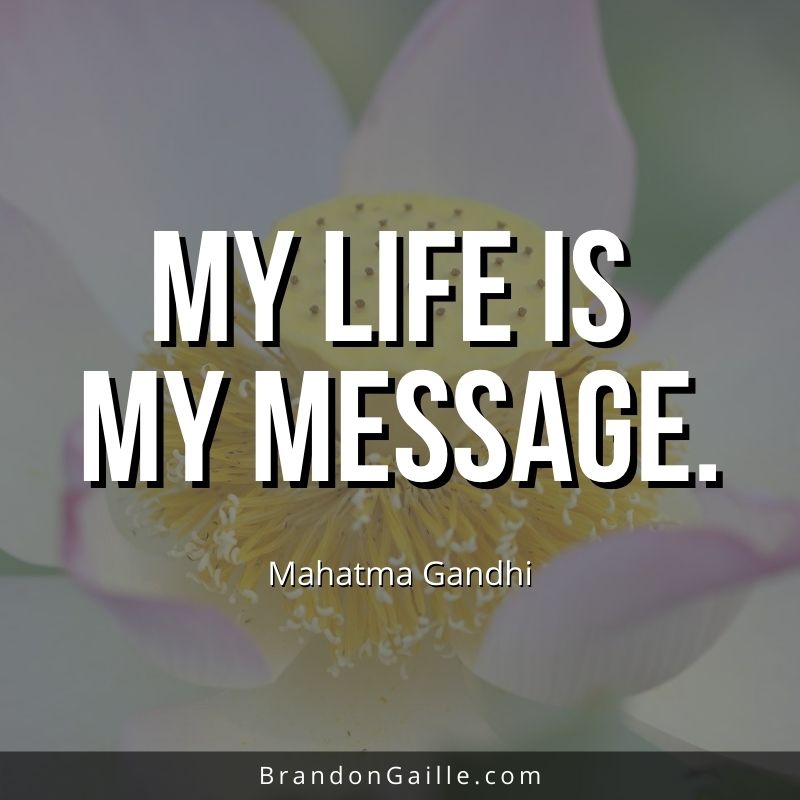 "Life is too important to be taken seriously."
Oscar Wilde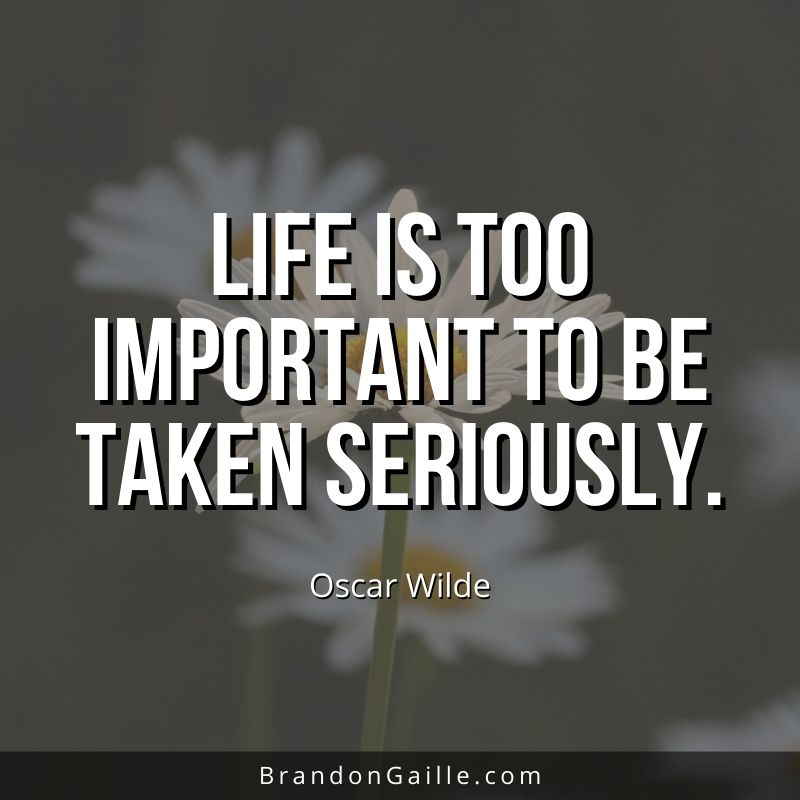 "Love the life you live. Live the life you love."
Bob Marley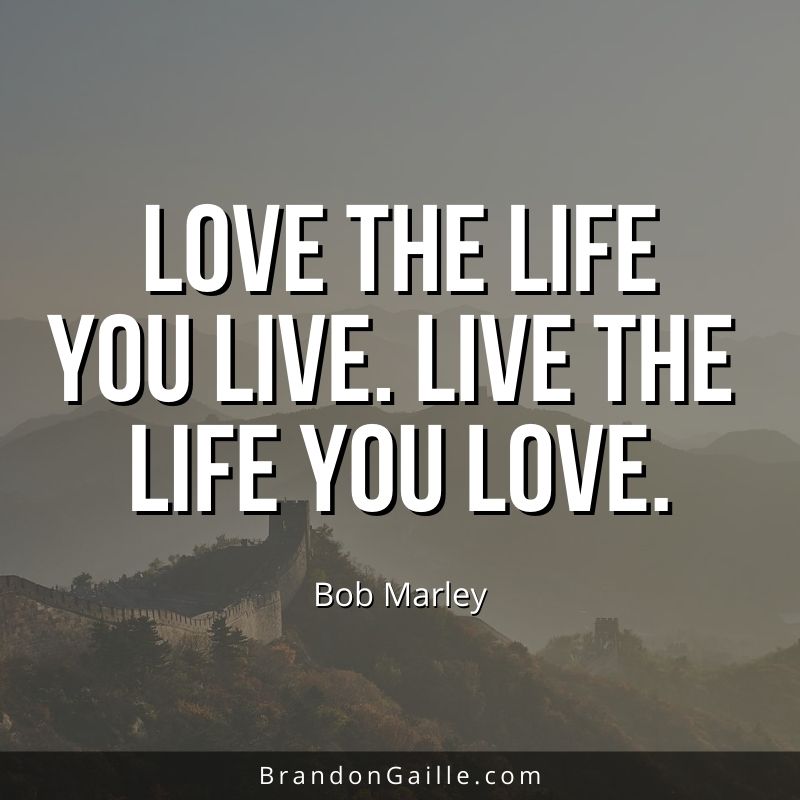 "Live all you can; it's a mistake not to."
Henry James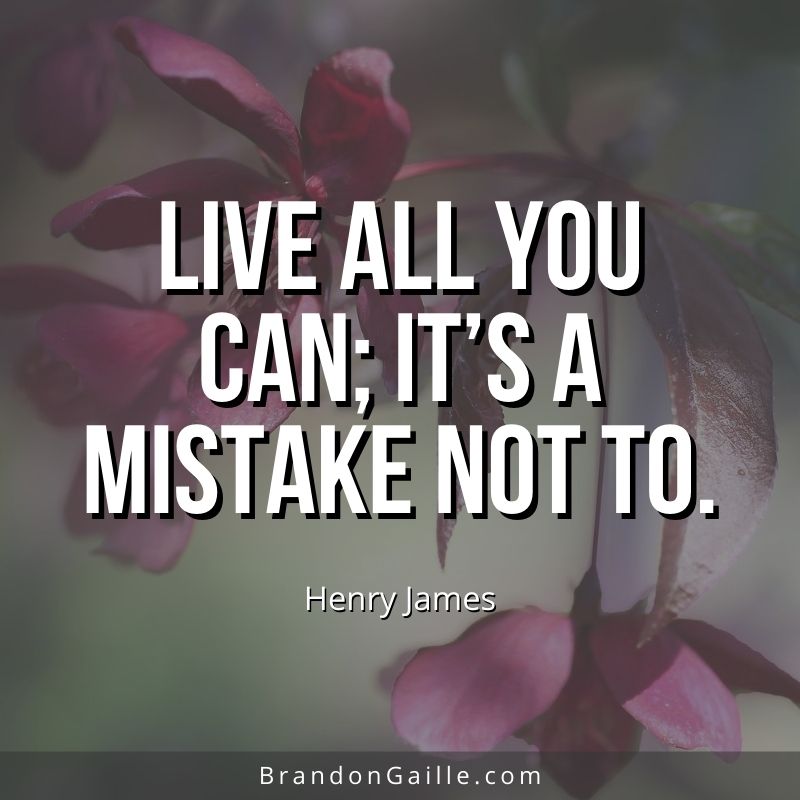 "It hurt because it mattered."
John Green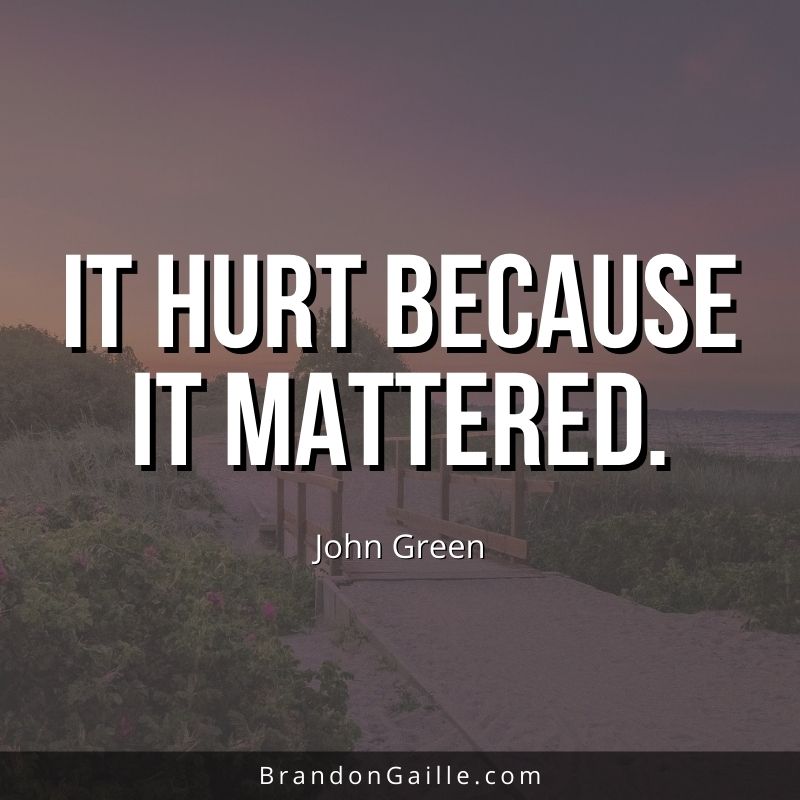 "We no longer live life. We consume it."
Vicki Robin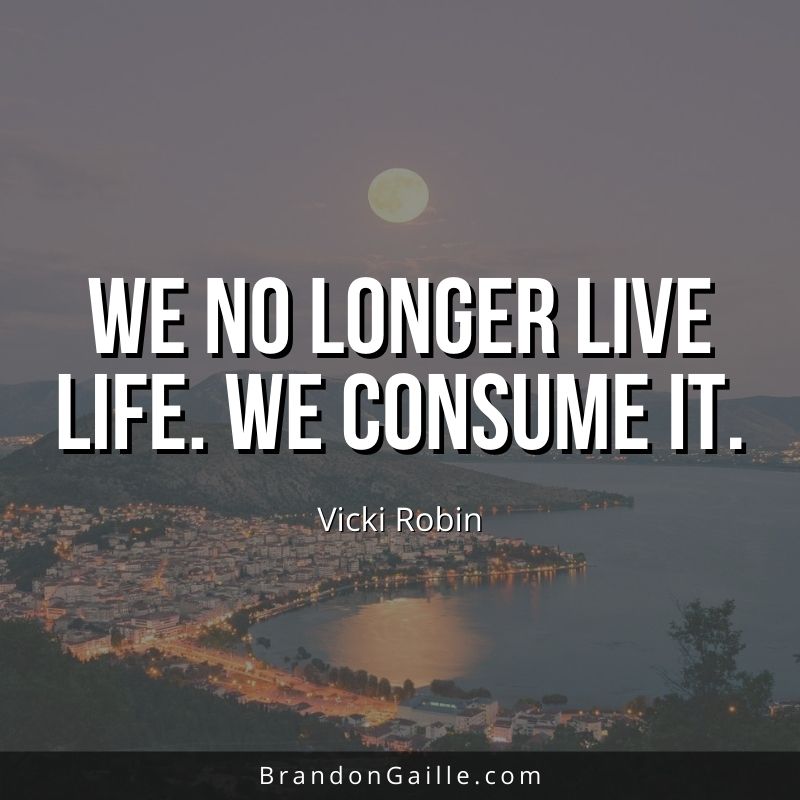 "Life is to enjoyed, not endured."
Gordon Hinckley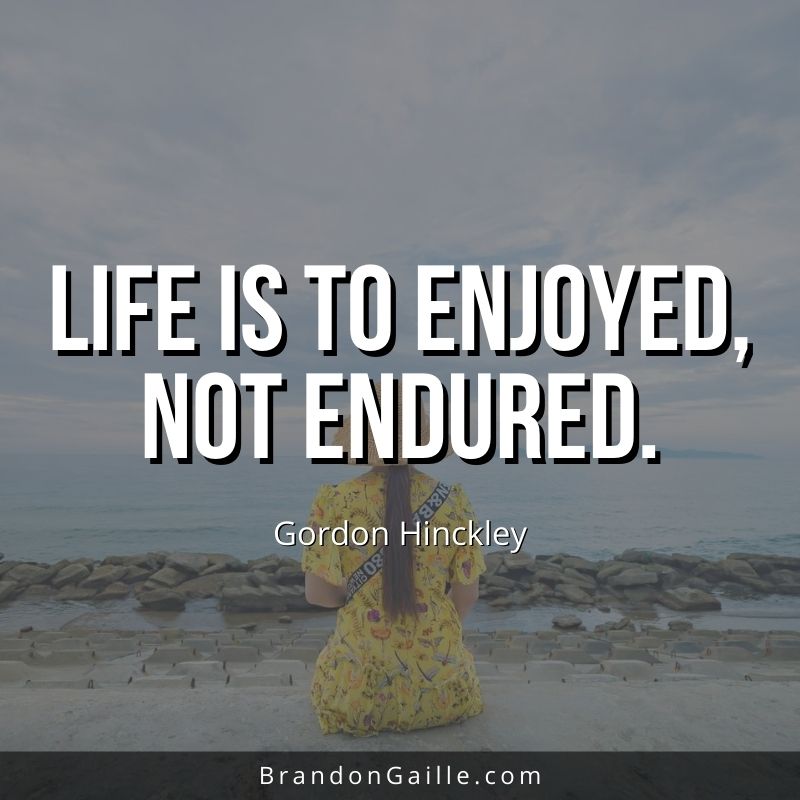 "Embrace the glorious mess that you are."
Elizabeth Gilbert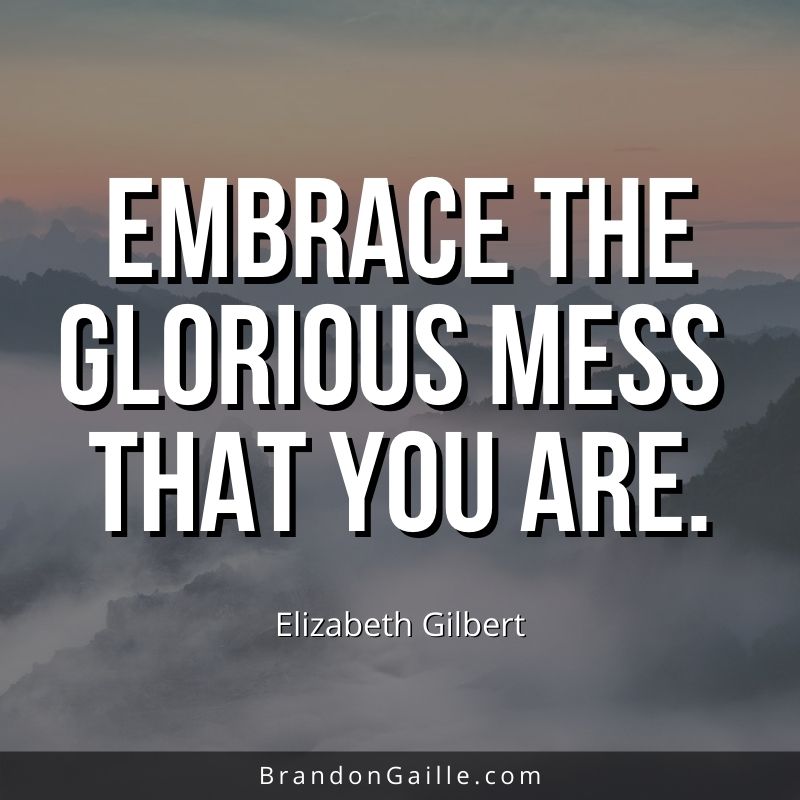 "Our whole life is solving puzzles."
Erno Rubik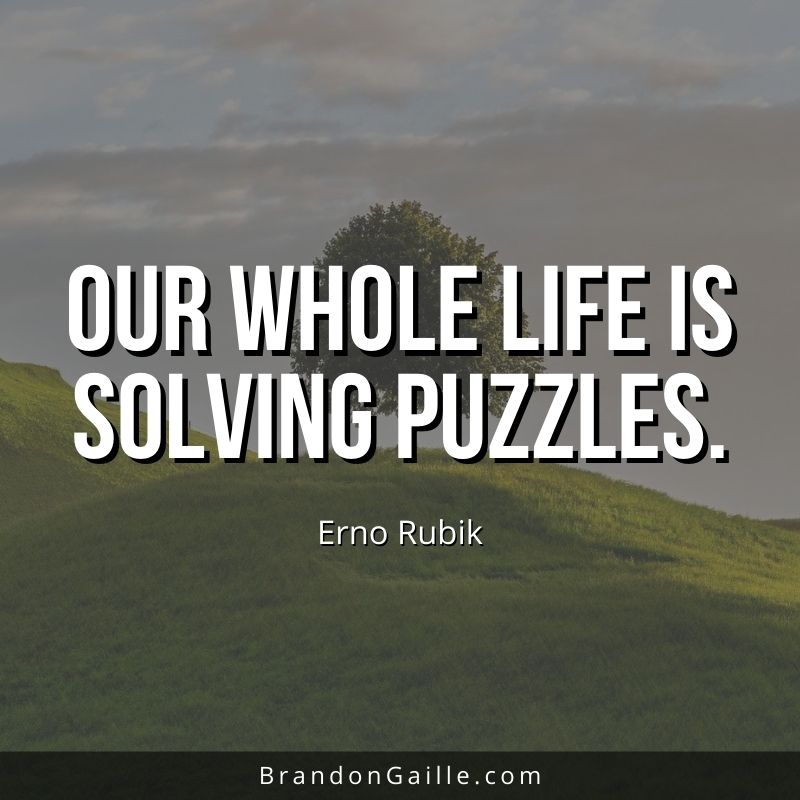 "Live each day as if your life had just begun."
Johann Wolfgang von Goethe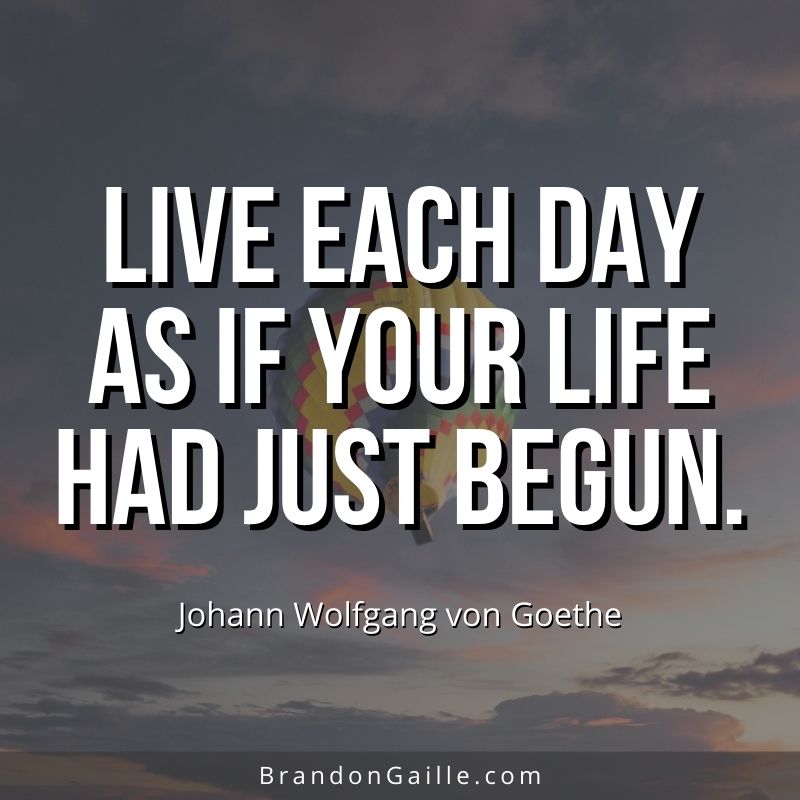 "You get in life what you have the courage to ask for."
Oprah Winfrey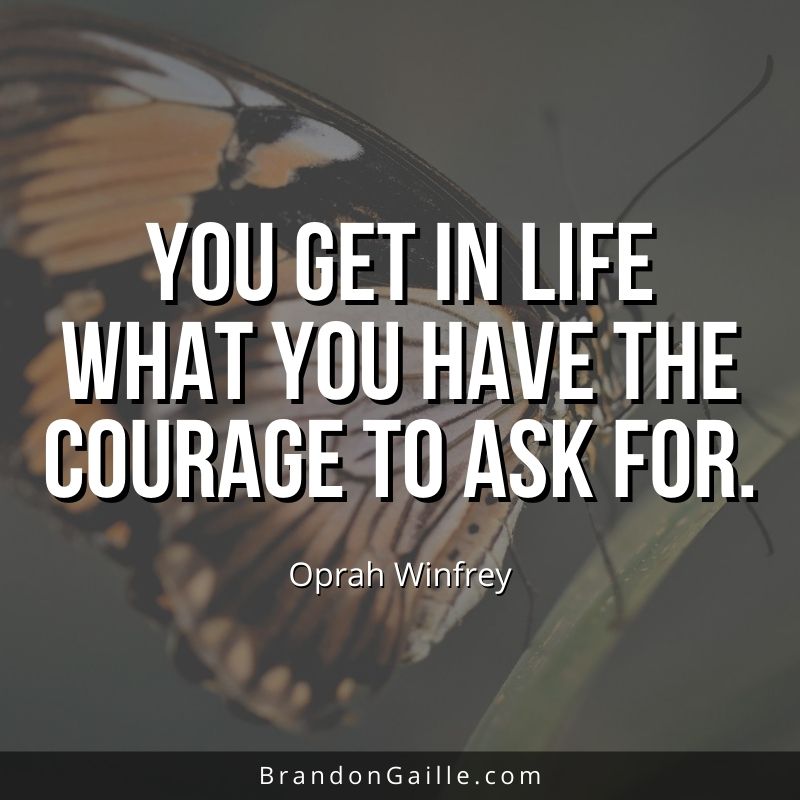 "Do anything, but let it produce joy."
Walt Whitman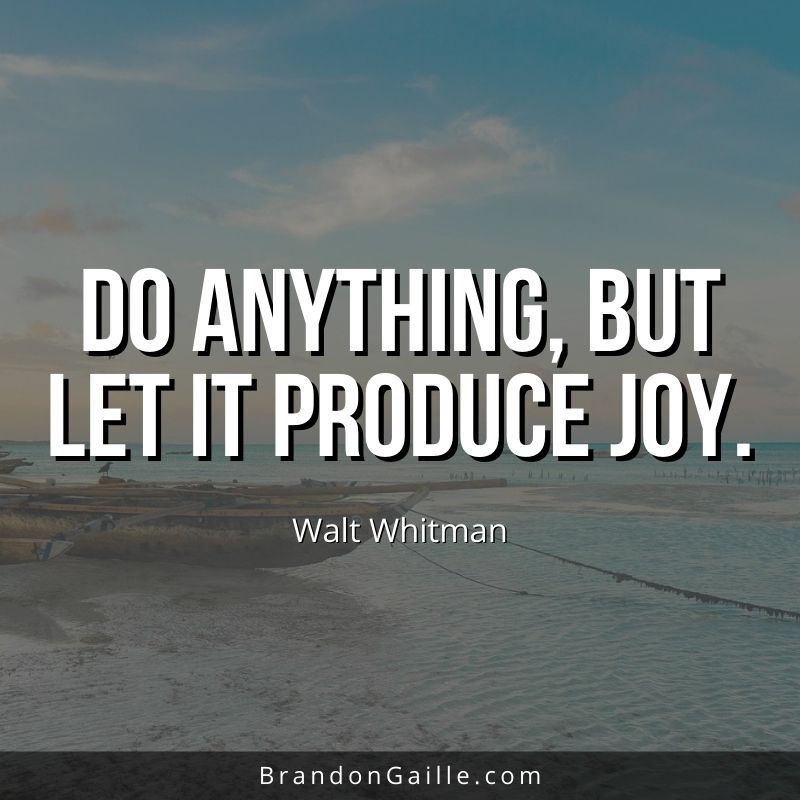 "Never regret anything that made you smile."
Mark Twain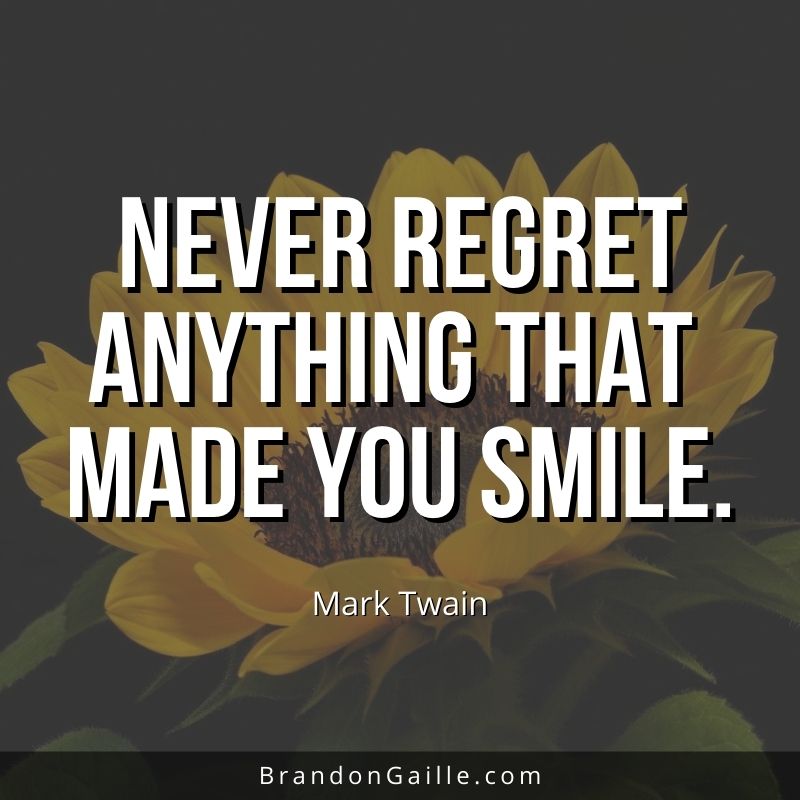 "Only a life lived for others is a life worthwhile."
Albert Einstein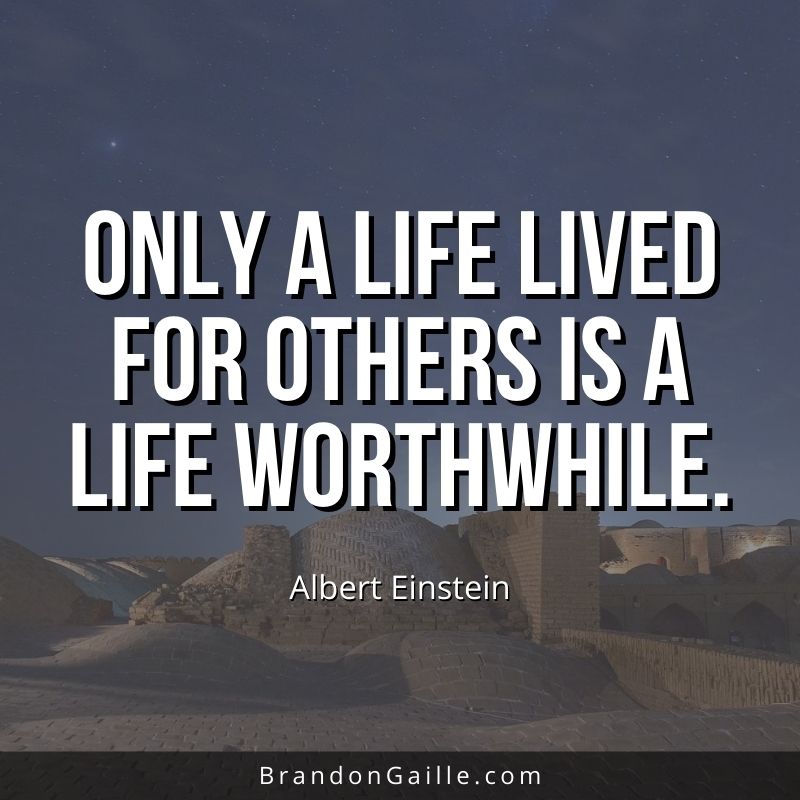 "Life is hard. After all, it kills you."
Katharine Hepburn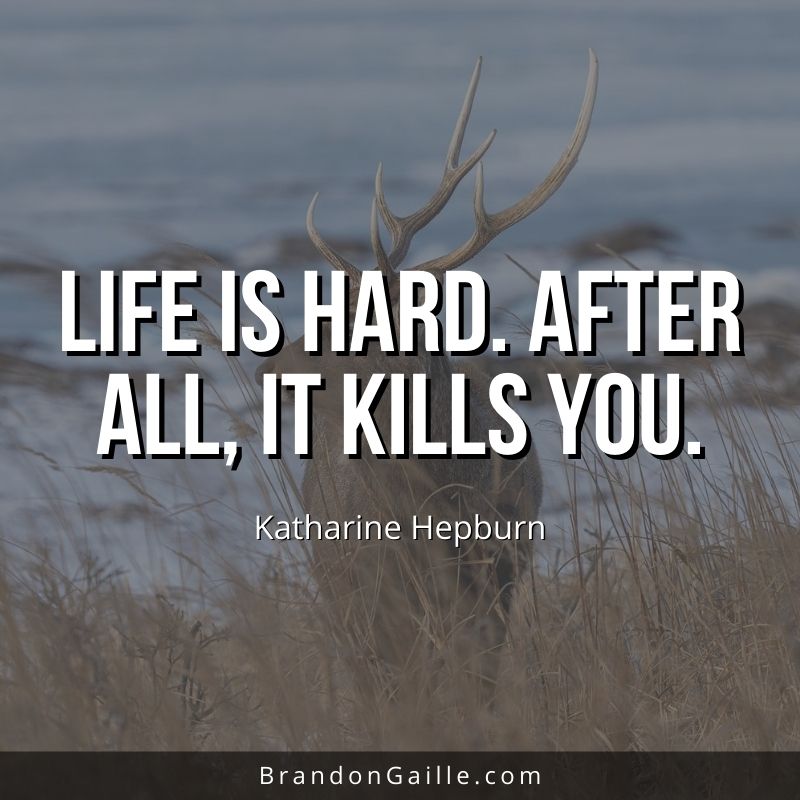 "Run if you can. Walk if you can't. Crawl if you have to."
Dean Karnazes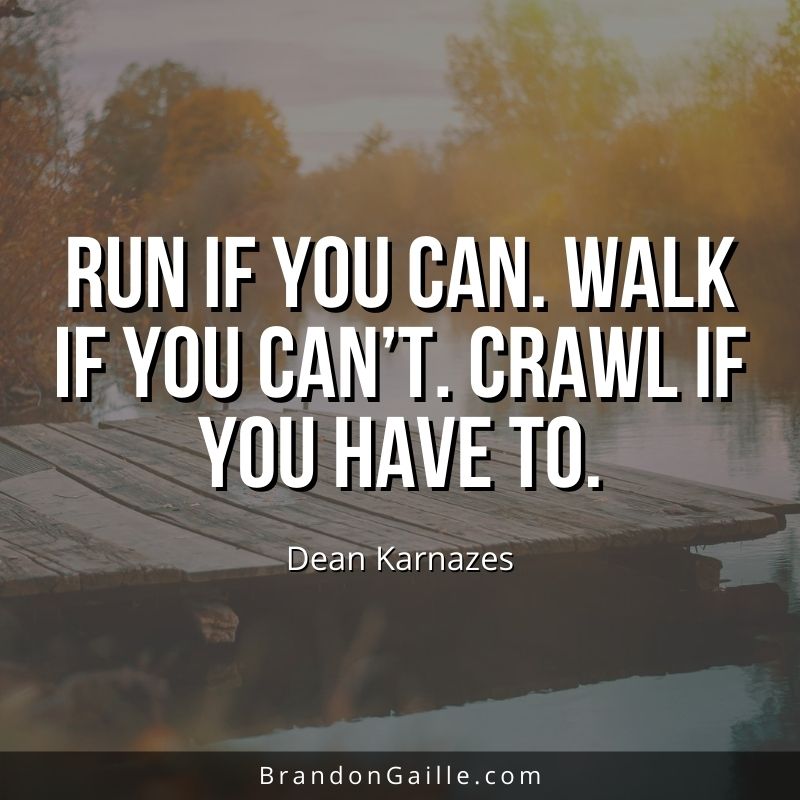 "Get busy living or get busy dying."
Stephen King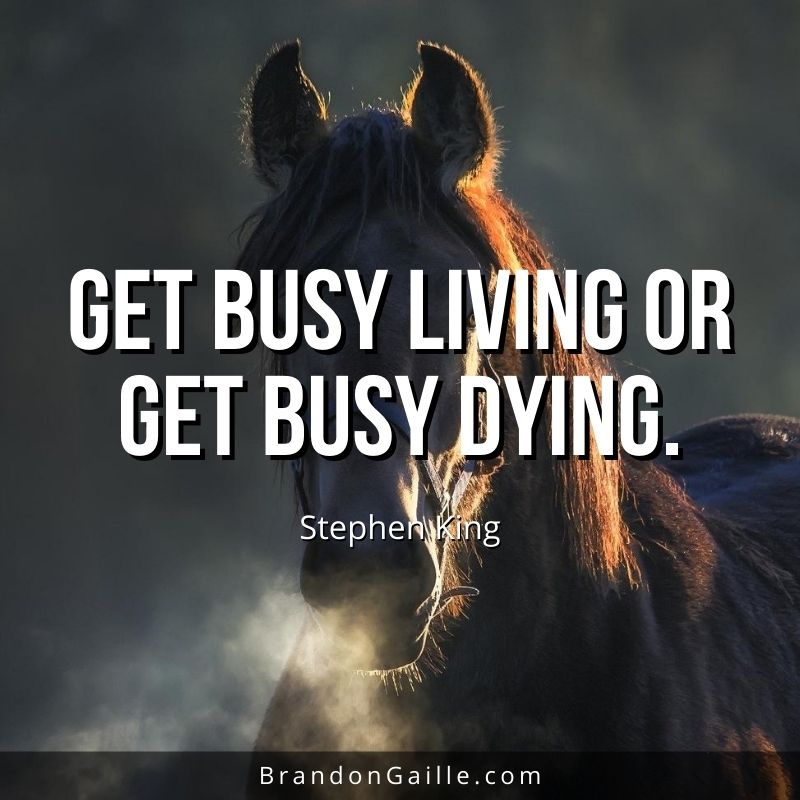 "Turn your wounds into wisdom."
Oprah Winfrey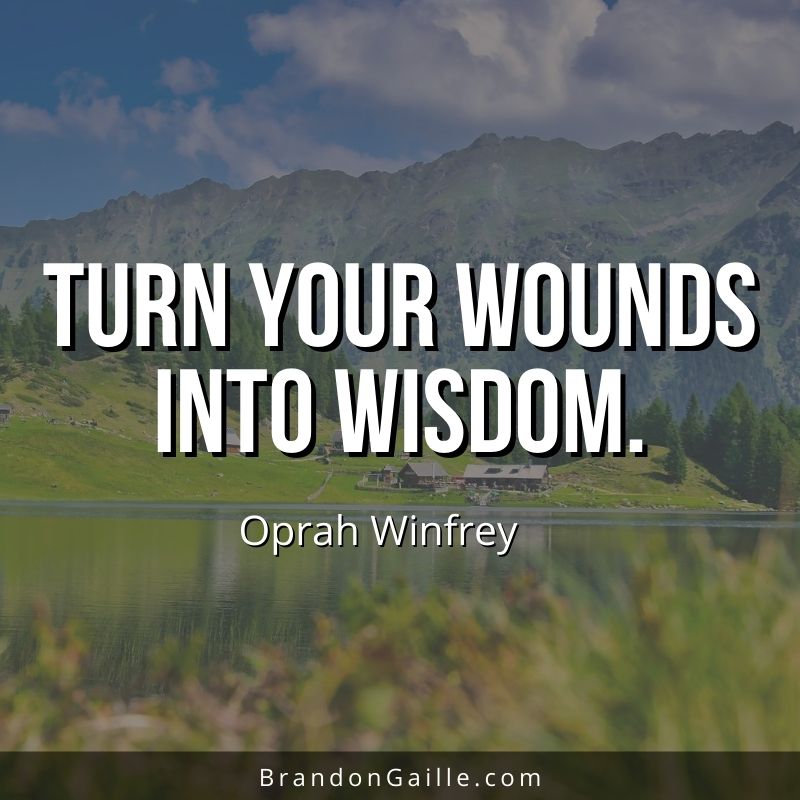 "May you live all the days of your life."
Jonathan Swift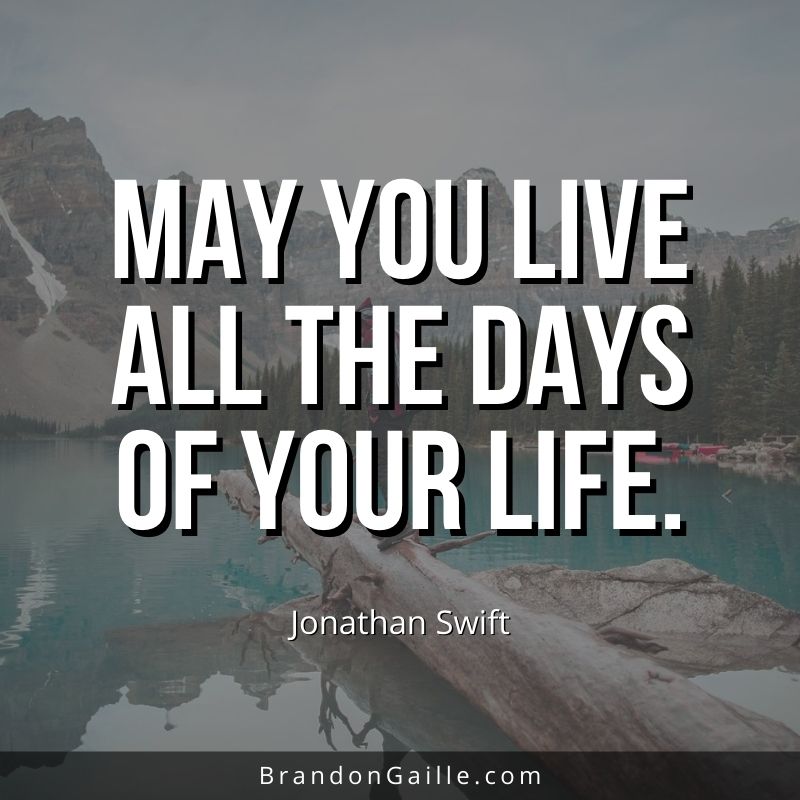 "Life is ours to be spent, not to be saved."
D.H. Lawrence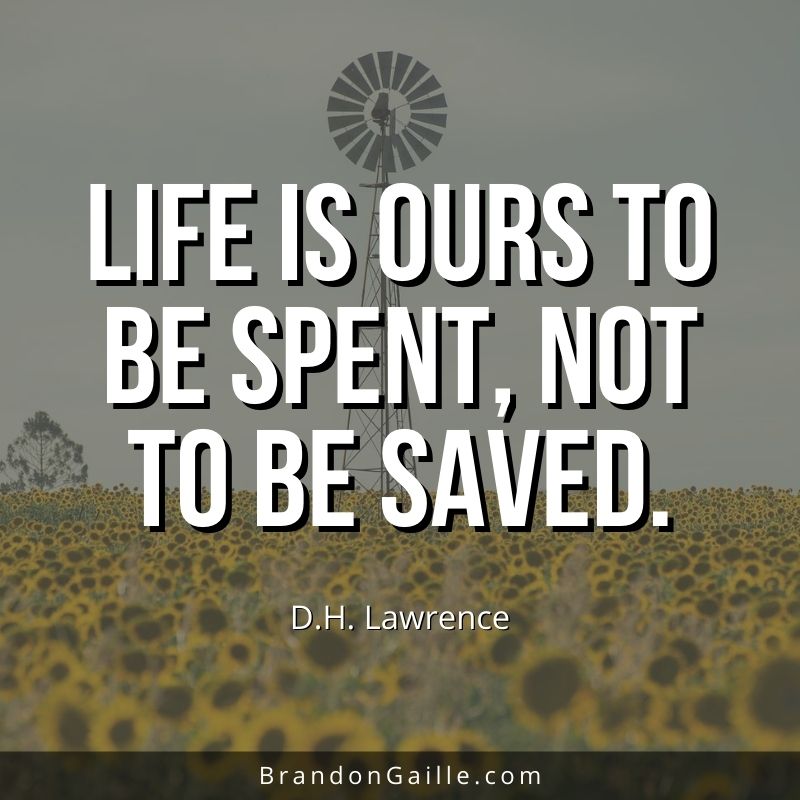 "Time is long but life is short."
Stevie Wonder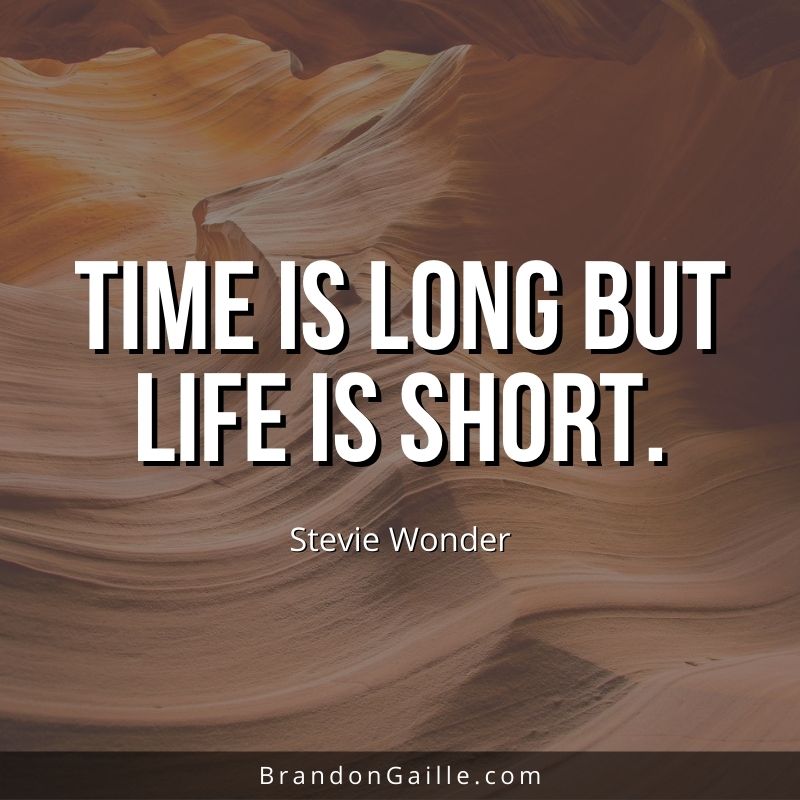 "Rise above the storm and you will find the sunshine."
Mario Fernandez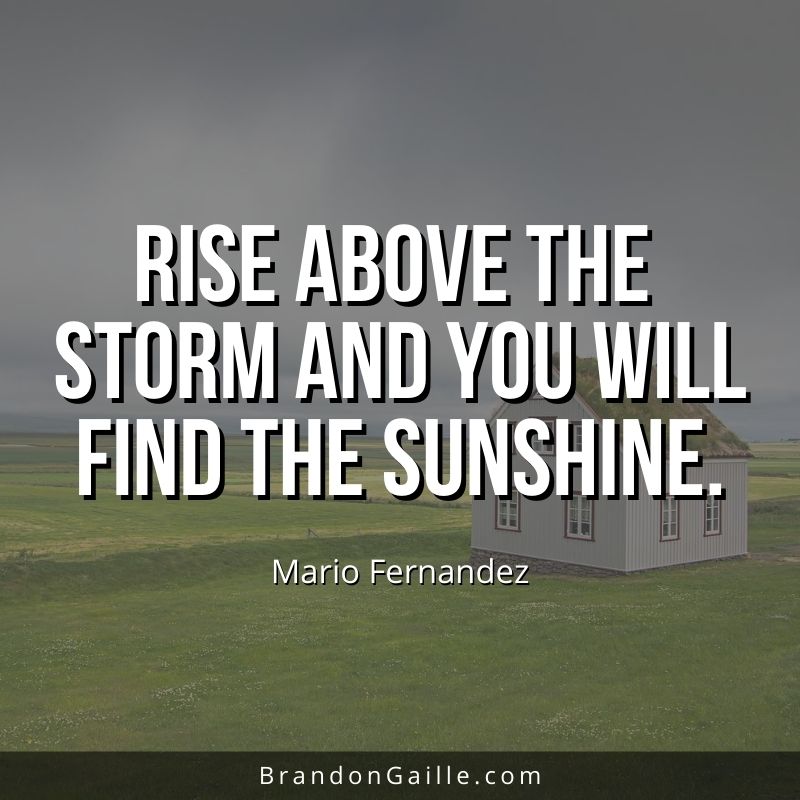 "All limitations are self-imposed."
Oliver Wendell Holmes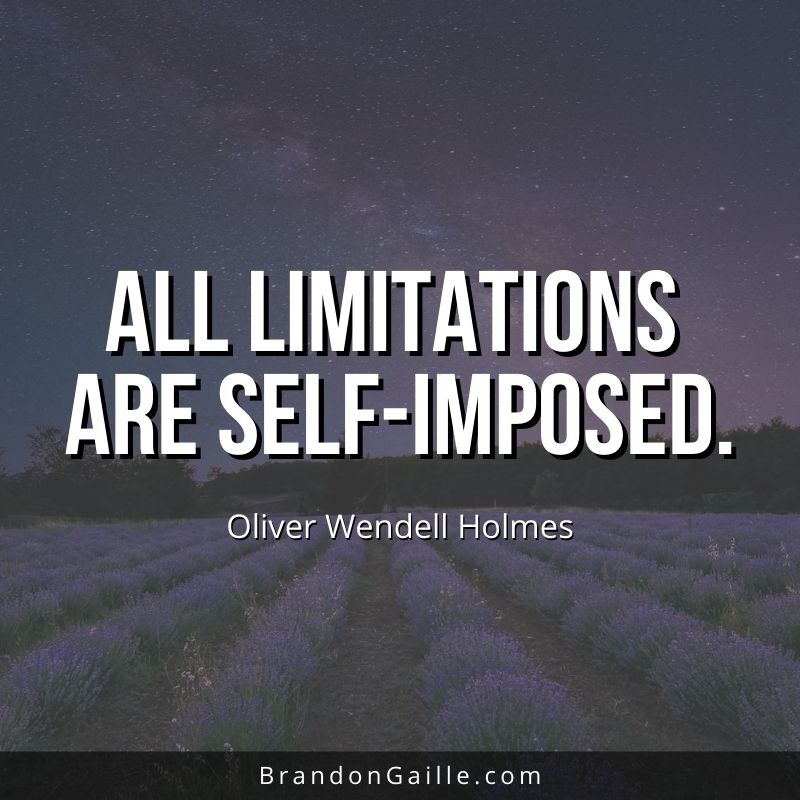 "If you're going through hell, keep going."
Winston S. Churchill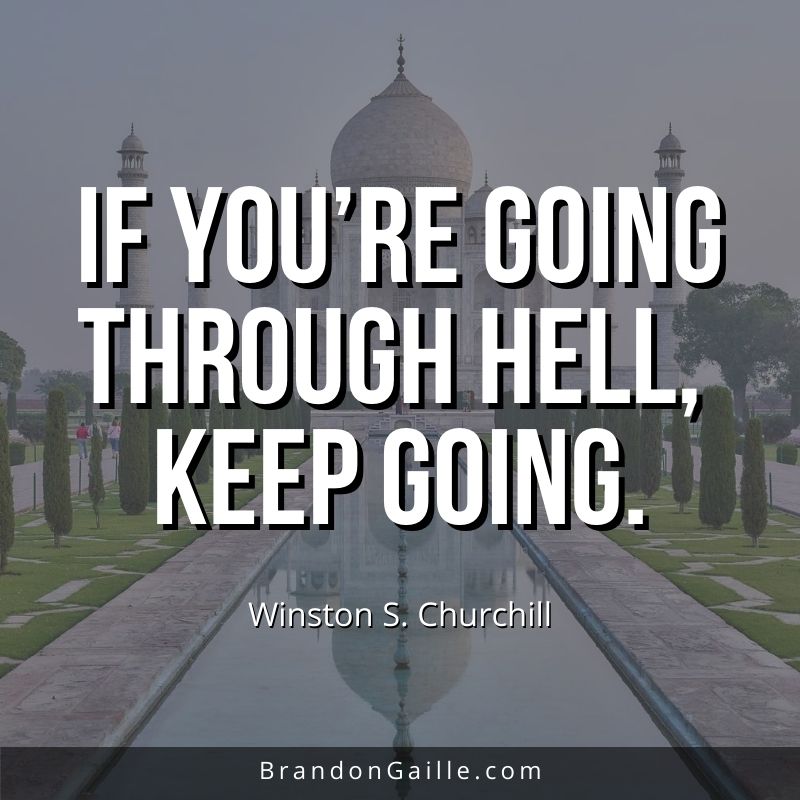 "If you want it, become it."
Mastin Kipp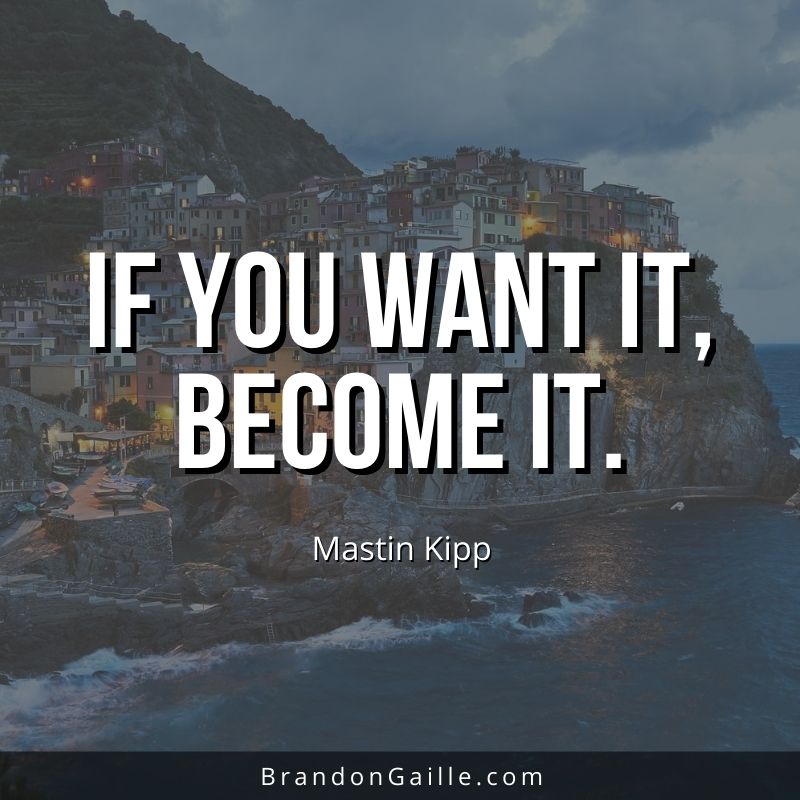 "Find people who will make you better."
Michelle Obama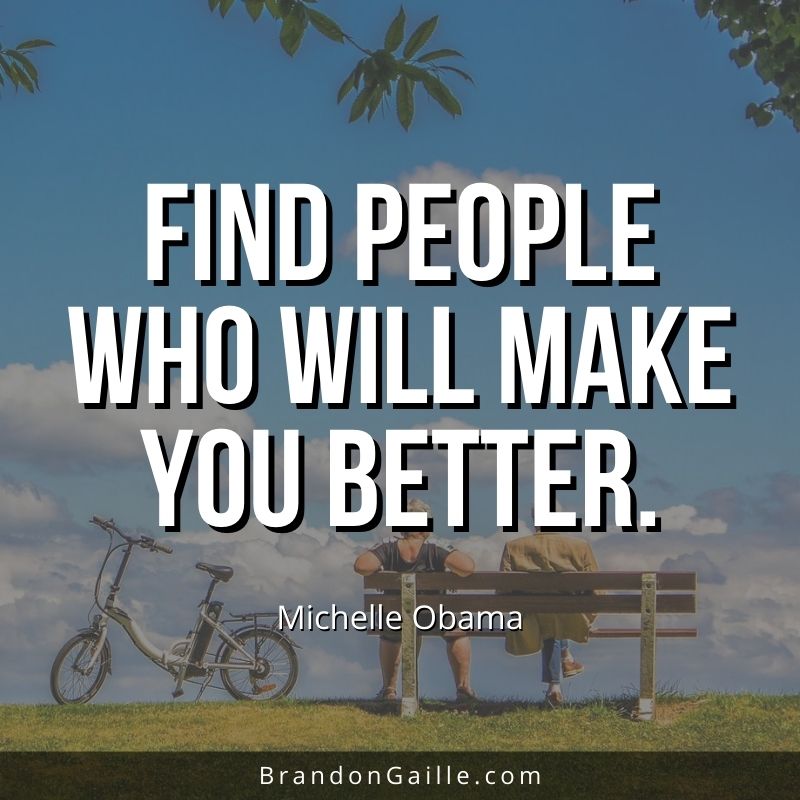 "Keep calm and carry on."
Winston S. Churchill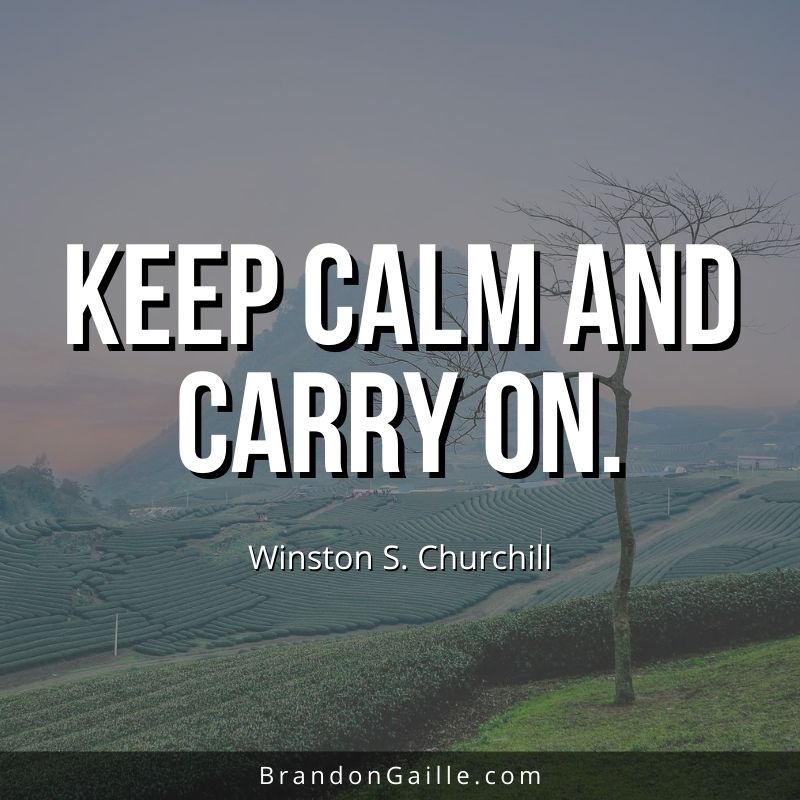 "Don't cry because it's over, smile because it happened."
Dr. Seuss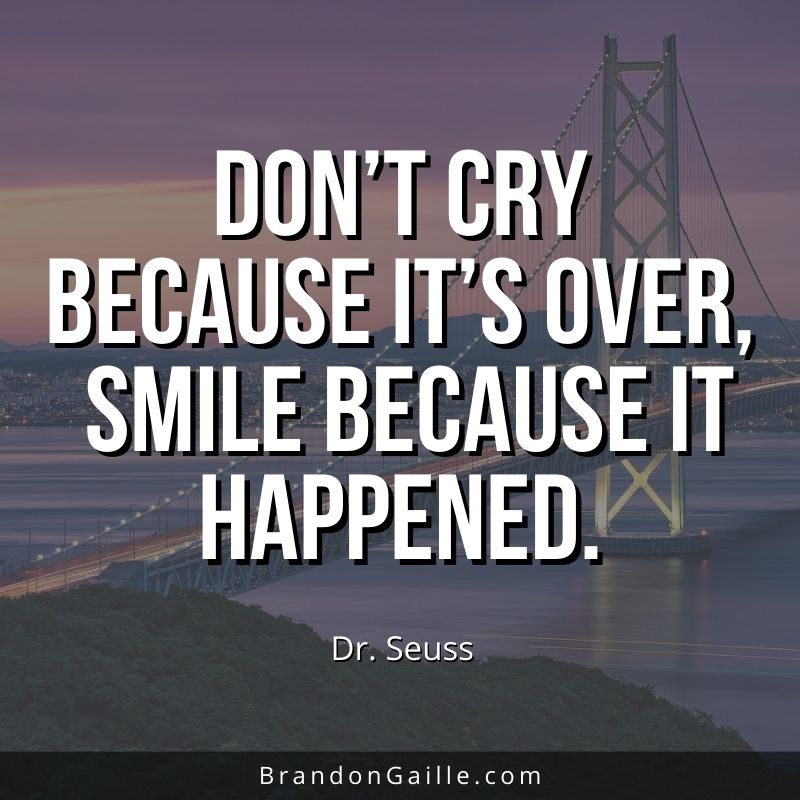 "When you cease to dream you cease to live."
Malcolm Forbes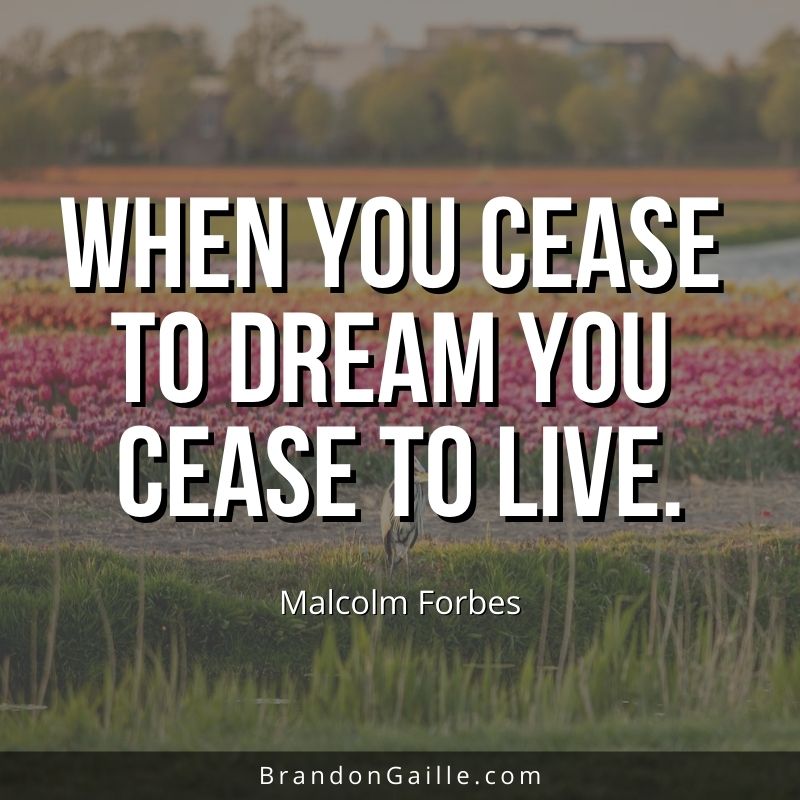 "What we think, we become."
Buddha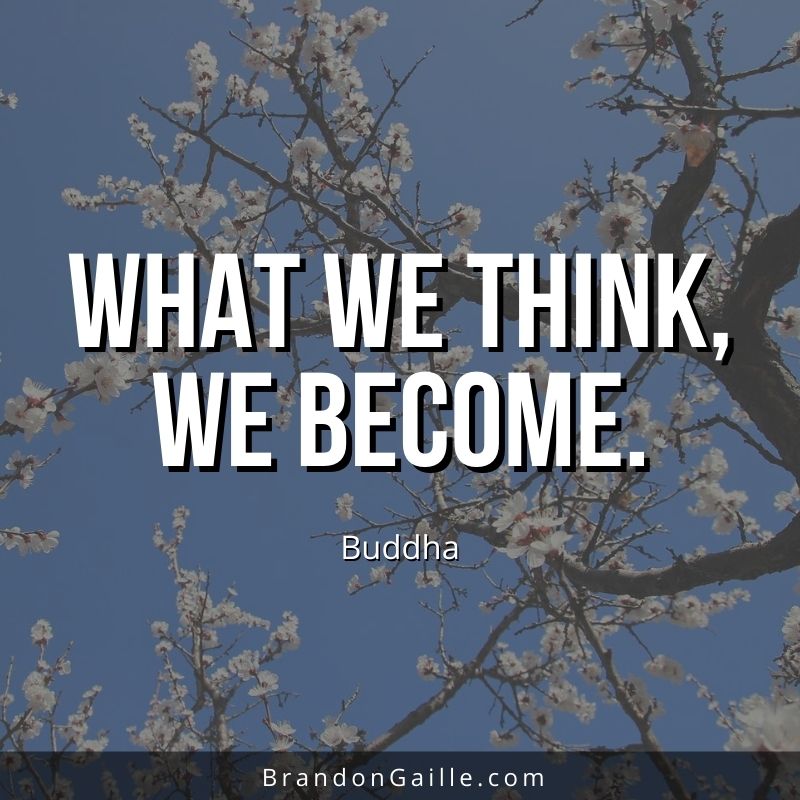 "See the world as it is, not as you wish it would be."
E. Lockhart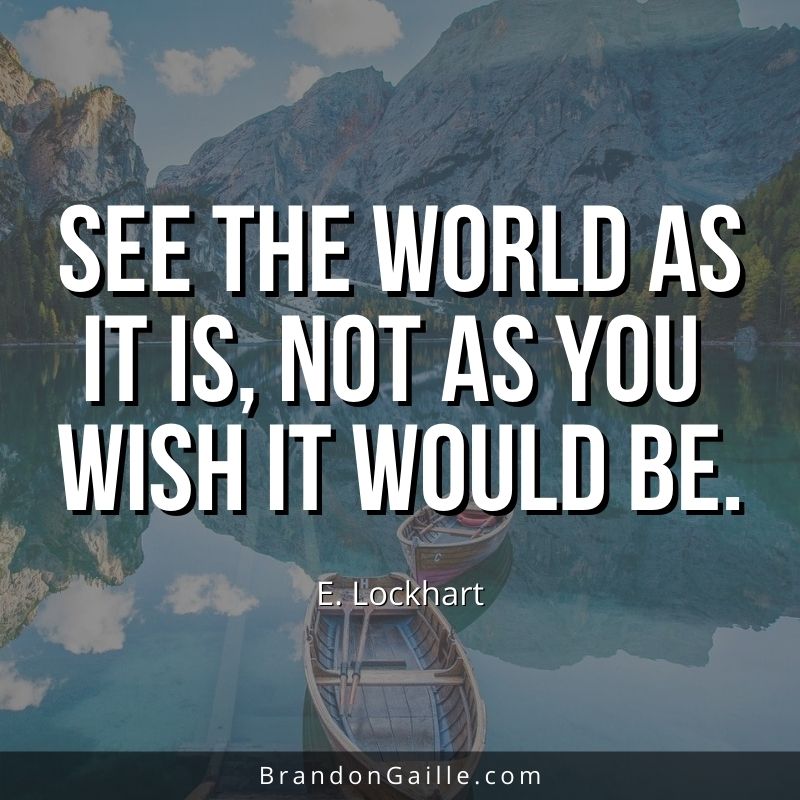 "Life has no limitations, except the ones you make."
Les Brown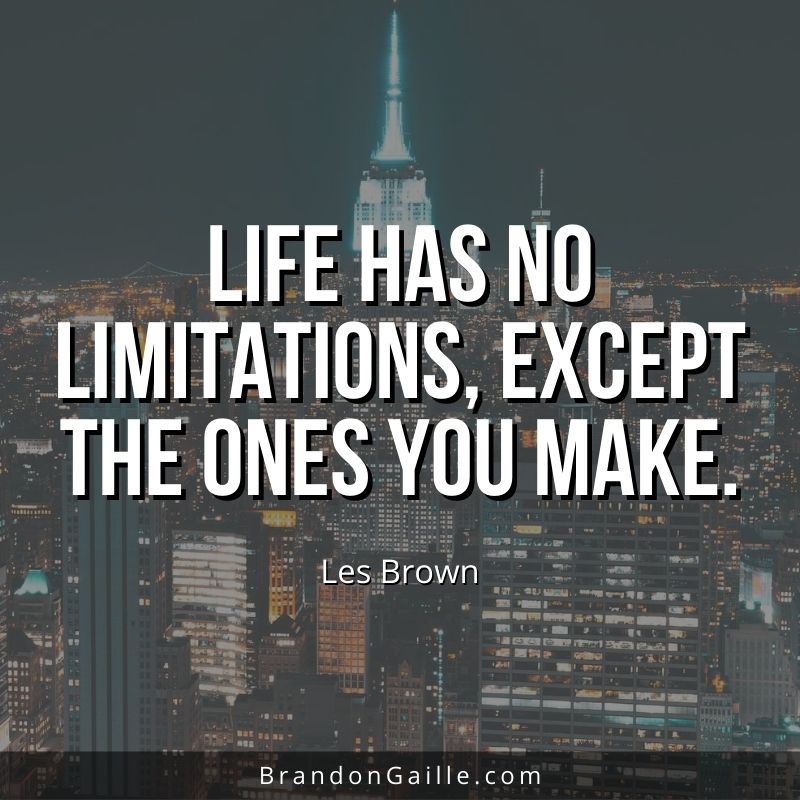 "Make your life a mission – not an intermission."
Arnold H. Glasgow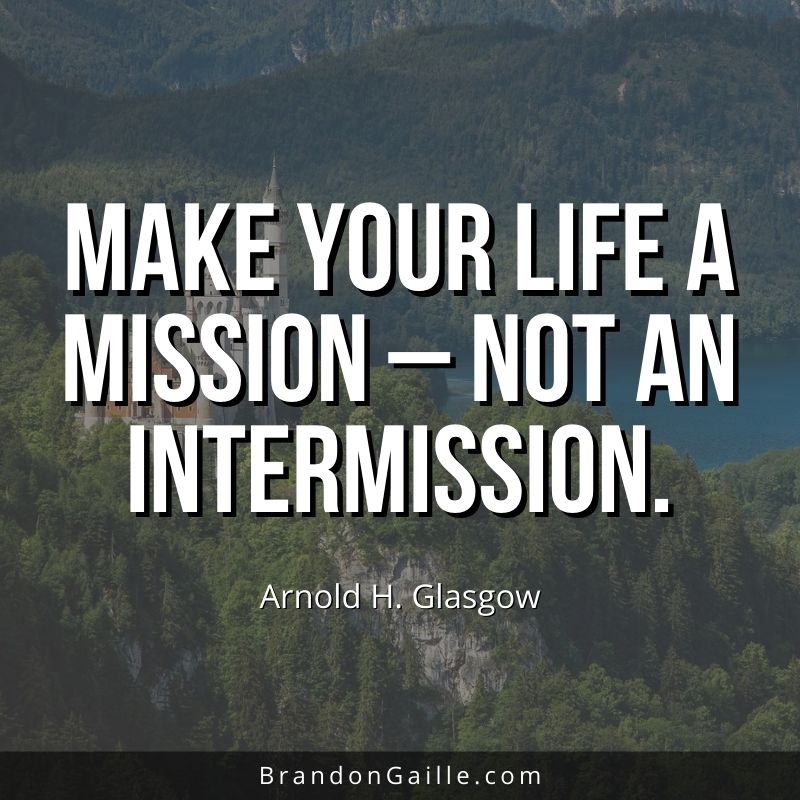 "Make each day your masterpiece."
John Wooden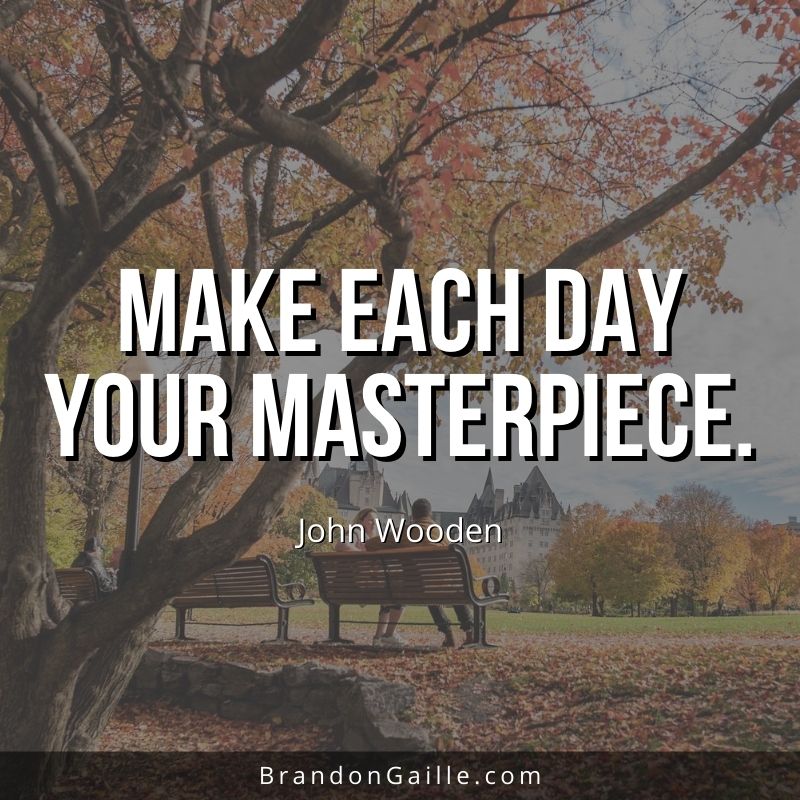 "Life is a lively process of becoming."
Douglas MacArthur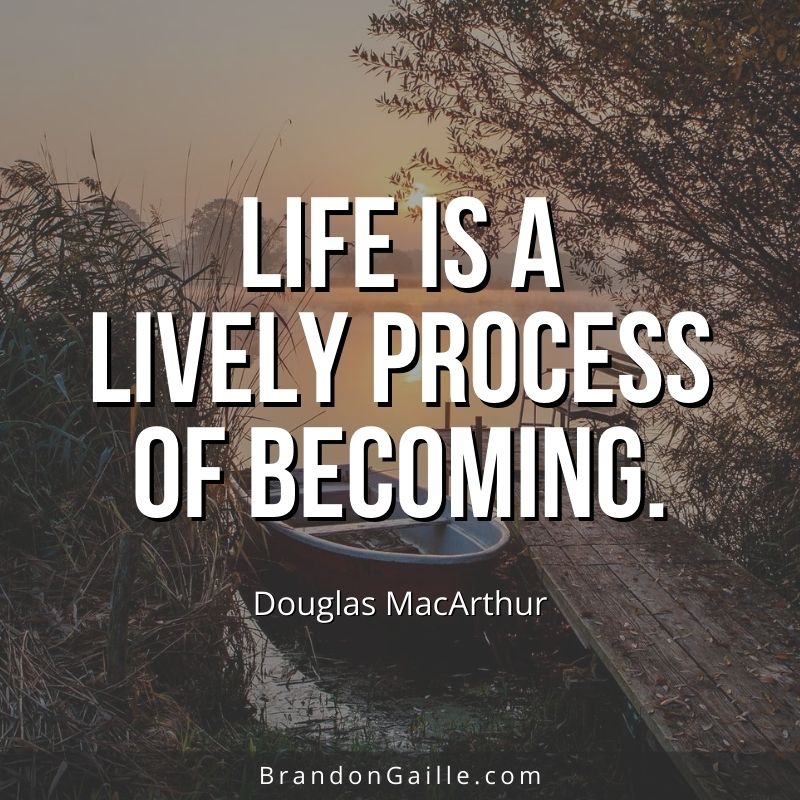 "There are far, far better things ahead than any we leave behind."
C.S. Lewis
"Dream as if you will live forever; Live as if you will die today."
James Dean
"It takes courage to grow up and become who you really are."
E.E. Cummings
"Life is like a box of chocolates. You never know what you're going to get."
Forrest Gump
"Kiss slowly, laugh insanely, live truly and forgive quickly."
Paulo Coelho
"Live in the sunshine, swim the sea, drink the wild air."
Ralph Waldo Emerson
"Never let the fear of striking out keep you from playing the game."
Babe Ruth
"Don't brood. Get on with living and loving. You don't have forever."
Leo Buscaglia
"Life is like riding a bicycle. To keep your balance, you must keep moving."
Albert Einstein
"It is not the years in your life but the life in your years that counts."
Adlai Stevenson
"It's better to be a lion for a day than a sheep all your life."
Elizabeth Kenny
"Life consists with wildness. The most alive is the wildest."
Henry David Thoreau
"Live as if you were to die tomorrow. Learn as if you were to live forever."
Mahatma Gandhi
"Don't be afraid your life will end; be afraid that it will never begin."
Grace Hansen
"The big lesson in life, baby, is never be scared of anyone or anything."
Frank Sinatra
"Carpe Diem, seize the day boys, make your lives extraordinary."
N.H. Kleinbaum
"Some beautiful paths can't be discovered without getting lost."
Erol Ozan
"A ship is safe in harbor, but that's not what ships are for."
John A. Shedd
"Care about what other people think and you will always be their prisoner."
Lao Tzu
"If it isn't a little scary it probably isn't worth your time."
Ted Murphy
"Life is a process. We are a process. The universe is a process."
Anne Wilson Schaef
"Do what you feel in your heart to be right, for you'll be criticized anyway."
Eleanor Roosevelt
"Seize the day, take hold of it, and make it whatever you want."
Jessica Sorensen
"You only pass through this life once, you don't come back for an encore."
Elvis Presley
"When you want something in life, you just gotta reach out and grab it."
Christopher McCandless
"I don't wait for the calendar to figure out when I should live life."
Gene Simmons
"Our life is frittered away by detail. Simplify, simplify."
Henry David Thoreau
"The biggest adventure you can take it to live the life of your dreams."
Oprah Winfrey
"There is only one success, to be able to spend your life in your own way."
Christopher Morley
"Life becomes easier when you learn to accept the apology you never got."
R. Brault
"Don't quit. Suffer now and live the rest of your life as a champion."
Muhammad Ali
"Life belongs to the living, and he who lives must be prepared for changes."
Johann Wolfgang von Goethe
"Too many of us are not living our dreams because we are living our fears."
Les Brown
"Silence your critics. Ignore your haters. Delete your cynics."
Robin Sharma
"Every now and then, bite off more than you can chew."
Kobi Yamada
"Life isn't about finding yourself. Life is about creating yourself."
George Bernard Shaw
"To live is the rarest thing in the world. Most people exist, that is all."
Oscar Wilde
"May your choices reflect your hopes, not your fears."
Nelson Mandela
"The greatest lesson of life is that you are responsible for your life."
Oprah Winfrey
"Life would be tragic if it weren't funny."
Stephen Hawking
"You've gotta dance like there's nobody watching."
William W. Purkey
"Life is what happens when you're busy making other plans."
John Lennon
"Live your life on purpose with no apologies or regrets."
Angela Cecilia
"Love all, trust a few, do wrong to none."
William Shakespeare
"If you live each day as it was your last, someday you'll most certainly be right."
Steve Jobs
"Life's tough, but it's tougher when you're stupid."
John Wayne
"Keep looking up…that's the secret of life."
Snoopy
"You only live once, but if you do it right, once is enough."
Joe Lewis
"The time is always right to do what is right."
Martin Luther King Jr.
"My philosophy in life is that you only live once. Live life to its fullest."
Richard Branson
"Every day is a good day to be alive, whether the sun's shining or not."
Marty Robbins
"Our thoughts and imaginations are the only real limits to our possibilities."
Orison Swett Marden
"All the world's a stage and most of us are desperately unrehearsed."
Sean O'Casey
"The only man who never makes mistakes is the man who never does anything."
Theodore Roosevelt
"I love deadlines, I like the whooshing sound they make as they fly by."
Douglas Adams
"Remember that happiness is a way of travel, not a destination."
Roy Goodman
"The meaning of life is to give life meaning."
Ken Hudgins
"I say luck is when an opportunity comes along and you're prepared for it."
Denzel Washington
"Life is the first gift, love is the second, and understanding the third."
Marge Piercy
"In the book of life, the answers aren't in the back."
Charles Schulz
"Perpetual optimism is a force multiplier."
Colin Powell
"If you would be loved, love, and be loveable."
Benjamin Franklin
"Do not take life too seriously. You will never get out of it alive."
Elbert Hubbard
"When life gives you lemons, squirt someone in the eye."
Cathy Guisewite
"Don't you know your imperfections is a blessing?"
Kendrick Lamar
"Your past does not equal your future."
Anthony Robbins
"A heart without dreams is like a bird without feathers."
Suzy Kassem
"Keep your eyes on the stars and your feet on the ground."
Theodore Roosevelt
"Happy is the man who can make a living by his hobby."
George Bernard Shaw
"There is no substitute for hard work."
Thomas Edison
"It is beautiful to express love and even more beautiful to feel it."
Dejan Stojanovic
"A happy soul is the best shield for a cruel world."
Atticus
"If my life is going to mean anything, I have to live it myself."
Rick Riordan
"Happiness depends upon ourselves."
Aristotle
"No one can make you feel inferior without your consent."
Eleanor Roosevelt
"You can't put a limit on anything. The more you dream, the farther you get."
Michael Phelps
"Love is the goal, life is the journey."
Osho
"Set wide the window. Let me drink the day."
Edith Wharton
"Once you choose hope, anything's possible."
Christopher Reeve
"The trick in life is learning how to deal with it."
Helen Mirren
"I tell you, in this world being a little crazy helps to keep you sane."
Zsa Zsa Gabor
"Today, you have 100% of your life left."
Tom Landry
"Money is only a human invention."
Vanna Bonta
"Life is what we make it, always has been, always will be."
Grandma Moses
"When you realize you're alive, you can live life!"
Chad Michael Murray
"The best way out is always through."
Robert Frost
"A friend is someone who knows all about you and still loves you."
Elbert Hubbard
"Life's under no obligation to give us what we expect."
Margaret Mitchell
"I think being in love with life is a key to eternal youth."
Doug Hutchison
"The strength of a nation derives from the integrity of the home."
Confucius
"It is better to fail in originality than to succeed in imitation."
Herman Melville
"The tragedy of life is what dies inside a man while he lives."
Albert Schweitzer
"Live life to the fullest, and focus on the positive."
Matt Cameron
"It is never too late to be what you might have been."
George Eliot
"I am on a wonderful journey. I am discovering myself, my real self."
Karen Hackel
"If you obey all the rules, you'll miss all the fun."
Katharine Hepburn
"As long as you're going to be thinking anyway, think big."
Donald Trump
"Life is available only in the present moment."
Thich Nhat Hanh
"I am not afraid of death, I just don't want to be there when it happens."
Woody Allen
"A life fueled by passions is like riding on the back of a dragon."
Suzy Kassem
"And you? When will you begin that long journey into yourself?"
Jalaluddin Rumi
"Whatever the mind can conceive and believe, it can achieve."
Napoleon Hill
"Life is a flower of which love is the honey."
Victor Hugo
"Some people never go crazy. What truly horrible lives they must lead."
Charles Bukowski
"Blessed is he who expects nothing, for he shall never be disappointed."
Alexander Pope
"I love those who can smile in trouble."
Leonardo da Vinci
"Wanting to be someone else is a waste of who you are."
Kurt Cobain
"A drop of love can bring an ocean of tears."
Jewish Proverb
"Every moment of light and dark is a miracle."
Walt Whitman
"One way to get the most out of life is to look upon it as an adventure."
William Feather
"This is your life and it's ending one minute at a time."
Tyler Durden
"Oh, the things you can find, if you don't stay behind."
Dr. Seuss
"Normality is a paved road: it's comfortable to walk but no flowers grow."
Vincent van Gogh
"Life doesn't require that we be the best, only that we try our best."
H. Jackson Brown Jr.
"All you need is love. But a little chocolate now and then doesn't hurt."
Charles Schulz
"Life is a long lesson in humility."
James M. Barrie
"Not how long, but how well you have lived is the main thing."
Seneca
"Look deep into nature, and then you will understand everything better."
Albert Einstein
"Life is wide, limitless. There is no border, no frontier."
Bruce Lee
"Behind every great man is a woman rolling her eyes."
Jim Carrey
"Life is a continuous process of adjustment."
Indira Gandhi
"The best way to predict your future is to create it."
Abraham Lincoln
"Don't worry about avoiding temptation. As you grow older, it will avoid you."
Joey Adams
"Life is short and you've got to get the most out of it."
Gwen Stefani
"The way I see it, if you want the rainbow, you gotta put up with the rain."
Dolly Parton
"Find ecstasy in life; the mere sense of living is joy enough."
Emily Dickinson
"A happy family is but an earlier heaven."
George Bernard Shaw
"It is not flesh and blood but the heart which makes us fathers and sons."
Johann Schiller
"Yesterday you said tomorrow. Just do it."
Nike
"Humor and joy contribute to my total well-being."
Louise L. Hay
"What is the meaning of life? To be happy and useful."
HH the Dalai Lama
"Age is a very high price to pay for maturity."
Tom Stoppard
"The sole meaning of life is to serve humanity."
Leo Tolstoy
"Life is neither good or evil, but only a place for good and evil."
Marcus Aurelius
"The capacity for friendship is God's way of apologizing for our families."
Jay McInerney
"When angry, count to four; when very angry, swear."
Mark Twain
"If you cannot get rid of the family skeleton, you may as well make it dance."
George Bernard Shaw
"I learned that courage was not the absence of fear, but the triumph over it."
Nelson Mandela
"Life is short. You have to be able to laugh at our pain or we never move on."
Jeff Ross
"Life is really simple, but men insist on making it complicated."
Confucius
"Be so good they can't ignore you."
Steve Martin
"When people are to busy to survive they forget to live."
Stephan Attia
"Life is short, and it is up to you to make it sweet."
Sarah Louise Delany
"Reality is wrong, dreams are for real."
Tupac
"Short cuts make long delays."
J.R.R. Tolkien
"Each day of our lives we make deposits in the memory banks of our children."
Charles R. Swindoll
"In order to write about life first you must live it."
Ernest Hemingway
"Don't live down to expectations. Go out there and do something remarkable."
Wendy Wasserstein
"Life is a mixing of all kind of things: comedy and tragedy going together."
Alejandro Jodorowsky
"There is nothing better than a friend, unless it is a friend with chocolate."
Linda Grayson
"Whatever you do, do it well."
Walt Disney
"Believe that life is worth living and your belief will help create the fact."
William James
"You live but once; you might as well be amusing."
Coco Chanel
"Success is loving life and daring to live it."
Maya Angelou
"The best way to prepare for death is to live life to its fullest."
John Bytheway
"Forget seizing the moment. Seize the opportunity."
Tim Fargo
"I have nothing to lose but something to gain."
Eminem
"The healthiest response to life is joy."
Deepak Chopra
"Life's too mysterious to take too serious."
Mary Engelbreit
"If life were predictable it would cease to be life, and be without flavor."
Eleanor Roosevelt
"Be in love with your life. Every minute of it."
Jack Kerouac
"Above all, be the heroine of your life, not the victim."
Nora Ephron
"Do what is right, not what is easy nor what is popular."
Roy T. Bennett
"Nothing lasts forever but at least we got these memories."
J. Cole
"Living an experience, a particular fate, is accepting it fully."
Albert Camus
"Life is either a daring adventure or nothing at all."
Helen Keller
"You must expect great things of yourself before you can do them."
Michael Jordan
"It's supposed to be hard. If it were easy, everyone would do it."
Jimmy Dugan
"Your time is limited, so don't waste it living someone else's life."
Steve Jobs
"You must be the change you wish to see in the world."
Mahatma Gandhi
"Always keep your words soft and sweet, just in case you have to eat them."
Andy Rooney
"Life is made of ever so many partings welded together."
Charles Dickens
"Love is not only something you feel, it is something you do."
David Wilkerson
"My life is my argument."
Albert Schweitzer
"The purpose of our lives is to be happy."
Dalai Lama
"We are what we repeatedly do. Excellence, then, is not an act, but a habit."
Aristotle
"Wealth is the ability to fully experience life."
Henry David Thoreau
"Good friends, good books, and a sleepy conscience: this is the ideal life."
Mark Twain
"You cannot find peace avoiding life."
Virginia Woolf
"Family is not an important thing. It's everything."
Michael J. Fox
"Try to be a rainbow in someone's cloud."
Maya Angelou
"Try to enjoy the great festival of life with other men!"
Epictetus
"Life is to entered upon with courage."
Alexis de Tocqueville
"A dream is what makes people love life even when it is painful."
Theodore Zeldin
"Don't sweat the petty things and don't pet the sweaty things."
George Carlin
"Life is a zoo in a jungle."
Peter De Vries
"Nothing is more honorable than a grateful heart."
Seneca
"Defeat is simply a signal to press onward."
Helen Keller
"Accept who you are. Unless you're a serial killer."
Ellen DeGeneres
"There is hope and a kind of beauty in there somewhere, if you look for it."
H.R. Giger
"All you need in this life is ignorance and confidence; then success is sure."
Mark Twain
"Live as many lives as you can."
Sanober Khan
"If you tell the truth you don't have to remember anything."
Mark Twain
"Life is so short. I would rather sing one song than interpret the thousand."
Jack London
"When everything's coming your way, you're in the wrong lane."
Tom Snyder
"Success is liking yourself, liking what you do, and liking how you do it."
Maya Angelou
"Let the beauty of what you love be what you do."
Rumi
"All life is an experiment. The more experiments you make the better."
Ralph Waldo Emerson
"Children have more need of models than critics."
Joseph Joubert
"Life is just one damned thing after another."
Elbert Hubbard
"A woman's mind is cleaner than a man's: She changes it more often."
Oliver Herford
"Life shrinks or expands in proportion to one's courage."
Anais Nin
"When words fail, music speaks."
Shakespeare
"The first step is you have to say that you can."
Will Smith
"Fortune and love favor the brave."
Ovid
"The way to love anything is to realize that it may be lost."
Gilbert K. Chesterton
"Life is short, death is forever."
Chuck Palahniuk
"Every moment is a fresh beginning."
T.S Eliot
"Love does not dominate; it cultivates."
Johann Wolfgang von Goethe
"A brother may not be a friend, but a friend will always be a brother."
Benjamin Franklin
"If you always do what interests you, at least one person is pleased."
Katharine Hepburn
"The family is one of nature's masterpieces."
George Santayana
"If you want to live a happy life, tie it to a goal, not to people or things."
Albert Einstein
"Little things, make big days."
Isabel Marant
"Life can only be understood backwards; but it must be lived forwards."
Soren Kierkegaard
"Are you someone who watches life, or someone who participates?"
Matt Haig
"Maybe that's what life is…a wink of the eye and winking stars."
Jack Kerouac
"Life is not a problem to be solved, but a reality to be experienced."
Soren Kierkegaard
"Love is a better teacher than duty."
Albert Einstein
"It's better to dance than to march through life."
Yoko Ono
"Live for each second without hesitation."
Elton John
"Choose a job you love, and you will never have to work a day in your life."
Confucius
"Life is a gift, given in trust – like a child."
Anne Morrow Lindbergh
"Where there is love there is life."
Mahatma Gandhi
"Life is a question and how we live it is our answer."
Gary Keller
"Be careful about reading health books. You may die of a misprint."
Mark Twain
"If opportunity doesn't knock, build a door."
Milton Berle
"A life without cause is a life without effect."
Barbarella
"There are good days and there are bad days, and this is one of them."
Lawrence Welk
"The worst part of success is trying to find someone who is happy for you."
Bette Midler
"All our dreams can come true, if we have the courage to pursue them."
Walt Disney
"Don't settle for what life gives you; make life better and build something."
Ashton Kutcher
"I'm always doing things I can't do. That's how I get to do them."
Pablo Picasso
"Have enough courage to start and enough heart to finish."
Jessica N.S. Yourko
"Be brave. Take risks. Nothing can substitute experience."
Paulo Coelho
"Success is about creating value."
Candice Carpenter
"The greatest gift of life is friendship, and I have received it."
Hubert H. Humphrey
"As you know, life is an echo; we get what we give."
David DeNotaris
"Have no fear of perfection – you'll never reach it."
Salvador Dali
"Success is getting what you want, happiness is wanting what you get."
W.P. Kinsella
"Children are a poor man's riches."
English Proverb
"The heart, like the stomach, wants a varied diet."
Gustave Flaubert
"Live life to the fullest because it only happens once."
Maddi Jenkins
"Life is about making an impact, not making an income."
Kevin Kruse
"Live life for the moment because everything else is uncertain!"
Louis Tomlinson
"The mind is everything. What you think you become."
Buddha
"Everything you can imagine is real."
Pablo Picasso
"If you say you can or you can't you are right either way."
Henry Ford
"The greatest pleasure of life is love."
Euripides
"Go for it now. The future is promised to no one."
Wayne Dyer
"Just breathing can be such a luxury sometimes."
Walter Kirn
"Obstacles are those things you see when you take your eyes off the goal."
Henry Ford
"Good judgment comes from experience, and experience comes from bad judgment."
Rita Mae Brown
"The minute that you're not learning I believe you're dead."
Jack Nicholson
"There is no education like adversity."
Benjamin Disraeli
"Life is pain. Anyone who says otherwise is selling something."
William Goldman
"Be happy for this moment. This moment is your life."
Omar Khayyam
"Change the world by being yourself."
Amy Poehler
"To hide feelings when you are near crying is the secret of dignity."
Dejan Stojanovic
"Try not to become a man of success. Rather become a man of value."
Albert Einstein
"The day after tomorrow is the third day of the rest of your life."
George Carlin
"Discouragement and failure are two of the surest stepping stones to success."
Dale Carnegie
"The chief danger in life is that you may take too many precautions."
Alfred Adler
"Life is an illusion. I am held together in the nothingness by art."
Anselm Kiefer
"The more difficult the victory, the greater the happiness in winning."
Pelé
"In family relationships, love is really spelled T.I.M.E."
Dieter F. Uchtdorf
"The journey of a thousand miles begins with one step."
Lao Tzu
"Life is a game and true love is a trophy."
Rufus Wainwright
"To live will be an awfully big adventure."
Peter Pan
"Taking joy in living is a woman's best cosmetic."
Rosalind Russell
"The purpose of life is to believe, to hope, and to strive."
Indira Gandhi
"If you're too open-minded; your brains will fall out."
Lawrence Ferlinghetti
"Your image isn't your character. Character is what you are as a person."
Derek Jeter
"My life is about ups and downs, great joys and great losses."
Isabel Allende
"There are no regrets in life, just lessons."
Jennifer Aniston
"We are evolved to search for meaning but ultimately life has none."
Naval Ravikant
"When it hurts – observe. Life is trying to teach you something."
Anita Krizzan
"I don't need it to be easy, I need it to be worth it."
Lil Wayne
"Sometimes life hits you in the head with a brick. Don't lose faith."
Steve Jobs
"In a gentle way, you can shake the world."
Mahatma Gandhi
"Because of your smile, you make life more beautiful."
Thich Nhat Hanh
"Live the life you've dreamed."
Henry David Thoreau
"The more unintelligent a man is, the less mysterious existence seems to him."
Arthur Schopenhauer
"Life is short, and it is here to be lived."
Kate Winslet
"The goal of life is living in agreement with nature."
Citium Zeno
"Life is beautiful because it doesn't last."
Brit Marling
"Life is a succession of lessons which must be lived to be understood."
Ralph Waldo Emerson
"When you can't change the direction of the wind — adjust your sails."
H. Jackson Brown
"We have one life and we should cherish it and make it the best we can."
David Morrissey
"Always be true to your friends, just as you are to yourself."
Meg Cabot
"If you love life, don't waste time, for time is what life is made up of."
Bruce Lee
"It is our choices that show what we truly are, far more than our abilities."
J. K. Rowling
"In three words I can sum up everything I've learned about life: It goes on."
Robert Frost
"It is not where we breathe, but where we Love, that we live."
Soren Kierkegaard
"Hate comes from intimidation, love comes from appreciation."
Tyga
"Problems are not stop signs, they are guidelines."
Robert H. Schiuller
"The art of love is largely the art of persistence."
Albert Ellis
"Always seek beauty to create a beautiful like."
Debasish Mridha
"There are no mistakes, only opportunities."
Tina Fey
"It's less about learning new things and more about letting go of old things."
Liza Miller
"Be nice to people on the way up, because you may meet them on the way down."
Jimmy Durante
"Simplicity is the ultimate sophistication."
Leonardo da Vinci
"Life is like a box of sardines and we are all looking for the key."
Alan Bennett
"There is only one happiness in life – to love and to be loved."
George Sand
"The unexamined life is not worth living."
Socrates
"We are shaped and fashioned by what we love."
Johann Wolfgang von Goethe
"In the midst of winter, I found there was within me an invincible summer."
Albert Camus
"The day you stop racing, is the day you win the race."
Bob Marley
"If at first you don't succeed then skydiving definitely isn't for you."
Steven Wright
"The only impossible journey is the one you never begin."
Anthony Robbins
"May I never be complete. May I never be content. May I never be perfect."
Chuck Palahniuk
"Reverence for life is the highest court of appeal."
Albert Schweitzer
"Keep some room in your heart for the unimaginable."
Mary Oliver
"Love for all, hatred for none."
Khalifatul Masih III
"Everything you want is on the other side of fear."
Jack Canfield
"Tough times never last but tough people do."
Robert H. Schuller
"The longer I live, the more beautiful life becomes."
Frank Lloyd Wright
"Life is not an exact science, it is an art."
Samuel Butler
"Everything has beauty, but not everyone sees it."
Confucius
"Life is trying things to see if they work."
Ray Bradbury
"Never let your emotions overpower your intelligence."
Drake
"In the long run, the sharpest weapon of all is a kind and gentle spirit."
Anne Frank
"I will go anywhere as long as it's forward."
David Livingston
"You cannot have a beautiful life if you always focus on ugliness in others."
Debasish Mridha
"Anyone who lives within their means suffers from a lack of imagination."
Oscar Wilde
"We are who we choose to be."
Green Goblin
"Other things may change us, but we start and end with the family."
Anthony Brandt
"Without the rain there would be no rainbow."
Gilbert Chesterton
"Change the game, don't let the game change you."
Macklemore
"Sometimes the questions are complicated and the answers are simple."
Dr. Seuss
"What would life be if we had no courage to attempt anything?"
Vincent Van Gogh
"The joy of life consists in the inevitable, continual triumph of new values."
Wassily Kandinsky
"Tis better to have loved and lost than never to have loved at all."
St. Augustine
"I have learned that to be with those I like is enough."
Walt Whitman
"Nobody who ever gave his best regretted it."
George Halas
"Don't be afraid of failure, be afraid of not trying in the first place."
Marie Forleo
"Whatever you want to do, do it now. There are only so many tomorrows."
Michael Landon
"Determine your priorities and focus on them."
Eileen McDargh
"How do you want to be remembered? Live life full out – Begin today."
Jonathan Lockwood Huie
"Life is about learning; when you stop learning, you die."
Tom Clancy
"Life is a single player game."
Naval Ravikant
"Success is how high you bounce when you hit bottom."
George S. Patton
"Every strike brings me closer to the next home run."
Babe Ruth
"Choose people who lift you up."
Michelle Obama
"Don't be pushed by your problems. Be led by your dreams."
Ralph Waldo Emerson
"It always seems impossible until it's done."
Nelson Mandela
"If the world was blind how many people would you impress?"
Boonaa Mohammed
"Tell me, what is it you plan to do with your one wild and precious life?"
Mary Oliver
"One father is more than a hundred schoolmasters."
George Herbert
"I have found that if you love life, life will love you back."
Arthur Rubinstein
"Write it on your heart that every day is the best day in the year."
Ralph Waldo Emerson
"The flavor of life is on the edge."
Naval Ravikant
"We are all in the gutter, but some of us are looking at the stars."
Oscar Wilde
"The dreamers are the saviors of the world."
James Allen
"You never really learn much from hearing yourself speak."
George Clooney
"Change your thoughts and you change your world."
Norman Vincent Peale
"Dreams become reality when we put our minds to it."
Queen Latifah
"I can resist everything except temptation."
Oscar Wilde
"Don't worry what others are doing. Do you!"
Russell Simmons
"Life isn't a matter of milestones, but of moments."
Rose Kennedy
"Life is tragic but it's equally comic."
John Banville
"Be who God meant you to be and you will set the world on fire."
St. Catherine of Siena
"In the middle of a difficulty lies opportunity."
Albert Einstein
"Be where you are; otherwise you will miss your life."
Buddha
"Only those who attempt the absurd can achieve the impossible."
Albert Einstein
"What do you want a meaning for? Life is a desire, not a meaning."
Charlie Chaplin
"The shortness of life, so often lamented, may be the best thing about it."
Arthur Schopenhauer
"Your life is a book; make it a bestseller."
Shanon Grey
"Bones heal, pain is temporary, and chicks dig scars."
Evel Knievel
"Happiness is only real when shared."
Jon Krakauer
"Doing is a quantum leap from imagining."
Barbara Sher
"Don't grieve. Anything you lose comes around in another form."
Rumi
"Things are beautiful if you love them."
Jean Anouilh
"Life is largely a matter of expectation."
Homer
"Be who you are and let everyone love that person."
Wiz Khalifa
"It is in your moments of decision that your destiny is shaped."
Anthony Robbins
"I can be changed by what happens to me but I refuse to be reduced by it."
Maya Angelou
"Live life to the fullest, for the future is scarce."
Nick Carter
"The giving of love is an education in itself."
Eleanor Roosevelt
"There is a great beauty in little things."
Mehmet Murat Lldan
"Life's tragedy is that we get old too soon and wise too late."
Benjamin Franklin
"Real generosity towards the future lies in giving all to the present."
Albert Camus
"Live your life to the fullest potential, and fight for your dreams."
Ashley Smith
"We are most alive when we're in love."
John Updike
"Life is short but it is wide. This too shall pass."
Rebecca Wells
"Although no one can go back and make a brand new start, anyone can start from now and make a brand new ending."
Carl Bard
"Adventure should be part of everyone's life. It is the whole difference between being fully alive and just existing."
Holly Morris
"To be fully alive, fully human, and completely awake is to be continually thrown out of the nest."
Pema Chodron
"Happiness, not in another place but this place…not for another hour, but this hour."
Walt Whitman
"Intentional living is the art of making our own choices before others' choices make us."
Richie Norton
"The purpose of life, after all, is to live it, to taste experience to the utmost, to reach out eagerly and without fear for newer and richer experience."
Eleanor Roosevelt