Mediavine Programmatic Advertising
The Website uses Mediavine to manage all third-party advertising on the Website. Mediavine serves content and advertisements when you visit the Website, which may use first and third-party cookies. A cookie is a small text file which is sent to your computer or mobile device (referred to in this policy as a "device") by the web server so that a website can remember some information about your browsing activity on the Website. The cookie may collect information relating to your use of the Website, information about your device such as the device's IP address and browser type, demographic data and, if you arrived at the Website via a link from a third-party site, the URL of the linking page.
First party cookies are created by the website that you are visiting. A third-party cookie is frequently used in behavioral advertising and analytics and is created by a domain other than the website you are visiting. Third-party cookies, tags, pixels, beacons and other similar technologies (collectively, "Tags") may be placed on the Website to monitor interaction with advertising content and to target and optimize advertising. Each internet browser has functionality so that you can block both first and third-party cookies and clear your browser's cache. The "help" feature of the menu bar on most browsers will tell you how to stop accepting new cookies, how to receive notification of new cookies, how to disable existing cookies and how to clear your browser's cache. For more information about cookies and how to disable them, you can consult the information at www.allaboutcookies.org/manage-cookies/.
Without cookies you may not be able to take full advantage of the Website content and features. Please note that rejecting cookies does not mean that you will no longer see ads when you visit our Site.
The Website may collect IP addresses and location information to serve personalized ads and pass it to Mediavine. If you would like more information about this practice and to know your choices to opt-in or opt-out of this data collection, please visit http://www.networkadvertising.org/managing/opt_out.asp. You may also visit http://optout.aboutads.info/#/ and http://optout.networkadvertising.org/# to learn more information about interest-based advertising. You may download the AppChoices app at http://www.aboutads.info/appchoices to opt out in connection with mobile apps, or use the platform controls on your mobile device to opt out.
Mediavine partners with the following data processors:
Disclosure Policy
To be inline with the FTC blog disclosure policy, I want to let you know that I do occasionally write about great products or services that I am an affiliate of.  As an affiliate, I receive a commission for each sale or lead.
My blog content drives the primary source of my income, and I have the right to promote products/services at my discretion as long as I clearly state above the fold that the blog contains affiliate links.
In addition to the disclosure statement, I also place an asterisk next to each link that is an affiliate link.
I focus on promoting products and services that I truly believe will help my readers.
I will always give my personal opinion of the product or service, and I will never be influenced by the affiliate to use language that I do not truly believe.
Disclaimers for My Online Course
Here are the disclaimers associated with my blogging course.
Third Party Verification of the Value of My Blog
The verified value of the monthly traffic of the keywords that drive that traffic is $178,359. Website properties are typically sold on a 2 to 4 year multiple of this number. This places the value of my blog between $4,280,616 and $8,561,232.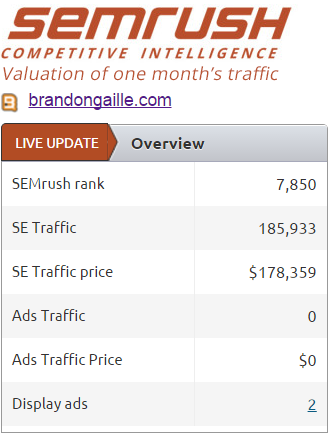 Other Disclaimers for the Course
The website statistics that are listed on the course page are all from sites that are either clients of Brandon or owned by Brandon. This allows me to have complete access to the analytics so that I can see that the results were obtained directly from traffic coming from blog posts that were using my system. Each of these are examples and individual results will vary based upon a number of variables. I do not make any claims that these are typical results that consumers have.
Although the name of the course is "The Blog Millionaire," it does not mean you are going to become a millionaire by being a blogger. It is a name to reflect that the blogging course is based on strategies from many bloggers who have built seven figure companies because of the traffic that they receive from their blogs.
There is no guarantee that you will have any financial gains from using the tactics covered in the course. The information on the course is not meant to be interpreted as any promise of guarantee of earnings. The overall earning potential is wholly dependent on the individual that uses the product, ideas, and tactics.
What determines success is largely based on the amount of time you devote to the course, your business finances, and personal knowledge base. Because of this, we cannot guarantee any success of income attributed to the course.
Brandon