When it comes to celebrating a birthday, bringing some of God's blessings into the mix will make the next year even more enjoyable while helping the person to feel special. The following Godly birthday wishes will inspire you to create a special message to share.
A special prayer for you that the Lord will bless you on your special day.
As you celebrate today May the presence of the Lord Be with you in greater measure Than it ever has before And know that we appreciate All the little things you do And know that God is well pleased And is smiling down on you.
As you complete fifty years of existence on this planet, you are being gifted with a new chapter in life that you should read carefully. Wishing a very happy 50th birthday.
Birthdays come and go And years may pass away, You'll find will never fade His love is always there No matter what we do, In our hearts forever, His love remains true.
God grants all the purest intentions and prayers. Pray for these and all will be granted in His time. Have a blessed birthday.
Happy Birthday. I hope that more blessings come to you, May God always be with you.
Hope you have a really great day In what you plan to do And even though we can't be there, We are thinking of you May you know God's goodness
And feel His presence more For today and every day, May you be blessed of the Lord.
I pray and wish a good health for you. Continuous wisdom and knowledge to guide you. Happy Birthday.
I pray that all of your dreams come true Have a blessed birthday.
I said a little prayer that you would have a happy birthday. Let me know if my prayers are answered.
Life is precious As we grow old Full of memories That we do hold Of all the places Where we have been, Of tears and laughter And hopes and dreams Life is eternal With God above, Who gave us life Filled with His love.
Little things in life Are often the most precious, Even just a friendly smile Can warm our hearts and bless us So even in the little things That are there throughout the day, Can bring us much happiness And blessings along the way.
Look at the beauty That surrounds us all, All life and nature Created by our Lord And you are, too, Created just to be Everything that God Wants you to be.
May God bless you more and more with each passing year.
May God bless you a wonderful day today, Followed by a prosperous and abundant year. Happy Birthday.
May God bless you, Today and every day, In everything you do And in every little way May you also know His love is all around As you come and go, May His blessings abound.
May God provide you a prosperous and wealthy life, Not only on this special day of yours but also for your everyday life and year comes. Happy Birthday.
May God richly bless you, Especially today May you know His awesome love In a more meaningful way May you take a moment In the busyness of life, Enjoy this special day God's made And in His love abide.
May God's awesome blessings Be upon you this day And for the future years ahead, May His blessings never fade In every area of your life, May
God abound much more, So you may be a fruitful vine With the abundance of the Lord.
May God's blessings abound to you In every little way May you taste and see His goodness Every time you kneel to pray. May your day be brightened more With your Father's loving touch And may you sense He's with you now.
May today be for you A truly special day, A time of sober reflection As you quietly celebrate For God has surely blessed you Through all the years gone by, But the best years are still to come As you journey on through life.
On this special day of your birthday wishing you lots of love and good luck. May God fulfill all your dreams.
Pastor, I wish you a Happy Happy Birthday,and a many, many, more. I thank you for all you prayers. May God continue to Bless you, enjoy your holiday.
Take time right now To enjoy this day Relax in knowing The promise God gave That you are a child Of God up above, Made in His image And made in His love.
The beauty of love That lies within Is a precious seed Planted by Him That grows to become A beautiful rose, Touching lives of others As it comes and goes.
The blessings of God Are given to you In the everyday things That friends say and do Especially today, They abound even moreTo lighten your heart As you trust in the Lord.
There's nothing more important than celebrating and commemorating the day on which God brought you into this world. Have a great Birthday.
Wishing you a blessed happy birthday, May our almighty God bless you lots of happiness and love on this special day of yours.
Wishing you a happy birthday. May God bless you all the days you live.
You birthday is a special day and wishing you good luck for today and forever. May God shower his blessings on you.
Your Birthday will usher in fountains of joy, buckets of happiness and boxes of sweet and savories. This is God's wish and our command! Wishing you a very Happy Birthday.
Gift giving traditions vary based on where you are at in the world. From bringing the right hostess gift to having specific celebrations throughout the year, the most monumental gift ever seen in the world was France giving the Statue of Liberty to the United States. The below infographic provides some interesting facts about global gift giving.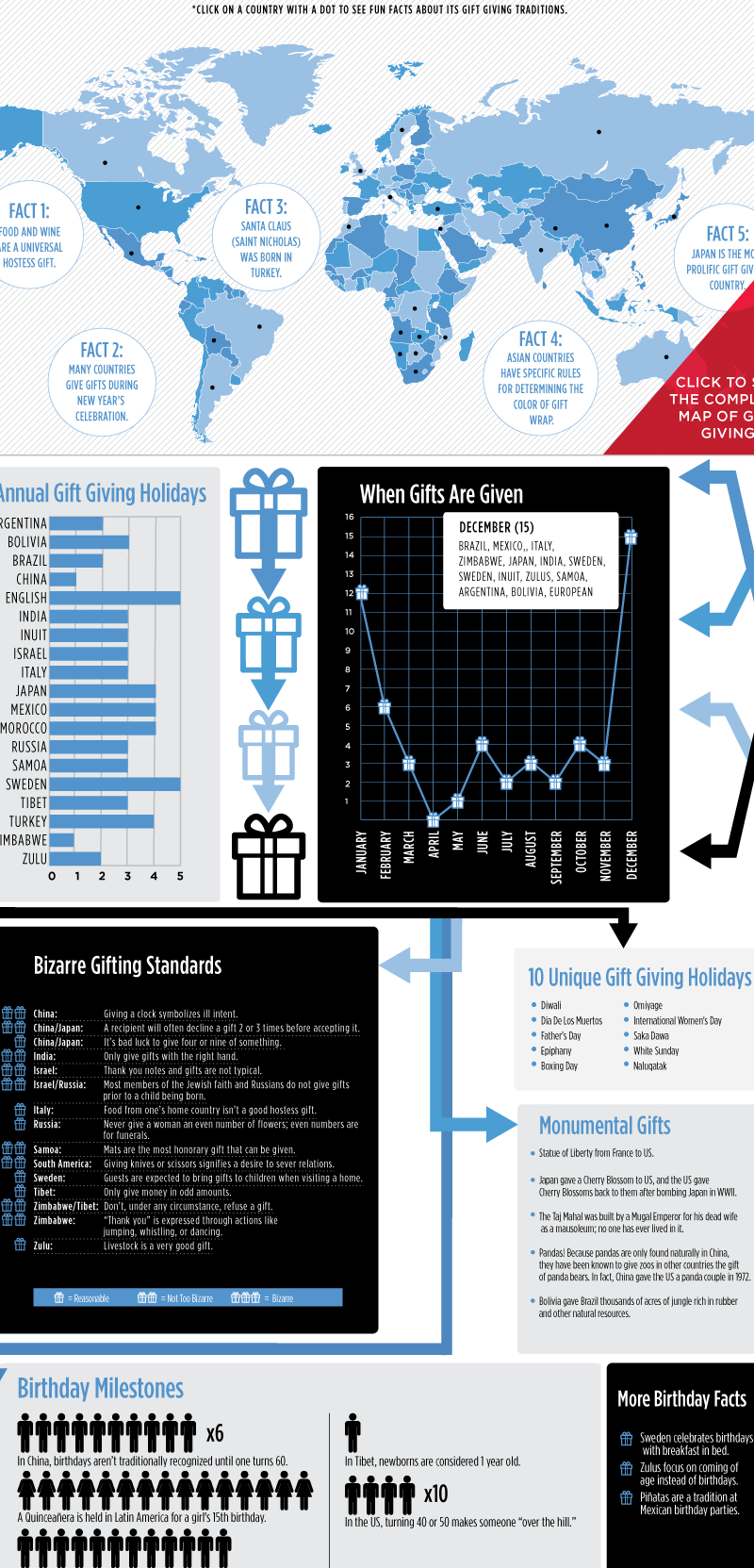 Here our most popular
message posts
that cover just about every occassion.