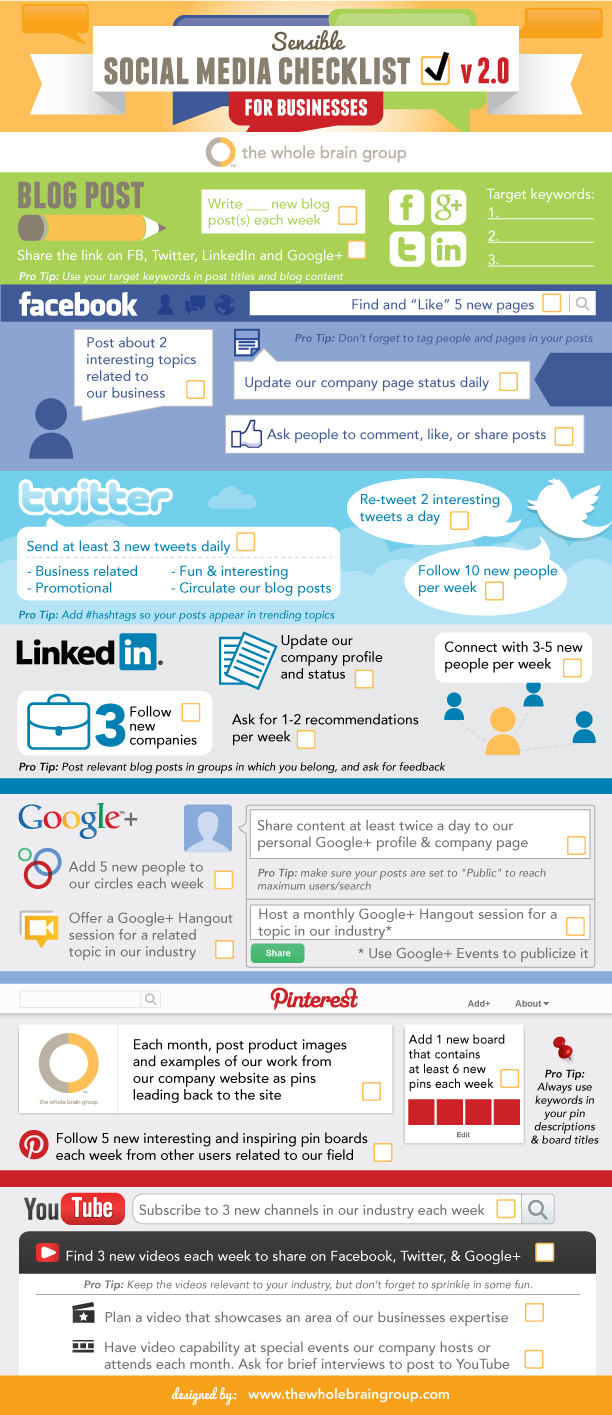 The Social Media Checklist for Businesses
With the abundance of social media sites, it can be easy to neglect one of the main platforms or to forget some of the best practices. Use the following tips as a handy checklist to maximize the effectiveness your social media activities.
Blogging Basics
A blog is a useful way of providing updates and news for most businesses. Almost all companies can benefit from a well maintained and frequently updated blog. The main things to consider when composing blog posts are:
• Have a schedule where you post a certain number of posts per week.
• Share the post link on Facebook, Twitter, LinkedIn and Google+.
• Target a few specific keywords to improve visibility for readers and search engines.
Facebook Fun
The best place for consumers to connect with brands they like. Increase fan engagement with these tips:
• Post about 2 topics of interest relating to business.
• Find and Like 5 new pages.
• Update company page status each day.
• Ask for likes, comments and sharing of posts.
Twitter Tweets
No other social network can compete with the speed of twitter. Instantly respond to users and increase followers by:
• Sending around 3 tweets each day.
• Re-tweeting 2 interesting tweets a day.
• Following 10 new people each week.
LinkedIn Links
The network for professionals, don't underestimate the power of LinkedIn. Get the most from this network by doing the following:
• Update company profile to keep it fresh.
• Follow new companies.
• Connect with a few new people each week.
• Ask for a couple of recommendations each week.
Growing Google+
Using Google+ effectively can vastly enhance your search rankings and it gives you new tools to communicate and interact with partners and clients. Be sure to:
• Add 5 new people to circles each week.
• Offer Google+ Hangout session for industry related topic.
• Share contest at lest twice a day on personal and company pages.
• Use Google+ Events to publicize monthly Hangout sessions.
Pinterest Posts
High quality images are more important than ever, especially thanks to the power of Pinterest. Inspire users and get them sharing your product images with these good practices:
• Post product images from company site as pins leading back to the site.
• Follow new interesting and inspiring pin boards about related niche.
• Add a new board that has at least 6 new pins each week.
YouTube Ideas
Video is very important for marketing any business or service. You can convey much more than just text and images. Make sure you are using the premier video sharing site to your advantage.
• Subscribe to around 3 new channels in industry each week.
• Find new videos each week to share on Twitter, Facebook and Google+.
• Create video to showcase an area of business expertise.
• Conduct video interviews at special industry events.
The key is to combine creativity and consistency to get the best results from social media and make your marketing campaigns a success.