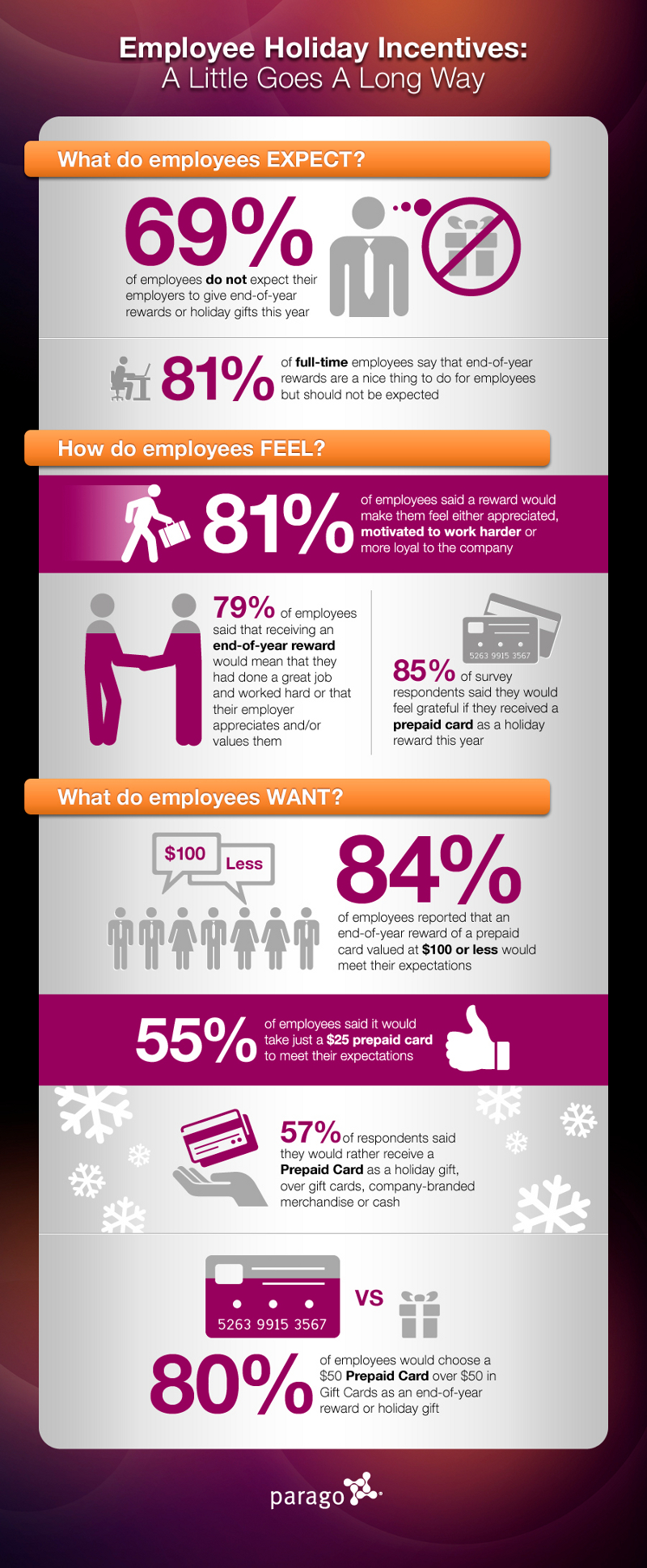 Employee Holiday Incentives
Employee incentives can be a great way of raising company moral and trust. A survey conducted by Parago has revealed the kind of expectation that employees have.
Employee Expectations
Almost 70 % of employees do not expect to receive any end of year rewards or holiday gifts from their employers. It was found that 82 % of employees view any end of the year rewards as a nice surprise for employees but it should not be expected.
Employee Emotions
A reward would help make employees feel more appreciated and motivate them to work even harder. Company loyalty and trust will increase when employees feel appreciated by the executives.
79 % of employees believe that receiving a reward at the end of the year serves to show they had done a great job and that their employer valued them. 85 % of workers who were surveyed said that they would be grateful to receiving a prepaid card as holiday gift.
What Employees Want
84 % of employees said that a prepaid card valued at 100 dollars or less would be a great end of year reward and meet their expectations. 55 % of employees questioned said that just a 25 dollar prepaid card would be enough to meet their expectation.
Prepaid cards were preferred over gift cards, cash or company branded merchandise as a holiday reward by 57 % of respondents. A massive 80 % of employees would rather have a 50 dollar value prepaid card, instead of a similar value gift card. A prepaid card give more flexibility in terms of where it can spent compared to a typical gift card.
Keeping employees motivated and encouraged is important for a company's overall performance. A small gift at the end of the year can go a long way in improving employee trust and productivity and will have them come back to work ready to work harder than ever.