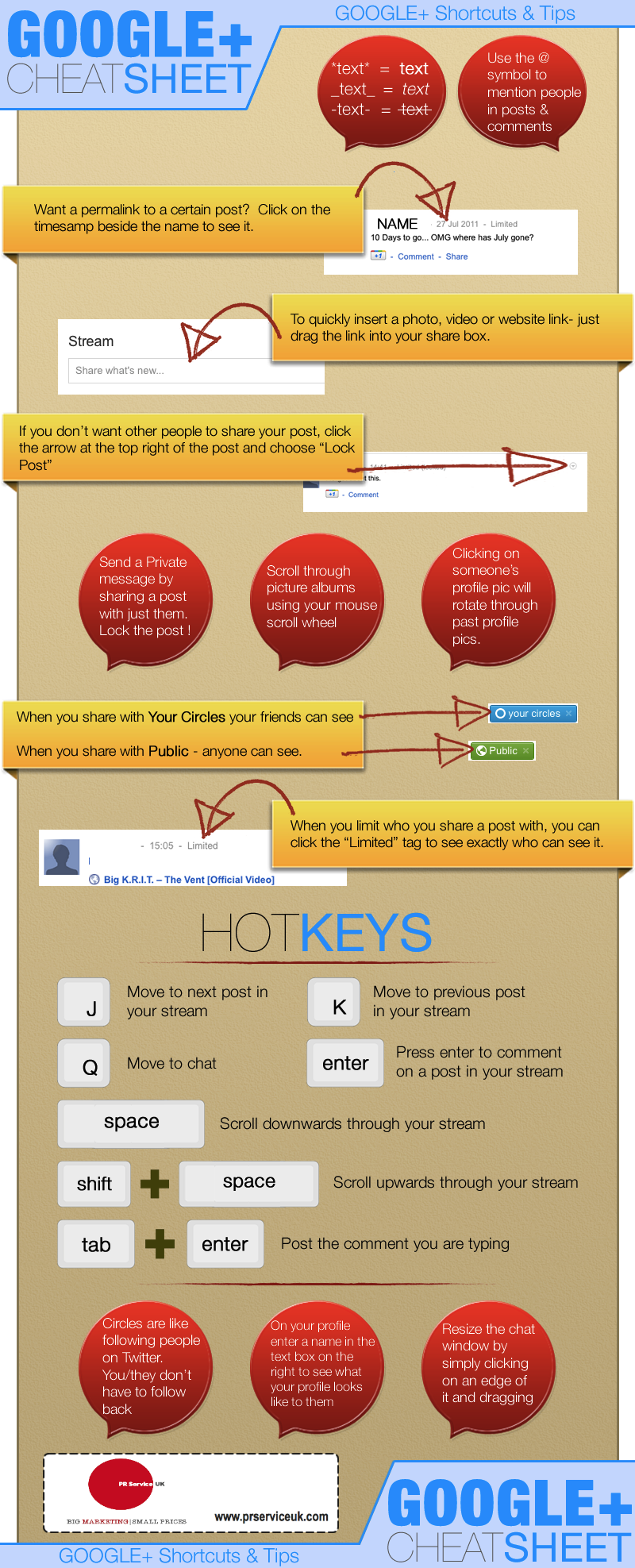 Google+ Shortcuts and Tips
Google+ is a fast growing social network that is increasing in importance thanks to its deep ties and integration with search results. Speed up your different tasks on Google+ with this super handy cheat sheet.
Mentions. Use the @ symbol to mention someone in posts and comments.
Permalinks. Click on the timestamp next to a post to get the permalink for that particular post.
Quick share. Quickly insert photos, videos or links by just dragging the link into the share box
Lock Post. To prevent other people from sharing a particular post, click on the arrow at the top right of the post and choose the Lock Post option. This is a easy way of sending a private message, by sharing a post which you have locked.
Limit Tag. You are able to limit who is able to share any given post. Click on the Limited tag to see exactly who can see it. Use the limit option when you don't want to completely lock a post, but still want to put some restrictions on it.
Profile Pics. Click on someone's profile picture to rotate through their past profile pics.
Circles explained. Circles work in a similar fashion to following people on Twitter. You or they don't have to follow back.
Different Perspective. On your profile page, enter the name of someone in the text box on the right of the screen to find out how they see your profile.
Resize chat. The size of the chat window can be altered by simply clicking and dragging on the edge of the window.
Keyboard Hotkeys
• J – Move to the next post in your stream
• K – Move to the previous post in your stream
• Q – Move to Chat
• Enter – Press enter to be able to comment on a post in your stream
• Space – Scroll down through your stream
• Shift + space – Scroll up through your stream
• Tab + enter – Post the comment you are currently typing
With a little bit of practice you can remember and master these tips and tricks and work with Google+ even more efficiently.