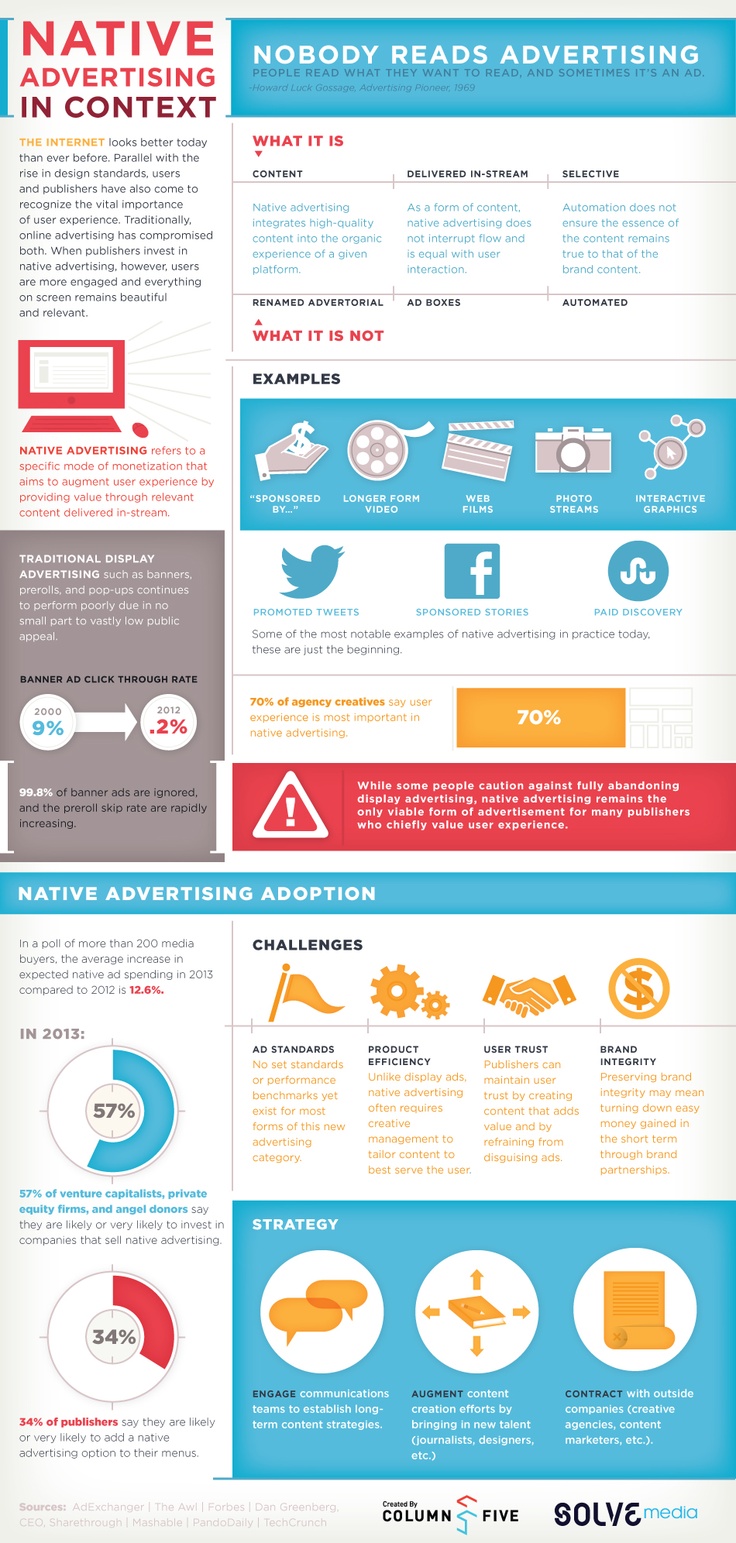 Native Advertising in Context
As compared to previous times, the internet has improved tremendously. A a result of the increase in the standard of design, internet users have realized the importance and significant of the user experience. With native advertising, every graphics on the screen is relevant to the user.
What is native advertising? This is a style of advertising that seeks to improve the user experience through the provision of appropriate content which is delivered in stream.
What is Content?
Content is not a renamed advert. Native advertising seeks to find a blend between organic and high quality experience of a given platform. The use of traditional display advertising methods like banners and pop ups has continued to reduce over the year. For banners, the click rate has reduced from 9% in 2000 to 0.32% in 2012. Most banners are ignored leading to an increase in preroll skip rates.
What is "Delivered in Stream."
This is not advert boxes, instead it is form of content hat does not interrupt flow, striking a balance between with human interaction.
What does it mean to be selective?
It is not automated, it ensures that the essence of the content remains true with respect to the brand unlike the case of an automated process.
Examples of Native Advertising
Sponsored by….
A longer form of video.
Web films.
Streams of pictures.
Interactive graphics.
In contemporary times, native advertising is demonstrated through social media platforms in form of promoted tweets, sponsored stories, and paid discoveries. These are just the beginning of its potentials.
Native Advertising Adoptions
A survey was conducted in 2003 on over 200 media buyers as compared to 2023 native advert spending increased by 12.6%. This also reflected in the area of investment as over 50% of venture capitalists are more likely to invest in companies that sell native advertising. For publishes, 34% are sampled publishers are likely to add a native advertising option.
Challenges
Here is a listing of the top challenges with native advertising.
Advert Standard: For this form of advertising, there are no pre set standards or performance indicators that are in place as it is a new form of advertisement.
Product Efficiency: Native advertising requires creativity and a targeted content with respect to a specific user.
Use Trust: In order to earn the trust of the user, publishers an add value to their adverts by including quality content and refraining from the use of repulsive adverts.
Brand Integrity: This may require you to turn down some offers and concentrate on the bigger pictures and profits in the long run.
Strategy Employed
Several strategies can be employed. These are:
1. Effective communication should be used to establish long term strategies.
2. New and efficient personnel may be included in the team. This will complement the efforts of the entire team.
3. Employ the services of other companies, agencies, and marketers to promote the cause.