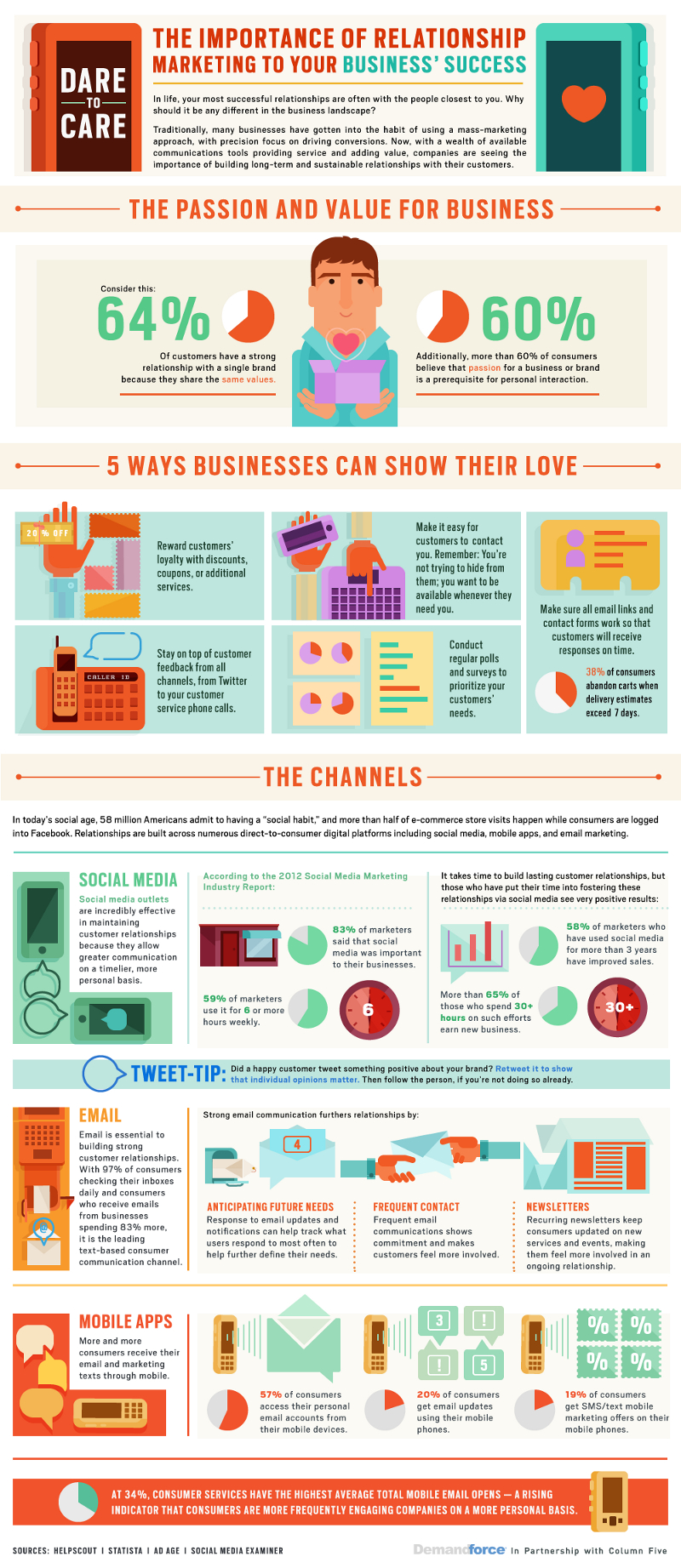 The Importance Of Relationship Marketing To Your Business' Success
Your most successful of relationships in life are most oftentimes with the people who are closest to you. Why does it need to be any different in the business arena?
Mass Marketing Approach
Normally, most businesses have gotten used to the art of using a mass marketing approach, with a specific focus on driving conversations. Now, with available communications tools adding value and providing service, companies are seeing the importance of building long term and sustainable relationships with their customers.
The Passion and Value For Business
Consider this: 64 percent of customers have a strong relationship with a single brand because they share the same values. Additionally, more than 60 percent of consumers believe that passion for a business or brand is a prerequisite for a personal interaction.
Five Ways Businesses Can Show Their Love
Reward customer's loyalty with additional services, coupons, or discounts. Make it easy for customers to contact you. Remember: you are not trying to hide from them; you want to be available whenever they need you. Make sure all meal links and contact forms work so that customers will receive responses on time. Stay on top of customer feedback from all channels, from Twitter to your customer service phone calls. Conduct regular polls and surveys to prioritize your customers' needs.
The Channels
In today's social age, 58 million Americans admit to having a "social habit", and more than half of e-commerce store visits happen while happen while consumers are still logged into their Facebook. Relationships are built across numerous direct – to – consumer digital platforms including social media, mobile apps, and email marketing.
Social Media
Social media outlets are incredibly effective in maintaining customer relationships because they allow greater communication on a timelier, more personal basis. According to the 2012 Social Media Marketing Industry Report: 83 percent of marketers said that social media was important to their businesses. 59 percent of marketers use it for 6 or more hours weekly.
It takes time to build lasting customer relationships, but those who have put their time into fostering these relationships via social media see very positive results: 58 percent of marketers who have used social media for more than 3 years have improved sales. More than 65 percent of those who spend 30 or more hours on such efforts earn new business.
Tweet Tip
Did a happy customer tweet something positive about your brand? Retweet it to show that individual opinions matter. Then follow that person, if you are not already doing so.
Email
Email is essential to building strong customer relationships. With 97 percent of consumers checking their inboxes daily and consumers who receive emails from businesses spending 83 percent more, it is the leading text bases consumer communication channel. Strong email communication furthers relationships by: anticipating future needs, frequent contact, and newsletters.