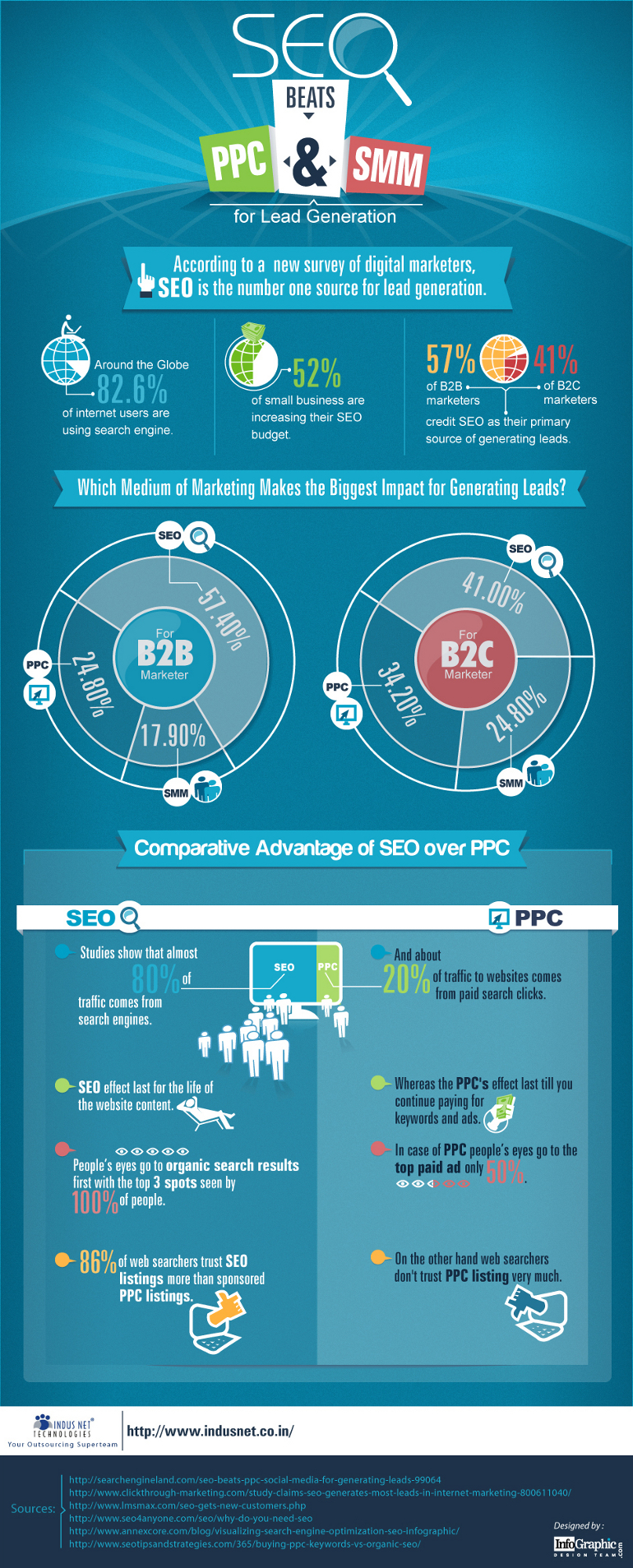 SEO Vs. PPC
When it comes to drawing traffic to your website, surveys reveal that SEO wins out over both PPC and SMM. In fact, when digital marketers were researched the results showed that SEO is now the first source for lead generation. There are several reasons that SEO proves to be a better method than PPC, and taking heed of this advice early on will only increase your site's success.
Statistics
The survey results show that a whopping 82.6 percent of Internet users use search engines. This new statistic is undeniable and has caused small businesses to begin budgeting more toward SEO. In fact, 52 percent of businesses recognize the importance of this trend and have invested accordingly. Research shows the wisdom of this move: 57 percent of B2B marketers and 41 percent of B2C marketers confirm that SEO is the primary method for generating leads.
Search Engine Optimization (SEO)
SEO (search engine optimization) is precisely what it sounds like. It optimizes, or increases, the visibility of your website across the Internet. This exposes your content to more Internet users, increasing the likelihood and frequency with which people view your site. In business this is the most important aspect to marketing: visibility. If more people see your product, more people will buy it, and your success grows accordingly. In addition, by focusing on what people are specifically searching for your business caters to particular needs and you attract the people who are most likely to be interested in your product.
Pay Per Click (PPC)
PPC (pay-per-click) is a different form of generating traffic that focuses more on keywords. Internet users are directed to a small business's website when related keywords are clicked on. In the end, PPC is less effective than SEO, as surveys are showing.
In fact, a majority of 80 percent of leads are attributed to SEO whereas only 20 percent of traffic comes from PPC. A significant benefit of SEO versus PPC is that search engine optimization lasts for the lifetime of the website content. The effect of the PPC lasts only for as long as you continue to pay for ads and keywords.
Internet users tend to look at organic search results first, increasing chances of people seeing your site. In fact, 100 percent of people will see the top three spots in a list of search results. This means that if you invest enough into your SEO and it makes it into these top three spots, you are guaranteed optimal visibility. By contrast, only half of Internet users look at a paid ad, and even then only at the top one.
In the end, people tend to distrust PPC listings. The survey showed that 86% of users placed more trust in SEO listings over PPC ones. These stats show the overwhelming advantage of SEO over PPC.