Last year, Google announced that RankBrain was the third most important factor of Google's algorithm. In the next year, it is expected to become even more important.
So, what is Google Rank Brain?
In a nut shell, RankBrain is a machine learning system that assists Google in identifying what search results their users interact best with. These are known to RankBrain as the user interaction statistics.
In case you are wondering how much more important user interactions are to the Google algorithm as compared to the actual content of a blog post, then take a look at this infographic from Search Metrics (1.0 is the biggest impact & 0.0 is no impact).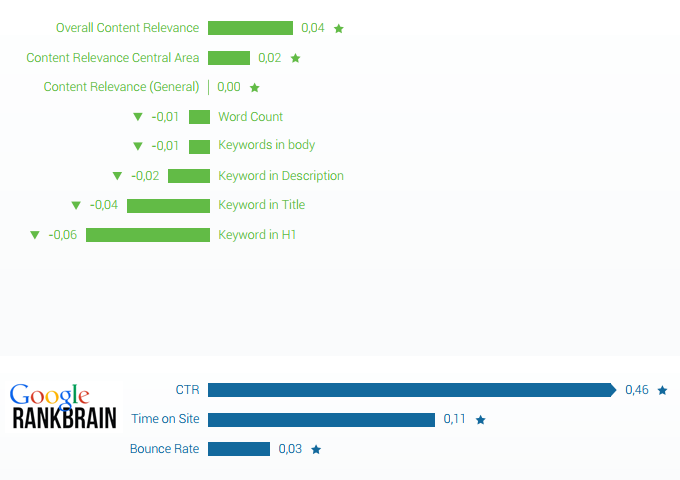 The Google RankBrain factors have over an 1100% greater influence on rankings than the relevance of the content in a blog post to the keyword phrase search.
How does Google RankBrain work?
Let's take a look at a real life example so that you can get a better understanding of how Google RankBrain works….
Someone goes to Google and types in "jewelry industry statistics."
As they scan through the results on the first page, they see a post that jumps out at them.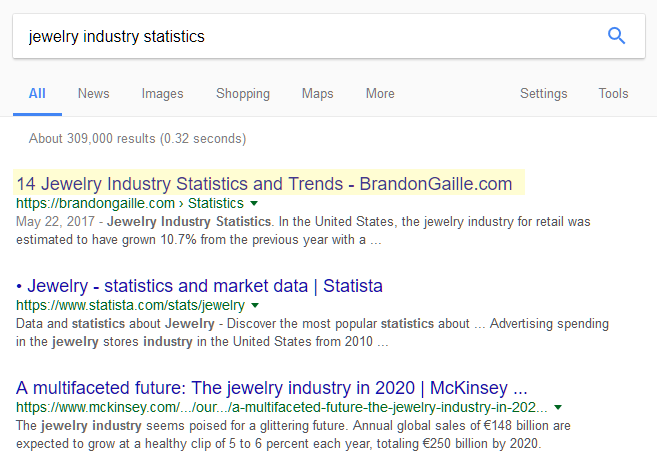 That post, which is mine, is the only result that displays a strong title and leads with a number. The title of that result reads, "14 Jewelry Industry Statistics and Trends."
Once they click on that search result, my post pulls them in and keeps them on the page for over four minutes before they return back to Google.
That same person hits the back button and goes to another search result on the page with a weaker title. The content on that page is weaker than mine, and the individual only stays for 2 minutes before returning to Google.
RankBrain keeps track of this user interaction data and moves my post up in the rankings over the other post.
RankBrain is made up of two primary components.
Component One of RankBrain – The Click Through Rate
This is the percentage of people that click on a specific result.
You can see the click through rates on Google through the Google search console in Google Analytics. The console will let you see the number of times your posts show up in Google results for each keyword phrase and the number of click throughs. It also shows the average ranking that your blog has for that phrase.
A study by Search Metrics found that the pages occupying the first three positions on Google have an average click through rate of 36%. This gives you a good baseline of what you need to maintain a top three ranking in Google.
At the end of the day, all you need to do is get clicked on more than the page in front of you to keep on moving up.
Ways to Improve Your CTR
Assuming that your post has a standard Google result, there are three elements that will influence the click the rate.
#1 The Title
The title will account for 75% of the click through influence. You will want to make sure you get this right. I have covered my perfect title formula multiple times in past episodes.
The perfect title formula is…
Odd Number + Superlative + Exact Keyword Phrase
For example..
21 Best SEO Techniques
13 Eye Opening Pet Industry Statistics
35 Incredible Steve Jobs Quotes
People love post titles that start with a number over every other title type.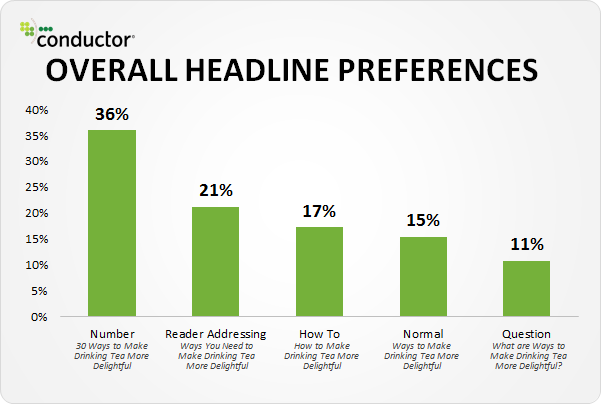 The odd numbered title draws 20% more clicks than the even numbered title.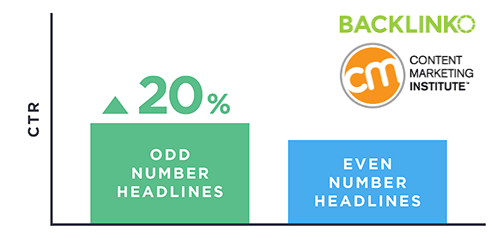 Google users also are drawn to titles with the exact keyword phrase that they performed a search for.
#2 The Description
This is what shows up under the title in a Google result, and it impacts 20% of the click through rate. You can create custom descriptions for your blog post with the Yoast SEO Plugin. If you do not create a custom description, then Google will automatically pull some text from within your post to be the description. In most cases, these are going to be poor descriptions that do not make much sense.
While most bloggers will spend the time to get the title right, they often do not take the time to even write a description.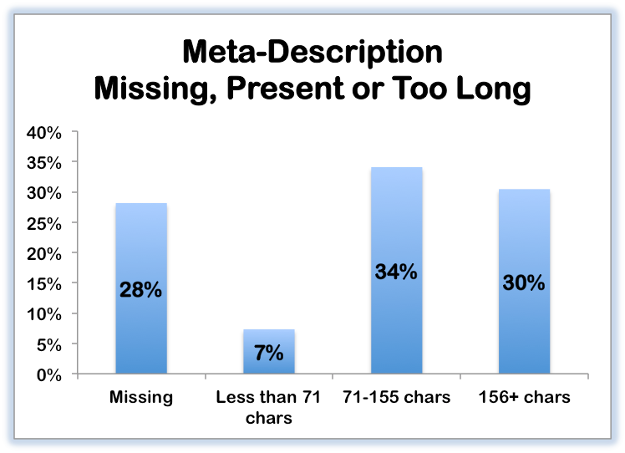 The best meta description formula for driving clicks is the truncated tease.
This is where you create a nice juicy sentence or two that teases the takeaway right before ending it with a (…).
For example…
Title
11 On Page SEO Best Practices for Blogs
Description
There are eleven On Page SEO tactics that pro bloggers use to get ridiculous results. The one tactic that plays the biggest role in SEO is…
This description compels them to click through to find out the one tactic that plays the biggest role in SEO.
#3 The Date
Google includes the date the post was published right before the description, and this has a 5% impact on the click through rate. Five percent may not sound like that big of a deal, but it can make the difference between ranking #3 or ranking #1. The top three results for most phrases are going to have well optimized titles and descriptions. In these cases, a post from 2017 can jump two posts that are from 2014.
This is due to a percentage of Google searchers that always scan dates. I fall into this percentage. I completely ignore any Google result from over two years ago, and I tend to click on results from the current year over everything else.
For the majority of search results on tips and tactics, the date places a bigger factor. I am guessing the influence on the click goes all the way to 30%.
For highly competitive searches, like SEO tips, the top results usually have publish dates within the past 90 days.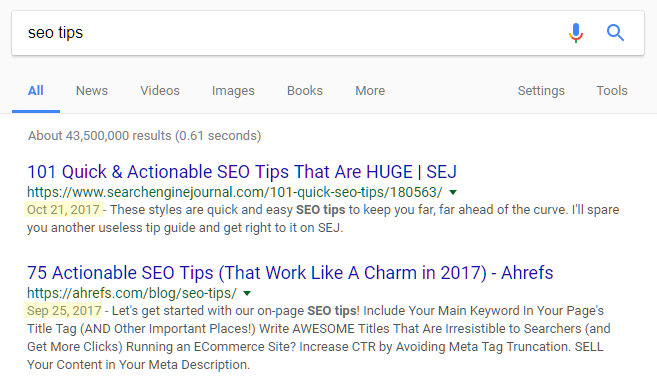 The best ways to optimize your publish date in Google results is to use the quick addition and publish tactic.
You will start by identifying all the posts that you rank on the first page of Google for. You only want to update posts that have high rankings in Google.
Then you will add a short new piece of content to each one and republish it for today's date. This will keep your old content up to date, and it will make your Google result publish date shine above the other results with older dates.
When you have optimized your title, description, and publish date, then you have done everything within your power to improve the click through rate in Google search.
Component Two of RankBrain – Dwell Time
After a person clicks on a Google search, over to a specific page or post, that is when dwell time begins. Dwell time ends when the searcher hits the back button and returns to Google.
You can see the approximate dwell time of your posts by looking at your average time on page in Google Analytics.
The longer your dwell time, the higher your post will rise up in the rankings. The same Search Metrics study I mentioned earlier, also found that the average dwell time for top 10 Google rankings was 3 minutes and 10 seconds.
On top of getting more Google traffic, blog posts with a higher average time on page will produce more social shares, email subscribers, and sales.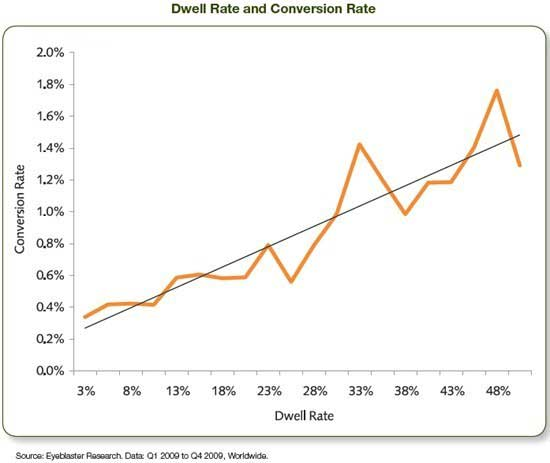 While there were only three factors that impact your click through rate, your dwell time is influenced by a wide arrangement of factors. In this episode, I will briefly go over each factor. Then in upcoming episodes I will dive deeper into specific growth hacks that will sky rocket the average dwell time of your blog posts.
Ways to Improve Your Dwell Time
Here are some of the big factors that influence dwell time….
#1 Make sure your posts start above the fold.
You should do a quick check with a computer, laptop, and smart phone to make sure the first sentence of your posts is visible before you have to scroll down.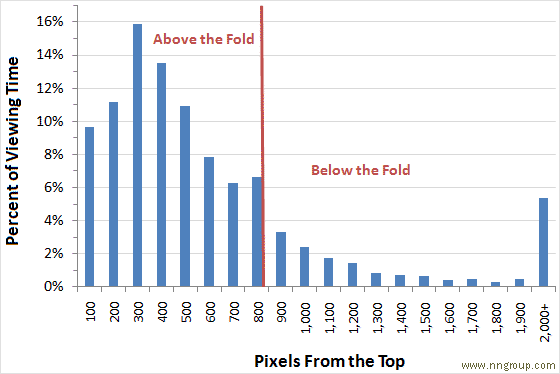 #2 Pull them in with a great intro.
#3 Break up your content.
This means never going over eight sentences for a single paragraph, using bulleted lists, numbered points, headers and sub headers.
#4 Strategically place visuals throughout your posts.
I like to use graphs, charts, infographics and embedded YouTube videos.
#5 Don't get flashy with a special font and keep your line spacing around 150%.
You can not go wrong with Helvetica, Arial, or Georgia.
#6 Start your ads after the first or second paragraph in mobile.
You should not get stressed out about losing revenue from making this change. You will make just as much money as pushing your ad in front of your post.
#7 Place customized internal links in the last paragraph of your posts.
If they read two posts instead of one, then you will double your dwell time.
#8 Use an exit intent popup that offers a custom content upgrade for the post.
Instead of using the same generic popup that you use for the entire site, create a post specific or a category specific content upgrade.
These eight tactics will significantly increase the average dwell time and start pushing your posts up the Google rankings.
Before I end this post, I want you to imprint the following big takeaway into your brain.
As a blogger, you should live by two simple maxims everytime you sit down to write a new blog post.
Maxim One
How can I create a title that will be irresistible to click?
Maxim Two
How can I produce a blog post that will compel new visitors to read all the way to the end and still want more?
If you accomplish this, then you will have raving success as a blogger.