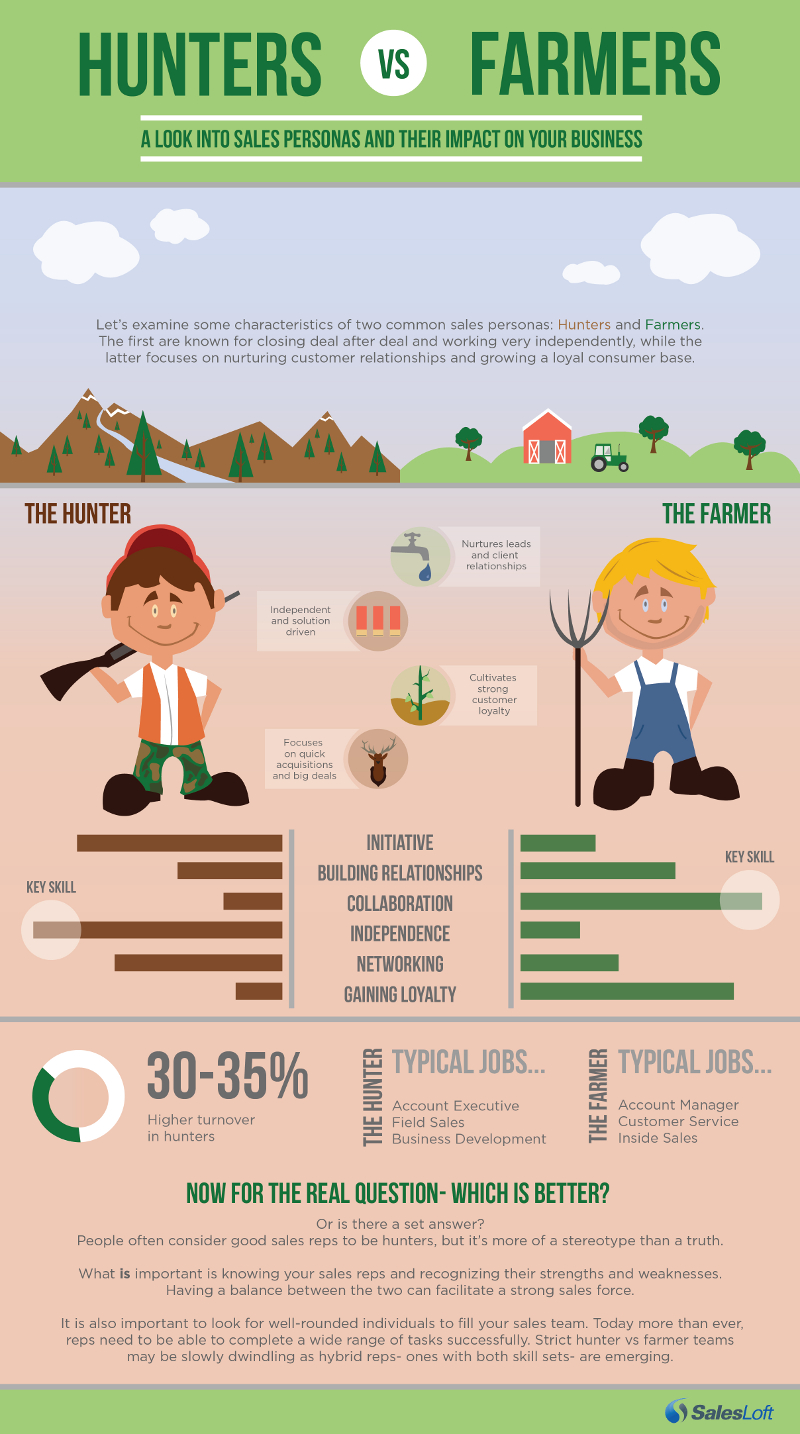 Hunters vs Farmers
This article takes a look at the sales personas and the impact it has on business. Taking a close look at the sales personas of hunters and farmers, they are known for closing deals and working independently. Farmers are known for growing customer relationships and increasing the list of loyal customers.
The Hunter
The hunter is independent thinking and drive by the quest for a solution. He is in need for the acquisition of great deals. His key skill is independence. He has a high level of initiative and networking. He is not so skilled in gaining loyalty and collaborations. He is fairly skills in building relationships and networking. The hunter needs to develop himself in the area of collaboration and gaining loyalty.
The Farmer
The farmer develops clients relationship and strong customer trustworthiness. His main skill is collaboration and gaining loyalty. He is also skilled in the building of relationships. He has a fair knowledge of networking and initiative. He needs to work on independence.
Research has revealed that hunters have higher turnover up to 35%. For the hunter, the following areas can be likened to his job:
1. Account Executive
2. Field Sales
3. Business Development
For the farmer the following can be likened to his roles:
1. Account Manager
2. Customer Service
3. Inside Sales
Between the farmer and the hunter, which is better? In practice, good sales reps are seen as hunters. This is seen as the norm. It is important to be familiar with the strengths and weaknesses of your sales reps having a healthy balance will make things better.
Individuals who are well blended and rounded are better on the team. Modern day sales reps need to get involved in lots of tasks and execute them successfully.