A big percentage of bloggers and businesses are so caught up in doing everything they can to get the email signup, that they totally forget to spend time optimizing their thank you page.
The top 1 percentile of bloggers do not just stop at basic thank page optimization. These bloggers have creatively tested new ways to use their thank page to increase their open rates, add loads of social followers, and convert new email subscribers into paying clients.
In this post, I will be sharing seven thank page tactics that deliver amazing results.
#1 Use Gmail Instruction to Give Your Open Rates a Big Bump
Once your list gets beyond 1000 email subscribers, you will probably see your emails get pushed into the promotions tab on Gmail. Since Gmail accounts for close to 50% of most email lists, this can significantly effect the deliverability of your emails.
Many of the big ecommerce sites have started to implement a solution to this common problem that every email list owner faces. They solved the problem by turning their thank you page into a visual tutorial. This simple tutorial shows new subscribers how to make sure their emails show up in the primary tab in Gmail.
Moosejaw does this with excellence by using a screenshot showing one of their emails in the promotions tab. Above the screenshot is a strong visual call-to-action that reads…
Let's take our relationship to the next level.
Move us into your primary inbox.

Right below that is a screenshot of their email in the promotions tab. They have a swooping red arrow showing how to drag and drop their email from the promotions tab to the primary tab.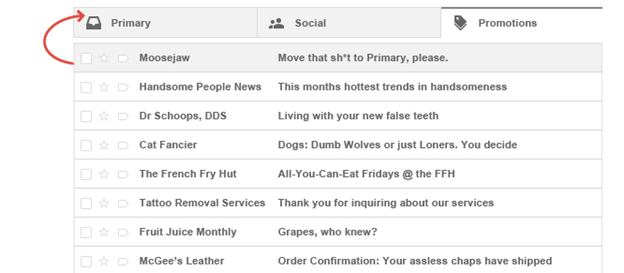 Then below the swooping arrow screen shot there is a small red box. This has another screenshot, of the message that pops up in Gmail, when someone moves an email from promotions to primary.
That message reads…
The conversation has been moved to "Primary." Do this for future messages from MooseJaw@—-.
In that red box, there is another call-to-action next to this statement that reads…
Don't forget to click "yes" when you see this.

And here's how the entire thank you page looks…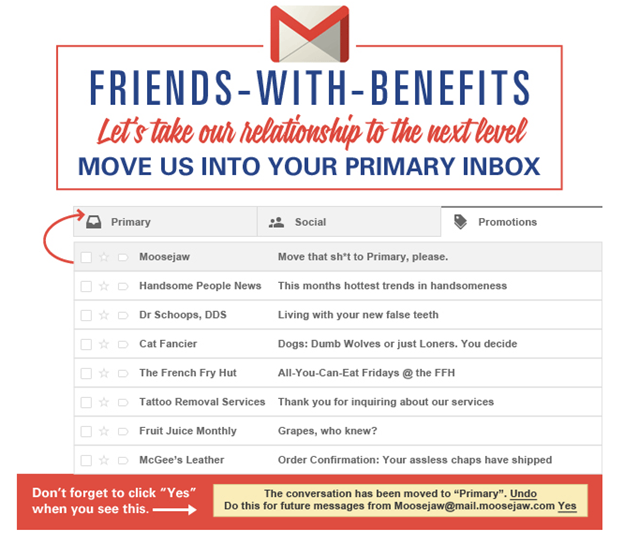 In case you are wondering if your emails are going to the promotions tab in Gmail, there is an easy way to find out. All you need to do is setup a Gmail email and add it to your list.
Although the best practice is to send test emails before you send out your email, it is also a good idea to seed your list with a Gmail email. Sometimes the test email will get through, but the actual email gets buried in the promotions tab.
#2 Ask Them to Follow You on Social Media
If someone has subscribed to your list, then they are almost always going to be willing to follow you on social media. Do not just throw up a follow button with a call-to-action. I recommend using your thank you page to place a simple message from you to your new subscribers.
In addition to your message, add a friendly image of yourself. People love subscribing and following bloggers because they are getting to know a person, as opposed to a faceless brand.
Brian Dean of Backlinko does a nice job of using this strategy. On the thank you page that his new subscribers see, he has a message that reads…
You're all set.
Your email is now confirmed and you're on the Backlinko email list. Check your email for a message from me.
Also, it's time to follow me on Twitter and say "hey":
(Right after this statement he has a Twitter button that reads "Follow @backlinko."
Don't be shy, I like to meet everyone that's been a part of the Backlinko community.
Over the next few weeks I'll be sending you super-actionable content that will help you generate more traffic, leads, and sales.
Talk Soon,
Brian
Here's a screenshot of his entire thank you page…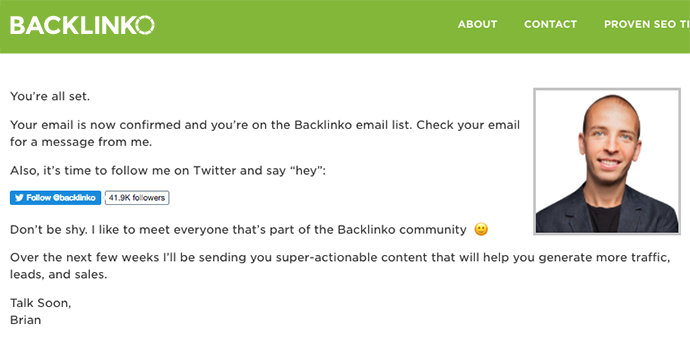 His message starts with a soft call-to-action that reminds them to check their email right now for his welcome message. Then it is followed by the hard call-to-action to follow him on Twitter.
#3 The Gmail Reminder and Social Follow Combo
Now I would like to share a variation of Brian's thank you message, which also includes the Gmail reminder.
Here's the message for a thank page that shows up for a tools post lead magnet.
You are all set. I just sent you an email that will give you instant access to the 9 SEO Tools that Every Blogger Needs. If you are using Gmail and you do not see it, then go into the promotions tab, which is to the right of the inbox tab. To make sure you do not miss any of my future emails, drag the email from the promotions tab and drop it into your inbox.
I am super active on Twitter and would love to connect with you. Just hit the follow button below so that we can be connected.
(Insert Follow Button Here)
I can not wait to start interacting with you on Twitter and sending you my top growth hacks that have helped me build my blog to over 1 million monthly visitors.
I look forward to getting to know you,
Brandon
These first three are my personal favorites, and I wanted to give you the swipe copy for each one. Here are four more thank page tactics that I have stood out to me over the past couple of years.
#4 Survey Them to Find Out What They Want
You can segment your new email subscribers into different lists by asking them more questions. In addition, you can find out more about their business and if they would be interesting in having a consultation with you. Finally, you can sweeten the deal with a special download to get them to fill out the rest of the survey.
This works great if you are selling services like coaching and marketing. The survey questions can prequalify them by asking them their budget and their most pressing need.
#5 Ask for a Click to Tweet to Get a Special VIP Bonus
Mary Fernandez uses this tactic on her blog Persuasion Nation.
Here is a screenshot of her thank you page in action…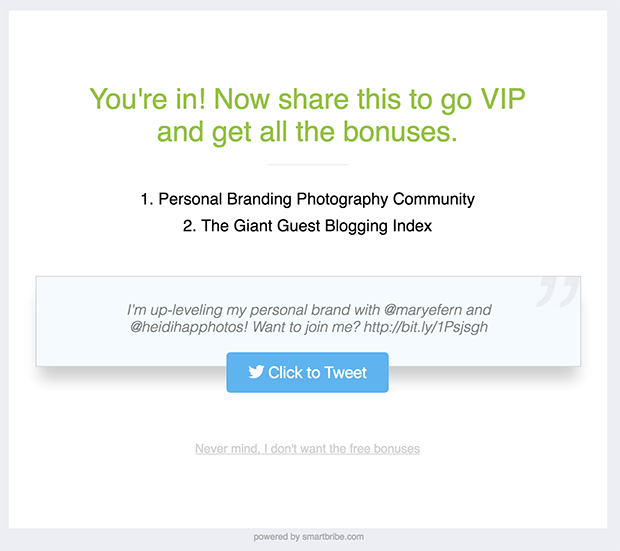 As soon as a subscriber hits the click to tweet button, they are taken to another landing page, which has both of their bonuses.
#6 Ask Them to Sign Up to Your Facebook Group
Never ask your subscribers to sign up to your Facebook page. The engagement on Facebook pages is approaching less than 3%.
You would be wise to start a Facebook Group because the engagement is 1000 to 2000 percent higher than a Facebook page. On average 90% of email subscribers will be active on Facebook, which makes it a simple and applicable upsell.
#7 Use Your Start Here Page
If you have a start here page, then it can be used as your thank you page. A good start here page is going to introduce your audience to all of your greatest content. You may need to duplicate your start here page and make a few edits to make it work for a thank you page. For example, most start here pages ask visitors to sign up to an email list. You do not want to be asking this to your new email subscribers.
Although the first three tactics are my favorite, any of these seven can be used to level up the thank you page that you deliver to your new subscribers.