#1. More than 30% of the global market for biopharmaceuticals is based in the United States. (U.S. Department of Commerce)
#2. The U.S. is also the global leader in research and development within the biopharmaceutical industry. About $37.5 billion in investments for the industry are based in the United States. (U.S. Department of Commerce)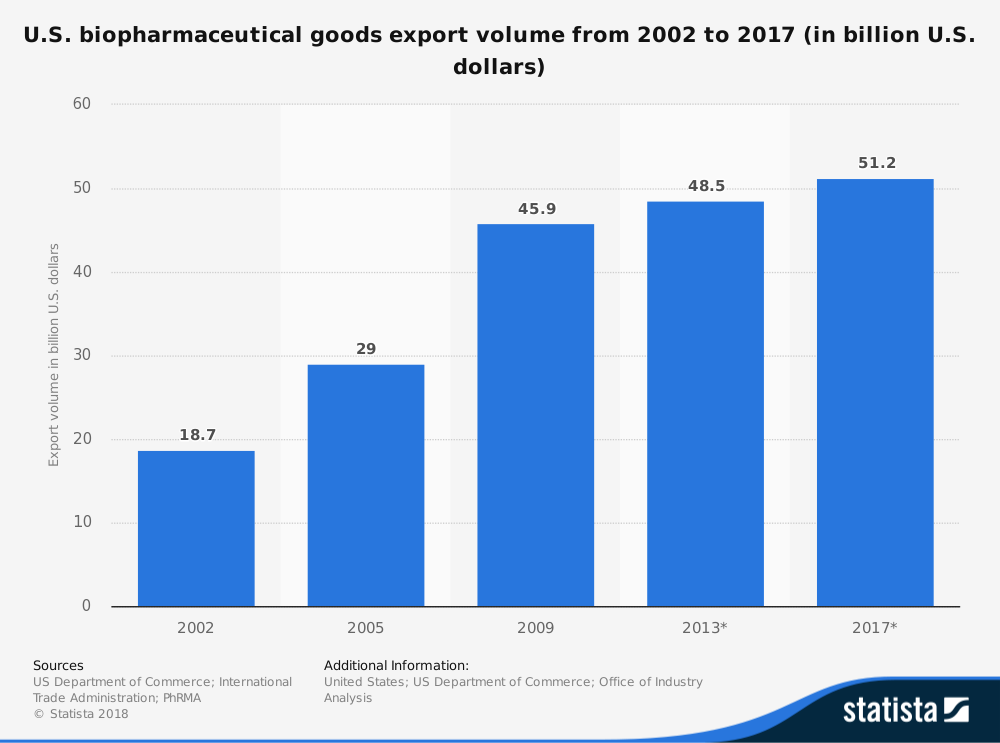 #3. The biopharmaceutical industry accounted for over $1.3 trillion in economic output in 2015, representing 4% of the U.S. total output figures for the year. (U.S. Department of Commerce)
#4. More than $558 billion is generated by the biopharmaceutical industry in the United States each year. Suppliers and worker spending contribute another $659 billion in revenues. (U.S. Department of Commerce)
#5. Over 800,000 people are directly employed by the biopharmaceutical industry in the U.S. each year, with a wide range of opportunities available. Technical support, manufacturing, and scientific research tend to be the positions with the most availability. 33% of the jobs are STEM-based occupations. (U.S. Department of Commerce)
#6. When indirect employment opportunities are also considered, the biopharmaceutical industry supports over 4.7 million jobs. (U.S. Department of Commerce)
#7. The patent term in the United States for products developed by the biopharmaceutical industry is 20 years. Drugs produced by the industry are given at least 5 years of market exclusivity, depending upon the amount of time between FDA approval and patent validity. (U.S. Department of Commerce)
#8. Drug sales within the generics market within the United States reached $72 billion in 2016, which represents about 25% of the total global market. (U.S. Department of Commerce)
#9. Over 30% of the new drugs that are either awaiting FDA approval or are in clinical trials are biologics. (U.S. Department of Commerce)
#10. Biosimilars are usually priced up to 30% lower than their biologic reference products. (U.S. Department of Commerce)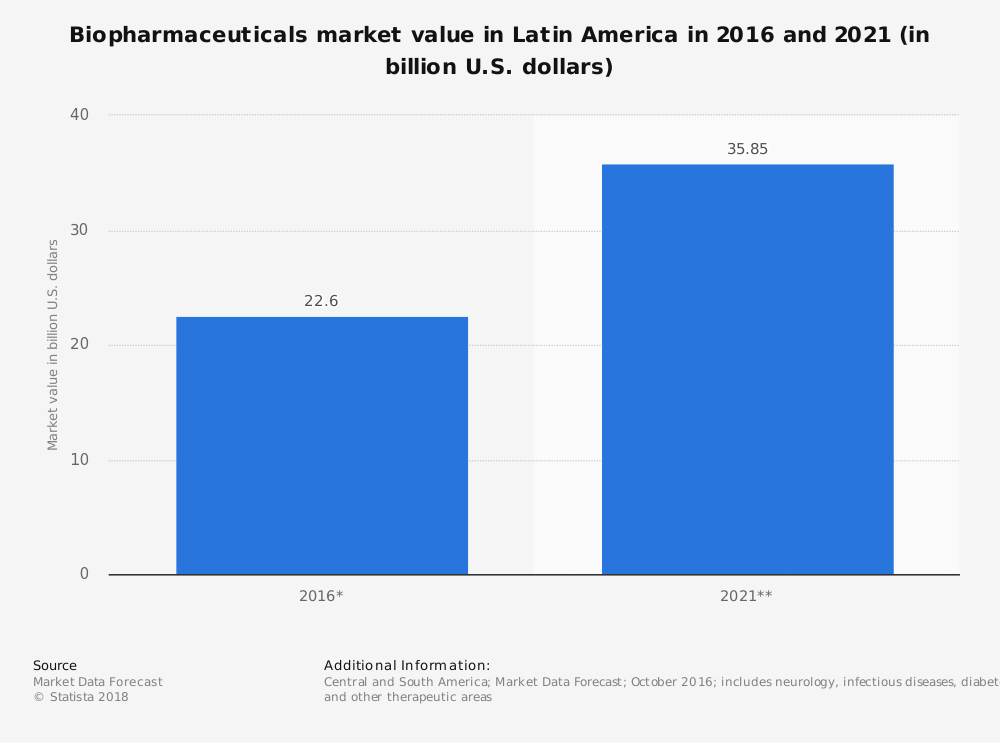 #11. More than 100,000 over-the-counter (OTC) medications are currently available in the United States, allowing consumers to self-diagnose and self-medicate themselves if they are feeling unwell. (U.S. Department of Commerce)
#12. The FDA approved 27 new medicines in 2016. 36% of the new approvals were first-in-class medications, which represent an entirely new way to treat a disease. (U.S. Department of Commerce)
#13. Over 40% of the medications that are currently in the pipeline for the biopharmaceutical industry have the potential to be precision medicines. (U.S. Department of Commerce)
#14. The FDA currently has more than 500 open investigations into new drug applications which involve gene therapy products. In 2016, more than 100 applications were received by the FDA in this area alone. (U.S. Department of Commerce)
#15. The average amount of time that it takes to develop a new drug within the industry is 10-15 years. Less than 12% of the drugs which are developed will actually result in an approved medication that can be sold. (PhRMA)
#16. Domestic research and development in the United States represents 24.8% of the domestic sales which occur. Total research and development globally represents nearly 20% of total sales. (PhRMA)
#17. There are currently 7,000 medicines in development right now by the global biopharmaceutical industry. 70% of these potential medicines are classified as first-in-class products. (PhRMA)
#18. Over 450 of the new medicines in development right now by the industry are designed to treat rare diseases. (PhRMA)
#19. The fatality rates for cancer in the United States have declined by more than 20% since the 1990s. Over 80% of the gains in survival rates from cancer can be directly attributed to new treatments and medicines developed by the biopharmaceutical industry. (PhRMA)
#20. In 2013, the treatment options for Hepatitis C offers a 50% cure rate with a 48-week treatment course, which included major side effects. In 2018, the biopharmaceutical industry offers an 8-week treatment course, with minimal side effects, which offers a 90% cure rate. (PhRMA)
#21. The death rate for HIV and AIDS has dropped by 87% since the introduction of HAART. In this one treatment area alone, the biopharmaceutical industry has helped to prevent almost 900,000 premature deaths in the United States. (PhRMA)
#22. Since 2000, more than 550 medications have been approved for use in the United States that were developed in part, or in whole, by the biopharmaceutical industry. (PhRMA)
#23. The top 15 selling biopharmaceutical products in the world today all produce annual revenues of more than $2 billion. Humira, the top anti-inflammatory drug, generates sales of over $10 billion annually. (McKinsey)
#24. Between 2000-2012, Pfizer saw a 29% positive change in revenue because of biopharmaceuticals. Merck and Company saw a 17% positive change. Novartis saw a 10% positive change. (McKinsey)
#25. F. Hoffmann-La Roche is an industry leader when it comes to the shift toward biopharmaceuticals. From 2000-2012, the company saw a 53% increase in revenues from the industry, making biopharmaceuticals responsible for 79% of total company revenues. (McKinsey)
#26. The number of biotech patents applied for each year has been growing at a rate of 25% since 1995. There are currently over 1,500 biomolecules going through clinical trials. (McKinsey)
#27. Annual treatment costs for emerging biopharmaceuticals can top more than $100,000 for some products. (McKinsey)
#28. 16.4% of industry professionals say that manufacturing productivity and efficiency is the most important operational area or tend for the industry. (PharmTech)
#29. 10.3% of industry professionals say that there are serious bottleneck problems which are affecting the performance of the industry. 45% say that there are some bottleneck problems which must be faced. (PharmTech)
#30. There are currently about 850 biosimilars, including biogenerics, which are either in development or being marketed globally by the biopharmaceutical industry. About 125 of these products are currently in clinical trials. (PharmTech)
#31. Over 500 biobetters are in development or being marketed globally, with over 200 currently in clinical trials. (PharmTech)
#32. 90% of industry professionals are using single-use bioprocessing equipment, with disposable or tubing operations the most popular. Over 80% are using single-use bioreactors. (PharmTech)
#33. Total nominal spending on medication in the United States is more than $450 billion each year. 74% of the revenues generated by the industry come from branded drugs. (Statista)
#34. Gross output levels of pharmaceutical preparation manufacturing are valued at $217.5 billion annually. (Statista)
#35. Over $51 billion in biopharmaceutical goods is exported from the United States every year. (Statista)
#36. Drug store sales and pharmacy sales contributed over $271 billion to the U.S. economy each year. (Statista)
#37. Research and development spending by the pharma industry that happens outside the United States is valued at $11.8 billion annually. (Statista)
#38. The average marketing budget for a pharma company in the United States is $12.7 million. Direct-to-consumer media spending by the industry totaled $5.8 billion in 2016. (Statista)
#39. Digital advertising spending in the United States in 2018 for healthcare and pharmaceuticals reached $2.8 billion. (Statista)
#40. Between 2012-2015, Pfizer paid $976 million in penalty payments because of the products they brought to the market. (Statista)
#41. About 287,000 employees within the biopharmaceutical industry are employed in research and development. Only pharmaceutical manufacturing, with 294,000 employees, is a larger segment of the industry. (Statista)
Biopharmaceutical Industry Trends and Analysis
The biopharmaceutical industry has experienced rapid levels of growth in recent years. It has grown to become the core of the modern pharmaceutical industry, which has caused a significant transformation in the technological, strategic, and operational aspects of the industry.
There will continue to be challenges in these areas. Being able to reproduce large molecules in a reliable way required manufacturing capabilities which go beyond what we've normally conceived in the field of pharmaceuticals.
An Aspirin molecule consists of 21 atoms. The typical biopharmaceutical molecule might contain more than 25,000 atoms. That means more direct investments are required to produce these life-saving products now and in the future.
We have already seen the biopharmaceutical industry go mainstream. Even though it has been growing at an annual rate of 8%, through 2028, the CAGR for the industry could be as high as 16%. With more research comes more opportunities. Blockbuster drugs are defined as generating $1 billion or more in sales each year.
Expect there to be many more blockbusters in the years to come.