#1. The number of funeral homes in the United States is currently 19,322. The figures have been steadily declining since 2004, when there were 21,528 facilities operating. (National Directory of Morticians Redbook)
#2. 86% of the funeral homes in the United States are privately owned by an individual or family. The remainder are owned by corporations that are publicly traded. 12% are currently owned by Service Corporation International. (National Funeral Directors Association)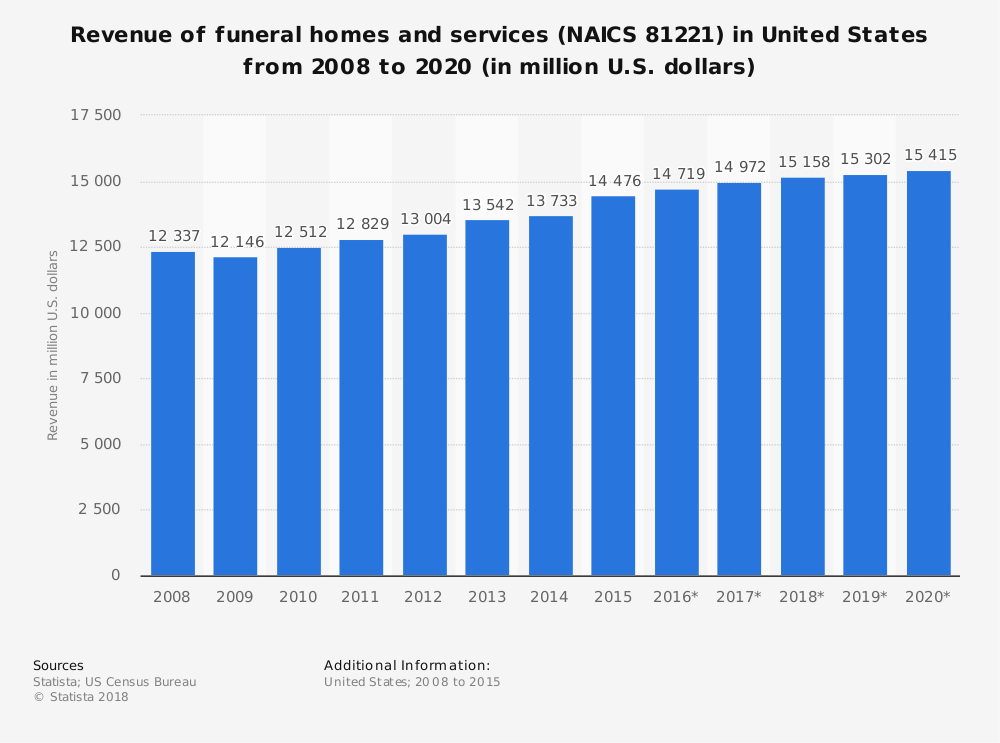 #3. The average funeral home in the United States handles about 113 calls every year. That supports the employment for three full-time workers and four part-time workers. (National Funeral Directors Association)
#4. 58% of funeral homes handle 150 cases or less each year. 8.5% of funeral homes handle 501 or more cases annually. (National Funeral Directors Association)
#5. In 2012, funeral homes generated $13 billion in revenues. Another $3.3 billion was generated by crematories and cemeteries within the industry. (National Funeral Directors Association)
#6. About 108,000 people are employed in the United States by the funeral industry each year. Another 32,600 people are employed by a cemetery or a crematory. (National Funeral Directors Association)
#7. In 2017, the basic services fee charged by a funeral home in the United States was $2,100. This fee is not something that can be declined. (National Funeral Directors Association)
#8. The median cost to move the remains of a loved one to a funeral home in the U.S. is $325. Embalming comes with a $725 media charge. With all other costs, the average price of a funeral with a viewing and burial is over $7,300. (National Funeral Directors Association)
#9. The average cost of a vault in the United States is $1,395 as of 2017. (National Funeral Directors Association)
#10. About 42% of people choose to be cremated because of the costs involved with a standard funeral in the United States. (Forbes)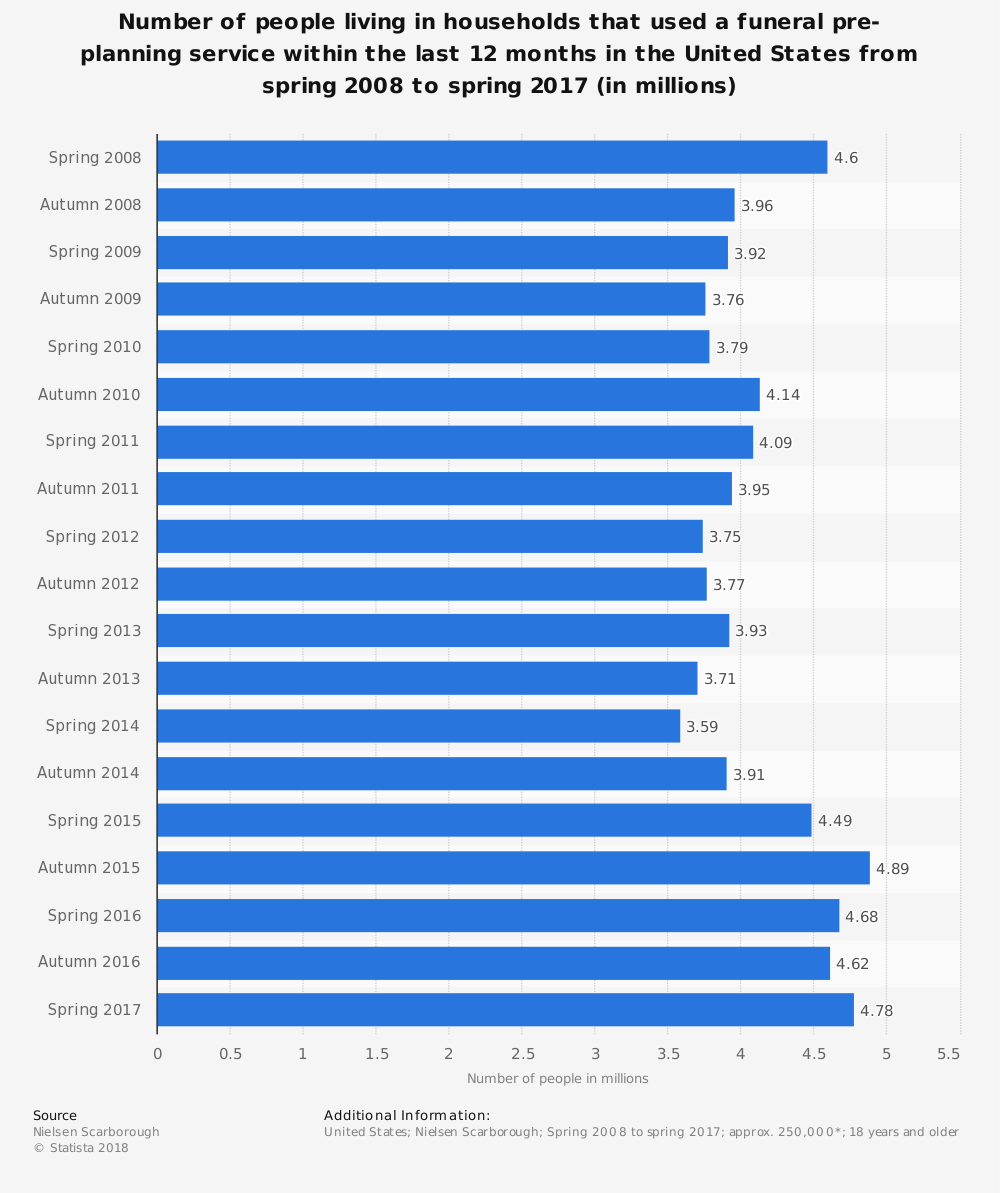 #11. The economic activity generated by the funeral industry contributes a total of $20 billion to the U.S. economy each year. (Forbes)
#12. About 1.5 million people are directly served by the funeral industry each year, working with their loved ones to create a final lasting legacy. (Forces)
#13. The most expensive cost of a standard funeral for many families is the casket. There is a mark-up of 289% on caskets from wholesale to retail, with some being even higher than that. (Forbes)
#14. SCI, which continues to acquire more funeral homes each year, has a $4 billion market capitalization and currently employs more than 21,000 people in three countries. (Forbes)
#15. Over 50% of people in the United States do not have a will. That means there are over $1 billion in life insurance benefits that remain unclaimed because the information was forgotten about, misplaced, or not properly communicated to others. (Forbes)
#16. Without a will, the cost to probate an estate can be 400% or more. Even with a will in place, there are additional unexpected costs to consider which go beyond the funeral costs. (Forbes)
#17. The average salary for a funeral director in the United States is just $50,000 per year. (Bureau of Labor Statistics)
#18. The average cost of a cremation service is just 10% of the average cost of a traditional funeral. (Connecting Directors)
#19. There are currently about 57 million people in the United States who are 60+ years old. By 2020, there will be an estimated 76 million people in this age demographic. (PBS)
#20. The average rental rate for a hardwood casket that is used for a day-long viewing in the United States is $1,000. (PBS)
#21. The average cost of a casket which sells wholesale for $325 is sold by a funeral home for $1,295. (PBS)
#22. Nevada has the highest rate of cremation in the United States, with 73% of people opting for it. Mississippi has the lowest rate of cremation, at just 13%. (PBS)
#23. In 2010, 33% of people said that they chose cremation because of the cost of a standard funeral. In 1990, just 19% of people had the same perspective. (PBS)
#24. 72% of cemeteries which have decided to "go green" have reported increased demand. At the point, however, there are only about 100 cemeteries which actually qualify as a green cemetery in the United States right now. (Green Burial Council)
#25. The popularity of home funerals is on the rise. About 200 women are currently employed as "death midwives" to help families plan ahead for a home-based funeral. (The New Republic)
#26. Despite the presence of the Funeral Rule, which was passed in the U.S. during the Reagan Administration, 25% of funeral homes do not disclose their prices online or in-person. (National Public Radio)
#27. Since 2011, there have been more than 4,000 death "cafés" held in almost 50 countries around the world. (Quartz Media)
#28. The average cremation process adds as much carbon dioxide to the atmosphere as a vehicle driving 600 miles. To address this environmental concern, alkaline hydrolysis has become a legal funeral option in 15 states. (AARP)
#29. More than 400 providers are currently offering green burial options for families. A green funeral may cost up to 50% less for families when compared to a traditional service. (AARP)
#30. The cost of an at-home funeral may be as little as $200 if loved ones are buried on property that you own. (National Home Funeral Alliance)
#31. In a recent survey, 35% of families said that they would be "extremely" interested in having a therapy dog present during a funeral service. (National Funeral Directors of America)
#32. In 2014, 30.5% of people said that having a body present at the funeral of a loved one was "not at all important." Another 26.7% of people said that it was "not very important." Only 17.3% said that it was "very important" to have the body present. (National Funeral Directors Association)
#33. 44% of respondents to a 2014 survey said that having a religious element to a funeral was important to them, which was down from 49.5% in 2012. (National Funeral Directors Association)
#34. 34% of families said that they would consider having a celebrant officiate their funeral instead of having a religious officiant for the service. (National Funeral Directors Association)
#35. 51% of people say that having a funeral is an important tradition in life. 39.3% describe funerals as either a "rip-off" or something that they "couldn't care less" about, wanting the cheapest option possible. (funeralOne)
#36. 25% of people want the guests at their funeral to wear bright colors instead of the traditional black. 1 in 6 people say that they'd like to have a theme incorporated into their funeral. (National Funeral Directors Association)
#37. 15% of people have not attended a funeral within the past 5 years. 30% say that they've only been to 1 or 2 funerals within that time period. (National Funeral Directors Association)
Funeral Industry Trends and Analysis
What has hurt the funeral industry, beyond the bad PR of high-priced mark-ups on needed items, is the fact that families are earning less now than they did in previous generations. There just isn't enough money to afford those traditional final expenses of a wake, service, and burial. When a family can spend $1,000 on a cremation instead of $10,000 on a funeral, that seems to be an easy decision to make.
That is why the funeral industry is looking at several different ways to stop this trend. Advanced funeral planning allows families to prepay for services to alleviate burdens on other family members. Increased opportunities for personalization are happening, as are environmentally friendly options that limit embalming.
Watch for the industry to continue moving away from family ownership as costs continue to rise.
About 2 million people die in the United States each year. There will always be a need for the funeral industry in the U.S. and around the world. How that need is met may be changing.