With all of the changes to the Facebook news feed algorithm, businesses are now focusing on building their Instagram followers and engagement. I am going to lay out the 25 techniques, used by Instagram pros, that will help you get tens of thousands of highly engaged followers. These followers will like, comment, and even sign up to your email list.
Are you ready to become an Instagram master? Let's get right into the meat of it.
#1 Post Daily to Build a Residual Base of Engagement
In order to gain a true following on Instagram, it is absolutely vital that you post on a normal basis. Try to post at least once a day, but more than this is always good too. I post five times everyday. Overtime, this creates a base of residual engagement and new followers.
A study by L2 found that big brands increased their average posting frequency to 9.3 posts per week in Q4 of 2014, which is up from 7.5 posts per week in Q4 of 2013.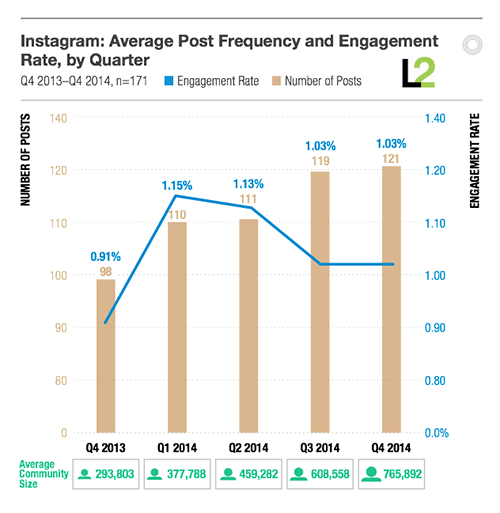 #2 Know What Times The Majority Of Your Followers Are Active And Take Advantage
The time that you post your content is crucial. You need to know when the majority of your followers are online and active, because if you post while no one is there, then no one will see it. Identify the 3-5 peaks during the day to create your posting schedule around.
If you want to take this a step further, then you can have time specific images and quotes. For example, I often post a quote in the morning about seizing the day. It hits them at the right moment with exactly what they need.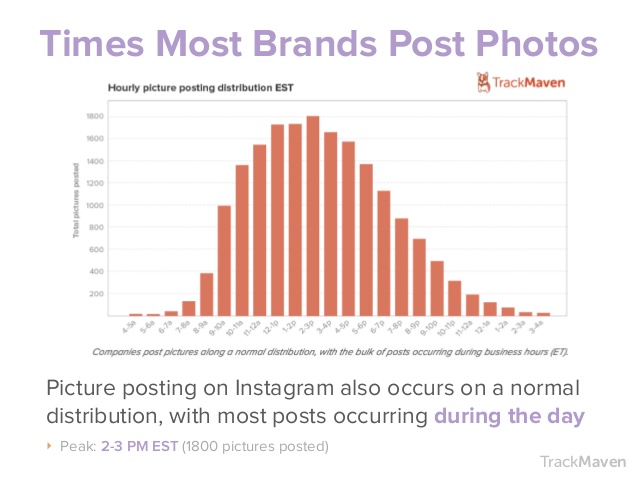 #3 Interact With Your Followers And Other Users To Inspire More Engagement
It is important to regularly interact and communicate with your followers for many reasons. By responding to comments and mentions, you inspire even more people to chime in and interact. It lets your followers and potential followers see a personality behind your account.
#4 Create Branded Hashtags And Monitor Their Use
Hashtags rule the Instagram world. Instead of just using popular hashtags in your posts, create your own for your brand. You will then be able to monitor how people use this hashtag.  Although you do not have to be a big brand like Starbucks, we can all learn from how they use custom branded hashtags below.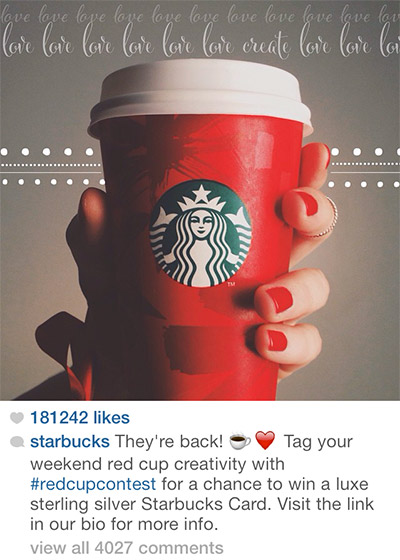 #5 Know What Type Of Posts Your Followers Enjoy And Use Them
Be sure to do your research about the industry you are targeting and the types of posts that are the most popular. You will likely see a pattern of layouts and content. Use these to up the interest for your account.
My target audience is entrepreneurs, and I knew that Foundr Magazine was killing it on Instagram. After studying their most shared posts, it was clear that lifestyle and powerful animal images paired with a quote received the most engagement.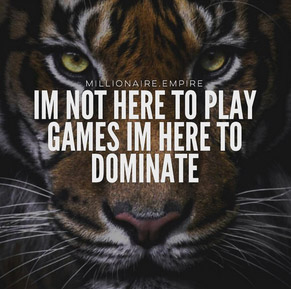 #6 Keep Up With Trending Hashtags In Order To Stay Relevant
On Instagram you have the ability to see which hashtags are trending and growing the fastest. You can create custom posts to piggyback on these trending tags.  This can drive a burst of engagement to your post and create a new batch of followers.
#7 Integrate A Webpage Call To Action With Strategic Photos For Better Conversion Rates
If you are posting five times a day, then I suggest promoting a webpage for every 20 non-promotional posts.  Use short links to create custom URL's that link directly to your a blog post or a landing page with a lead magnet.
The image should promote the key benefit and direct them to the link in the caption below the image.  Use a unique bit.ly link or custom url shortener each time to keep track of total clicks so that you can identify the posts that perform the best.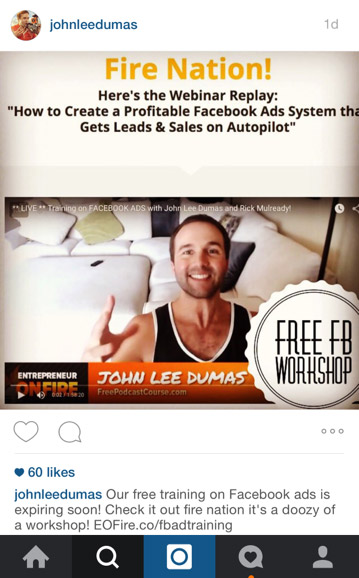 #8 Incorporate Video Posts To Keep It Interesting
Instagram gives you the ability to post both pictures and videos, and you should. By mixing up the types of things you post, your page will be more interesting. Videos also inspire more engagement than other types of content normally do.
Your videos can be 3 to 15 seconds long.  Make it interesting.  Do not just rant about something from your phone.  Try and create a process that can be scaled out and utilized frequently.  For example, you can use slideshows to create a set of tips or quotes.
Simply Measured conducted a study on how the top 100 brands are using video on Instagram and Vine.  They found that Instagram videos had twice the engagement as Instagram photos, and Vine did not even come close to overall Instagram video engagement.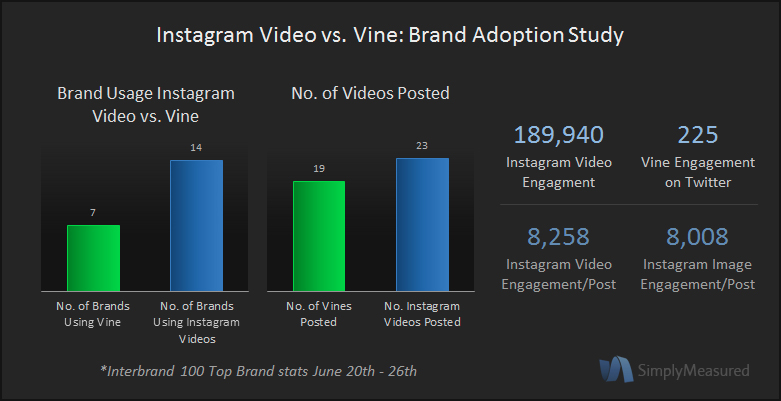 #9 Have Fun And Your Followers Will Notice
Social media sites aren't all about marketing, it's important to have fun too. Comment and like on other users photos, follow people you like, and post things that you find entertaining. Your followers will take notice and enjoy your presence even more.
Be sure to use videos and photos to show your personality.  Every holiday get dressed up and post a picture of you doing something funny.  From Valentine's Day to Christmas, the possibilities are endless.
#10 Save Time And Energy By Using Curating Posts From Other Sources
It can save you quite a bit of precious time by curating content from other places. You can easily do this with Instagram.  Identify the tags related to your target audience and start browsing for images that are awesome.  Take screenshots of every post that you find.
You will be left with a never ending supply of images to post to your Instagram account.  Just be sure to give a mention to the person who originally posted the image in your caption.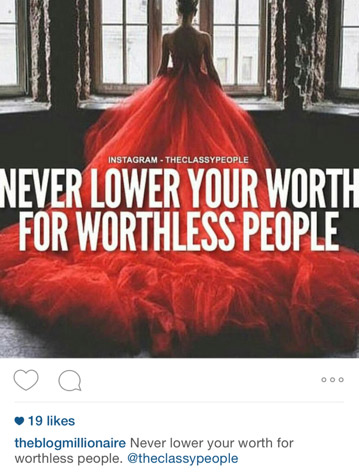 #11 Organize A Contest To Boost Followers
Contests are wildly popular on social media sites, especially Instagram. The way that these are typically done is by instructing your followers to post a certain photo and tag you in it to enter. This will then cause a chain reaction of people following you and posting the photo, which is a powerful form of promotion.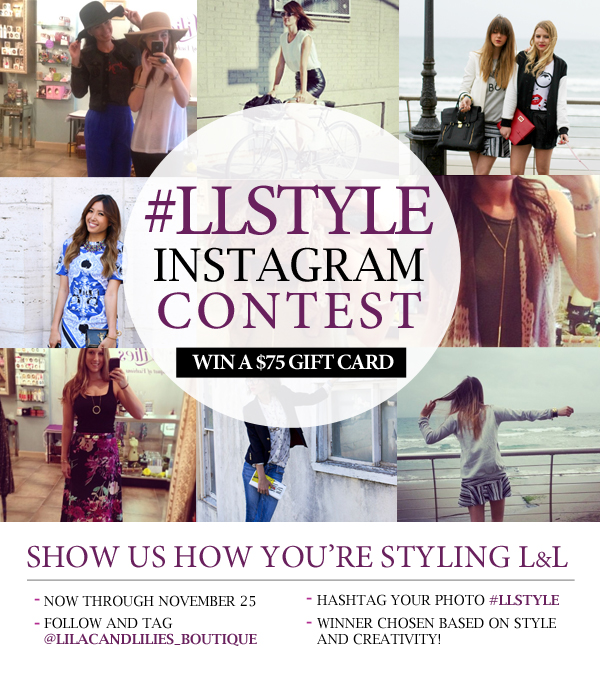 #12 Connect Instagram To Your Other Social Media Accounts To Intrigue Other Followers
It isn't uncommon for the people that follow you on Facebook or Twitter to not be following you on Instagram. This doesn't mean that they aren't interested in what you are posting, in fact they are probably very interested. Keep them in the loop, and possibly even bring them over to Instagram, by linking up your Instagram posts to your other social media accounts.
#13 Examine What Posts Are Doing The Best And Why
It is important to keep a watchful eye on all of your posts. Examine how well they are doing, how many likes and comments they receive, and then determine why. Once you figure out what works best, implement it into the rest of your postings.
#14 Adapt Instagram Exclusives To Provide Incentives
You can offer up some great deals that are only available to your Instagram followers. This will have multiple affects for both your account and your business. It can drive business and purchases, as well as give people a great incentive to follow you.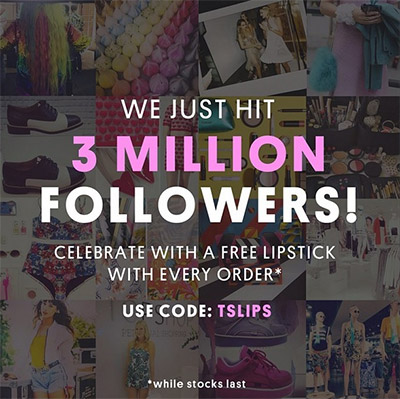 #15 Team Up With Other Users For Shout Outs
Shout outs are a great way to build a relationship with another business or person, while simultaneously promoting your own. This works by posting a promotion for the other person to your followers, while the other person does the same for you.
Be wary of paying for shout outs.  Most paid shout outs are a waste of good money.  Focus your efforts on organic shout for shouts.
A creative way to get shout outs and build leads is to give away free swag in exchange for the shout out.  Be sure to ask them to email you the screenshot of the shout out.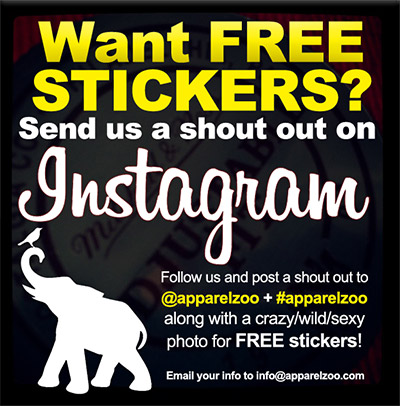 #16 Engage Your Followers By Spotlighting Their Participation
Show your appreciation to your following and customers by regularly showcasing them on your profile. Share pictures of people with your products, or people that have submitted their own reviews of your business. This will encourage people to stay active with your brand.
#17 Only Promote Your Most Valuable Content in Your Posts
You can quickly burn through your followers and kill engagement by promoting poor quality content.  The best practice is to have 15-30 non-promotional posts to every promotion post.
You want to make each promotion give value to your followers.  Here are a few examples of value based promotions with the best engagement on Instagram…
Podcast Episode of the Week
Blog Post of the Week
Periscope Schedule
Exclusive Instagram Discount Code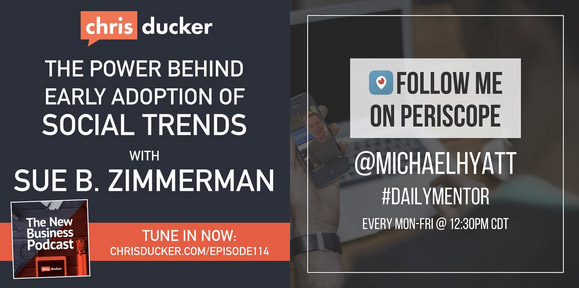 #18 Use Emojis To Catch People's Attention
Emojis are those cute little pictures of smiley faces with hearts for eyes, food, animals, and many other things. People love these, especially when it comes to social media sites. They help to draw attention to your posts and engage your followers even more.
The emojis work best in and around your call to actions. Try placing 2-3 downward pointing fingers above your url link in your bio to double your click through rate.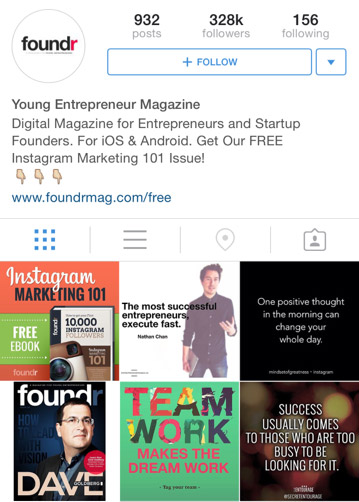 #19 Use Seven Hashtags Per Post To Get Optimal Engagement
Hashtags are useful, especially on Instagram. However, they can quickly make or break you depending on how you use them. Make sure you only include tags that are relevant to the content you are posting and your brand.
Avoid cluttering up the post with countless hashtags, this will come off very unprofessional and gimmicky to people. Piqora studied 150,000 posts by the top 100 brands and found that posts with 7 hashtags perform the best.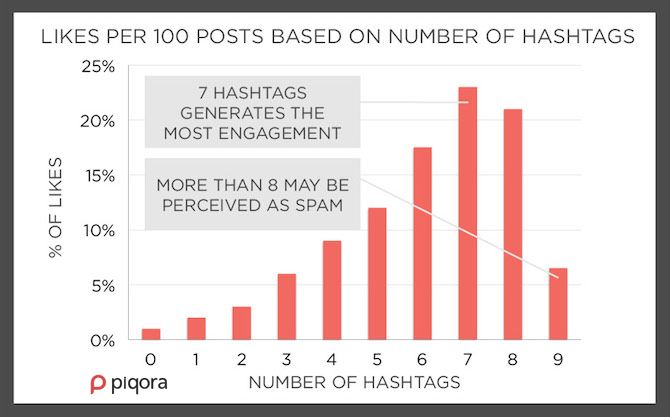 #20 Identify the Most Popular Hashtags Within Your Niche
Hashtags are one of the easiest ways to get your target audience to see your posts. Power users will often browse through hundreds of posts within specific hashtags. Implemented correctly, this technique can make the life of a post last up to four months.
Look for hashtags that have at least 50,000 posts. If there are lots of posts, then there will be thousands of people browsing that hashtag.  Narrow you target hashtags down to 50-100 and rotate them out with each post, using seven hashtags each time.
#21 Use Captions To Inspire Conversations And Increase Engagement
Each post has a caption underneath it, which you can use to provoke interaction in the comments. Ask a question, such as "what do you think about this…?", or you can even request that your followers tag their friends who may like the post as well.
Underneath all of my picture quotes I do the following..
Restate the quote with a mention to the account that published the original curated image.
Tell them to "Double tap if you agree!" The simple act of asking them to double tap increases my total likes by 40%.
Ask them to "Follow me @theblogmillionaire for more great quotes like this."
A study by Simply Measured found that having a mention in the caption increased engagement by over 63%.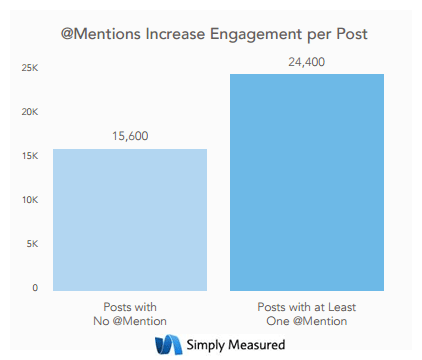 #22 Use An Appealing Profile Picture to Increase Engagement
The first thing people see is your profile photo. This also appears next to each and every post that you publish. If you are not a Fortune 5000 company, then you need to use the picture of a real person. Photos of faces create a perceived emotional attachment and will draw in the most new followers.
#23 Monitor Location Tags When You Are At Events To Connect With People
Instagram allows you to add a location in each of your posts. If you are at big event for your industry, then be sure to include the event tag on all your posts. At this year's Podcast Movement conference, I monitored the #PM15 hashtag the entire time. It gave me the inside scoop on where the world's top podcasters were hanging out between the scheduled events.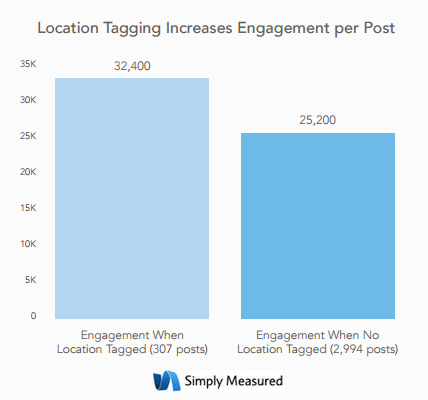 #24 Create a Bio that Promotes Your Best Lead Magnet to Build Your Email List
Instagram allows one linked url under the bio, and you want to make it count. Whatever url you use, make sure it has an email optin with a strong lead magnet.
I send my profile clicks to TheBlogMillionaire.com, which gives away a free guide (9 Ways to Triple Your Blog Traffic).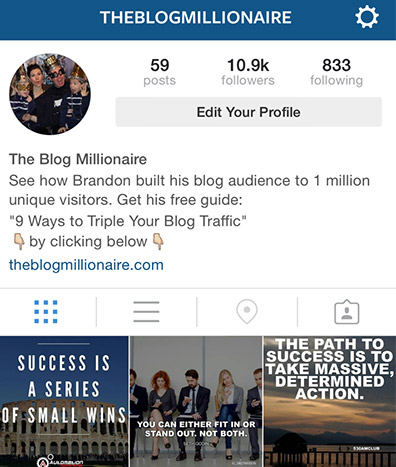 #25 Use the Crowdfire App to Follow the Most Engaged Users of Your Competition
Crowdfire is the app that pros use to handle the engagement of their Instagram accounts. It allows you to many things, but the clear winner is a tool that allows you to follow the most engaged users of other accounts.
Just type in the account that has your ideal audience and start following about 50-60 people per hour. On average, about 10-20% will follow you back and/or take a look at your account. This can easily add 3000 quality followers to your account every month.
You are now armed with an arsenal of techniques to make your Instagram account light up like the 4th of July.
Watch Today's Masterclass Webinar, "

How I Got to 1 Million Monthly Visitors

," to Bypass the Waitlist for my Exclusive Course & Get Two Bonuses Worth Over $5000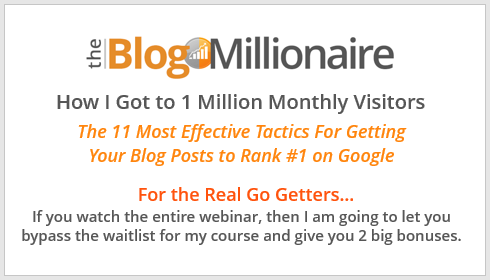 [mc4wp_form id="43544″]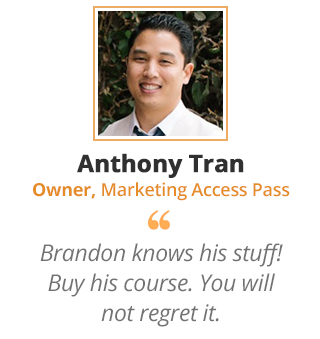 For anyone who has a blog, I created a nice infographic below that you can use on your own site as long as you link back to this post (go here to download the Instagram infographic).