Bars and nightclubs in the United States are comparable to the coffeehouses found in Europe in the 17th and 18th centuries. They have become a place where people come to unwind. It is a place to talk about politics or share an opinion about anything. George Washington even said his farewell after the Revolutionary War within a tavern.
Important Bar and Nightclub Industry Statistics
#1. In the United States, bars and nightclubs generate about $24 billion in revenues each year. The total employment available through bars, taverns, and nightclubs in the U.S. is about 345,000 direct opportunities. (Statista)
#2. About 7 million people say that they regularly purchase wine at a bar or nightclub in the United States. (Statista)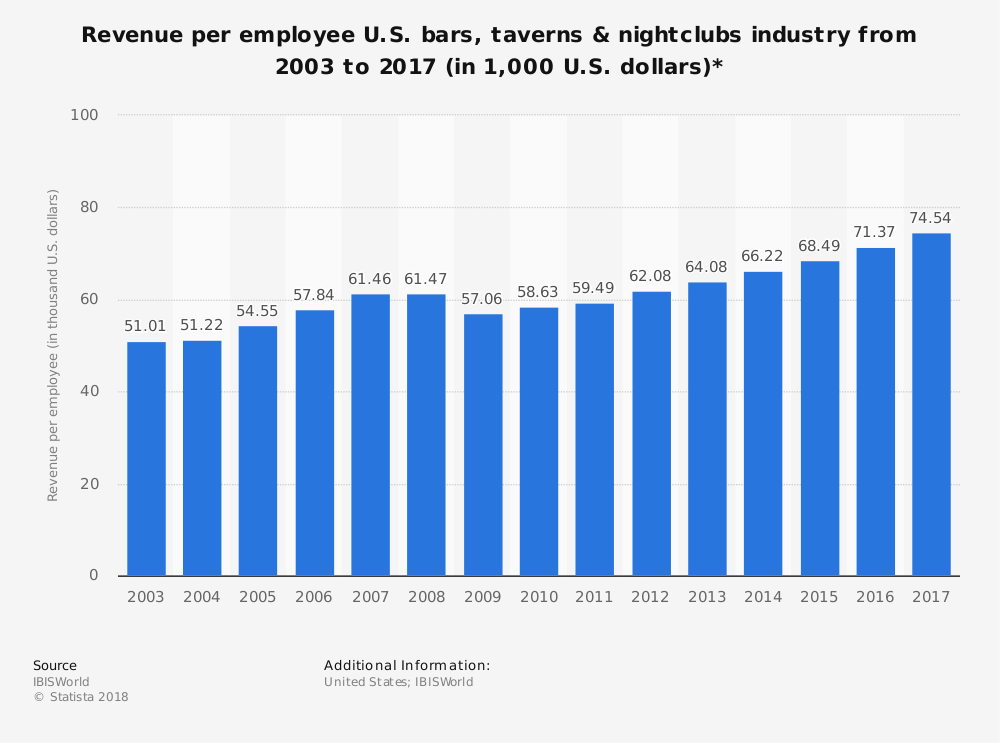 #3. Over 20 million people went to a bar or a nightclub located within a casino in the past year in the United States. (Statista)
#4. There are about 62,500 bar and nightclub locations currently active in the U.S.-based industry. Each location employs an average of 5.5 FTEs. (Statista)
#5. The average hourly wage for bartenders in the U.S., excluding tips, is $10.43 per hour. Wages from the bar and nightclub industry generate $4.82 billion in economic impacts each year. (Statista)
#6. Just 3% of people who receive coupons to use at a bar or nightclub will actually use them. (Statista)
#7. Beer is the preferred beverage served at bars and nightclubs, accounting for 10.3% of total beverage consumption in the United States. 6% of Americans say that they drink at least one beer every day, with Michelob the preferred domestic brand and Corona the preferred imported brand. (Statista)
#8. At specific bar and nightclub locations, beer and ale are 42% of the sales that occur. Distilled spirits represent another 30% of sales. In total, more than 196 million barrels of beer are sold annually through U.S. bars and nightclubs. (America Nightlife Association)
#9. Industry sales saw an increase of 1.4% in nominal terms in 2015. When the sales figures are adjusted for inflation, real growth for the industry was just 0.3%. (America Nightlife Association)
#10. Wisconsin leads the country in the total number of bar and nightclub locations, with 4,489 currently registered. California comes in second, with 4,388 establishments, with Texas coming in third with 4,283 establishments. (America Nightlife Association)
#11. Taverns are the most common type of establishment in the U.S.-based bar and nightclub industry, with almost 20,000 locations. Taverns represent 32% of the total receipts generated by the industry each year. (America Nightlife Association)
#12. Although nightclubs represent just 8.6% of the industry, they make up a majority of the most lucrative venues. In the U.S., the top 42% of the top 100 locations are described as nightclubs. 70% of the top 100 locations self-describe themselves as a "hotspot" for dancing. (America Nightlife Association)
#13. 55% of consumers who go to bars and nightclubs say that they are going out this year as often as they did the year before. 70% of them visit the same types of bars every time they go out. Only 15% say that they are going to places that are less expensive for them. (America Nightlife Association)
#14. The average consumer purchases 2.3 drinks every time they go to a nightclub. Men tend to order more drinks and Millennials consume more drinks than older generations. (America Nightlife Association)
#15. The average price for VIP bottle service within the industry is $239. The average price of a drink is $10.50. That means the average consume will spend about $55 every time they go to a nightclub, bar, or lounge. (America Nightlife Association)
#16. The average bar or bar-like location in the United States earns about $25,000 to $30,000 per week. The average bar also spends about $24,000 per month on staffing, food and alcohol inventory, and rent/mortgage costs. (Investopedia)
#17. The average cost of a liquor license in the United States is $4,500. (Investopedia)
#18. Nightclubs in the U.K. have experienced an opposite trend with their industry. Since 2014, industry revenues have contracted by 5.7% each year. Total revenues for the industry are down to GBP 2 billion. (IBIS World)
#19. About 25% of the nightclubs in the U.K. have closed since 2004 because of new regulations involving planning, licensing, and business rates. Consumers are now more likely to purchase cheap alcohol at their local store instead of going down to the pub or nightclub for an evening of fun. (IBIS World)
#20. The U.K. nightclub industry still supports the direct employment of about 80,000 people and has over 6,800 active locations right now. (IBIS World)
#21. Bars and nightclubs in Canada have seen a stable experience since the end of the recession years. Since 2012, the industry has seen annualized average growth rates of 0.4%. (IBIS World)
#22. The Canadian nightclub industry supports the employment of about 43,000 people at more than 5,200 locations throughout the country. (IBIS World)
Bar and Nightclub Trends and Analysis
Established bars and nightclubs are doing well right now. Revenues are increasing, consumers are spending more, and people are visiting more frequently. For new businesses entering this industry, however, there are challenges to face.
The saturation point is high for many communities with this industry. It is already challenging to own a successful establishment with the high levels of competition present. Starting from scratch can be a long, difficult process to complete. For a new location that owns the building it is in, the startup costs could be as high as $850,000 right now.
When local economics are strong, the bar and nightclub industry is able to thrive. When there is uncertainty within the market, this industry is one of the first to feel the change. It is also particularly sensitive to changing fees, licensing requirements, and other forms of political pressure.
In the U.S., expect to see strong growth continue. In the U.K., the industry should begin to stabilize as consumers get used to changing access levels of alcohol. In Canada, expect stable, but small growth through 2026 for the industry.