Success can occur in anything you do as long as you follow a set path to obtain your goal. Many of these qualities involve the ability to structure your plan of action, visualize the result, and break down the steps into a measurable process. Set a timeframe you want to accomplish it in and make it happen. The below congratulation quotes for success will help to inspire you share in the joy of others reaching their goals while encouraging your own path as well.
Congratulations for your fabulous victory. You deserve it every bit. Aim for the stars.
Congratulations on your success. You have made us all proud. Keep up the good work.
Even the woodpecker owes his success to the fact that he uses his head and keeps pecking away until he finishes the job he starts.
First they ignore you… Then they laugh and fight against you… Then you will. I knew you could do it. Congratulations for your brilliant victory.
If Oscars were given for a job well done, I'd nominate you. Congratulations for your fantastic achievement.
It's a pleasure to work with someone who knows how to make a friendly and inspiring work environment. I'm glad that a position opened up for you that is a great next step in your career.
It's time for you to live up to your success, smile, and take a bow. Congratulations.
May the success that has come your way today lead you to a bigger achievement in the years to come. Congratulations.
No matter how big a crowd may be, a person like you always stands out. There's no one who has worked as hard as you have in the last years. Now your efforts effort have paid off. Congrats.
No one achieves greatness by becoming a generalist. You don't hone a skill by diluting your attention to its development. The only way to get to the next level is focus.
So no matter what comes your way today, tomorrow, next week, or next year for that matter understand that you have in you what it takes to overcome it…
Success is never final. Failure is never fatal. Courage is what counts.
Success is not final, failure is not fatal it is the courage to continue that counts.
Success is not measured by what you accomplish but by the opposition you have encountered, and the courage with which you have maintained the struggle against overwhelming odds.
Well done. You are destined to make it big, you just didn't know it. This recognition is surely deserved and will give you an opportunity to spread your wings.
When I look at what you have achieved, it inspired me to be like you. Congratulations. You are a path breaker.
With your entire 'focus' on your goal, you will reach levels of achievement that you never thought possible.
You are the star of the family. Congratulations. So proud of you.
You worked hard, you deserve it, you have got it. Please accept my congratulations on this wonderful recognition of your merits.
Your dedication, enthusiasm and insight are really inspiring. I wish you many years of great achievements.
You've worked hard to achieve this promotion, but your efforts were completely worth it. Now one of your great desires became real. Wishing you best of luck in your new capacity.
The below infographic outlines some of the biggest issues that prevent individuals from seeking success. Being negative or over thinking a situation can drive less results. There is no "they" that lead to your failure as it is solely dependent upon your own actions. Do not allow your time to be wasted. This list will help to bring to light some of the biggest failures to avoid on your path to success.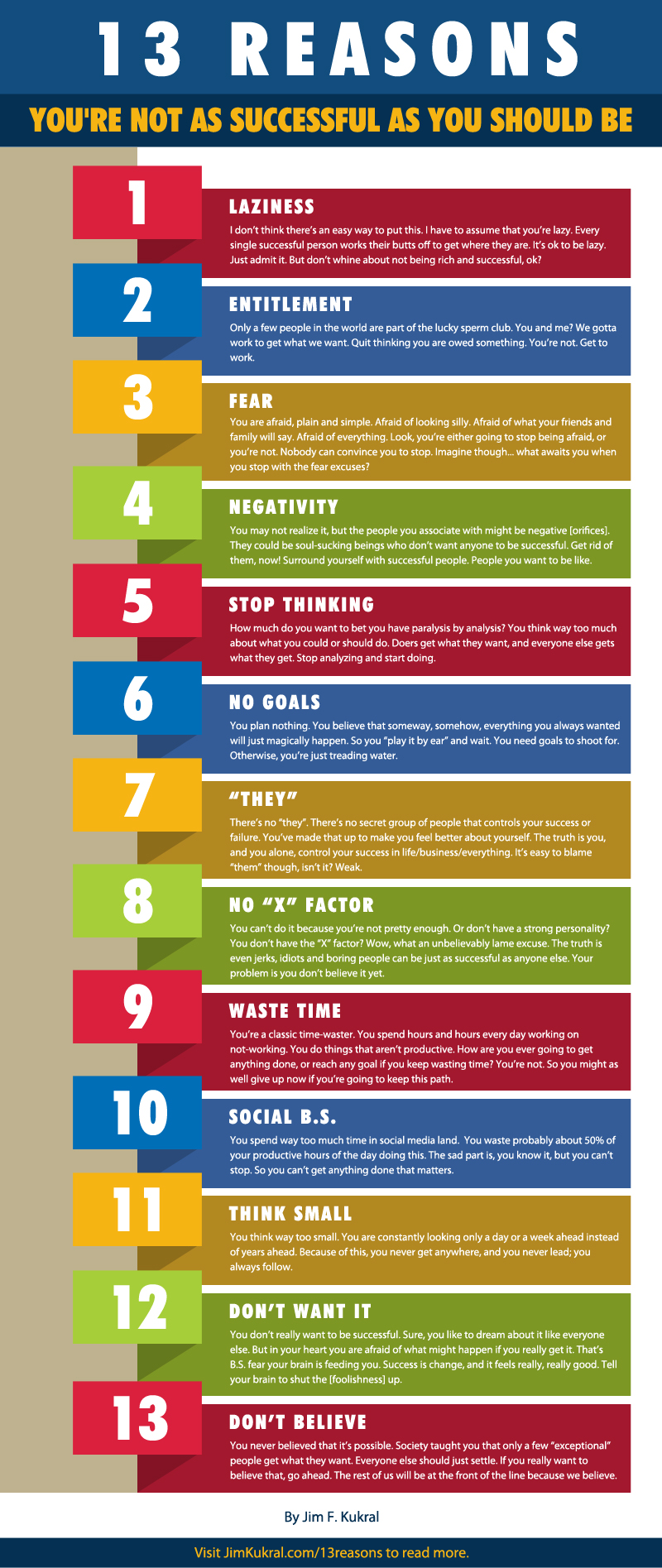 Here our most popular
message posts
that cover just about every occassion.