There is no question that Indonesia is facing a significant demand challenge when dealing with power availability. The nation's per capital power consumption, along with the electrification ratio, have seen a sharp increase in recent years. Since the existing infrastructure is unable to meet the demands that are currently available, considering growth prospects is an option that is not even on the table as of yet.
The government of Indonesia launched an initiative in 2015 to create 35 gigawatts of new capacity by the end of 2019. Reports issued at the end of 2018 suggest that result may be delayed until 2025 because of slow implementation rates. There is still a need to increase capacity by at least 3 gigawatts per year to meet expected demands.
94% of professionals in the Indonesia power industry say that regulatory uncertainty is a significant barrier for the large-scale generation of new capacity. 71% say that there is a lack of consistent policies available to the industry and a lack of vision offered by the government.
Interesting Indonesia Power Industry Statistics
#1. 61% of industry professionals say that the legal and regulatory framework provided by the Indonesia power industry is not supportive enough for private investments. Some implemented regulations, such as IPP tariffs and restrictions on share transfers may have even had a negative impact on the industry. (PwC)
#2. The power industry in Indonesia was able to generate 12% of its energy from renewable resources in 2017. They have the goal to double that percentage by the year 2025. (PwC)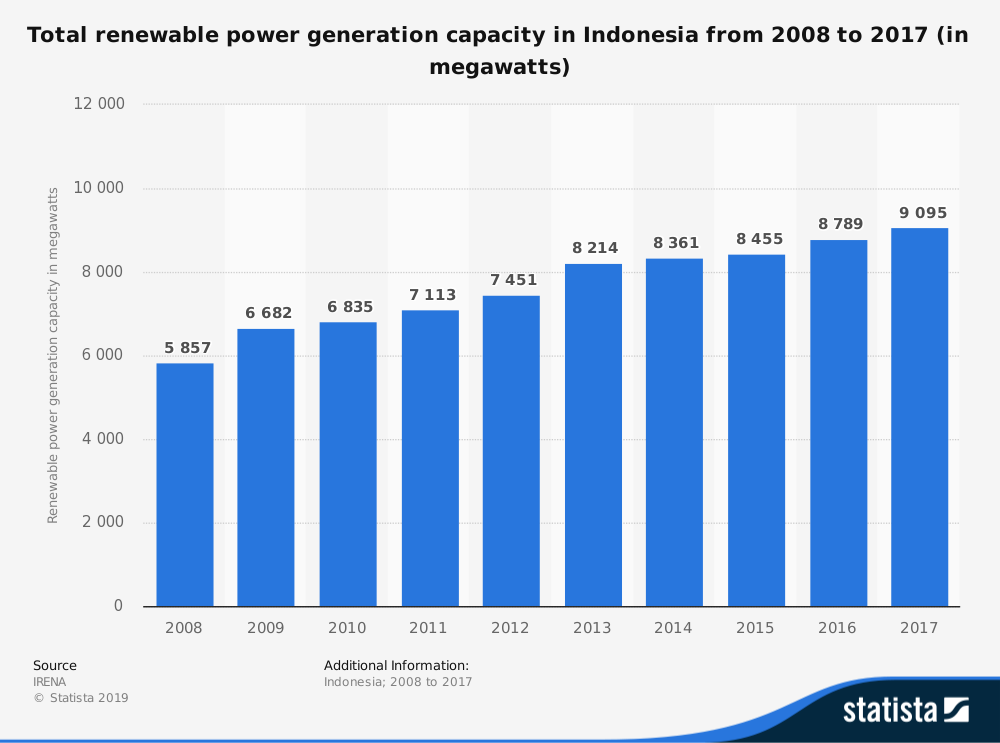 #3. 48% of industry professionals believe that there is a lack of transparency available when dealing with bidding or procurement of new projects. That may be one of the reasons that only 4% of the 35-gigawatt program reached a commercial operations date as of April 2018. (PwC)
#4. 35% of the projects that are intended to increase the levels of power availability in Indonesia have yet to enter the construction phase. (PwC)
#5. 37% of the power generated by the industry in Indonesia comes from coal-fired power plants. Gas-fired facilities generate another 25% of the country's needs. Hydropower is responsible for 15% of the capacity, while coal mine power plants offer 11% of the overall capacity. (PwC)
#6. The total market size for the Indonesia power industry is estimated to be worth $4.01 billion in 2016, which is up significantly from the $2.91 billion that was generated in 2014. Over the past five years, the industry has experienced between 7% to 9% annual growth. (U.S. Department of Commerce)
#7. The electrification ratio for Indonesia reached 91.16% in 2016, although Papua and East Nusa Tenggara have much lower levels, at 48% and 59% respectively. (U.S. Department of Commerce)
#8. 75% of the electricity generated by the Indonesia power industry comes from the state-owned National Electric Company. Out of the 58, 541 megawatts currently installed for capacity, only 2,434 are produced by private power utilities. (U.S. Department of Commerce)
#9. There are currently about 50,000 kilometers of transmission lines installed to support the Indonesia power industry today and 77,514 MVA of capacity for their transmission transformers. The distribution system includes over 940,00 kilometers of lines and roughly 42,000 MVA of transformer capacity. (U.S. Department of Commerce)
#10. Indonesia imported almost $4 billion worth of electrical power equipment in 2016, with products from the United States representing 26% of that market. (U.S. Department of Commerce)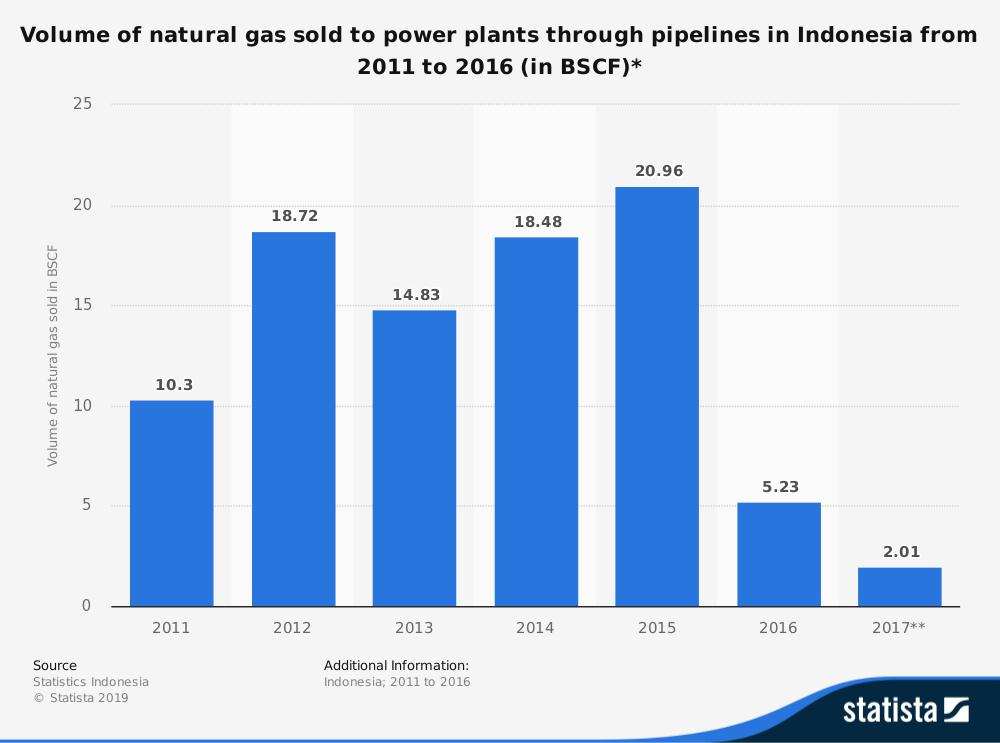 #11. From 2005 to 2016, geothermal energy saw the most significant levels of annual growth, with a total average rate of 0.87% during that time. Gas-fueled energy resources rose by 0.83% over the same period, followed by steam (0.7%), combined cycle (0.69%), and diesel (0.61%). (PLN Statistics)
#12. The peak load of Indonesia power production increased by 35.7% in 2016 compared to the previous year. (PLN Statistics)
#13. Coal, oil and natural gas represent about 65% of the global energy mix, whereas the power mixture provided by the industry located in Indonesia is closer to 75%. (Mordor Intelligence)
#14. The hydrocarbons sector of the Indonesia power industry contributed about 3% to state revenues in 2016, down from 14% in 2014 and 25% in 2016. The total value of this segment is an estimated $20 billion. (Oxford Business Group)
#15. Since 1995, oil production levels in Indonesia have declined steadily, dropping from more than 1.6 million barrels per day to about 800,000 barrels per day in 2014. (Oxford Business Group)
#16. There are an estimated 3.3 billion barrels of proven reserves available to the Indonesia power industry, along with another 4 billion barrels of potential oil reserves that could help to generate more electricity for the country. (PwC)
#17. The international market share for natural gas produced in Indonesia fell from 2.6% in 2010 to just 2% in 2016. (Oxford Business Group)
#18. France's Total E&P Indonesia and London's BP are the most prolific producers of natural gas in the country, responsible for 22% of what was produced in 2016. (Oxford Business Group)
#19. The investment in upstream oil and gas in Indonesia totaled $11 billion, which was 78% of the targets set by the government. (Oxford Business Group)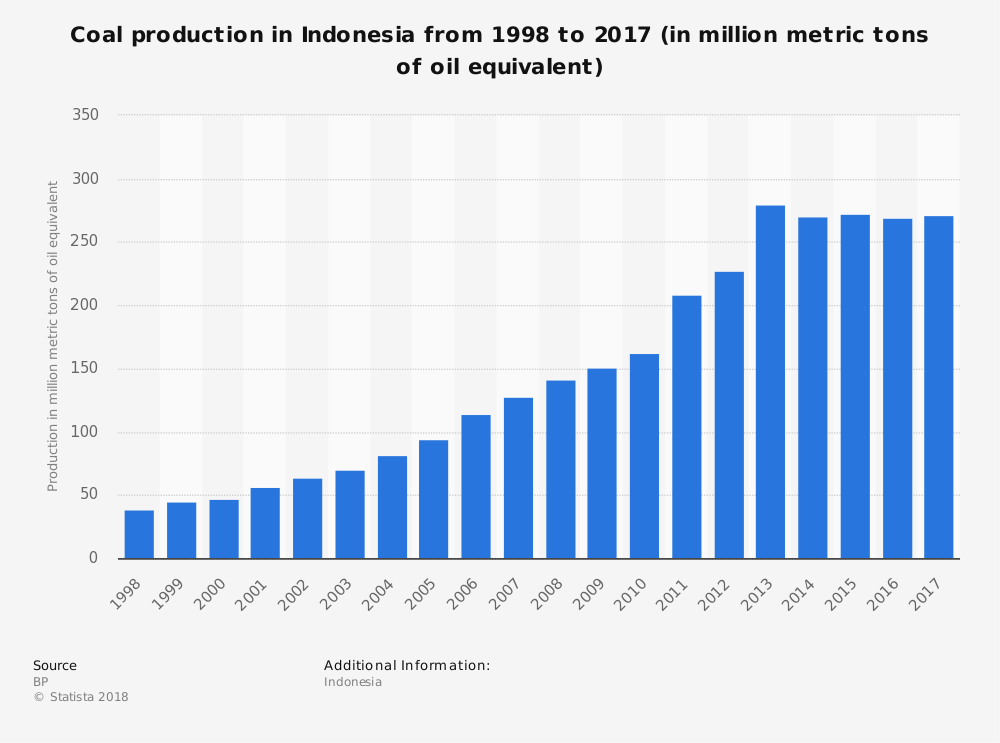 Indonesia Power Industry Trends and Analysis
The Indonesia government enacted Electricity Law No. 30 in September 2009. That new long provided that there would no longer be a monopoly on supplying and distributing electricity to end customers in the country. A license to offer electricity for public use is granted to private businesses now because of this legislation, although there is a right of first refusal still in place for state-owned companies.
Additional legislation in 2012 permits private companies to participation in distribution and transmission of electricity from their generation plants for a maximum of 30 years. In theory, this creates an opportunity for innovation and disruption that could lower prices for consumers, increase capacity, and improve distribution, but the government has been hesitant to offer these opportunities.
That is why the Indonesia power industry, despite its positive outlook, could result in a negative growth pattern from a revenue standpoint over the next decade. If the government continues to miss its targets for additional capacity while failing to maintain its current networks, there could be very little progress made to improve the national electrification ratio.