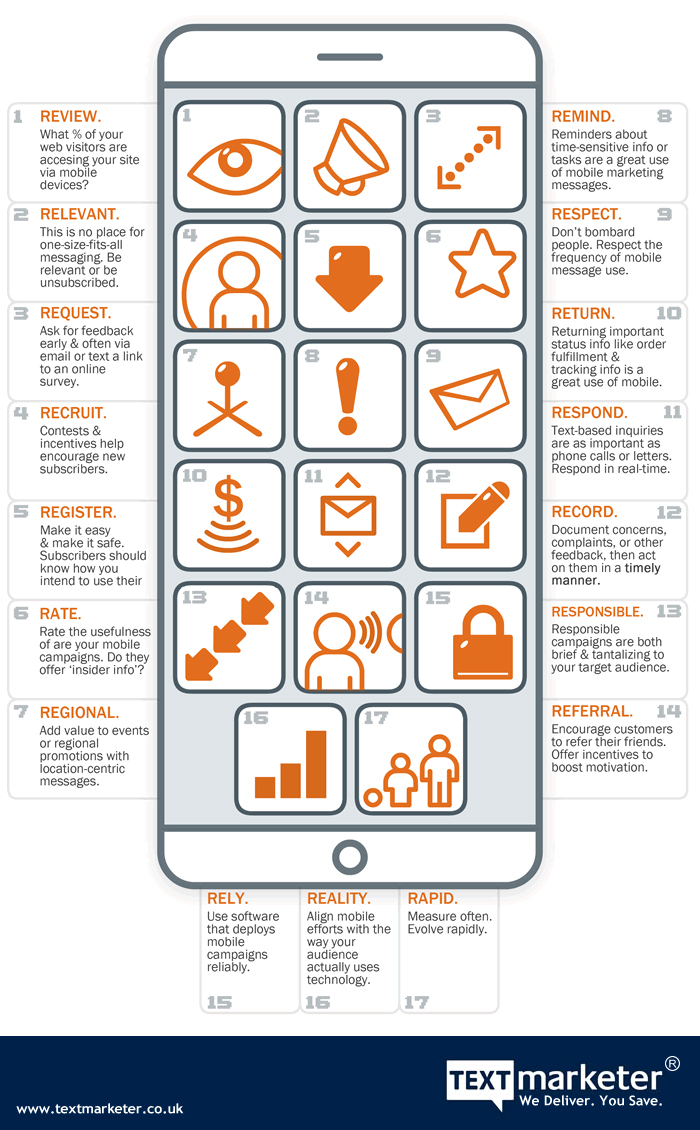 v
The Components of a Successful Mobile Marketing Strategy
Are you successfully marketing to the almost 60% of people who own smartphones? Mobile marketing is becoming more important than ever, yet many corporations are sticking with traditional marketing methods. This gives you the perfect opportunity to fit in a unique, memorable marketing strategy for your business that will be effective and raise your revenues. Here's how you can do it, starting today:
Be Relevant. If there is no value in what you are marketing to your customers, you won't have any customers. You must have a product or service, even if that's just information, that is relevant to your targeted customer's needs.
Get Feedback. Online reviews are becoming a means of increasing a company's SEO ranking, so soliciting for feedback can not only boost where search engines place your website for your targeted keywords… but it can also help you fix potentially catastrophic mistakes immediately.
Recruit People. People will willingly give you plenty of personal information and preferences for the simple chance at winning something they want. It should be something that is relevant to what you're offering, so items like a premium subscription for a year or other free products make wonderful prizes.
Remind People. Your customer has a busy life. They are likely going to forget what you're marketing to them because they've got to get their kids to gymnastics practice or an after-school event. A gentle reminder about a sale that is expiring soon can drive sales exponentially.
Respond in Real Time. One of the biggest obstacles facing customers is a lack of information that they understand. Responding to text messages in real time without an auto responder is just like having an employee answering questions in a physical store. With the answers they need in hand, a targeted visitor is much more likely to become a customer.
Offer World Class Service. Despite our very best of intentions, humans are fallible creatures who will make mistakes. What separates good businesses from great ones is the ability to provide world class customer service. Actively listen to concerns, go above and beyond to make sure a customer is satisfied, and you'll be able to have a successful mobile marketing campaign.
Be Responsible. People who rely on their mobile devices are often busy and only have a few seconds to dedicate to your content. They'e not going to read 1,000 words of salescopy! Be brief and offer a great cliffhanger that will entice people to want to know more.
Offer Incentives. The more people you have looking at what you've got, the more business you're likely to do. Reward people who are willing to spread the news about what you've got with incentives to keep the motivation for your product high.
With the right mobile marketing strategy, you'll be able to maximize your revenues from your customers who are busy and on the go. By incorporating these tips into your next marketing plan, you just may find the success that's been eluding you for so long.