A great product or service would always sell well. A company that has talented staffs who are dedicated and passionate about accomplishing the objectives would also do well. Likewise, a team which has a good leader would always accomplish what it is set out to.
The best leadership quotes to get you inspired and motivated to increase your personal success and the success of others.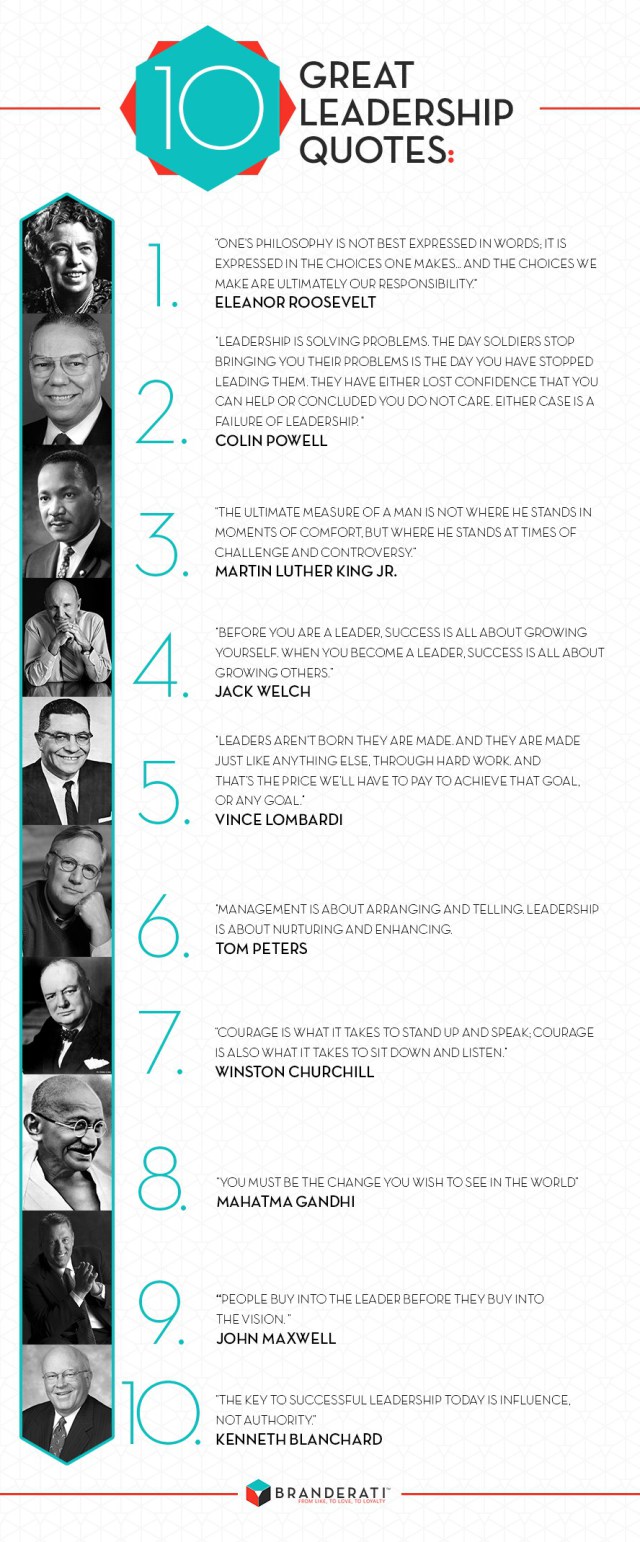 The Role of Leaders
A company or a team is a unit. The team members matter as much as the leader and vice versa. Great leaders have always helmed great teams. You can look at the life and times of Steve Jobs or read about the fascinating journey of Richard Branson. You can look at Warren Buffet's career or that of any successful entrepreneur and you will find one thing that they all have in common. That's leadership.
A successful entrepreneur or manager has to be a great leader. It is the job of the leader to put together a great team, to ensure that everyone gets their space and resources which can pave the way for them to excel and it is the leader who provides the cushion during hard times, the realisation during easier times and the foundation to accomplish the objectives eventually.
In the slide share, you would discover 100 tweets to harness the power of leadership. Leaders are not born. They are honed. At times, leaders are honed and groomed by their leaders. Apprenticeships, protégés and mentors are terms that have relevance even today. Although people are more empowered than ever before, the task of leadership is still valued and a basic necessity in all walks of life, particularly in business.
The 100 tweets are guru mantras or secret recipes to great leadership. They are also simply a collection of who said what, what the great leaders of various businesses have done and stood by, what makes good leaders and what you are expected to do as a good leader.
This slide share can be your guide to become a leader, to get better as a leader and to create leaders. It is said that a good trainer trains the trainees well but a great trainer creates good trainers out of his trainees. What is it that makes an entrepreneur better than others, how is it that one company has better retention rates or lower attrition rates than other companies in the same industry, how is it that one company consistently outperforms others and some companies never take off and scale new heights.
Find several answers in the 100 tweets to harness the power of leadership.