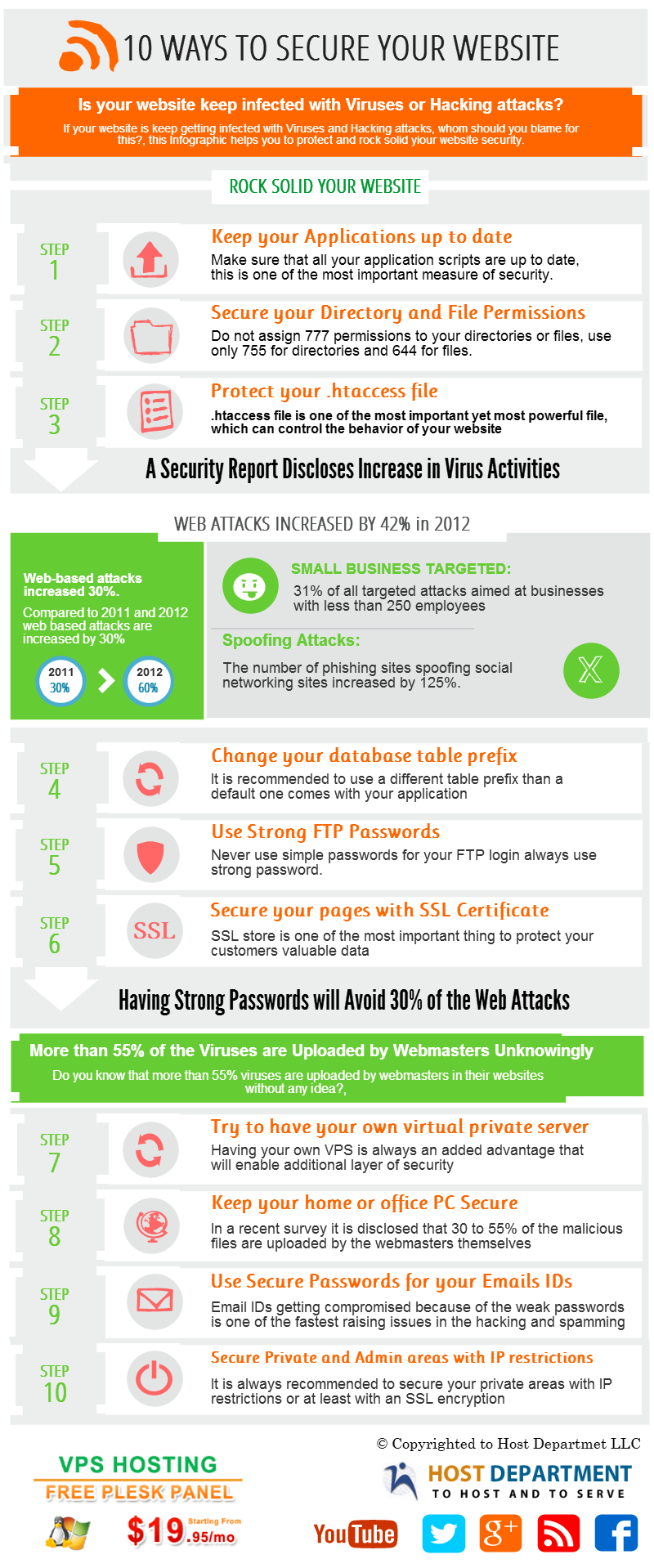 Keeping Your Website Safe From Hackers And Viruses
Could your website be attacked by viruses and hackers? Do you know how to keep your website and data safe? A recent report shows that activity against website security is increasing. However, you can take steps to prevent hackers and viruses from compromising the security of your website.
Attacks on websites by hackers and viruses grew by 30% from 2011 to 2012. The number of spoofing attacks – phishing sites spoofing social networking sites – increased by 125% in 2012.
These attacks specially target small businesses, with 31% of all attacks directed against businesses employing 250 or fewer people.
Responsibility
Who is responsible for these attacks? And what can you do to keep your website safe from hackers and viruses? An unexpected finding is that more than 55% of all viruses are unintentionally uploaded to websites by the web masters themselves.
Despite these unnerving facts, you can ensure the security of your website. The first and easiest step to protecting your website is to use a strong password. Using strong passwords will prevent 30% of all web attacks.
In addition, here are some steps you can take to ensure that your website's security.
Keeping your applications updated. This is the first step. It is also one of the most important security measures you can take.
Keeping your directory and file permissions secure. You can do this by using only 755 for directories and 644 for files. Do not assign 777 permissions to your directories or files.
Protect Yourself
Protecting your .htaccess file. This is one of the strongest and most important files and it can control the behavior of your entire website.
Changing your database prefix, rather than using the default one that comes with the application
Using strong FTP login passwords instead of weak ones. Never use simple passwords for your FTP login.
Securing your pegs with SSL certificate. The SSL store provides one of the most important tools in keeping valuable customer data secure.
Having your own virtual private server. Using your own VPS is an added advantage that gives you an additional layer of security.
Keeping your home or office PC secure. A recent survey found that web masters inadvertently loaded 55% of all malicious files themselves. You can avoid this by not downloading or opening suspicious files on your computer.
Using secure passwords for your Email ID. Weak passwords threaten the security of your email account. Compromised Email IDs due to weak passwords are one of the commonest and fastest-growing problems in hacking and spamming.
Using IP restrictions to secure Private and Administration areas. It is essential to use IP restrictions or at least SSL encryption to secure your private areas.
These precautions will provide your website with rock solid security and protect your information.