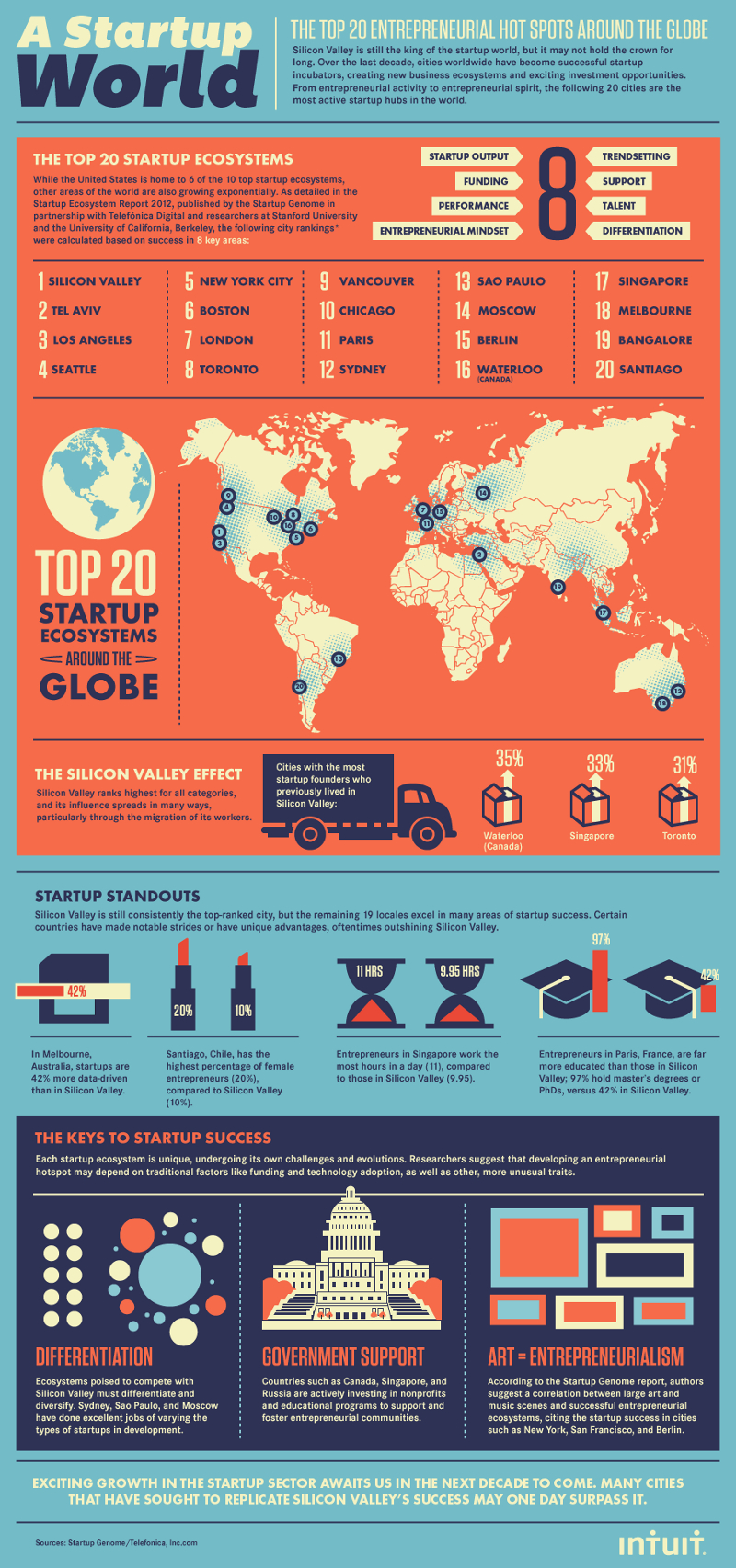 The original infographic can be found here.
Top 20 Entrepreneurial Hot Spots Around the Globe
The king of start-up around the globe remains Silicon Valley, however, this looks like it is about to change. In the past 10 years, several other cities have been successful with respect to start-ups, thereby creating new businesses and developing exciting opportunities for investments. Here is a list of 20 cities that are active for entrepreneurial start-ups around the globe.
The Top 20 Start-Ups Ecosystem
Of the top 10 start-ups systems, the United States is home to 6 of them, nevertheless, other areas of the globe are increasing dramatically. This was revealed in the Ecosystem report of 2012 as published by start-ups Genome in partnership with Telefónica Digital Researchers at Stanford University and the University of California.
Ranking Criteria
• Start-up Output
• Funding
• Performance
• Entrepreneurial Mind-set
• Trend setting
• Support
• Talent
• Differentiation
Top 20 Cities
1. Silicon valley
2. Tel Aviv
3. Los Angeles
4. Seattle
5. New York City
6. Boston
7. London
8. Toronto
9. Vancouver
10. Chicago
11. Paris
12. Sydney
13. Sao Paulo
14. Moscow
15. Berlin
16. Waterloo, Canada
17. Singapore
18. Melbourne
19. Bangalore
20. Santiago
The Silicon Valley Effect
This city has the highest ranking as compared to all others, it has spread its influence in many especially areas through the migration of its workers. Waterloo in Canada, Singapore and Toronto are the three cities with Start-up founders who once lived at Silicon Valley with Waterloo having 35%, Singapore 33% and Toronto having 31%.
Start-up Standouts
This consistently remains a top ranking city but the remaining 19 also excel in other areas of start-up success. Some other countries have made significant successes and in some cases, beating Silicon Valley. Here is the breakdown:
– As compared to Silicon Valley, Start-ups in Melbourne Australia are 42% more data driven.
– Chile in Santiago has the largest percentage of female Start-ups. It is 20% as compared to Silicon Valley's 10%
– Workers in Singapore work 11 hours of the day as compared to Silicon Valley workers who put in 9.5 hours.
– For entrepreneurs in Paris and France, they are far more educated as compared to those in Silicon Valley. 97% of them possess a graduate degree as compared to Silicon Valley's 42%
The Keys to Start Up Process
Every Start-up process is unique in its own way, it has to go through its own challenge till it reaches it full development level. It has been suggested by researchers that developing an entrepreneurial hotspot may depend on factors like technology, funding and adoption. Other factors are:
Differentiation: There must be a differentiation and diversification for systems that are trying to compete with Silicon Valley. Cities like Sydney, Sao Paulo and Moscow have performed excellent jobs in these areas.
Government Support: Canada, Singapore and Russia are investing extensively in educational programs that supports and promotes entrepreneurial developments.
Art Equals Entrepreneurialism
Reports from Start-up Genome has suggested a relationship between large art, music scenes and a successful entrepreneurial ecosystem. Cities like New York, San Francisco and Berlin are examples of this kinds.