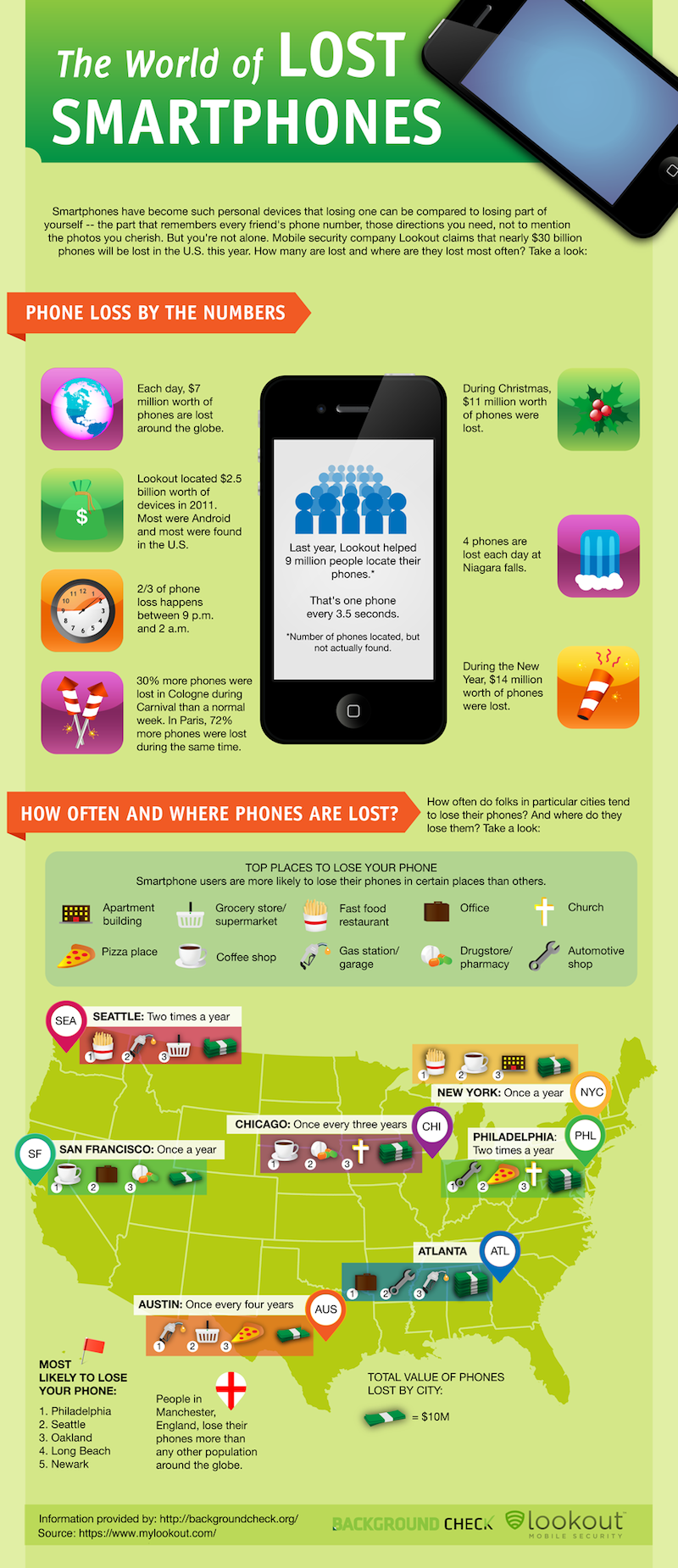 The Disappearance of Smartphones
Smartphones have quickly become a prized possession among most individuals and these devices hold countless amounts of both personal and private information. Not only do you store all of your contacts in your smartphone, but most individuals also keep precious photos and even banking information in their handy device. The many uses of smartphones had added convenience and ease to our lives, but losing your smartphone can be a traumatic experience that can put your private information in the wrong person's hands.
The Mysterious Disappearance of Smartphones
There is a whole lost world of smartphones that most people are unfamiliar with until they find their selves in this unfortunate situation. Each year more than 30 billion phones are lost or stolen, but recent research has been released to help you be on the lookout and avoid becoming another lost smartphone statistic.
Trends of Lost Smartphones
You might think that losing your smartphone is a common occurrence, but are you aware that more than $7 million dollars' worth of smartphones are lost around the world each day. This is a huge amount and clearly shows that smartphone theft and loss are only on the rise. Even though a smartphone is lost or stolen, that doesn't mean that it can't be recovered. Lookout is a mobile security company that retrieved more than 2 billion dollars' worth of mobile devices in 2011 alone. Android phones were the most commonly found phones in the United Sates.
Keep an Eye on Your Smartphone After Dark
Research shows that most smartphones are lost or stolen between the hours of 9 P.M. and 2 A.M. This means that you should keep a closer eye on your mobile device during the night to avoid loss. New Years is the night where the most smartphone loss usually occurs with more than $14 million smartphones lost.
Where are Smartphones Most Often Lost?
Although your smartphone can be lost or stolen at any location, there some locations that are more prone to smartphone loss than others. Restaurants, coffee shops, church and your office are some of the most common locations for lost smartphones. This might simply be due to the fact that these locations are commonly frequented.
The bottom line is that you should always keep an eye on your smartphone and be aware that cellphone loss is extremely common, but it can be avoided.