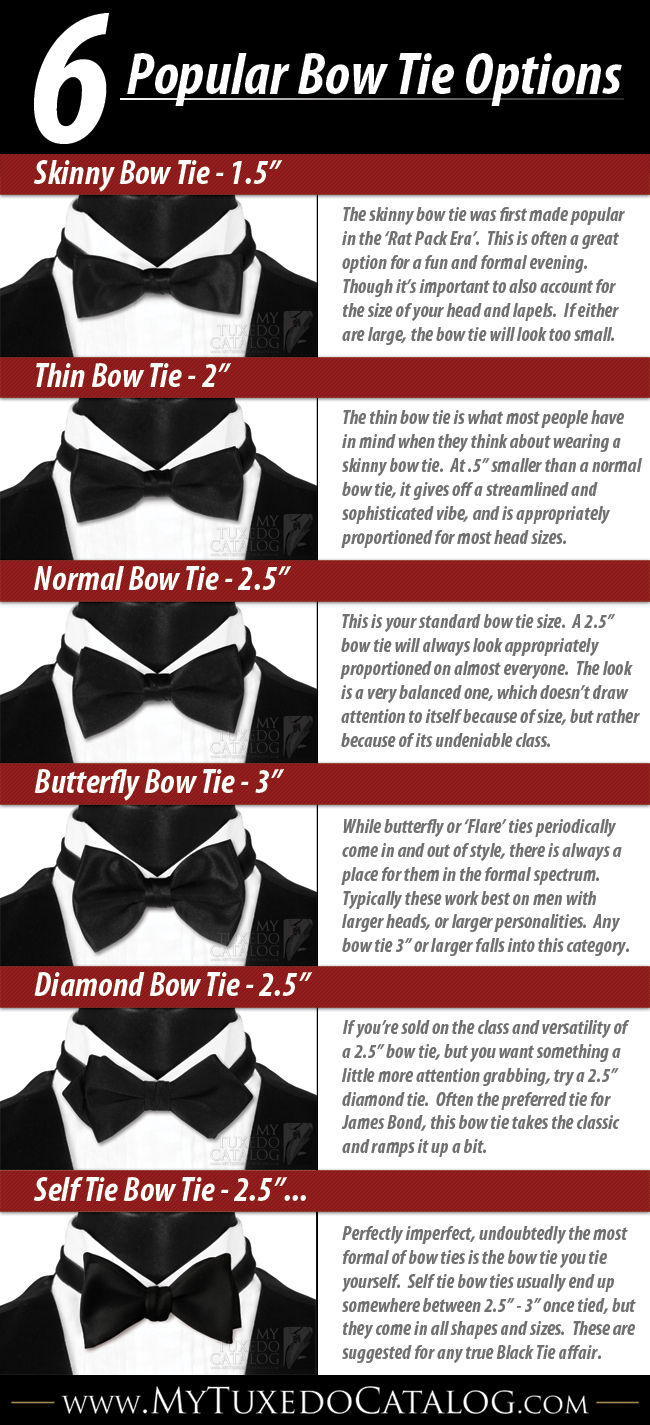 A Bow Tie For Every Occasion
Though bow ties are often cursed if you're attempting to put on one that is real instead of a clip-on, they do have the ability to make a fashionable formal statement for any event. There are 6 basic types of bow ties that you can consider wearing, with each one having an advantage over the others. If you're about to put on a tuxedo, consider these bow tie options today!
The Classic Bow Tie
The classic bow tie is the one that you tie yourself. Perfect for any formal affair, this bow tie can be in any shape or style and still look good. This bow tie is also the perfect one for non-formal usage of a bow tie, such as going to church, attending a professional event, or just going to teach a class.
The Skinny Bow Tie
This bow tie style speaks to your desire to have fun while still fulfilling your obligations to be formal. Often worn by the famous Rat Pack, the secret to successfully pulling off a skinny bow tie is how it looks compared to your lapel size and your head size. If the bow tie is out of proportion to those, it won't look right and isn't the right choice for you.
The Thin Bow Tie
This is the bow tie that most people think of when they think of a formal bow tie. A little bit smaller than the traditional bow tie, it speaks to your sophistication and desire to look great during a formal event. The best part is that just about anyone can wear this style of bow tie and look good!
The Traditional Bow Tie
This is your standard bow tie that most people wear to a formal event. It doesn't stand out from the tuxedo because it looks natural. It speaks to your ability to show off the class you have and does a good job of it.
The Diamond Bow Tie
If you're looking to follow the traditional bow tie style, but want to add a little adventure into the mix, then this is the right bow tie for you. You'll often see a diamond bow tie worn by James Bond and other action stars in the movies. If you want to really draw attention to yourself at a formal event, this is definitely the bow tie to wear!
The Butterfly Bow Tie
This is a bow tie that tends to go in and out of style over the years. It is the largest of all the bow ties, making it difficult to wear in proportion for many people. These ties often flare out quite a bit as well, meaning they work well for people who are broad shouldered… or have broad egos. There will always be a place for these in a formal setting, but this bow tie isn't the right choice for everyone.
The bow tie that you choose to wear with your tuxedo at your next formal event will speak a lot about the type of person you are. The wrong bow tie will create the wrong first impression and that is a difficult circumstance to overcome. Choose the best bow tie from these 6 options instead and you'll create the favorable impression you want!