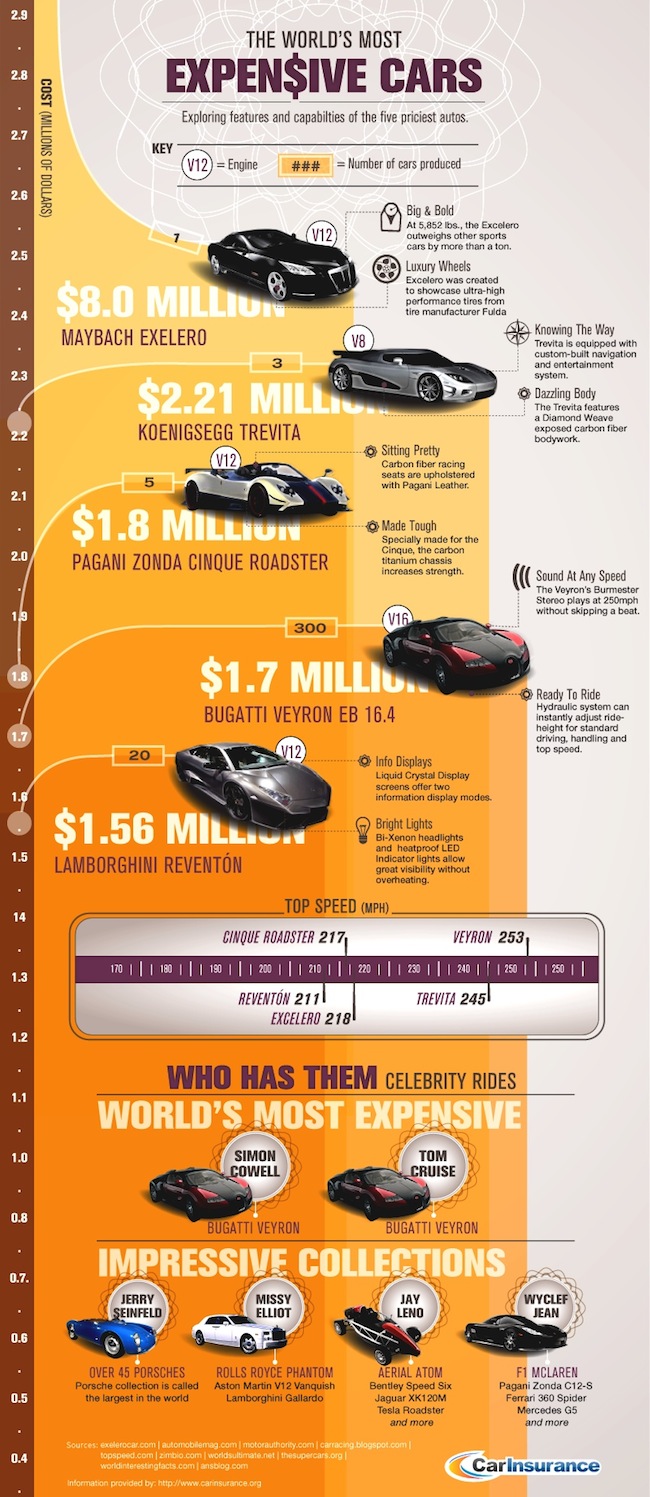 The World's Top 5 Expensive Cars
Here is a look at the worlds more expensive cars and their key feature s and capabilities that make them highly desired.
1. Mayback Excelero ($8.0 Million)
This car is considered the big and bold at 5,852lbs and outweighing other sports cars by more than a ton. Revered as the number one on this list, the Excelero was created to showcase ultra-high performance tires from the manufacturer Fulda. It has a V12 engine and top speed of 218mph, offering a price tag of $8 million dollars.
2. Koenigsegg Trevita ($2.21 Million)
The Trevita is equipped with a custom built navigation and entertainment system. Featuring a diamond weave exposed carbon fiber bodywork with a V8 engine and top speed of 245mph, it brings in a price tag of $2.21 million dollars.
3. Pagani Zonda Cinque Roadster ($1.8 Million)
This roadster catches eyes with its sleek design, carrying carbon fiber racing seats upholstered in Pagani leather and made touch with a carbon titanium chassis to increase strength. With a V12 engine and top speed of 217mph, this roadster can be bought for $1.8 million dollars.
4. Bugatti Veyron EB 16.4 ($1.7 Million)
Never skipping a beat with the Veyron's Burmester Stereo while riding at 250mph, the hydraulic system is able to instantly adjust ride height for standard driving, handling, and top speed maneuvering. With a V16 engine and top speed of 253mph, this ride dips $1.7 million into your pocketbook.
5. Lamborghini Reventon ($1.56 Million)
This high priced Lamborghini has liquid crystal display screens with two information display modes and bright Bi-Xenon headlights and heatproof LED indicator lights that allow for great visibility without the risk of overheating. With a V12 engine and top seed of 211mph, this beauty costs $1.56 million.
Who Owns the World's Top Five Cars?
The Bugatti Veyron seems to be the most desirable on this list having been purchased by the likes of Simon Cowell and Tom Cruise as their chosen celebrity ride.
Other notable collections from celebrities in cars is Jerry Seinfeld's collection of over 45 Porsches, considered one of the largest in the world. Missy Elliot and her Rolls Royce Phantom along with Jay Leno's Aerial Atom and others from his personal collection. Lastly, Wyclef Jean and the F1 McLaren and additional classics added to his personal collection.