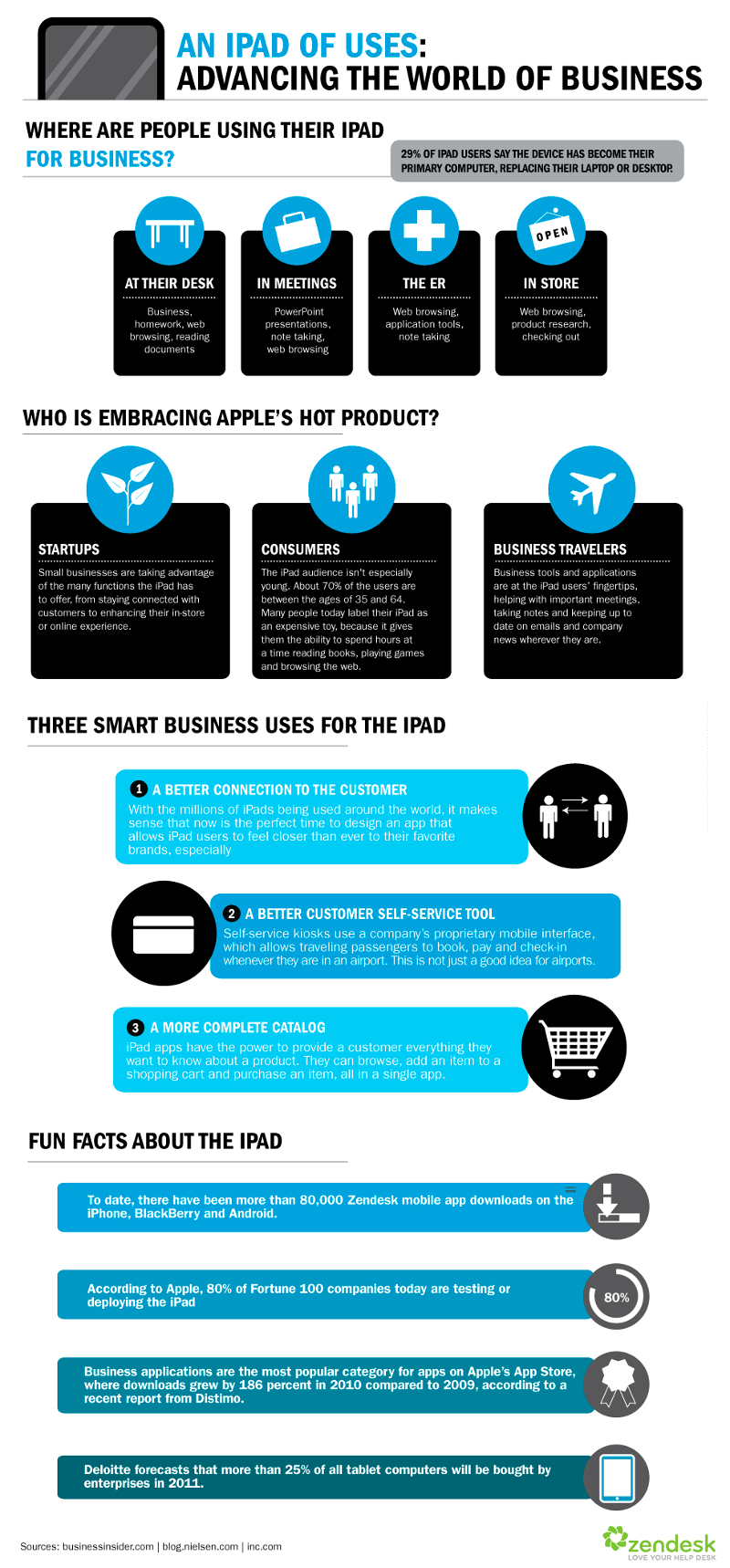 iPad for Businesses
iPad's are not just for personal use. Believe it or not they can become invaluable resources for businesses as well. With over 29% of iPad users saying these devices have become their primary computer, replacing their laptop or desktop, businesses will find their iPads in more places than one. From their desk to meetings, the ER to stores, here is a look at how the iPad is being embraced by businesses alike.
4 General Uses for the iPad
1. At Your Desk – Integrated at your place of business, doing homework, web browsing, or reading documents.
2. In Meetings – Can be used for PowerPoint presentations, note taking, and web browsing.
3. The ER – Instead of reading those outdated magazines laying around, the iPad can be used for web browsing, application tools, or note taking.
4. In the Store – When on the go shopping, the iPad can be accessed for product research, during check out to pull up a digital coupon, or web browsing.
Businesses Embracing the iPad
All types of businesses have been embracing the flexibility of using an iPad. Startups are seen taking advantage of the many functions the iPad has to offer with getting and staying connected with customers to enhancing their in store or online experience.
Consumers use the iPad, spending hours reading books, playing games or browsing the web. About 70% of users are between the ages of 35 and 64.
Business travelers can also use the iPad for the robust business tools and applications at their fingertips. Maintaining schedules and help with important meetings, taking notes, or keeping up to date on emails and company news no matter their present location.
3 Ways the iPad Can Help Businesses
1. Get in connection with the customer – With the millions of iPads being used around the world, it makes sense to have an app that is designed for iPad users. This helps customers feel more connected to their favorite brands.
2. An improved customer self-service tool – Kiosks use a company's proprietary mobile interface, allowing traveling passengers to book, pay, and check in whenever they are in an airport. This is an idea that can help a multiple of businesses in different industry sectors.
3. Build a more complete catalog – iPad apps can provide customers with information they want to know about a product. They can browse and add an item to a shopping cart and purchase all within a single application.
Fun Facts About the iPad
• To date there have been more than 80,000 Zendesk mobile app downloads on the iPhone, Blackberry, and Android devices.
• According to Apple, 80% of Fortune 100 companies are testing and deploying the iPad.
• Business applications are the most popular category for apps on Apple's App Store, with downloads growing 186 percent in 2010 compared to 2009.
• Deloitte forecasts that more than 25% of all computers will be tablet based computers bought in 2011.