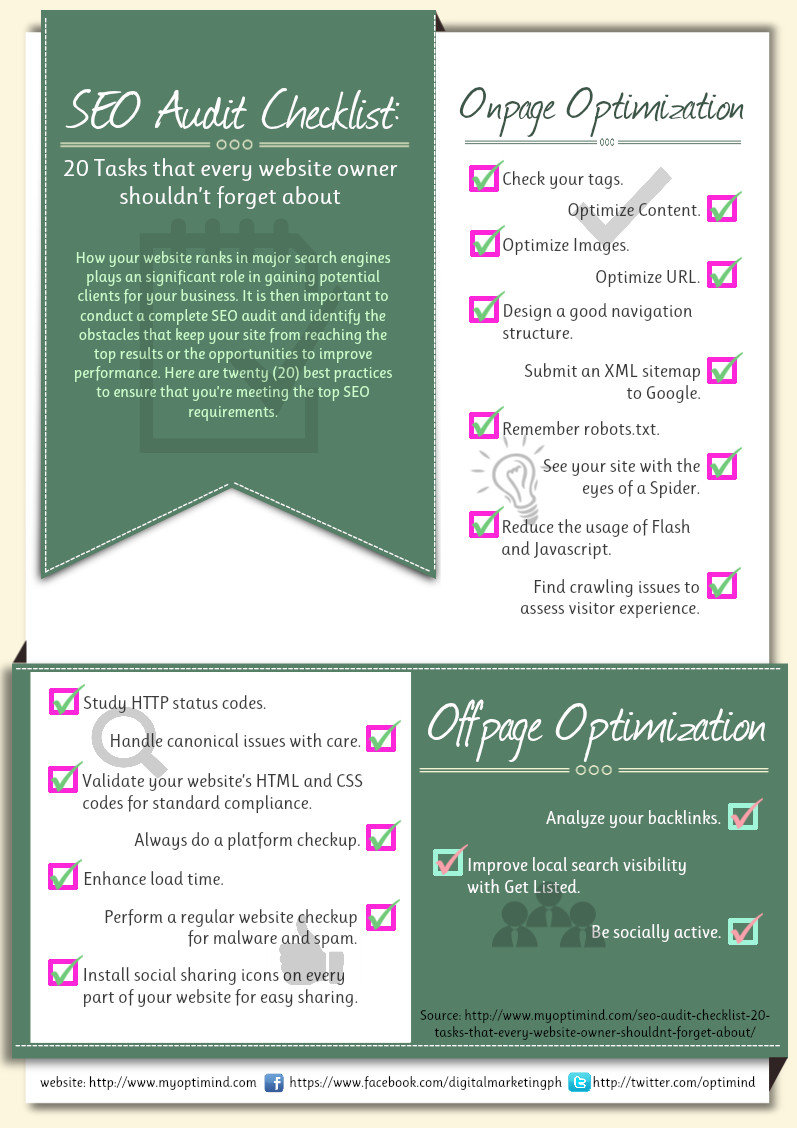 SEO checklist 2013
The online platform has become a war zone between company websites, as each one wants to have higher ranks for profit maximization. Although all these website owners implement SEO practices, a simple mistake or having anything less than your rival can deny the page from being ranked highly. Due to this reason, website optimizers have to ensure that both on page and off page search engine optimization is conducted and followed to the letter. A checklist for identifying some of the blocks that might hinder a page from ranking highly is thus created for security purposes, because all are fighting for the same audience. SEO is the online form of advertising and marketing sites for search engines, and when properly done, the page may rank 1st in Google and other engines for longer, thus unlimited revenue.
1. Content, Tags, Images, Links and Design
When optimizing a webpage, the above named play a major role in determining the ranks of a web page. Great and informative content is highly required for a visitor to come back, while tags gives a preview of what the page is all about even before the audience can open it. This determines whether he will visit it or not. Images also play a big role in web content, as it gives a visual explanation of whatever you have to offer, and also spices the pages. However, the web page designs dictates whether a user can navigate with ease within, and find whatever he or she is looking for with ease. This marks whether he will come back for more or not.
2. Robots, Flash and JavaScript's, Coding Language and Platform Used
Search engines use texts to find and locate content when a search is entered. This is the reason why you need to allow these robots to see and catch such texts for ease of display in web search results. In addition to this, the programming language or platform used to generate the website also determines its ease of use. If someone finds it hard to use your website due to JavaScript's and other media, then chances are he will not come back to the website. As a web developer, you need to make sure everything handled within the site is lightweight and easy for audience to understand and use.
3. Load Time, Social Media Linking and Up Time
The main aim of having a website is to ensure it gives service to target audience 24 hours in a day. This means you need to use a webhost who offers an equivalent of this, because anything lower than 24 hours means disaster as returning visitors will only receive error messages and probably never come back. The approximate load time in which a page takes to load when clicked also determines where you will be ranked in search engines. Alongside using light content on your site, it is also advisable for you to use a faster webhost for faster loading.
Using social media to drive traffic to the pages should not be left out. This is because many people use sites like Facebook, LinkedIn, Pinterest and Twitter to communicate with others, and can be a great avenue to find traffic. You also need to analyze all backlinks within the pages on scheduled times to make sure all are working and of high quality.