In case you are not familiar with HARO, let me give a you a quick run down of what it is. HARO stands for Help a Reporter Out. It is the most popular sourcing service in the world. It essentially connects journalists with expert sources. This enables journalists to quickly get some nice quotes and expert analysis that can be interjected into their articles. When a journalist needs an expert source they post a query on HARO, and you are able to pitch them on why they should use you as a source.
If the reporter uses you as a source, then you will get a brand mention and a valuable backlink. Every year HARO processes over 50,000 journalist queries through their site. HARO has replaced the old school press release approach, and all of the major media outlets are using HARO to get their sources. This list includes big hitters like FOX News, Reuters, Time, New York Times, and The Wall Street Journal to name a few.
Choosing the Right Account to Use on HARO
As a blogger and a brand, you will sign up to HARO as a source. You will join 475,000 other sources that use HARO to connect with the top journalists in the world. Although you can sign up for free, you will want to sign up for the standard account, which costs $19 a month. The standard account is going to allow you to have..
Keyword Alerts – You get to choose one keyword to help you filter through all of the new media opportunities each day. For example, I use the keyword "marketing" to make sure I get sent all of the source opportunities related to marketing topics.
A Profile – If you do not have a profile, then you are not going to be even considered as a potential source. With a paid account, your profile's bio is sent out with every pitch that you make.
Text Alerts – You will be able to set up your mobile phone to get an query alerts. This means you will get a text message as soon as your ideal queries hit the HARO wire. This is vital because journalists usually grab the first qualified source to drop into their article.
Here are the paid options and their features as listed on HARO.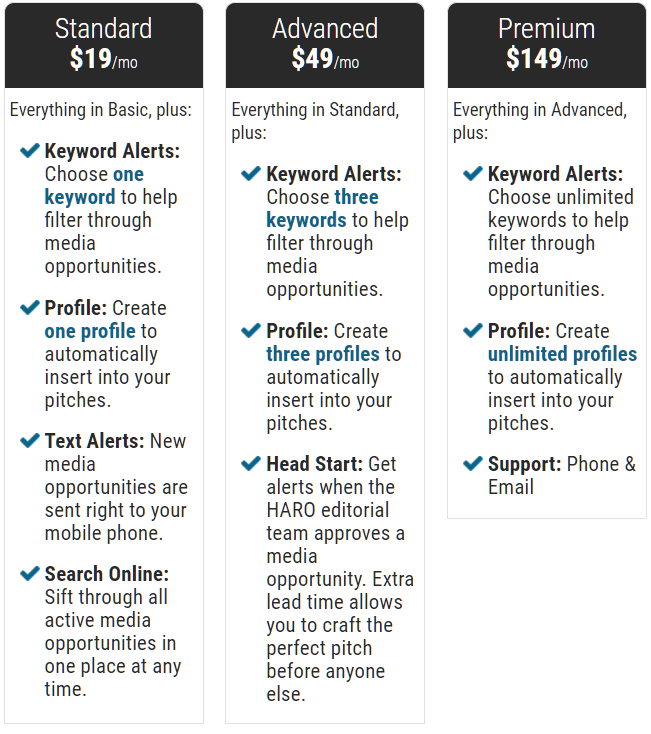 The bottom line is that you will never get used as a source with a free account. Although HARO offers a $49 per month and a $149 per month account, the $19 a month standard account is all you need.
Optimizing Your Profile to Make You Look Like a Quality Source
Once you sign up to HARO, the first thing you need to do is to complete your profile. The most important part of your profile is the bio. In six sentences, you need to show what makes you the expert in your area along with your experience.
My HARO bio reads…
Over 1 million people visit my small business blog every month, BrandonGaille.com. I am a serial entrepreneur that has founded several multimillion dollar companies over the past 20 years. I am an expert on small business and marketing. My business consulting clients have a yearly revenue between $1-50 million.
Your bio is going to be attached to every pitch that you make to journalists. Every journalist is going to scan through your bio before considering to use you as a source.
My HARO bio formula is…
(Social Proof) + (Accomplishments) + (Expertise)
#1 Social Proof – I start my bio with a brief sentence that states, "Over 1 million people visit my small business blog every month, BrandonGaille.com." The first thing a journalist sees is that 1 million people visit my small business blog every month. This conveys to the journalist that I am an established small business blogger. It is a great hook, and it insures that my complete bio and pitch will get read.
#2 Accomplishments – The second sentence of my bio summarizes my career accomplishments by stating, "I am a serial entrepreneur that has founded several multimillion dollar companies over the past 20 years." It allows the journalist to see that I have many years of business experience, and it goes beyond just blogging.
#3 Expertise – I wrap up my bio with two sentences that summarizes my primary expertise with the following statements. "I am an expert on small business and marketing. My business consulting clients have a yearly revenue between $1-50 million." The first sentence clearly states that I am a go to source for topics related to small business and marketing. You want to be very clear and concise. Do not go overboard with a big list. I also recommend focusing on the broad topics. This will allow you to be considered for a wider range of query topics. The second sentence mentions the size of clients that I work with. I do not want to be commenting on large companies like Wal-Mart because that is not my sweet spot.
If you are just starting out, then you can still create a bio that makes you look like a valuable source. Here is an example…
I am the editor of one of the most reputable parenting blogs in the nation. I have written over 50 articles on topics ranging from raising well-rounded happy children to the stresses of single parenting.
You could also combine your blog visitors for the entire year to give your intro sentence a little more pop. For example…
Over 150,000 small business owners read my blog, XYZ.com, in the past year.
No matter where your business and blog are, it only takes a little creativity to make your HARO bio stand out in the crowd.
How to Identify Queries that Lead to Valuable Backlinks
Once you have completed your profile and have a bio that sparkles, then you can start looking for journalist queries to respond to. Whether you are searching for queries in HARO or looking through the queries in the daily emails, you have to take your time to qualify the website of the journalist before investing any time in the pitch.
It takes about five to twenty minutes to craft a pitch for a journalist query. If you get chosen, then it may turn into a quick five minute phone call or a volley of emails between you and the journalist. This is a small time investment in the grand scheme of link building strategies. With that being said, you still want to make sure every minute counts.
There is one simple piece of due diligence that you need to do before making a pitch. You simply have to identify the domain authority of the journalist's website and make sure it is above 30.
Here is a quick refresher on domain authority.
Scoring System Created by MOZ – This is the system that essentially replaced Google's page rank. It is typically used by marketers to evaluate backlink opportunities.
Scale from 0 to 100 – Backlinks with higher domain authority will have a greater positive impact on your Google rankings. A major news site like CNN.com has a domain authority of 97, and an industry blog like mine has a domain authority of 44.
Check Domain Authority with OpenSiteExplorer.org – If you set up a free MOZ account, then you will have the ability to do as many domain authority checks as you need.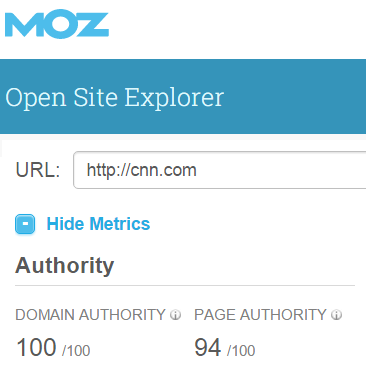 In HARO, you can find the website of the journalists listed under the title of their query. All you do is copy and paste the website into Open Site Explorer to find out the domain authority. If the domain authority is greater than 30, then proceed with your pitch.
Here are some query titles with websites listed under them.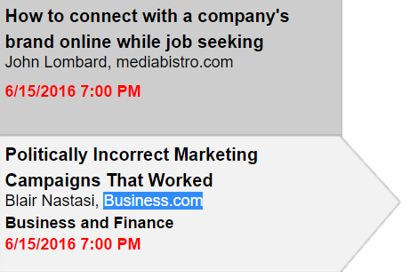 Queries that do not list their website will either have the name of their publication or the word "anonymous." You want to ignore all queries with the anonymous tag.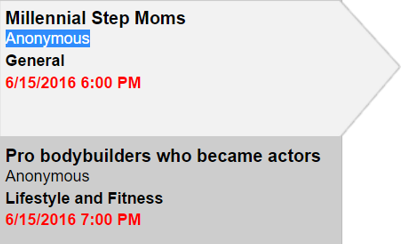 These are going to be small websites that have little or no domain authority. A backlink from these sites will have zero impact on your Google rankings.
For the queries with the title of their publication, just drop the title into a Google search.

Nine times out of ten, the publication's website will show up in the first result.

Once you find the domain name in Google, then you can drop that domain name into Open Site Explorer.
Identifying Queries that Fit Your Expertise
Beyond making sure the domain authority is above 30, you want to make sure to only pitch journalist queries that fit your expertise.
For example here is a query that I pitched.
The query title was….
Politically Incorrect Marketing Campaigns that Worked
The publication website of the journalist was…
Business.com
Domain authority = 80
The actual query read…
Are you in the PR or marketing arena? Have you taken a chance on running a politically incorrect campaign that completely took off? If so, provide all of the following or you will not be considered… What was the company or service? What was the campaign idea and why was it risky? What were the results?
When you make a pitch in HARO it will ask you to fill in two fields. The first field is the subject, and the second is the pitch.
The subject needs to always be the title of the journalist query. The reason for this is that many of the journalists have multiple queries that are open. When a journalist sees their title as the subject line, then they know it is a pitch for that specific article.
The actual pitch should give the journalist exactly what they are requesting.  You do not need to overdo it. If they like what you pitch, then you can give them all the details later on.
My pitch for this query read as follows…
I am the CEO of a marketing company and we recently ran a politically incorrect campaign called "How to Trump Up Your Business." It produced 25,000 website visitors, 211 sales, and over 15,000 social followers. It was risky because it used some of Donald Trump's shock tactics as ways to get more visibility to a business.
Feel free to email me with any additional questions at [email protected] or call me at 281.359.2163.
As you can see, I got straight to the point and gave the journalist exactly what they wanted. I also end my pitch by giving them my email and phone number. This makes it real easy for them to send out a quick email or call you. On the days that you are pitching, you need to make sure you are able to answer your phone and check emails. If you do not answer, then the journalist will move on to the next qualified pitch.
You Need to be the First to Respond to Source Requests
Most of the journalists that post queries are working on a deadline. Many have only a few hours before their articles go live. This is why it is vital to be the first one to pitch a journalist. In these situations, the journalist is going to choose the first source that has a pitch that meets their requirements.
HARO sends out an email with source requests three times a day. These emails are sent out at 5:35am, 12:35pm, and 5:35pm (EST) everyday from Monday through Friday. The vast majority of journalists post their queries right before these emails are sent out.
The best practice is to set an alarm on your phone for each of these times, so that you can quickly scan through the queries. If you wait until 1pm to see the 12:35pm email, then you are going to be too late to the party.
What to Do After You Have Talked With a Journalist
After a journalist has a conversation with you through email or phone, then it can take anywhere from a day or two months for the article to be published. You should never contact the reporter to ask them when the article is going live. This is going to insure that they will never use you again as a source.
Instead of nagging the journalist, take a minute to set up a Google alert for your name, brand, and domain name. The alert will let you know the moment any new articles with a mention go live.
After you see the article is live, then this is what you need to do…
#1 Read the Article – The journalist took the time to use as a source, and you need to return the favor by reading their entire article. You may get used as a source again by the same journalist, and this article may be brought up on the next phone call.
#2 Check for Your Backlink – Although most journalists will provide a backlink, there are times when they will just include a brand mention that is not linked up. The best way to handle this is to wait three weeks before asking them to include a link back to your website. The reason for this is because some editors will not allow off page links when a new article is front and center on the home page. Once a few weeks pass, the article will be pushed to the back. At that point, they will not be worried about losing any of their home page traffic.
#3 Make an Intelligent Comment – By making a nice long comment, you are letting the journalist know that you took time to read their article.
#4 Share on Your Social Media Channels – One of the big metrics that journalists get evaluated on is social media engagement. When you make an update to your social media following, make a point to mention their social media account. This will insure that they see each of your updates in their feeds.
I recommend making five pitches a week on HARO. Those five pitches combined will take up to an hour each week. Just a couple of quality backlinks can lead to a massive inflow of Google organic traffic. If you stick with it for an entire year, then you will begin to build relationships with key journalists within your industry. That is when the real magic starts to happen. At that point, the tables will be turned. Instead of you pitching them, they will be pitching you.