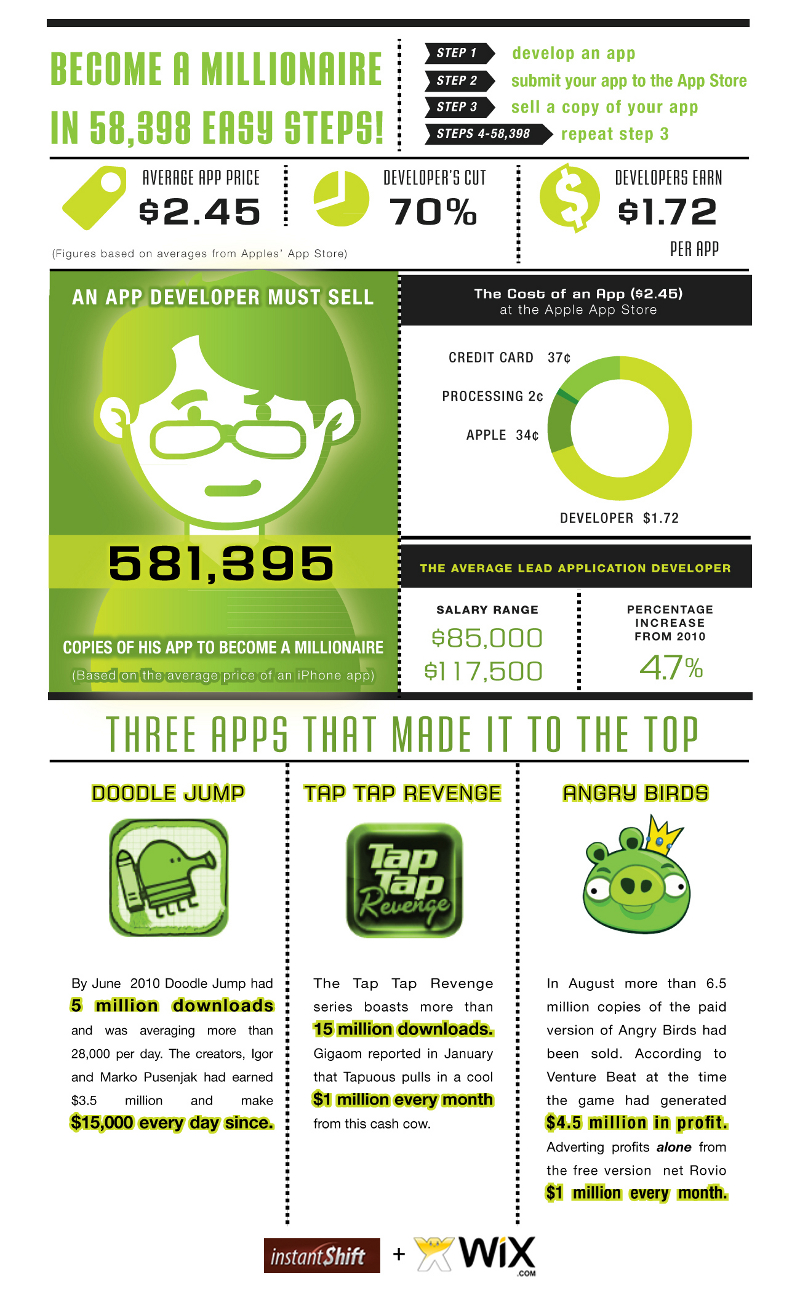 Most Recommended Posts:
How to Profit as an App Developer
If you want to make a name for yourself and are in the mood for some entrepreneur activity, you should consider becoming an app developer. Apps that sell well on the market can potentially bring in millions of dollars in revenue. Here are some steps to follow when creating an app and three examples of apps that made it to the top for inspiration.
4 Steps
1. Create an App
2. Place it into the App Store or Google Play Store
3. Sell Your App
4. Repeat Step 3 over and over Again
Business Model
Average Sales Price – $2.45
• Credit Card – 37¢
• Processing – 2¢
• Apple – 34¢
• Developer – $1.72
The Developer's Share
• Makes up for 70% of the sales price
• The average app developer makes $85,000 – $117,500
• An app developer must sell approximately 581,395 copies to become a millionaire.
Examples of the Top 3 Apps
1. Doodle Jump
• Developers: Igor and Marko Pusenjak
• 5 million downloads by June 2010
• 28,000 downloads per day
• Makes $15,000 per day
2. Tap Tap Revenge
• Developer: Tapulous
• Over 15 million downloads
• Makes $1 million per month
3. Angry Birds
• Developer: Rovio
• Sold over 6.5 million copies
• $4.5 million in profit
• Makes $1 million a month from advertising alone
As you can see, being an app developer has a lot of potential and can bring you lots of money in the long run. Use the above information to help you decide if this is the right decision for you and what your next steps should be if you choose to create an app.