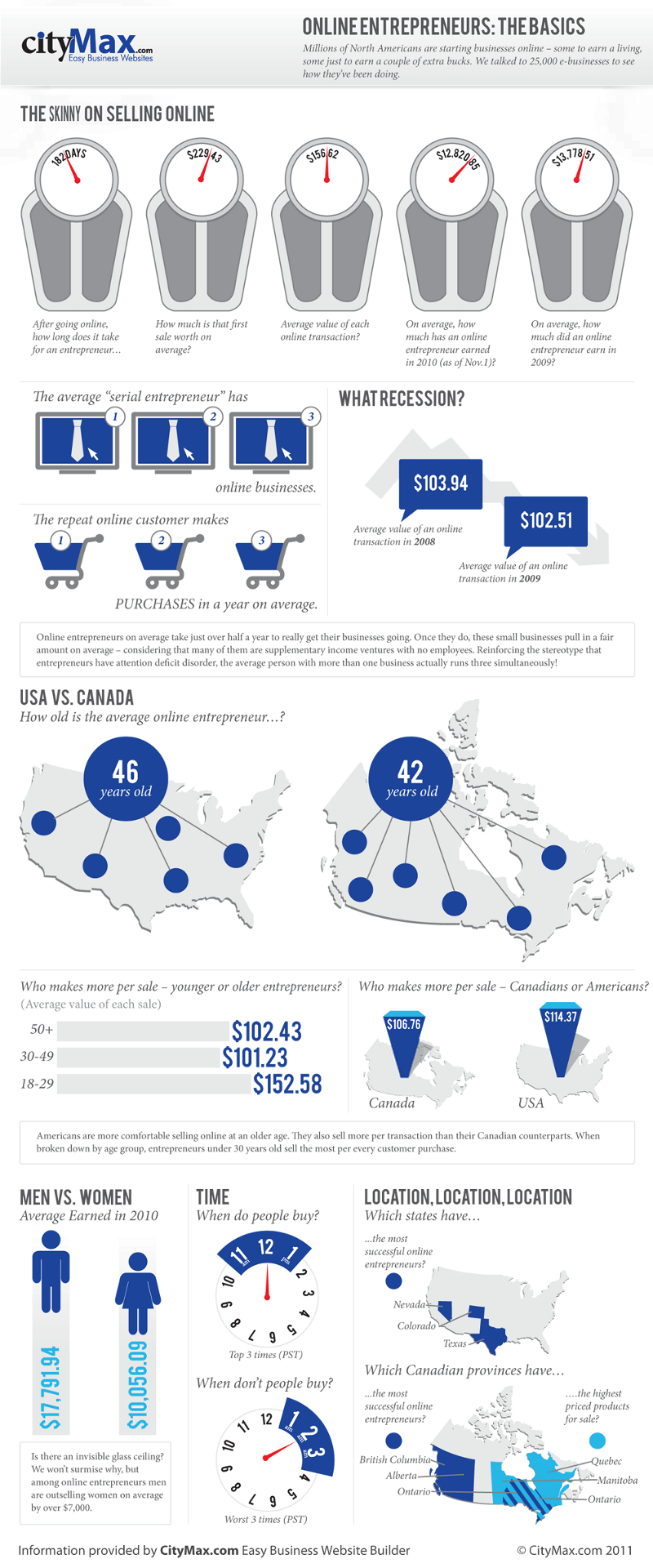 Online Entrepreneurs: The Basics
In North America, millions of people are turning online to start a new business. Some earning a living there, others earn a few extra dollars. We discussed with about 25,000 e-business owners to see how they have fared over the years.
The Skinny on Selling Online
Research has shown that it takes on the average 182 days for an entrepreneur who has gone online to get established. The research also showed that the first sale is usually worth about $229.43 while the average value of each online transaction is about $156.62. As at November 1st, 2010, an online entrepreneur has earned about $12,820 per annum and in 2009, the earning value was about $13,778.51.
On the average, the serial entrepreneur has about three online businesses with repeat customers making about three purchases in a year. Well with respect to recession, the online entrepreneur averaged $103.94 per online transaction in 2008 and $102.51 per transaction in 2009. So where is the recession for the online entrepreneur? For the online entrepreneur, it takes about six months to setup the business, once set up, the profits just keep coming in effortlessly since most of them have no real employees.
It is worthy of note that in the USA, the average online entrepreneur is about 46 years old while in Canada, he is about 42 years old. In the United States, younger online entrepreneurs makes more sales as compared to older ones. The survey revealed that an online entrepreneur of 50+ years makes about $102.43, for ages 30-49 years old, they make about $101.23 while ages 18-29 years old makes $152.58 per transaction. It was always discovered that the Americans make more in sales as compared to Canadians.
In 2010, men earned more than women as far as being an online entrepreneur is concerned. Outselling women by about $7,000. Most people made purchases between 11am and 1pm while the worst buying time is between 1am and 3am both in PST time.
The following states have the most successful online entrepreneurs:
1. Colorado
2. Nevada
3. Texas
In Canada, the following provinces have the most successful online entrepreneurs:
1. British Columbia
2. Alberta
3. Ontario
The following Canadian provinces have the highest prices product for sale:
1. Ontario
2. Manitoba
3. Quebec