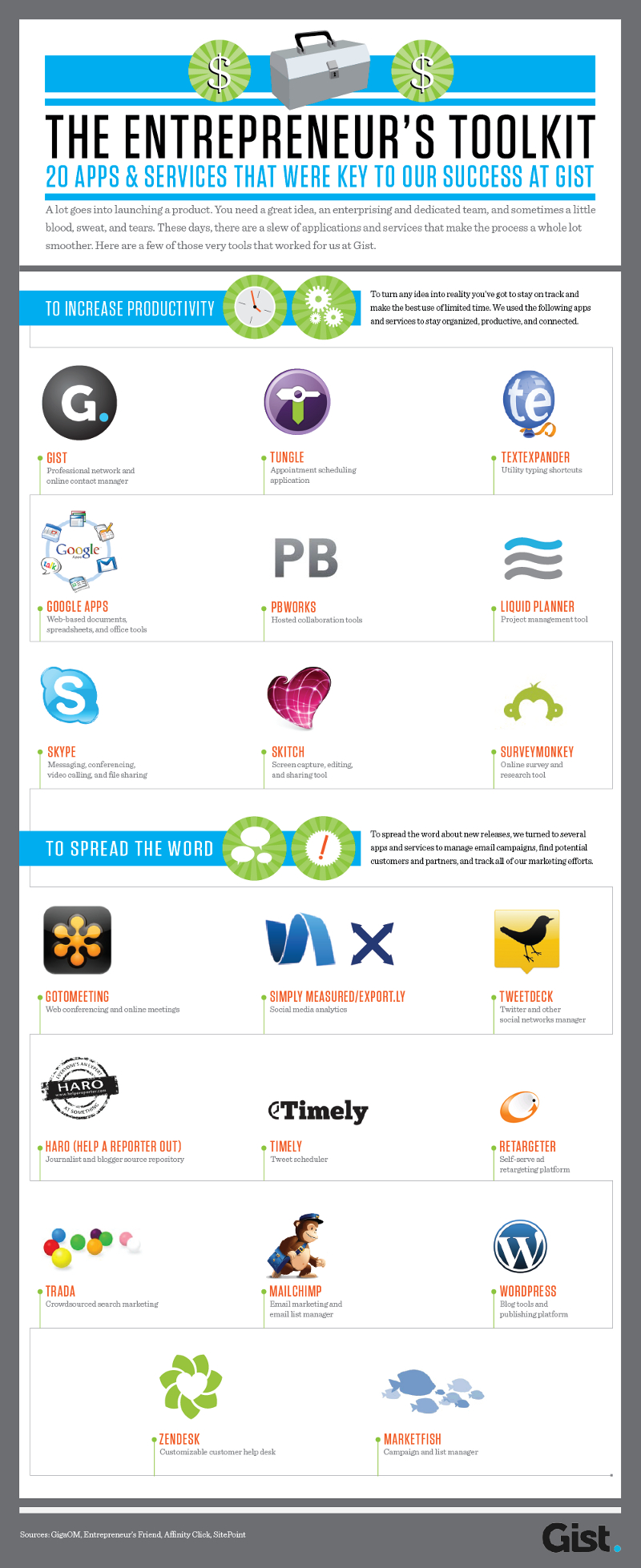 20 Applications and Services That Are Critical to Entrepreneurs
Launching a product requires lots of commitment. You need an excellent idea, a team committed to your success and resilience to achieve it. Today, some applications have been developed to assist in the launching of a new product.
Time is not an abundance so turning an idea into reality requires you to remain focused and true to your cause. The following applications are used to maintain organization, remain connected and productive. The following tools are used to increase productivity.
Gist: This is a professional online and network manager.
Tungle: This application was developed for scheduling appointments.
Text Expander: This utility application is for typing shortcuts.
Google Apps: This application features web based documents, spreadsheets, and office tools.
PB Works: This is a collection of hosted collaboration tools.
Liquid Planner: This tool is for project management.
Skype: This application enables messaging, conferencing, video calling, and sharing files.
Skitch: This is a tool for screen capture, editing, and sharing.
Survey Monkey: This is for online survey and research.
After a new product has been developed, there is the need to spread the word about that product. There are several applications and services to manage email campaigns in a bid to find potential customers and track progress. Here are some tools which will turn a bid into achieving this.
Goto Meeting: This application is used for web conferencing and online meetings.
Simple Measured/Export.ly: This is a social media analytics application.
Tweet Deck: This application is used to manage Twitter and other social networks.
Hard (Help a Reporter Out): This is a journalist and blogger source repository.
Timely: An application used to schedule Tweets.
Retargeter: This is a self serve advertisement retargeting platform.
Trada: This is a crowdsourcing search marketing.
Mail Chimp: This application is used for email marketing and email list manager.
WordPress: This is a blogging tool and platform for publishing.
Zendesk: This is a customizable customer helpdesk.
Market Fish: This application is a campaign and list manager.