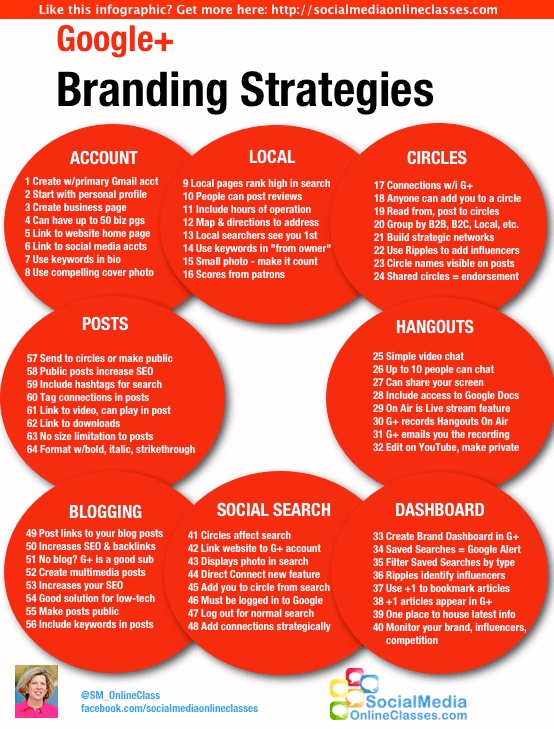 Google+ is starting to carry more weight in the world of social media marketing. Its importance should not be underestimated, especially considering how it affects Google search results.
Follow these 64 tips to improve your market position and establish your brand.
Account
1. Make sure to create your Google+ with your primary Gmail account.
2. Begin filling in your personal profile.
3. Setup a business page.
4. You can create a maximum of 50 business pages.
5. Research and choose your keywords carefully in your bio.
6. You cover photo should be compelling.
7. Be sure to link to your site homepage.
8. Also link to other social media accounts.
Local
9. Your local pages will rank highly in search results.
10. Remember anyone can post a review on your local business page.
11. Include your opening and closing hours.
12. You only have a small photo, make the most from it.
13. Have a clear map and directions to your business address.
14. Searches made in your local area will see you first.
15. Get your customers to score your business.
16. Use relevant keywords in the "from owner" section.
Circles
17. Let you create connections within your Google+.
18. Group logically, such as local, Business to customer, Business to Business.
19. Anyone can put you in a circle.
20. Read the latest updates in your circles, and post to them.
21. Make use of ripples to add influential people.
22. Build up a strategic network.
23. A shared circle implies an endorsement.
24. Remember your circle names will be visible in posts.
Social Search
25. Circles will have an effect on search results.
26. Link your websites to Google+ account.
27. People can add you to a circle from search results.
28. Your photo will be included in search results.
29. The direct connect feature lets you jump straight to a Google+ page
30. You have to be logged in to Google account, to see personalized results.
31. You can log out to see the standard results
32. Make connections strategically.
Hangouts
33. Let you easily start a video chat.
34. Invite multiple contacts to chat. Up to 10 people maximum.
35. You can share what is on your screen with others.
36. Google Docs integration is included.
37. Live stream your hangout with On Air feature.
38. You can keep a recording of On Air chats.
39. Google+ can email you the video chat recording.
40. Afterwards, you can edit the video on YouTube, and set it as private or public.
Dashboard
41. Setup a brand dashboard in Google+
42. Your saved searches act as Google Alerts.
43. You can filter your saved searches according to type.
44. Take note of ripples to identify influencers.
45. Use the +1 option to bookmark notable articles.
46. Any articles you +1 will appear in your Google+.
47. Your dashboard is good place to display the latest news and information.
48. The dashboard acts as a hub for monitoring your brand and competitors.
Blogging
49. Increase traffic to your blog, by posting links to posts.
50. This also increases your SEO and creates high quality backlinks.
51. If you don't have a blog, Google+ can act as a decent substitute.
52. Create posts with multimedia content (picture, audio & video).
53. Multimedia posts are more likely to be shared and improve SEO.
54. Google+ is a good blogging solution, for low-tech businesses.
55. You have the option of making posts public or private.
56. Think about keywords in your posts, especially the Title.
Posts
57. Send posts only to your circles or make them public.
58. Make good use of hashtags for easier searching.
59. The advantage of public posts is SEO improvements.
60. Always tag connections in your posts.
61. You can post links to downloads, such as reports or eBooks.
62. Video links can be played directly in a post.
63. There are no size limitations in your Google+ posts.
64. Highlight and split content appropriately with bold, italic and strike through formatting.