Although 3D printing is a technology is making large strides in various industries today, it is not a new technology. The first 3D printers began to make an appearance in the 1980s under the term "rapid prototyping." Patent specifications for technologies which are similar to the modern 3D printer were filed as early as 1980. The first commercial system was introduced in 1987, creating the foundation of an industry that would be worth billions within just one generation.
36% of companies in 2018 are using metal materials for their 3D printing needs. That's up from 28% in 2017, which shows numerous industries are finding ways to include this technology in their processed. Almost half (46%) of firms are using Fused Deposition Modeling 3D printing devices, which is an increase of 12% from the year before.
As for finishes, companies are using polishing (48%) more than any others. 27% of companies are using paintings, while 23% use machining. 38% of companies are spending up to $10,000 on 3D printing in the past 12 months, while the number of firms spending $100,000 or more has increased three-fold since 2017.
Important 3D Printing Industry Statistics
#1. In 2017, there were almost 1,800 metal additive manufacturing (AM) systems that were sold, compared to the 983 systems which were sold in 2016. That's a surge of more than 80% in total units. (Forbes)
#2. The additive manufacturing industry exceeded $7.3 billion in growth in 2017, reflecting a growth rate of 21%. In 2016, the growth rate was 17.4%, while in 2015 it was listed at 25.9%. (Forbes)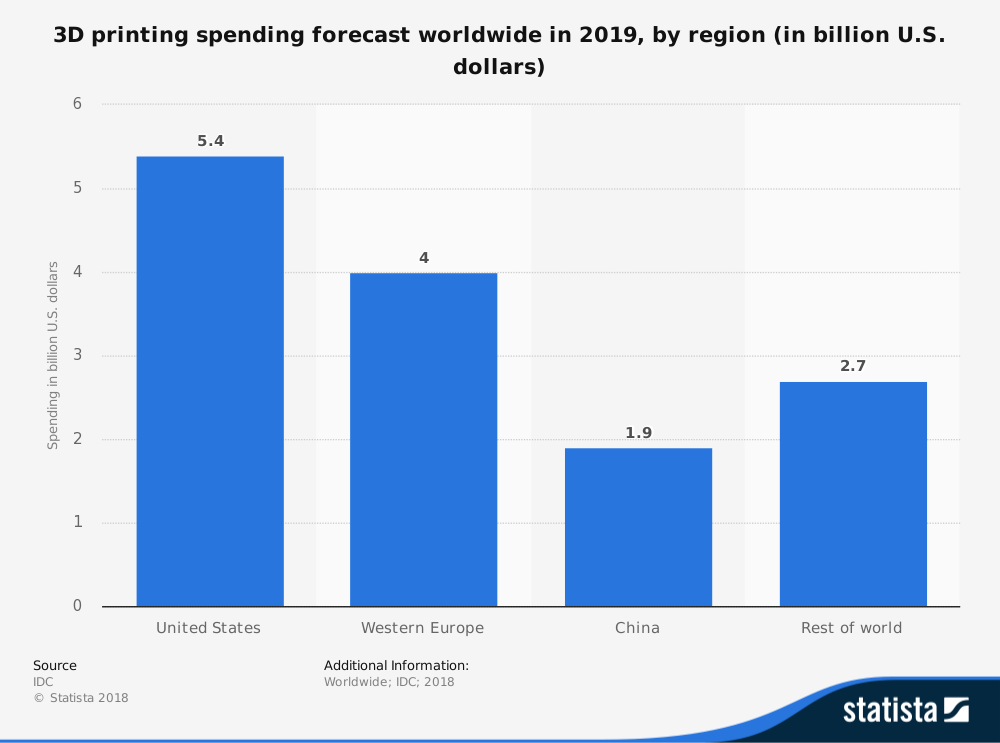 #3. There were 135 companies in the world operating in 2017 which are manufacturing and selling industrial 3D printing assets. That's almost 40 more companies than were present in the industry in 2016. (Forbes)
#4. More than 278,000 desktop 3D printers were sold in 2015 with a retail price of $5,000 or less. Estimates place the 2017 sales figures for the segment of the industry at more than 528,000 desktop units globally. (Forbes)
#5. Revenues from the desktop segment of the 3D printing industry are expected to top $500 million for the first time in 2017. (Forbes)
#6. The three most popular 3D printing applications in 2018 were prototyping (55%), production (43%), and proof of concept models (41%). 39% of companies who are seeking to accelerate their product development are relying on industry technologies for success, compared to 29% of companies the year before. (Forbes)
#7. 93% of the companies which are using 3D printing technologies in 2018 report that they're able to gain a competitive advantage. Shorter production runs, flexibility in manufacturing, and reducing the time to the market are the top advantages noted. (Forbes)
#8. 64% of A&D companies are using 3D printing technologies for production, which leads all industries using this option as part of their business profile. (Forbes)
#9. 22% of companies who are using 3D printing technologies consider themselves to be early adopters of the technology. (Forbes)
#10. Service or product quality (30%) is the primary reason why companies are adopting 3D printing technologies today. Innovation speed (29%) comes in second, followed by customer choice and customization at 21%. (Forbes)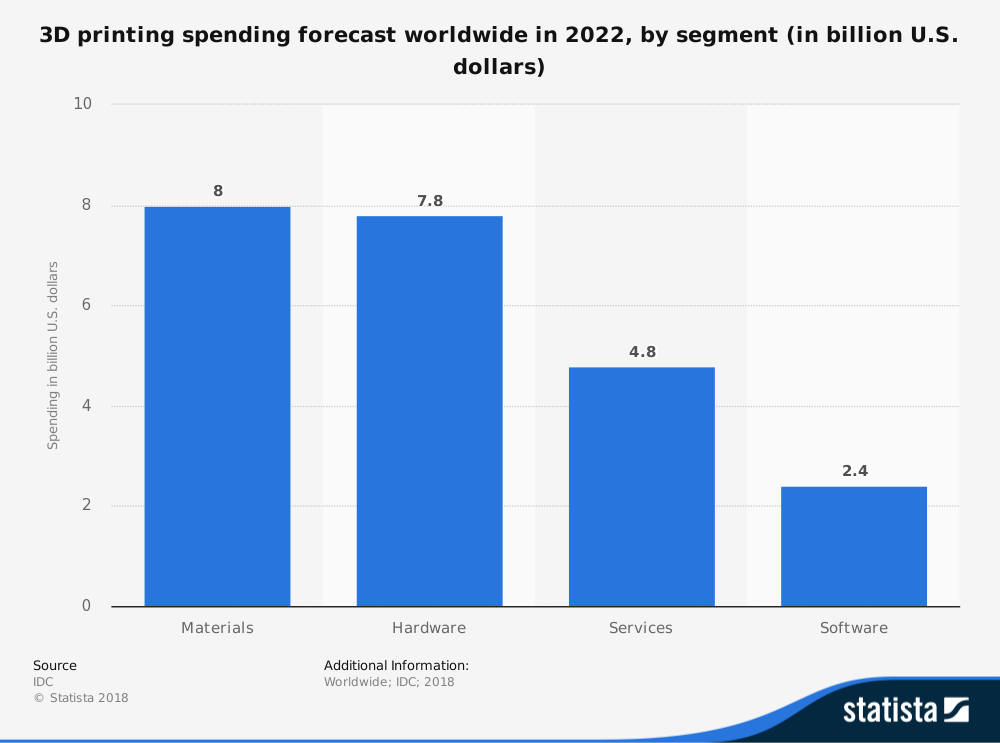 #11. The value of 3D parts as a percentage of the total industry volume is more than 42%. Worldwide end-user spending on 3D printers for 2017 was over $1.6 billion, with the leading material involving plastics. (Statista)
#12. The Ford Motor Company is currently using 3D printing as a way to make more selections available for car parts testing. Almost $500,000 per month of work is saved when using this production method compared to the traditional methods used. (Ford Motor Company)
#13. The additive manufacturing process offered by 3D printing makes it possible to create models in a matter of hours instead of several days, or even weeks. (3D Hubs)
#14. Desktop FDM printers utilize filament coils which are priced around $25 per kilogram. SLA printing uses resins which are priced at $150 per liter. If you're using nylon powder for SLS printing, the cost is around $70 per kilogram. The material costs of the 3D printing industry are the most significant contributor to the costs of parts built through the additive manufacturing process. (3D Hubs)
#15. Compared to the costs of traditional manufacturing with skilled operators and machinists involved, the labor cost of a 3D printing project is virtually zero. (3D Hubs)
#16. The United States accounted for $246 million of the global additive manufacturing production achieved in 2011, which represented over 38% of the industry. The penetration of the additive manufacturing market, however, still remains below 8%. (U.S. Department of Commerce)
#17. Goods that are currently using additive manufacturing methods represent about 0.05% of their relevant industry subsectors. (U.S. Department of Commerce)
#18. The U.S. currently employs about 1,000 people in the implementation of additive manufacturing products, with the net income per expenditure $1 reaching about $0.20. (U.S. Department of Commerce)
#19. The 3D printing industry could offer the aerospace industry an energy savings of up to 25% and a cost reduction of 21% in construction by the year 2050. (Science Direct)
#20. With widespread implementation of additive manufacturing processes, this industry could offer a 27% reduction in global energy use by the year 2050. (Science Direct)
#21. About 11% of the total market available to the 3D printing industry comes from medical or dental firms, resulting in $667 million of total market revenues. (Wohlers Report)
#22. 40% of the marketing revenues obtained by the 3D printing industry come from North America, making it the largest geographic segment for the industry. Europe is responsible for 28% of revenues earned, while the Asia-Pacific market generate 27% of the revenues. (Wohlers Report)
#23. 20% of the total 3D printing revenue is generated by the automotive and electronics industries each year. (Wohlers Report)
#24. 98% of the hearing aids which are currently manufactured globally now incorporate 3D printing technologies into their final design. The hearing aid industry was able to 100% convert to 3D printing in less than 500 days. (Wohlers Report)
#25. 29% of the 3D printers in use today produce functional parts for existing products. 18% of the printers are used for fit and finish components. Molds and tooling, along with visual proof of concept models are responsible for 10% of the top uses respectively. (Wohlers Report)
#26. In 2015, less than 1% of all manufactured products in the United States were represented by the 3D printing industry. (Wohlers Report)
#27. Only 9% of firms say that the top reason why they're pursuing 3D printing technologies for their products or services is to explore cost reduction measures. (Wohlers Report)
#28. 61% of firms who intend to use 3D printing believe that the manufacturing service provider will play an important role in the future of the industry, whereas just 50% of current additive manufacturing users believe the same. (Wohlers Report)
#29. 32% of companies who have already adopted 3D printing technologies in some way do not believe their company has fully leveraged the advantages they've gained. (Wohlers Report)
#30. 40% of companies who are using 3D printing technologies today are doing more in-house work on items that used to be outsourced previously. (Wohlers Report)
#31. 35% of consumer electronics sales involve the application of 3D printing technologies. For smartphone development, the prototype turnaround time is reduced from up to 6 months to just 3 weeks, with time to market figures reduced by up to 60%. (Wohlers Report)
#32. A medium-sized automotive engine which uses sand cores for prototype casting can reduce the time in prototype development from 16 weeks to just 7 days. (Wohlers Report)
#33. 84% of companies want to see additional metals applications available within the additive manufacturing process, which leads all desired trends. Using 3D printing for rubber-like materials comes in second, with a 61% preference. They're followed by high-temperature plastics (60%), carbon fiber (52%), and conductive-filled circuitry (42%). (Wohlers Report)
#34. Year over year growth in spending in Europe for the 3D printing industry is forecast to reach 16% in 2018. Over the next 5-year period, the industry is expected to maintain double-digit growth in spending, reaching a total of more than $7 billion. (International Data Corporation)
#35. Prototypes were the largest generator of revenues through the 3D printing industry in Europe, adding $755 million to the global tally. Aftermarket parts contributed another $522 million, with architectural models and designs bringing in $353 million in 2017. (International Data Corporation)
#36. Using six core attributes of the 3D printing industry (trade, governance, demand, people, technology, and 3D printing capabilities), the United States is the top leader for the industry with an index rating of 7.5. Germany comes in second with an index rating of 6.8. Additional leaders of note are South Korea (5.6), Japan (5.3), the United Kingdom (5.2), and Singapore (5.0). Canada, Sweden, and Franc round out the top 9. (ATKearney)
#37. Australia is the highest-rated challenger in the 3D printing industry, achieving an index rating of 4.0. China (3.9), Italy (3.8), Malaysia (3.7), Taiwan (3.7), and Spain (3.3) all achieved ratings above 3.0. (ATKearney)
#38. China plans to install 3D printers in every one of its 400,000 elementary schools before the end of 2020 to incorporate this new technology into its educational foundation. (ATKearney)
#39. From 2015 to 2016, 3D printer sales grew by 11% in the United States, which was actually lower than the 14% increase of installed base expansion of additive manufacturing achieving by the global industry. (ATKearney)
#40. 3D printer sales from 2015 to 2016 grew by 51% in South Korea, while the country's installed base of 3D printers rose by over 37%. The number of 3D printing patent applications has also grown by over 300% since 2010. (ATKearney)
#41. Saudi Arabia plans to 3D print over 1 million homes before the end of the year 2021. To facilitate this process, the kingdom has leads 100 3D printers which produce concrete structures in a venture valued at more than $1.5 billion. (ATKearney)
3D Printing Industry Trends and Analysis
Over the next 5-year period, more than half of the revenues that will be achieved by the 3D printing industry will come through the sale of hardware, software, and consumables. Companies will also invest into computer-aided design software and qualified employee who can maximize production on this equipment.
More than 6.7 million units are expected to be shipped by 2023, creating a global industry which will transform the way many companies do business. As automation and artificial intelligence continue to grow as well, the firms which adopt this technology now will see the greatest gains.
It would be fair to say that 3D printing, along with additive manufacturing, will be remembered as one of the most disruptive technologies of the early 21st century. Future applications may include the ability to print cylinder blocks, turbines, and even organic materials, such as human organs.
It is no longer science fiction. The 3D printing industry has created a world that is based on science fact.