People love visuals. That is why most of us spend more time with our smart phone than anything else. We carry it with us where ever we go. From the bathroom to the bedroom, it is always in reaching distance. If it were just a phone, then it would not have that kind of power over us. While it is a mix of many things, the visuals are what drive the deep emotional attachment. The latest Star Wars trailer on YouTube. Binge watching The Walking Dead on Netflix. Seeing the latest photos of friends on Facebook and Instagram. And so on.
Balcom Agency revealed that there are five reasons behind our intoxicating love affair with visuals.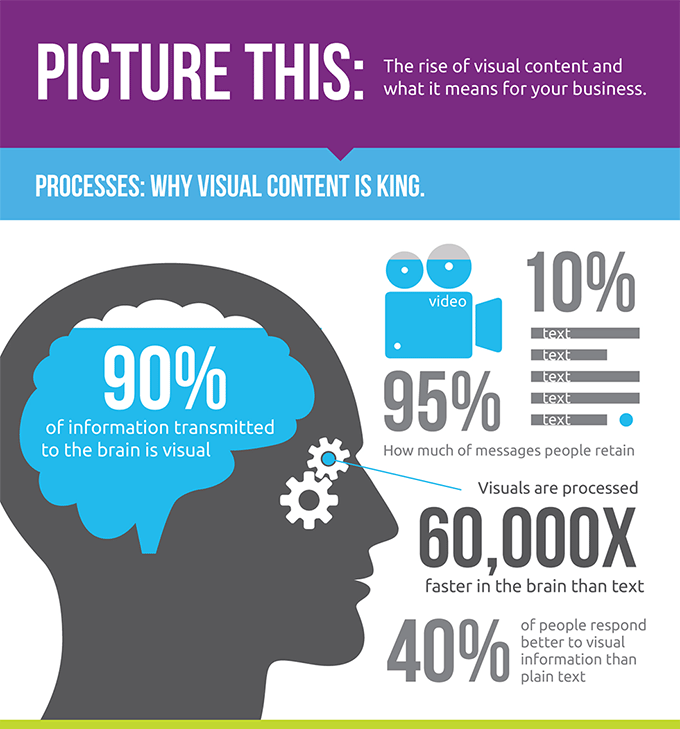 When it comes to blog posts, just adding a single image can have a tremendous impact on whether the post gets read and shared on social media. Compared to posts that had no images, blog posts with only a single image were shared 120% more.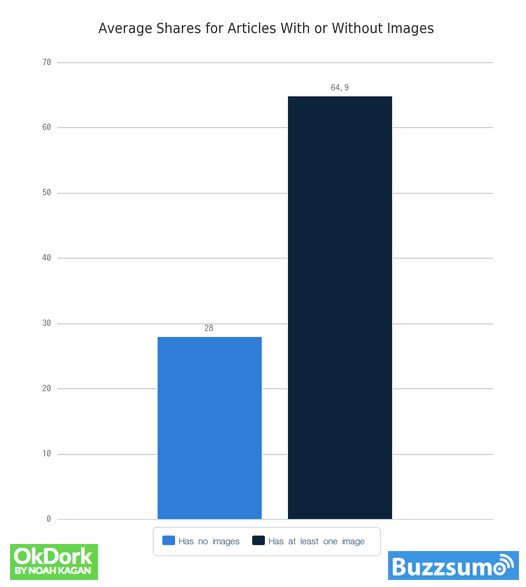 Most amateur bloggers and even some pro bloggers still struggle with turning their posts into visual masterpieces. The amateur blogger will not use images because they believe it costs too much. Many pro bloggers will end up spending too much of their time trying to create their own images, and it takes away from the time they should be spending writing.
What if I told you there was a way to get proven high quality visuals that can be placed within your blog post in a matter of minutes?
As a blogger, I am happy that I am living in the golden age of embeddable content. Over the last couple of years, I have been able to perfect a system for using embedded content. This system has helped me increase my average time on page of posts by over 30%. That amount may not sound like much, but it is the difference between ranking #3 or #1 on Google. The website that ranks number one for a Google search gets 320% more traffic than the website that ranks number three.
You want your blog posts to include a combination of interactive visuals that will drive them through the entire post, and then feel compelled to share it with everyone they know.
There are four types of embedded visuals that will make this happen.
#1 Add The Right Kind of YouTube Videos
Most bloggers do not have the time to create their own videos to add to posts. The good news is that there are quality YouTube videos that you can embed in a post on just about every topic that you could ever write about.
The key to quickly finding top notch YouTube videos is to look at the thumbs up and down numbers. Look for videos that have at least a 3 to 1 thumbs up to thumbs down ratio. If the social proof is there, then you do not need to watch the entire video before placing it on your blog posts.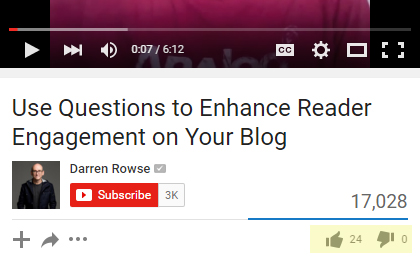 Also, only use videos that are between 3 and 20 minutes in length. Anything less than 3 minutes will not help increase your average time on page. The videos longer than 20 minutes do not hold the attention of a blog reader, who is usually not looking to invest an hour in watching a single video.
The best practice is to use videos that discuss a specific point that is in your post. For example, your article might be "13 SEO Techniques that Still Work." One of the thirteen techniques is on Google snippets. At the end of that section, you can place a YouTube video that discusses how to use Google snippets.
Moz did a study on the types of media that attract the most inbound links. They found that videos had the largest impact on how many links a blog post received from other websites.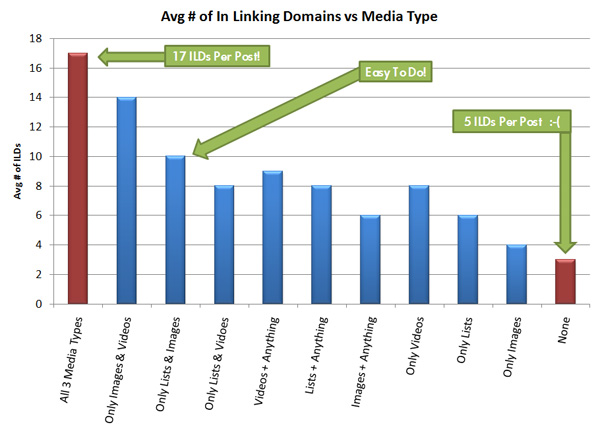 #2 Embed Tweets for Interactive Images
There are two big reasons for using embedded tweets with images.
The first reason is because it is a completely free way to add incredible images to your blog post. Whether you are using Shutterstock or Canva, the image fees start adding up quickly when you are making daily blog posts. On top of that, the majority of images offered are usually boring stock photos that add very little value to your blog post. Type in a search query on Twitter, and you are given an endless supply of top notch images that can easily be embedded into your post.
The second reason for going with an embedded tweet is due to the fact that your readers can directly interact with each image. That means that your readers can retweet, reply, like, and even follow an account with a simple click. With only about .1% of blogs using embedded tweets on a consistent basis, this will give your blog an instant cool factor.
Here are my favorite types of images to use with Twitter embedded Tweets.
Quotes
One of the most shared types of images on Twitter and Instagram is the image quote. I drop a Twitter search on the high level topic that I am writing about, and I grab a great quote from a well known thought leader.
quote on #blogging from @brianclark https://t.co/pnq5kYgFDL #contentmarketing #ecomdublin #ecommerce #blogger pic.twitter.com/R3S1nJmwmA

— Business Bloomer (@BizBloomer) December 8, 2015
Charts and Graphs
Key stats that are visualized in a nice graph will add significant value to your post. I type in "blogging statistics" in Twitter, and then I look for the perfect chart that will take my blog post from a B- to an A+.
How Often American Bloggers Post New Content [CHART] – https://t.co/9epurGFOcm #Blogging pic.twitter.com/fceqGAKBnZ

— David Erickson (@derickson) February 29, 2016
Popular People
In many of my posts, I will end up mentioning a specific person that is usually borderline famous. It may be due to the fact that they are a great example of a specific best practice, or I could be mentioning a few key points from a book that they wrote. Richard Branson is one of those iconic entrepreneurs that I mention quite often.
Why I embrace the spirit of adventure: https://t.co/8tiGLJIQu9 pic.twitter.com/lLo7Xl0s4W

— Richard Branson (@richardbranson) April 15, 2016

For me personally, I just grab other people's tweets to place in my blog. If you want to take it to another level, then you can always create your own image tweets to use in your posts. That way, you will be getting your readers to retweet your tweets and follow your account.
#3 Use Slideshare Slideshows to Add Flavor and Value
Slideshare is an incredible resource that is rarely used by bloggers. Just like with YouTube, pretty much every slideshow on the site is available to be embedded write into your blog. With YouTube and Twitter, you can find content for just about any topic that you are writing about. Slideshare has some great stuff, but it is going to be focused in on top level content. If you are looking for a slideshow on how to get real estate clients through blogging, then you will be out of luck.
However, the popular topic like SEO, email marketing, and Adwords, will have some great slideshows that can make your blog stand out from the rest of the crowd. The best way to find the high quality slideshows is by going to their most popular section. Once you get there, you can open the filters section to customize your search results.
The four filters are category, type, language, and period. I get most of my slideshows from two key categories, business and marketing. If you choose "presentations" for the type, then you will not have to worry about also having to wade through infographics and documents. The time period filter allows you to see slideshows that have been published in a specific time frame. I recommend only choosing slideshows that have been published in the last 365 days. This will insure that the content is current and up to date.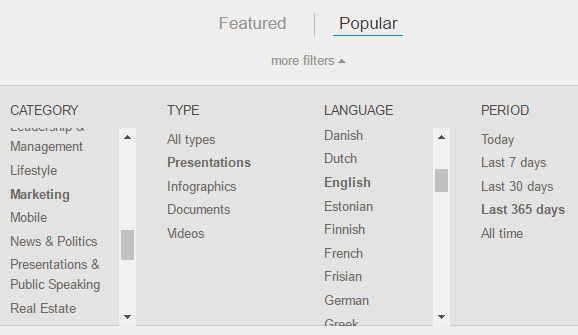 Here's a nice slideshow on blogging that could add value to any post that I write about blogging, including this one:)
#4 Use Infographics to End Your Post With a Bang
The infographic is the king of all visuals when it comes to increasing shares and getting the coveted high quality backlinks.
A BuzzSumo study looked at the sharing statistics of over 100 million articles. They identified that infographics produced more social media shares than any other type of content. The results were not even close. The average infographic post received 3000 more social media shares than every other type of content.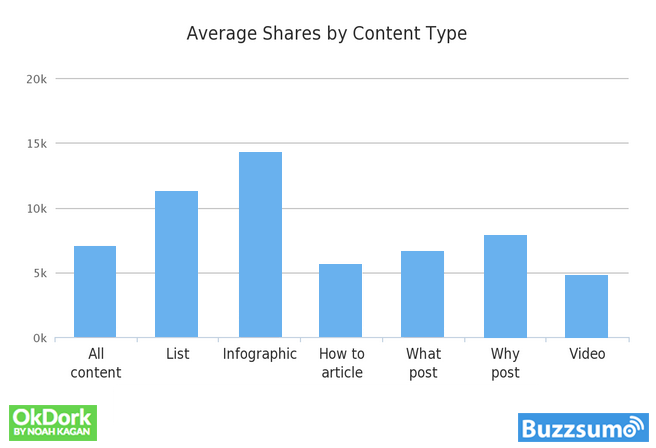 There is a direct correlation between social shares and backlinks. This is one reason why the infographic is the top linkbuilding tactic used by professional marketing firms. An infographic is so powerful that it can stand alone in post with the only written word being a great title.
Infographics come in all shapes and sizes. The most popular infographic style is the vertical skyscraper. This type of infographic works best at the end of the article. By using it at the end of the article, it allows your article to finish with a bang. This increases your average time on page, and it gives your readers something great to share as your post comes to a close.
There are two paths to take with infographics… You can create one yourself, or you can embed someone else's infographic within your blog post. Since I have covered the ins and outs of creating your own infographic in past posts, I am going to focus on how to use existing infographics that have been created by other people.
The easiest way to accomplish this is by using the website Visual.ly. They have a section of their site where people can post their infographics to be viewed and rated by the entire community of designers. Each infographic that is uploaded to the community can be embedded by anyone that wants to add the infographic to their site. The community section is not openly promoted on the home page of their site, so you will want to save the direct link to it below:
https://visual.ly/view
The infographics can be sorted in a similar way to how you sort slideshows on SlideShare.net. I find most of my infographics by ranking the social media category by the most community favs. This will filter out the low quality infographics that tend to be more of an ad than an infographic.

You can also do a search for specific topics. Most of the high level topics will at least a couple of quality infographics. Once you find what you are looking for, then you just grab the embed code and drop it into the end of your post.
One quick tip to remember is to stay away from infographics with small text. If you have trouble reading it from a desktop, then it will be useless on mobile. Focus on the infographics with big and bold text.