#1. More than 87 million adults in the United States participate in recreational boating activities each year. Top activities include waterskiing, fishing, and general travel. (Statista)
#2. In 2016, the total value of recreational boats sold in the United States reached $3.6 billion in 2016. Boats between the lengths of 36 feet and 45 feet were the most popular sold. (Statista)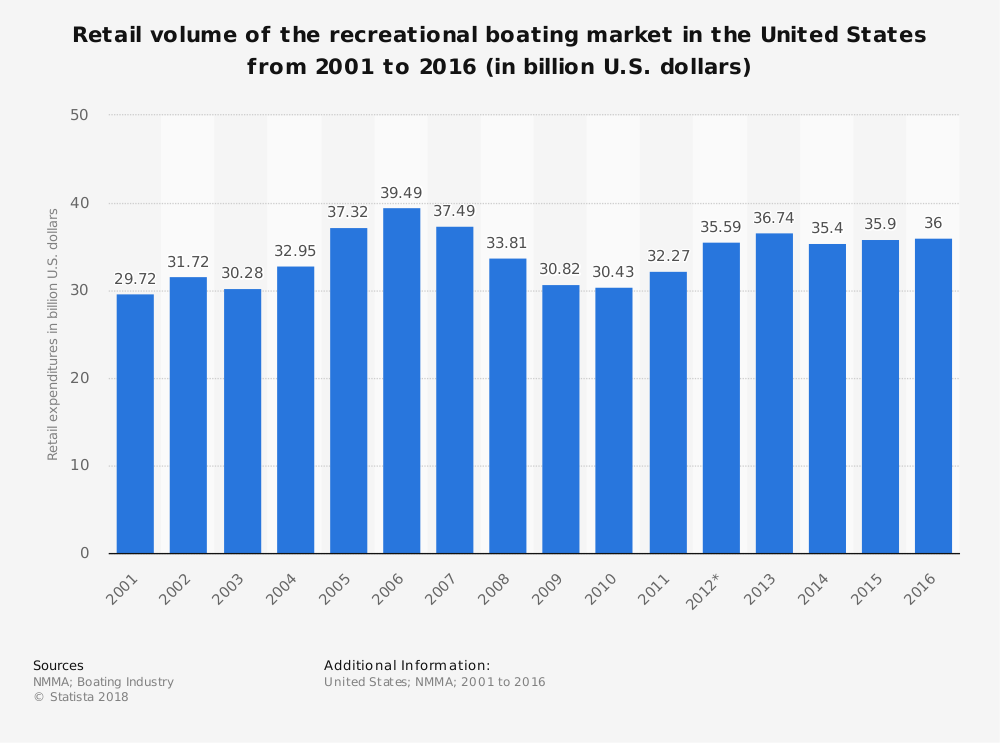 #3. In 2015, there were 11.87 million recreational boats registered in several categories: personal watercraft, sailboats, inboard boats, outboard boats, and sterndrive boats. (Statista)
#4. The average boat dealer in the United States earns $18.4 million in revenues annually. 70.6% of the sales revenues earned by the boating industry in the U.S. are generated by boat dealerships. (Statista)
#5. In 2016, 62% of boat dealers in the United States saw their boat sales revenues increase from the year before. (Statista)
#6. Almost 16 million people participate in the boating industry by using a kayak for their recreational activities. Another 9.22 million people in the U.S. use canoes, while 3.48 million people use rafts. (Statista)
#7. Despite the high levels of boat ownership in the United States, only 3.4% of the Americans actually engaged in boating activities on a regular basis. (Statista)
#8. Over $45 million in damages are caused by recreational boating accidents every year in the United States from an average of 4,290 accidents each year. (Statista)
#9. There were 658 fatalities directly linked to boating accidents in the U.S. in 2017. (Statista)
#10. When marine engines and accessories are included in the sales figures of new boats, the industry achieved revenues of $17.9 billion in 2016. That's an increase of 8.1% from the year before. (National Marine Manufacturers' Association [NMMA])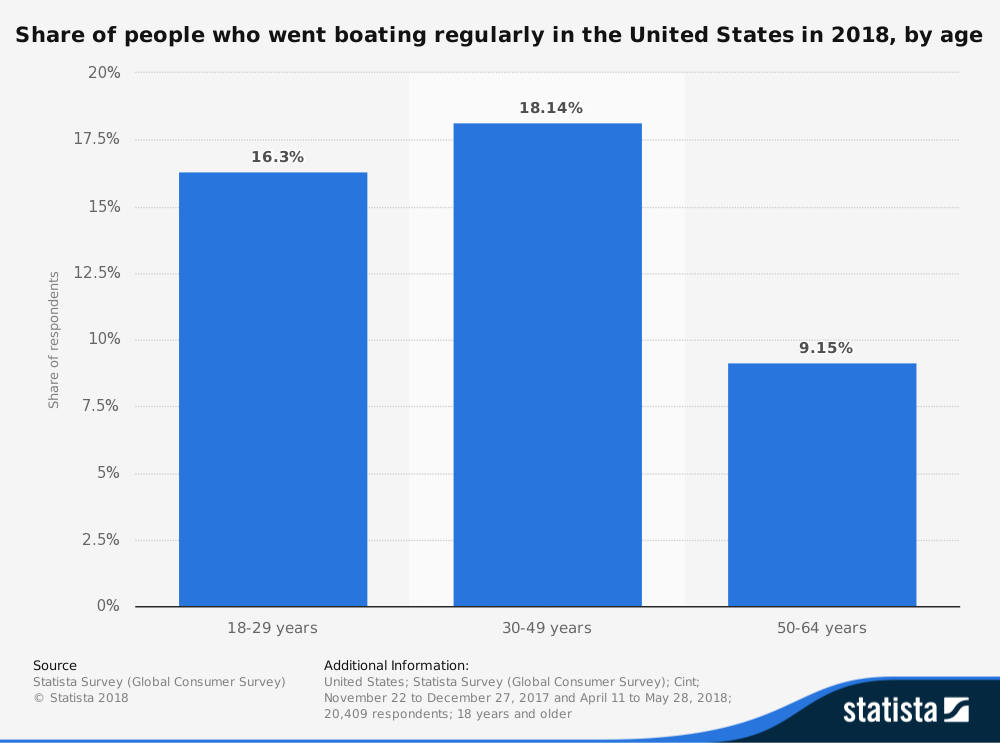 #11. 95% of the powerboats which are sold in the United States are also manufactured domestically. (NMMA)
#12. 95% of the boats that are on the water today are sailboats, personal watercraft, or powerboat, and are classified as a small, towable boat under 26 feet in length. (NMMA)
#13. Almost 1 million pre-owned boats were purchased in 2016, which was an increase of 2.5% from the year before. (NMMA)
#14. 62% of households in the United States which own a boat have a HHI of $100,000 or less. (NMMA)
#15. Over 169,000 outboard powerboat units were sold in 2017, reflecting a year-over-year change of 4.9% in sales. More outboard units were sold than all other boat types combined. (Boating Industry Magazine)
#16. PWC boats are the second-most common type sold, with over 62,000 units sold. Both stern and inboard boat types achieved 11,000 units sold respectively. (Boating Industry Magazine)
#17. Sales are much stronger for powerboats in the eastern United States than the Midwest or West. There were 11,517 boats sold in Minnesota, for example, while only 8,900 boats were sold in California. (Boating Industry Magazine)
#18. Over 53,000 pontoon boats were sold in the United States in 2017, while 29,695 saltwater fishing powerboats were sold. (Boating Industry Magazine)
#19. In 2015, 8.5 million households reported boat ownership, which is down by more than 1 million households from 1995 figures. (Boating Industry Magazine)
#20. Between 2005-2010, there were 2.4 million first-time boat owners that entered the market, while 2.9 million boat owners existed the market. Similar figures were achieved in the period between 2010-2015. Since 2005, over 1.08 million net boat owners have been lost by the industry. (Boating Industry Magazine)
#21. In 2015, just 33% of all boat buyers were first-time boat owners. In 2000, 42% of purchases were made by first-time owners. (Boating Industry Magazine)
#22. 71% of first-time boat owners in 2005 have sold their boat, compared to 67% of repeat buyers who have sold the boat they purchased that year. (Boating Industry Magazine)
#23. Only 1 out of every 4 first-time boat owners in 2005 decided to purchase another boat in 2005. (Boating Industry Magazine)
#24. Sailboats have the highest levels of ownership loss in the boating industry. 77% of first-time buyers in 2005 who purchased a sailboat have left the industry. (Boating Industry Magazine)
#25. The return on average inventory for the boating industry in the United States was 43.9% in 2016. (Boating Industry Magazine)
#26. Sales of yachts, 33 feet in length or longer, saw gains of 3.5% in 2016. A total of 1,715 units were sold, reaching a 7-year high for the industry. (NMMA)
#27. The recreational boating industry creates an economic impact of more than $120 billion annually, when direct, indirect, and induced spending figures are combined. (NMMA)
#28. The U.S. boating industry helps to support over 650,000 jobs directly and indirectly, along with 35,000 small businesses. (NMMA)
#29. California saw new boat revenues reach $615 million, a 15% increase from the year before in 2016. Florida led the way in total revenues, bringing in $2.5 billion for the industry. (NMMA)
#30. The global boating industry offers a value of $30 billion from a recreational standpoint. About 10% of all new recreational boat sales are based in the United States. (Business Wire)
#31. 49% of the employment opportunities found in the boating industry are in the boat services segment. This is followed by accessories and supply manufacturing (23%), dealers and wholesalers (13%), and boat building (10%). (Michigan State University)
#32. 70% of the businesses which are currently operating within the boating industry are dedicated to providing boat services. Boat dealers and wholesalers are in second, at 16%. They are followed by accessory and supplies manufacturing (11%), boat building (2%), and motor and/or engine manufacturing (1%). (University of Michigan)
#33. For owners who tow their boats, the most common request for roadside assistance involves a flat tire (43%). 24% of service calls are for bearings, while 10% are for an axle problem. (BoatUS)
#34. There are currently 575 locations in the United States where you can borrow a life jacket for a child for free. (BoatUS)
#35. Flooding and swamped boats led to 67 fatalities in 2013, making it the deadliest of the common accident types which occur in recreational boating. (SafeWise)
#36. About 25% of the accidents which occur in recreational boating involve collisions with other vehicles or stationary objects. (SafeWise)
#37. 83% of the drowning deaths which are associated with recreational boating are directly associated with not wearing a life jacket at the time of water entry. (SafeWise)
#38. 17% of boating accidents are caused by a failure by the individual to serve as a lookout, while another 17% of accidents are due to a lack of practical experience. 14% of boating accidents are caused by excessive speed. (SafeWise)
What These Boating Statistics Mean – Boating Industry Trends and Analysis
A popular saying you'll hear around the boating industry is this: "The two best days of owning a boat are the day you purchase it and the day you sell it."
Recreational boating offers families a number of unique benefits that other industries are unable to provide. Households can access fishing, marine sports, and travel activities which are not possible.
There are also a number of expenses that boat ownership creates, such as winterization fees and storage fees, which are unexpected.
Recent trends in the boating industry show a strong potential for growth. Since 2009, the industry has been steadily growing each year as more households grow confident with the state of the economy. In 2018, with the possibility of tariffs, tax changes, and other areas of financial concern hitting homes in the U.S., the final figures may show a slight reduction in sales movement for the industry.
When looking out to 2023 and 2028, the industry as a whole will continue to be healthy. The industry is able to retain about 1 in 4 first-time owners in all categories, which means future purchases are on the horizon. The population of boat owners is trending older, however, so the industry will need to begin addressing how to market themselves to younger owners within the next 10 years to continue growth trends.