Bring out the best qualities and characteristics in yourself will help to self motivate and encourage your own personal and professional success. To encourage a special man in your life, the following listing of quotes and unique messages will give them some food for thought. These are intended to be shared and help inspire others to grow.
Champions keep playing until they get it right.
Change is the friction that makes you grow.
Experience is not what happens to you; it is what you do with what happens to you.
Fall seven times, stand up eight.
Follow your dream… If you stumble, don't stop and lose sight of your goal, press on to the top. For only on top can we see the whole view.
Go slower, take more breaks and you'll actually go faster.
I believe that the very purpose of life is to be happy. From the very core of our being, we desire contentment.
In my own limited experience I have found that the more we care for the happiness of others, the greater is our own sense of well-being.
I love you, penetrates the deepest darkest clouds and bathes the soul in its light.
If you cannot work with love but only with distaste, it is better that you should leave your work.
If you have made mistakes, there is always another chance for you. You may have a fresh start any moment you choose, for this thing we call 'failure' is not the falling down, but the staying down.
If you have to fail at something do it because of you, not because someone expects you to fail.
It is hard to fail, but worse never to have tried to succeed.
It is not enough to be busy. The question is, what are we busy about?
Keep away from people who try to belittle your ambitions. Small people always do that, but the really great make you feel that you, too, can become great.
Knowledge speaks, but wisdom listens.
Men are not prisoners of fate, but only prisoners of their own minds.
My past no longer exists, it is no longer happening and I am safe today. What I have is this moment going forward so embrace my life.
Never be afraid to try something new… remember, the Titanic was built by professionals, but Noah's Ark was built by an amateur.
No one can make you feel inferior without your permission.
Only I can change my life. No one can do it for me.
Our greatest glory is not in never falling, but in getting up every time we do.
Put your big girl panties on, cowboy up and get the job done. no one else will do it for you.
There are two ways of meeting difficulties: you alter the difficulties, or you alter yourself to meet them.
What are you waiting for?
When you feel like giving up, remember why you held on for so long in the first place.
You can do anything you set your mind to.
Having no goals or suffering from feelings of laziness and fear can deeply contribute to your inability to find personal success. Never stop thinking about the next step and ensure to plan your continued path. Thinking to small can hinder your ability to reach your full potential. The following infographic provides some insight to the best key characteristics you need to find success.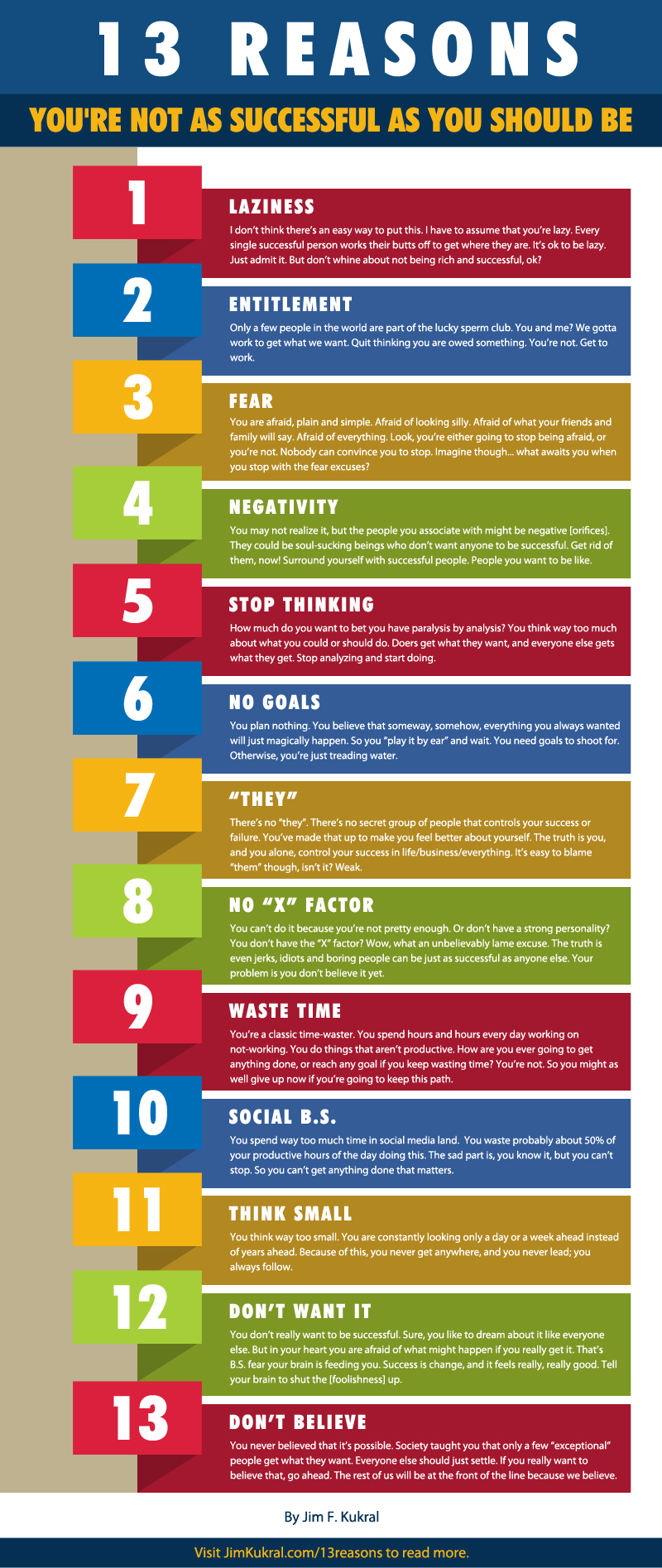 Here our most popular
message posts
that cover just about every occassion.