Perfume has come to mean a scented mixture that can be applied to clothing or the skin. It is an industry that was born in ancient times, with products originally refined by the Romans, Persians, and Arabs. The earliest record of perfumes comes from the 20th century BC, with incense burned at the burial of important people in Egypt. It was said that the perfumes offered were the "sweat of the gods."
The first perfumes that were brought to North America came courtesy of the French during the first years of European colonization. It has grown into an industry which provides several billion dollars in economic outputs for nations around the world. Numerous scents are introduced to the market every year to create several consumer options in a variety of subcategories.
Important Perfume Industry Statistics
#1. The current sales value of the fragrance market from a global perspective is $46 billion. (Statista)
#2. The value of the flavor and fragrance market in the United States was $5.99 billion in 2015. (Statista)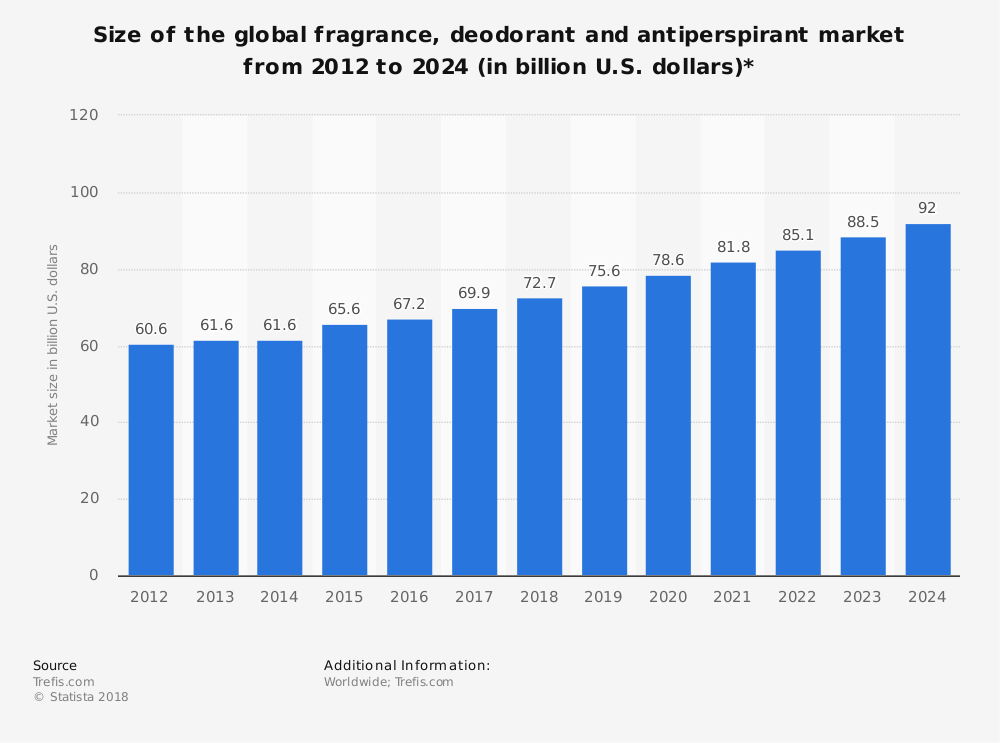 #3. About $465 million in sales comes from the women's mass fragrance market in the North American region. Sales of men's mass fragrances in North America totals more than $327 million annually. (Statista)
#4. The total sales value of fragrances in the United States in 2015 was $8 billion. (Statista)
#5. Direct-to-consumer sales of prestige fragrances in the United States total $285 million annually. About 46% of the total U.S. prestige fragrance segment come through the sale of gift sets. (Statista)
#6. White Diamonds from Elizabeth Taylor accounts for 5.5% of the women's fragrance sales in the United States each year. (Statista)
#7. Over $86 million of shaving lotions and men's fragrances are sold at supermarkets and grocery stores in the United States. (Statista)
#8. 52% of women say that they have purchased fragrances from Sephora. 32% of consumes say that they were strongly influenced by a discount or promotion that was offered to them. (Statista)
#9. 69% of women who shop online for their preferred fragrances say that one of the most influential factors in their decision to buy is the price of the fragrance. (Statista)
#10. 3 out of 4 women say that they wear perfume on a daily basis. (Statista)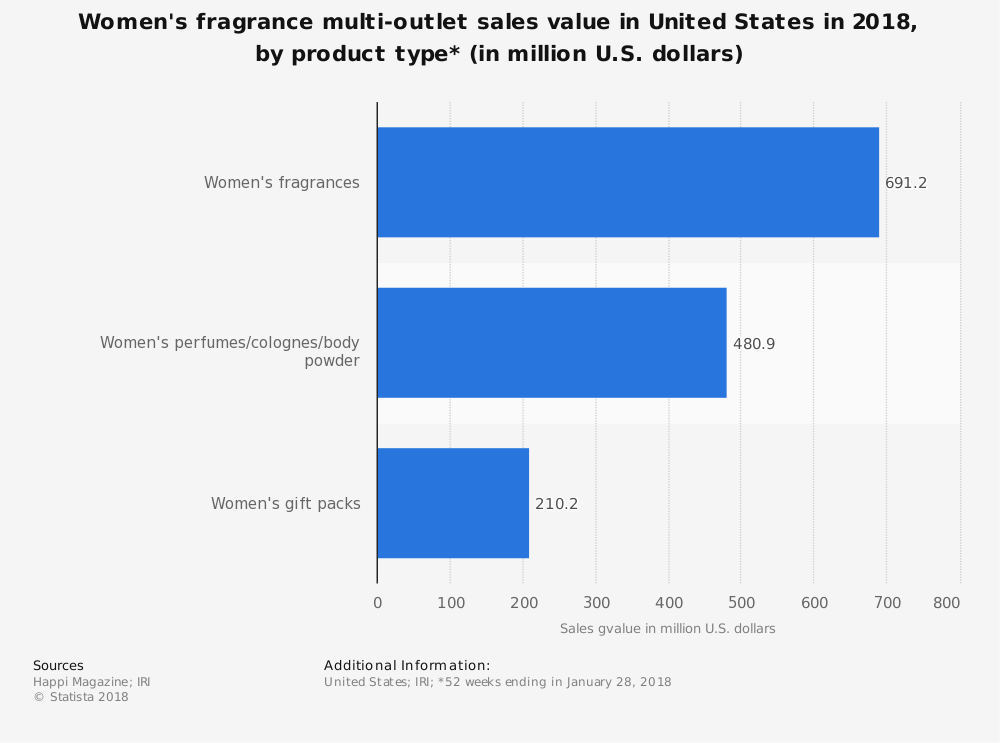 #11. Western Europe is the strongest market for the perfume industry, accounting for 28% of global industry sales each year. Asia comes in second on the global stage, accounting for 24% of industry sales. (International Fragrance Association of North America)
#12. Sales of perfume in Brazil rival the sales found in the United States. In 2017, an estimated $5.1 billion in sales occurred, with 84% of Brazilians saying that they wear perfume every day. (Mintel)
#13. The number of fragrances sold in the United States currently total more than 1,100. That's a 400% increase over the number of choices that were available in 1997. (NPD Group)
#14. Even though more than 100 new fragrances are introduced every year, the perfumes which typically generate the most revenue have an established customer base, such as Shalimar, Chanel #5, and White Diamonds. (Euromonitor)
#15. L'Oreal is the leading manufacturer of products for the global perfume industry today. With their various brands, they combine to take 14% of the global market. (Euromonitor)
#16. Perfumes have one of the highest profit markups of any global industry. For the average $100 bottle of perfume that is sold today, the oils used to create the scent are valued at $2 or less. (NPD Group)
#17. In 2015, 80% of the best-selling perfumes in the prestige category were created more than 10 years ago. Chanel #5 is almost 100 years old and continues to be a top seller in the United States. (CNBC)
#18. Customer loyalty is extremely high in the perfume industry. In a recent survey of perfume customers, 34% said that the purpose of their last perfume purchase was to replenish their supply. (CNBC)
#19. Online sales are a fractional segment of the perfume industry. In the United States, total sales of prestige perfumes reached $91 million in sales in 2016. (BBC)
#20. 90% of counterfeit perfumes are purchased by consumers who know that the item is fake. They make these purchases because they want to enjoy the scent of the perfume without paying the price a prestige brand commands in the perfume industry. (Ultramatis)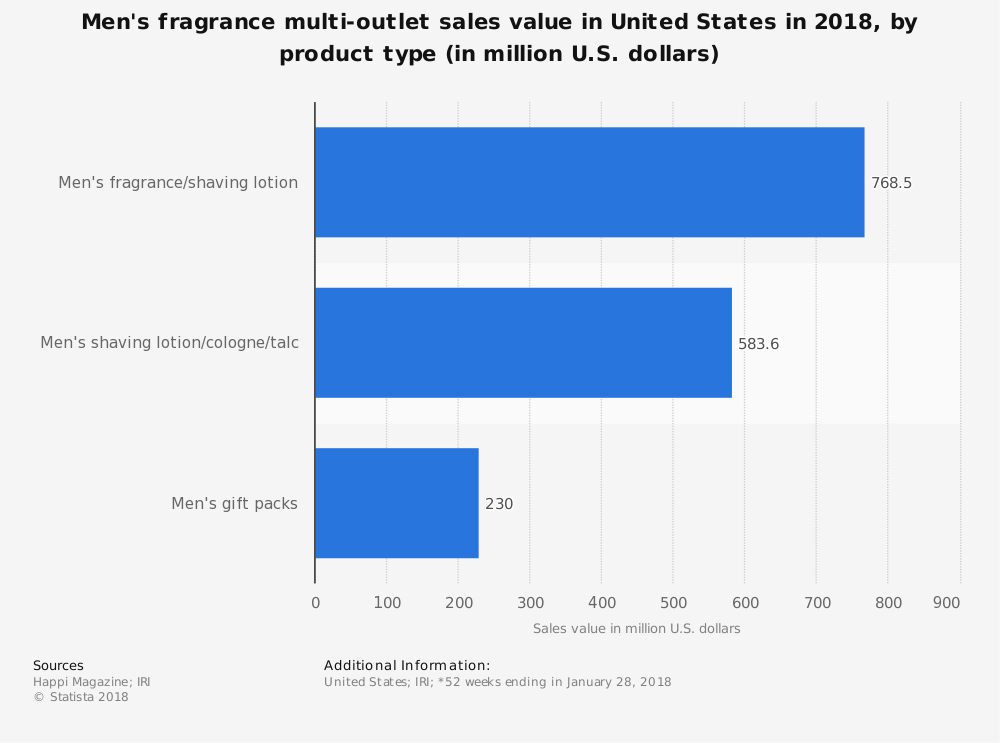 #21. Just 1% of the revenues that are generated by the perfume industry are directed toward anti-counterfeiting efforts. (Ultramatis)
#22. Prestige brands in France have experienced some of the highest levels of counterfeiting in the perfume industry today. 4 out of 5 brands based in the country have reported at least 1 issue with a counterfeit perfume in the past 5 years. (Ultramatis)
#23. Almost $1 billion is spent of marketing within the perfume industry each year. Unlike other industries, the perfume industry focuses on traditional marketing efforts, which includes samples, media advertising, and even billboards. (Bloomberg)
#24. Perfume sales have spiked in bottle sizes that are extremely small. Travel-size perfumes, rollerball perfumes, and bottles less than 1 ounce have seen sales increase by 28% since 2014. (NPD Group)
#25. Women will take an average of 6 minutes to select a perfume that works for them. Men, on the other hand, average 30 seconds of shopping time to decide on a perfume product. (NPD Group)
#26. 30% of women say that the purchase of perfume is something that they use to treat themselves. (NPD Group)
Perfume Industry Trends and Analysis
The perfume industry today may not be based solely on U.S. trends, though the strength of the greenback does influence sales revenues. When the economy is strong, domestic perfumes are the preference of consumers globally. When U.S. currency is weaker compared to global currencies, then the export market tends to experience a surge.
What will change the industry in future years is how men approach the use of perfumed products. About 1 in 4 products offered by the perfume industry right now are targeting men. Most men, over 60%, say that they wear a perfume product infrequently. Only 40% of men say that they have a perfume (cologne) that they use at home.
Almost a quarter of men globally say that they never purchase this type of product for themselves.
There will be a time when the prestige fragrances will no longer be able to support the industry. Without innovation, the growth seen in recent years will slide off. Even with a strong economy available to the industry, future sales opportunities will be based on how new products sit with consumers as older brands become stale.