We have compiled a list of the 125 best nail salon slogans of all-time. These catchy nail salon slogans will help inspire you to come up with a great one of your own.
A Brush of Perfection.
A delicacy in every stroke.
A new perspective of fashion.
A new, a bright, a shine.
Adding Care to Your Nail.
Always in good form for nails.
Attention to details, to the tip of your nails.
Be Beautiful.
Be Bold. Be Beautiful.
Be Center of Every Occasion.
Be fashionable you.
Be premium. Be shiny.
Be yourself in style, to the tip of your nails.
Beautiful nails are jewels, not tools.
Beautiful nails to be the envy of the party.
Beauty Salon for Nails.
Beauty, Delicacy, Charm.
Being Beautiful.
Better nails. Better world.
Bringing joy of new style.
Choose the glamour.
Choose your best choice.
Clean. Chic. Creative.
Color your dreams.
Color Your Life, Polish Your Toes.
Colouring Dreams.
Come, Relax, and Enjoy.
Covert your days into occasions.
Create Your Style with Us.
Defining Beauty with Style.
Design inspired by nature.
Do Come and Experience.
Empowering your style.
Eternal desire.
Even your man will envy your nails.
Experts in Color.
Extravagant, Friendly Nail Service at an Affordable Price.
Feel beautiful.
Feel Good About Being Beautiful.
For a Modern Woman.
For that feminine look you have always wanted.
For your Finger Shines.
From Tips to Toes, You are Beautiful.
Full of Nature.
Get a new shine for future.
Get nailed.
Giving Shine to Your Style.
Glamour Matters.
Heart of perfect nail polishing.
Helping You Look Good.
Ideas for better style.
If the Color Fits, Wear it.
If you break it, we can fake it.
Indulge in Serenity.
Indulge in your Shine.
It's More Than Just a Nail Appointment.
Keeping organic cool.
Let your nails be the center of every occasion.
Let your nails fall in love with us.
Lets you look better.
Look Good. Feel Good.
Love your nails today.
Love Your Nails.
Making your nails more specific.
Manicure by Day. Diva by Night.
Mark your presence with shine.
Nail Art is Fashion Art.
Nail shining is a new skill.
Nail your Occasion.
Nailed that Look.
Nails too hot to miss.
Never Fade Away.
Outstanding beauty for your nails.
Polish That Spark Your Style.
Polish your images, nail that party.
Polish your spark your style.
Polished to Perfection.
Redefine Your Nail Beauty.
Reflections of perfection.
Relax. Unwind. Indulge.
Relax… and enjoy a treat.
Shades that makes you.
Shine from Hand to Toe.
Shine that makes fashion shade.
Shine the party today.
Simply the best in nail care.
Simply the Best.
Slip into something more colorful.
So many nail polishes, not enough fingers.
Spa Time for Your Nails.
Spoil Yourself Every Once in a While.
Stop time, Stay beautiful.
The Experts in Mani's and Pedi's.
The love of beauty is taste. The creation of beauty is art.
The Wow is in the results.
Time to Treat Yourself.
Tip to toes, let it shows.
Walk-ins welcome.
We care about you.
We make love to your nails.
We Want to Nail your Toes.
We will nail you and you will like it.
We will turn your nails into a work of art.
Welcoming Relaxed Atmosphere.
Where Beauty Begins.
Where nails become an object of art.
Where Nails Meet Art.
Where Style is Created.
Where you meet with new art.
Where Your Nails go to Party.
While here, it's your time to be pampered.
You are beautiful to the tip of your nails.
You shine through.
You Will. You Make.
Your beauty is our profession.
Your friends will be trying to fnd who did your nails.
Your look. Our expertise.
Your Nail Specialist.
Your nails always stick with you, pamper it.
Your nails are our inspiration.
Your nails will be part of it.
Your nails will inspire.
Your nails will want to come back for more.
Your one stop shop for nail beauty.
Your party toes will get nailed.

The Greatest Nail Salon Names of All-Time
Bloomin' Nails
Tip to Toe
House of Nails
Base Coat
The Golden File
The Nail Room
Nail Junkie
Get Tipsy
Polish Me
Nail Envy
Go See All of the Greatest Nail Salon Names of All-Time
Go here to see some more slogan examples and find out the perfect slogan formula for creating a catchy slogan that brings in more customers.
Nail Salon Statistics Every Owner Should Know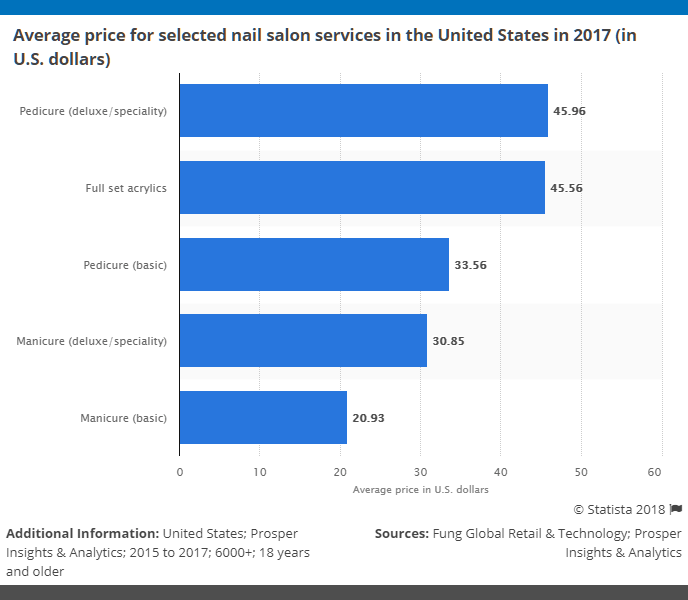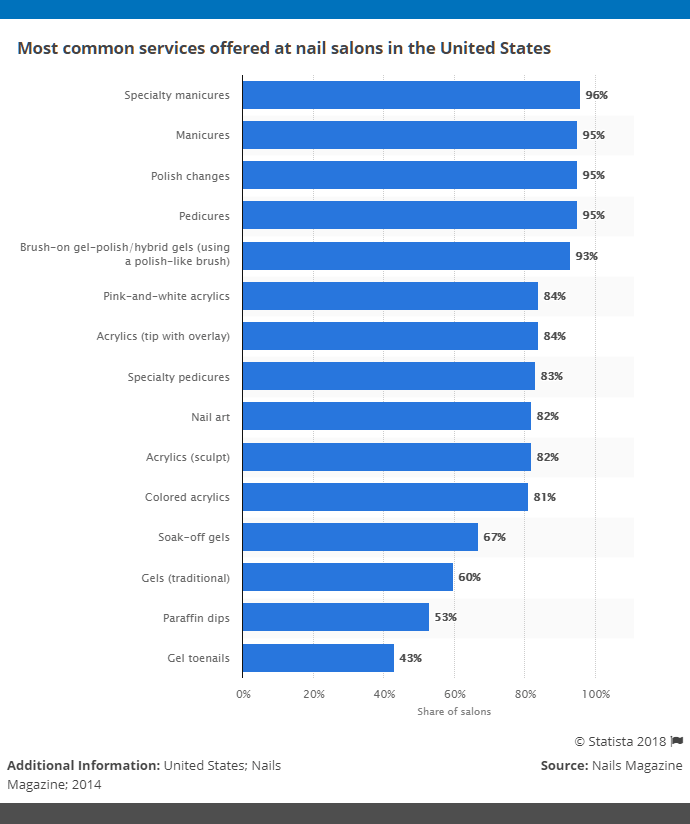 Go here to see some more slogan examples and find out the perfect slogan formula for creating a catchy slogan that brings in more customers.