The quick lube industry focuses on providing oil changing services for automobiles. Some locations may provide additional vehicle maintenance services, such as radiator flushes, brake line cleaning, and power steering fluid flushing.
At some point, every vehicle requires ongoing maintenance to keep it functioning properly. Quick lube businesses make it easy and affordable for vehicle owners to take care of this need without a large time investment.
Interesting Quick Lube Industry Statistics
#1. Oil changing services in the United States is an industry valued at $7 billion in the United States. Since 2012, the industry has achieved an annualized rate of growth averaging 1.5%. (IBIS World)
#2. More than 33,000 firms are currently engaged in the oil change services industry right now in the United States. They are responsible for the direct employment of almost 90,000 people. (IBIS World)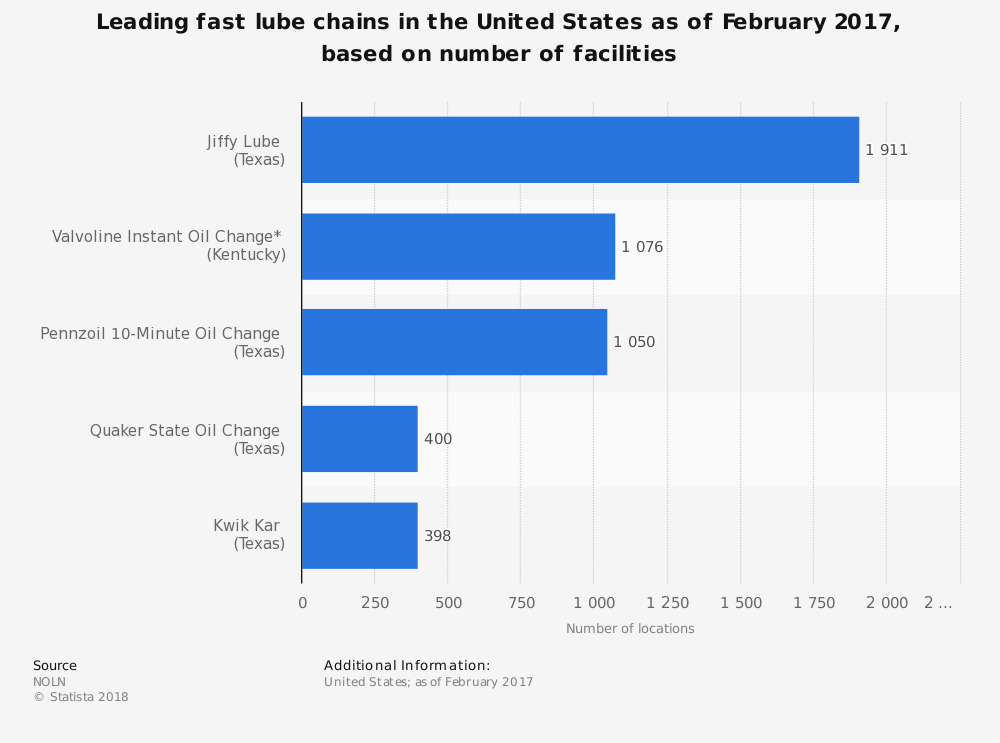 #3. 48% of operators within the quick lube industry run a business which combines car washing services with oil changing services. Another 22% of operators combine automotive repair with quick lube services. (Car Wash Magazine)
#4. 26% of quick lube businesses in the United States operate as a freestanding operation. The most popular brand-name for freestanding businesses is Jiffy Lube. (Car Wash Magazine)
#5. Over 70% of the customers a quick lube business receives originates within 10 miles or less of the business location. Just 9% of customers come from a 2-mile radius. (Car Wash Magazine)
#6. The average price for a multi-point oil change within the quick lube industry is $36.82. If a synthetic oil change is requested, the price of the oil change jumps to $70.31. (Car Wash Magazine)
#7. 89% of quick lube locations offer a transmission fluid drain and flush service in the United States, with an average cost of $107.60 per service. (Car Wash Magazine)
#8. Just 29% of vehicle owners take their oil changes to a business other than the dealership where they purchased their vehicle. 1 in 3 vehicle owners decide to change their own oil after purchasing a new vehicle. (IMR Automotive Research)
#9. 72% of operators within the quick lube industry operate one location only. Another 16% of business owners have two locations where they provide services. (Car Wash Magazine)
#10. Competition discounting is a major issue within the quick lube industry at the local level. 65% of business owners report that their competitors offer discounting to obtain new customers within their own service radius. (Car Wash Magazine)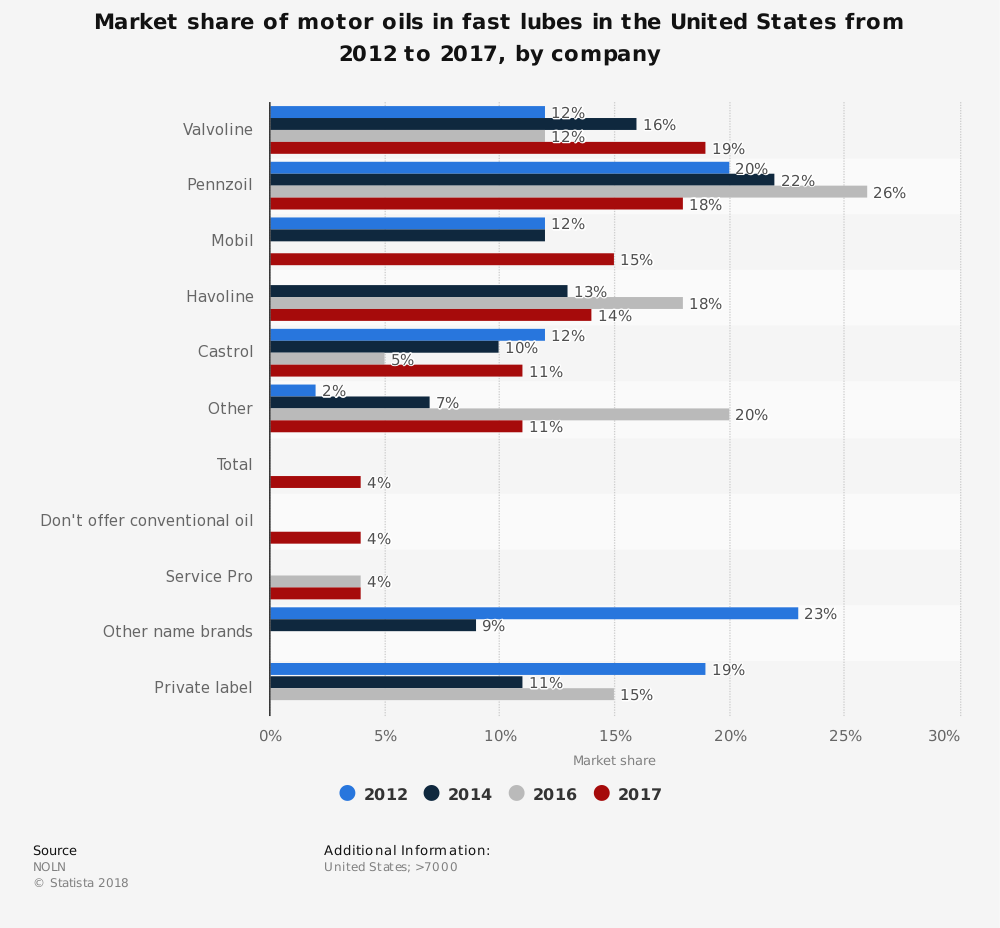 #11. Operating expenses and labor are the two largest costs facing the quick lube industry. For the average business, they account for 60.7% of total expenses. In comparison, leasing costs are just 9% of the overall expenses for the average location. (Car Wash Magazine)
#12. When only stand-alone quick lube locations are examined in the industry, about 5,000 firms currently operate in this space and produce revenues of about $5 billion annually. (Business Wire)
#13. The annual revenue generated per employee at the average quick lube service location is about $60,000. (Business Wire)
#14. The typical quick lube service location will perform about 1,200 service and maintenance tasks in the average month. Most locations achieve this figure with just 2-5 service bays available to them. (Business Wire)
#15. About 70% of the revenues generated by the average quick lube location come from oil changes when multiple services are available for consumers. (Business Wire)
#16. In the United States, about 450 million oil changes are performed each year. There are about 250 million vehicles on the road which will require services at some point that can be provided by a quick lube location. (Digital Dealer)
#17. Even though quick lube locations are seeing a reduction in the number of cars being serviced each day, the number of oil changes being performed is rising. In 2013, there were an average of 37.8 vehicles serviced per location, with 32.9 oil changes performed per day. (Digital Dealer)
#18. The average revenues generated by a single location in the quick lube industry reached almost $765,000 in 2013. As revenues have increased, however, net profits have decreased by 2.3%. (Digital Dealer)
#19. Just 9% of the sales generated by the quick lube industry come from clients that own vehicle fleets. (Digital Dealer)
#20. Jiffy Lube has the most locations in the United States for the quick lube industry, with over 1,900 facilities as of February 2017. Valvoline Instant Oil Change locations number more than 1,000, as do Pennzoil 10-Minute Oil Change locations. (Statista)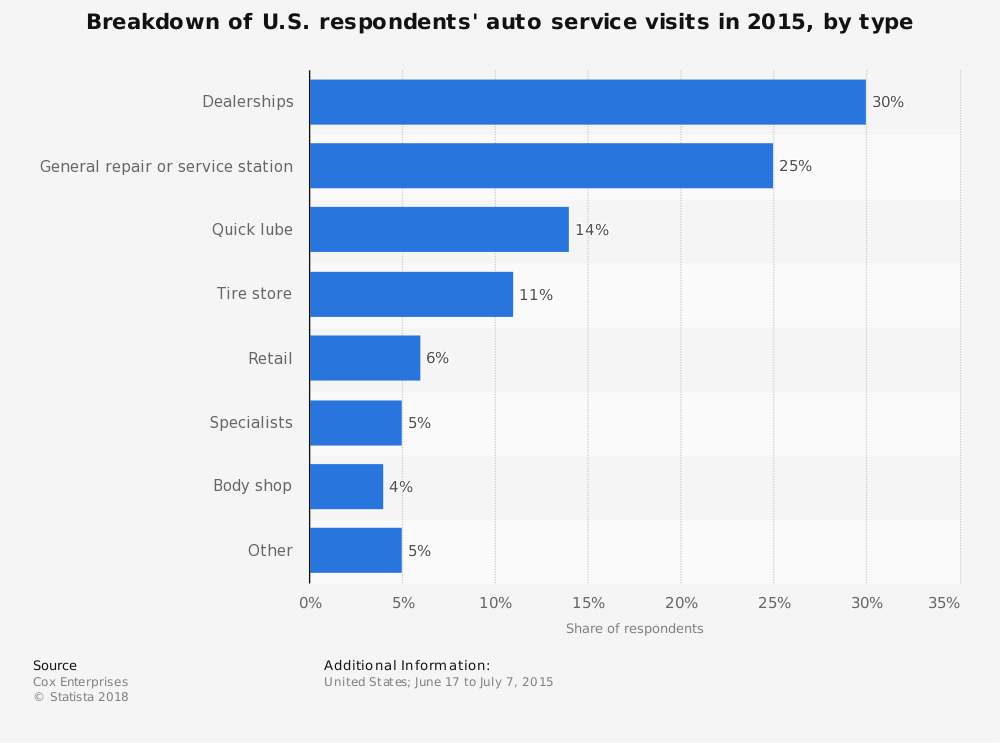 #21. The average age of a vehicle owned in the United States is 11.4 years. (IHS Automotive)
#22. The average vehicle owner will change their oil about every 5,000 miles. (NOLN Fast Lube Operators Survey)
#23. Consumers are shifting toward premium products within the quick lube industry. In 2011, 31% of consumers preferred a premium product. In 2016, 45% of consumers asked for premium products from their preferred quick lube business. (Valvoline)
#24. Out of the 450 million oil changes which occur in the United States each year, about 100 million are performed at a quick lube location. 16% of the oil changes which occur within the quick lube industry feature Valvoline products. (Valvoline)
Quick Lube Trends and Analysis
The health of the quick lube industry is tied to the health of the general economy. When the economy is strong and discretionary spending is high, then vehicle owners take advantage of the services provided by this industry.
When the economy is weak, vehicle owners tend to complete these services on their own, to the best of their ability. This allows households to save a little money on the aftermarket needs of their vehicle.
Through 2028, the quick lube industry is expected to see lower levels of growth than in the past 5 yeas. Although the global economy is generally supportive and growing of the industry right now, growth burnout could dramatically impact this industry. For that reason, projections of growth for the industry are as low as 0.7% within the forecast period in some markets.