#1. 80% of households in the United States have a tea product stored in the home. Almost 160 million Americans drink either iced tea or a hot tea beverage at least once per day. (Tea Association of the USA)
#2. In 2017, more than 84 billion servings of tea were consumed in the United States. That equates to 3.8 billion gallons of tea being consumed during the year. (Tea Association of the USA)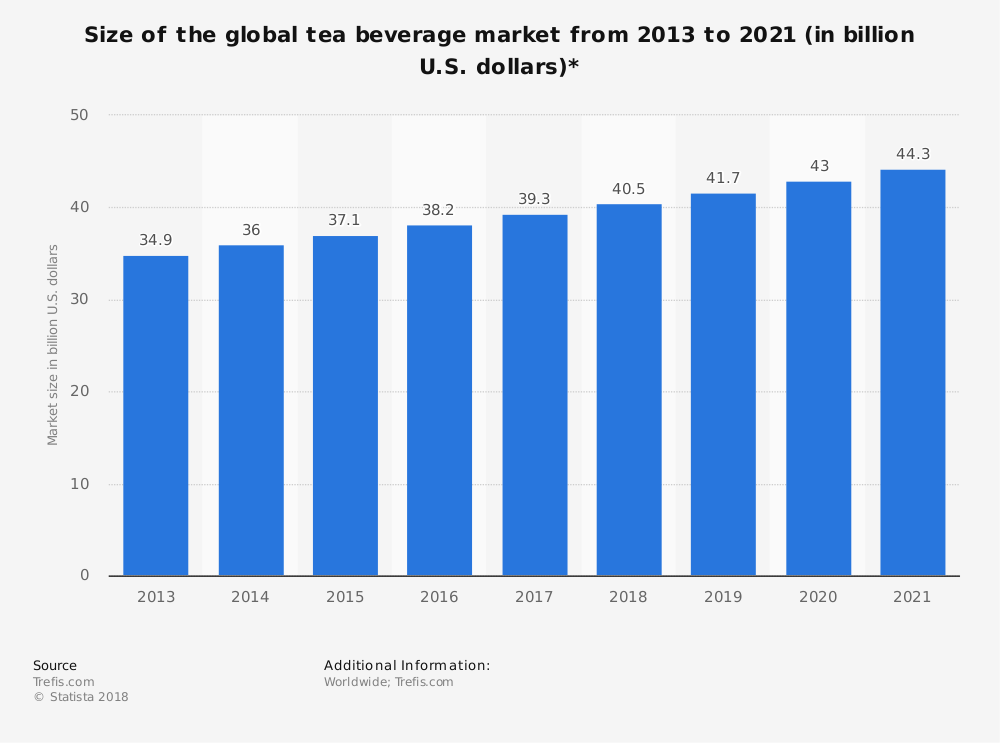 #3. Most tea beverages that are consumed in the U.S. are black tea varieties. 86% of the tea that is consumed each year is of this type. 13% of consumed tea is green tea. The remaining 1% is divided evenly between white, dark, and oolong. (Tea Association of the USA)
#4. The United States is the third-largest importer of tea products in the world, behind Russia and Pakistan. The U.S. is the only western nation that continues to grow in tea consumption and tea imports. (Tea Association of the USA)
#5. Millennials are the most likely to drink tea, with 87% saying that they drink at least one tea beverage per day. (Tea Association of the USA)
#6. 4 out of every 5 tea beverages that are consumed in the U.S. are iced. (Tea Association of the USA)
#7. Ready-to-drink tea beverages in the United States generated more than $5.5 billion in sales in 2015. Wholesale tea products generated another $11.5 billion for the tea industry. (Statista)
#8. Although the U.S. is one of the largest importers of tea beverages, consumption of tea per capita is quite low compared to the rest of the world. Americans consume just one-half pound of tea per year. People in Turkey consume almost 7 pounds of tea per year. In Ireland, 4.83 pounds of tea are consumed. (Statista)
#9. In 2015, the worldwide production of tea produced about 5.2 million metric tons of product for the market. China led the world in tea production, followed by India, then Kenya. (Statista)
#10. In 2017, China exported more than 323,000 tons of tea, which reflected an increase of 8.2% from the year before. From 2006-2017, total tea export volumes for China rose by an annualized 1.4%. (World of Tea)

#11. The export value of tea increased by 7.8% from 2016 to 2017. The CAGR for China's tea exports from 2006-2017 was an impressive 10.4%. The total value of tea exports from China totaled $1.45 billion in 2017. (World of Tea)
#12. Tea production in the United States is quite minimal. There are only 44 firms active within the industry, employing an estimated 2,600 people. (IBIS World)
#13. Revenues for U.S.-based tea production have remained steady over the past 5 years. The production industry achieves annual revenues of $1 billion and has grown at an annualized rate of 0.2%. (IBIS World)
#14. More than 2 billion people globally consume tea at least once per day. In the United States, about 1.4 million pounds of tea are consumed daily. (Tea Association of the USA)
#15. It only takes 1 pound of loose-leaf tea to produce about 200 cups of tea. In Turkey, that means the average person consumes about 1,400 cups of tea every year. That's about 4 cups of tea every day. (World of Tea)
#16. Tea production in China is currently valued at $21 billion in overall economic impact. For the 5-year period ending in 2018, the annualized rate of growth for the industry is 4.5%. (IBIS World)
#17. About 500 firms are officially involved in the production of tea in China. The official employment impact of the industry creates about 75,000 jobs. (IBIS World)
#18. Most of the tea that is produced in China is intended for the domestic market. Exports from the tea industry account for just 0.6% of industry revenues. (IBIS World)
#19. China does not import much tea from the global industry. Imported tea products in China account for just 0.1% of domestic demand. (IBIS World)
#20. The tea industry of India covers more than 563,000 hectares of planted products. Almost half of the planted hectares are located in the Assam Valley. (India Brand Equity Foundation)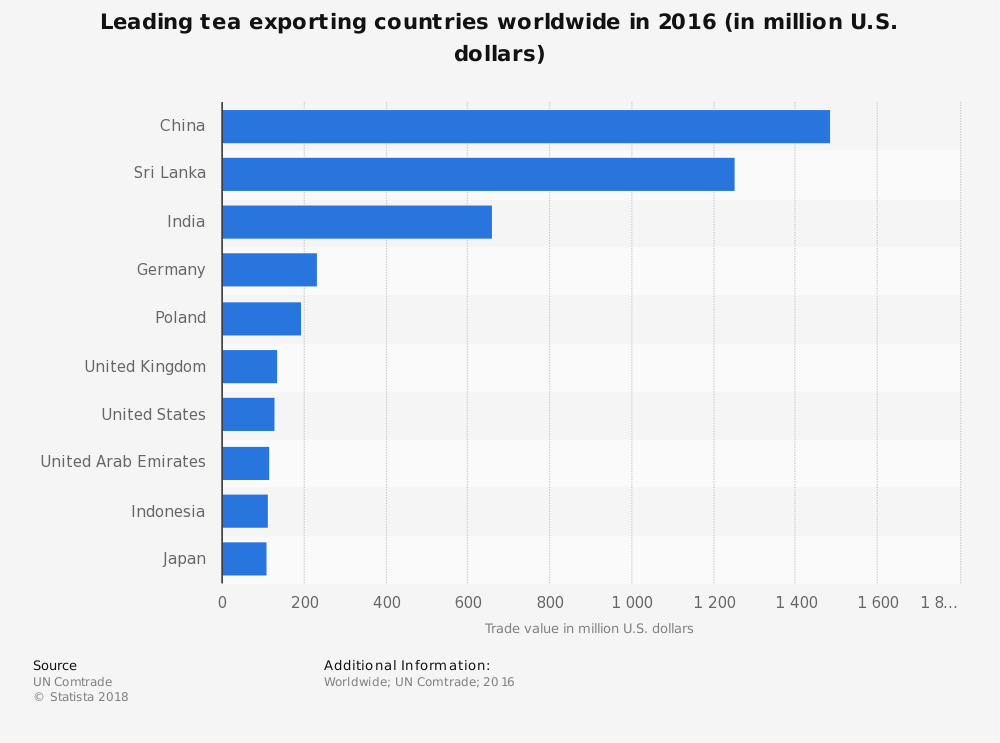 #21. The total value of tea exports from India, which is the fourth-largest market in the world, were valued at $686.6 million in the 2015-2016 season. Over 232 million kilograms of tea were produced. (India Brand Equity Foundation)
#22. The tea industry of India is the nation's second-largest employer. More than 3.5 million people are employed by the industry, covering almost 1,700 estates and over 157,000 small holdings. Most employees in the tea industry of India are women. (India Brand Equity Foundation)
#23. Three-quarters of the tea that is brewed in the United States is done through the process of steeping tea bags. (World of Tea)
#24. Ready-to-drink teas and iced tea mixes account for about 50% of the tea products that are consumed in American homes each day. (World of Tea)
Tea Industry Trends and Analytics
By 2021, the global tea beverage market in the United States is forecast to be worth over 444 billion. Even if tea consumption rates were to match the rates found in Canada, the U.S. market would more than double in value.
There are many markets where the growth potential of tea is quite high. Austria, Singapore, France, Norway, and Taiwan all consume tea at levels that are similar to the American consumer.
That is why investors are quite bullish on tea, especially in the ready-to-drink segment. As consumers look for convenient beverage options that provide authentic ingredients and no preservatives, tea is a natural choice. Even though coffee is trending within the younger generations, the healthier image that tea offers, with strong flavors and natural ingredients, may give it an advantage in coming years.
Tea has been consumed for thousands of years. It is an industry that is not going anywhere.