Since 1978, the truck leasing industry in the United States has come together through voluntary, non-profit trade associations to provide a unified voice. The mission of the firms who are involved in this industry is to help truck leasing agencies stay competitive, without discrimination, within the marketplace of North America.
One of the leading associations that has helped the industry grow over the past 40+ years has been the Truck Renting and Leasing Association. Their regular membership includes over 500 companies, representing many different segments of truck leasing and renting operations throughout the country.
On the average year, the truck leasing industry will purchase around 40% of all new trucks in the class 3 through class 8 categories of vehicles. Virtually all of these vehicles are then placed into commercial service.
Important Truck Leasing Industry Statistics
#1. The truck leasing and rental industry in the United States pulls in about $21 billion in revenues each year. From 2013 to 2018, the industry experienced an average annualized growth rate of 3.3%. (IBIS World)
#2. About 12,000 businesses currently operating in the truck leasing sector in the U.S., creating more than 77,000 direct employment opportunities. (IBIS World)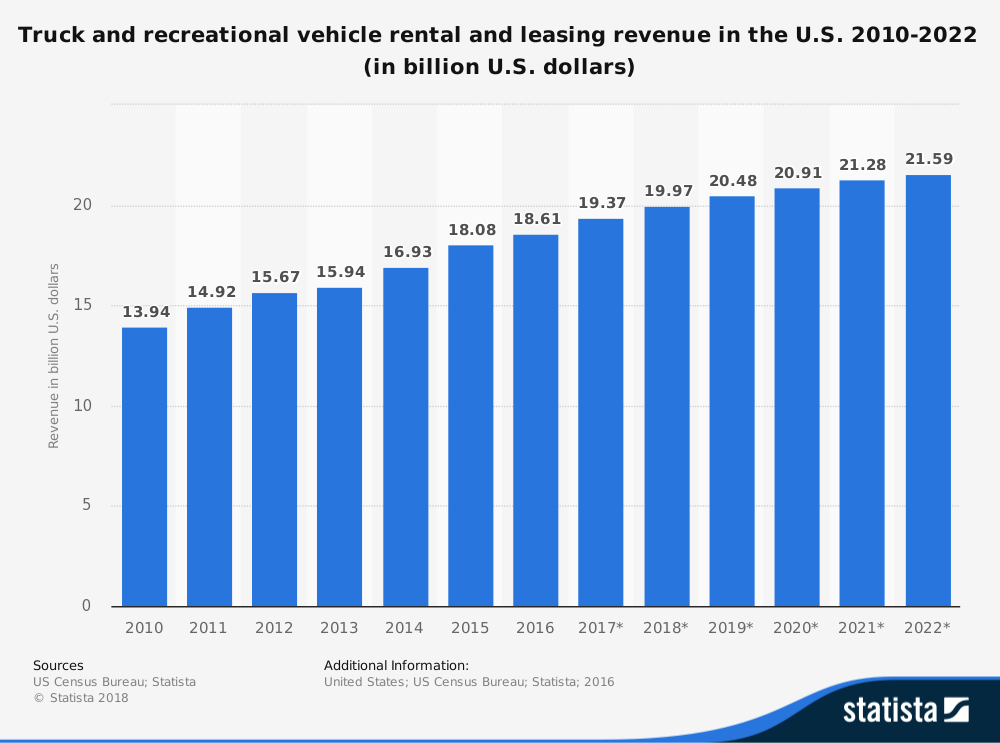 #3. At the end of 2017, Class 8 rentals in the United States saw a 20% increase in consumer activity. The rates along the West Coast were even higher, seeing an increase of 25%. (Fleet Owner)
#4. Sales of trucks meant for the leasing and rental market have been going up, especially with propane being used as a fuel. In 2015, 12,500 vehicles with certified propane systems were sold to the truck leasing industry. (Business Fleet)
#5. The 50 largest companies in the U.S. who operate within this industry are responsible for about 85% of the total revenues that are generated each year. (Dun and Bradstreet)
#6. The primary services offered by the industry include the rental or leasing of heavy trucks, buses, and truck trailers, which account for 80% of total revenues. Additional services include the rental or leasing of campers, utility trailers, motor homes, and travel trailers. (Hoovers)
#7. The overall percentage of Class 2 through Class 8 over-the-road trucks and tractors was 27.6% in 2016. Compared to figures from 2006, the increase in leasing opportunities has been significant. (Truck Renting and Leasing Association)
#8. TRALA members were responsible for purchasing 29% of the Class 2 through Class 7 commercial trucks in the United States, along with 23% of the Class 8 vehicles that were being used. (Truck Renting and Leasing Association)
#9. 1 in 4 trucks that is on the road in the United States comes from an agency working with the truck leasing industry. (Truck Renting and Leasing Association)
#10. Nearly $14 billion in annual dry rental and lease revenue is generated by TRALA members in the United States. (Truck Renting and Leasing Association)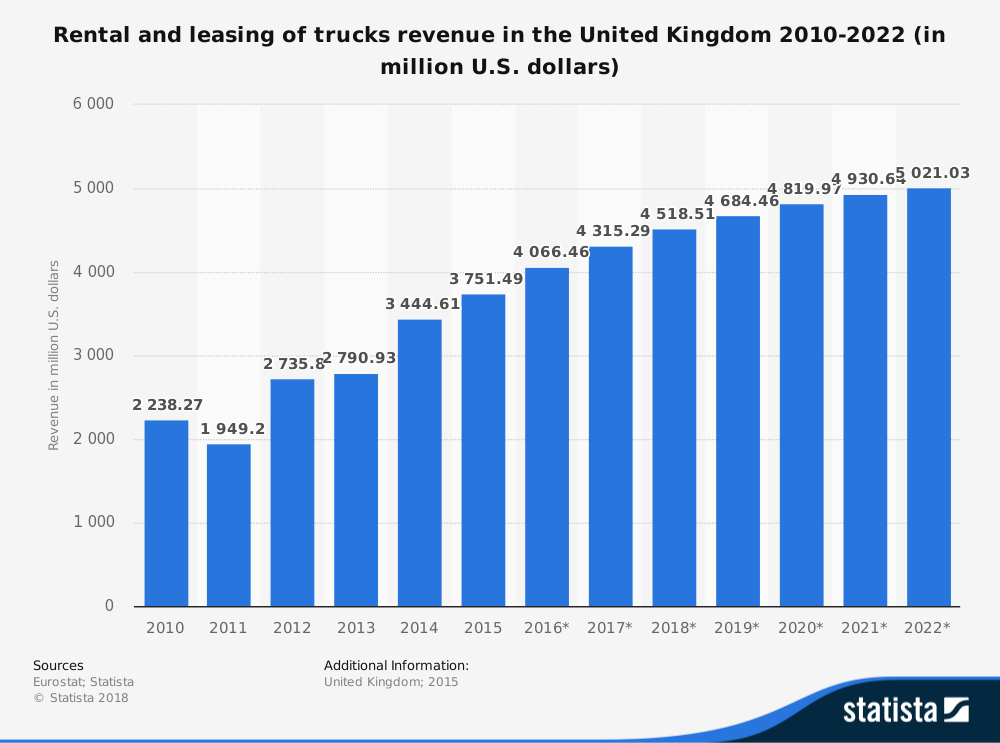 #11. In 2015, Daimler Freightliner sold over 100,000 Class 8 trucks in the United States, which earned the manufacturer a 37% share of the market. A Class 8 truck is a weight rating for anything that is above 33,000 pounds. (Statista)
#12. In 2015, there were over 200,000 Class 8 trucks sold in the United States. (Statista)
#13. For-hire carrier tonnage in the United States is expected to achieve annual growth of 3.3% through 2028, which would cause total tonnage to rise to 6.3 billion tons. (Fleet Owner)
#14. 40% of truckers say that they received poor information about a load which led them to being paid late. Half of all truckers also note that they've had poor communication experiences with their brokers. (Fleet Owner)
#15. 41% of truckers say that they've stayed away from the online freight marketplace because they didn't know how the marketplace worked. Once the process was described to them, 4 out of 5 truckers said that they would like to try it out. (Fleet Owner)
#16. For over 50 years, an oversize or overweight load has been booked by traditional brokers through fax, phone, or email. 75% of truckers within the leasing industry say that their experience with a traditional broker was good. (Fleet Owner)
#17. From a global perspective, 95% of manufactured goods are moved through the use of a container at least once. In North America, the container shipping industry, which is supported by the truck leasing industry, generates over $40 billion in economic activities. (Fleet Owner)
#18. There are more than 60 million intermodal drayage moves that are made every year, with 7,000 trucking companies providing this freight service in North America. (Fleet Owner)
#19. Over 400,000 drivers are currently employed by drayage companies in the United States, using a fleet of more than 700,000 chassis to move over 34 million domestic and international containers. (Fleet Owner)
#20. In 2016, there were 297 fatal crashes which involved large trucks where speeding was a factor in the accident. (Fleet Owner)
#21. The total number of large trucks or buses that were involved in fatal crashes in the United States increased by 2% in 2016. That figure is still 15% lower than figures from 2005, where a record 5,231 fatal accidents were required by the industry. (Fleet Owner)
#22. Outside of speeding, distracted driving (268), failure to yield (208), and impairment (158) were the top reasons why a fatal accident involving a large truck or bus occurred in the United States. (Fleet Owner)
#23. Every driver-related factor for a fatal accident in 2018 in the top 10 reasons saw an increase in rates when compared to figures from the year before. (Fleet Owner)
Truck Leasing Industry Trends and Analysis
Several trends are pushing the truck leasing industry forward in the United States. Diesel engines are going smaller, Class 2 vehicles are up to 40% lighter, and fuel costs are a determinate of how much strength the industry will have in the future.
One of the primary threats to the truck leasing industry is the emerging drone delivery market. Recent tests by the FAA of the HorseFly drone, built with a Workhorse custom chassis, found that a 10-pound package could be delivered to a consumer for just 2 cents per mile. Compared to the trucking industry, which averages 30 to 50 cents per mile, the cost savings for consumers will take a top priority.
At this moment, however, only Amazon, Google, and Workhorse are authorized to test drone deliveries.
Making trucks lighter will help the industry stabilize. Exploring alternative fuel sources, such as propane or electricity, may keep the industry competitive. Even with drone deliveries, the industry expects them to be a last-mile solution, which means trucks, both owned and leased, will still be needed.