Modern party rentals encompass a wide range of events. Personal events, such as weddings or birthdays, combine with corporate events, such as an after-hours networking affair or product release, come together to provide billions of dollars in economic output. The party and event rental segment in the United States is expected to grow revenue by 4.2% in 2016 to reach USD $2.8 billion, according to the latest forecast from the American Rental Association (ARA).
Experiencing a small decline during the recession, there are more than 50,000 people employed in this industry. The party supply rental industry has a modern to high level of capital intensity with $0.30 spent on capital investment for every dollar earned.
Interesting Party Rental Industry Statistics
#1. The party rental industry in the United States has a market value of $5 billion. Since 2012, the industry has been growing at an annual rate of 3.7% per year. (IBIS World)
#2. About 12,000 businesses are currently involved with the party rental industry in the U.S. right now. The average number of employees hired by one of these firms is 5. (IBIS World)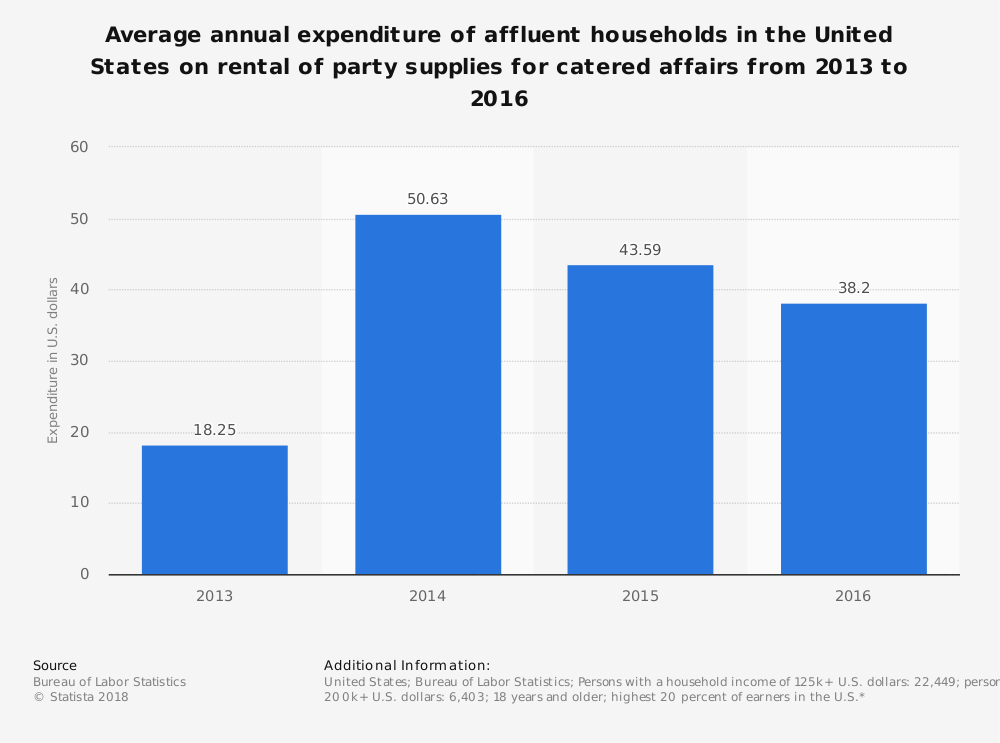 #3. The party rental industry is one of the most affordable industries with regards to startup costs. A small operation, specializing in household parties, can be started in the U.S. for less than $5,000. Even if gazebos, tends, and carnival games are included, the startup costs are still around $15,000. (IBIS World)
#4. In Canada, the party and event rental segment reached more than $200 million in 2016, with a growth rate of 2.1%. (Rental Management Magazine)
#5. More than 24.1 million square yards of material for party rental tents were sold in 2016, a figure that was up by 4% over the year before. (In Tents Magazine)
#6. 80% of marketers believe that hosting live events are a critical component of the overall success for their company. (Bizzabo)
#7. About 18 million parties, events, and meetings are organized in the United States each year. When consumer spending is accounted for with these events, about $280 billion in economic activity, including $66.8 billion in labor income, is produced. (Meeting Professionals International)
#8. The spending associated with people traveling to different parties and events topped $100 billion in 2012. (Meeting Professionals International)
#9. The party rental industry currently employs about 100,000 people in all aspects of the trade, with opportunities within the professional growing at 1% per year. (Bureau of Labor Statistics)
#10. Lead generation is the primary reason for businesses to host a party or event. 83% of companies list it as a top priority. This is followed by customer engagement (72%), brand awareness (72%), and product education and training (57%). (Marketo)
#11. 53% of industry professionals expected to see budget growth of up to 6% within the coming year. (MPI)
#12. Venue costs tend to be the primary expense within the party rental industry, with 36% of party planners listing it as their top expense. Catering is listed as the top expense by 34% of party planners. (MPI)
#13. Over 40% of the revenues generated for B2B party rentals originates from customers in the United States. Just 16% comes from the United Kingdom. (Statista)
#14. Total global revenues for B2B party rentals and events totaled $30.3 billion in 2016. That is $1 billion more in total revenues compared to what the industry segment achieved in the year before. (Statista)
#15. Over 250 million people attended at least one party, event, or meeting which featured products from the party rental industry in the United States in 2016. (Oxford Economics and Events Industry Council [OEEIC])
#16. Events hosted in the United States generate over $325 billion in direct community-based spending, while creating an additional $825 billion in total business spending. (OEEIC)
#17. The party rental and events industry in the United Kingdom offers a total value of GBP 39.1 billion each year, with 35% of spending as part of the overall U.K. visitor economy. (Business Visits and Events Partnership)
#18. About 1.3 million meetings, events, and parties are held in the U.K. each year. (Business Visits and Events Partnership)
#19. B2B parties generate almost $1,300 in spending for each participant. (OEEIC)
#20. Over 6 million international participants were part of U.S. parties, events, or meetings in 2016. These participants brought in $38 billion in direct spending, representing over 11% of the total for the industry. (OEEIC)
#21. 81% of marketers say that they use in-person events as an integral part of their B2B marketing strategy each year. (Content Marketing Institute)
#22. The most common type of event that is hosted by the party rental industry in the United States is a tradeshow or conference. These events represent 23% of the overall market. (Global Meetings and Events)
#23. 53% of event attendees participate in corporate or business parties or meetings. Just 18% say that they participate in a convention or conference that does not contain an exhibition floor. 16% say they attend trade shows which do provide an exhibition. (OEEIC)
Party Rental Industry Trends and Analysis
The party rental industry is at a bit of a crossroads. Consumers are looking for parties that provide the "wow factor" in different ways. The look of linens is gone. Rustic, industrial, and even loft tables are become key visual points instead. Then decorative tabletop items, such as ornate dishware or gold-plated flatware, adds some elegance and personality to the party.
Not every party rental business is able to meet the demands for affordable elegance. There will always be a market for budget-friendly parties, though the margins on these events is growing smaller and smaller.
Certain economic challenges affect the industry as well. Because parties tend to be hosted with more frequency, and with more extravagance, during times of economic growth, the industry tends to be cyclical. The last period of party rental downturns ended in 2011. If history repeats itself, the next downturn for the industry would occur between 2020 and 2022.