Frozen Yogurt Industry Statistics
According to the United States Census Bureau, the frozen yogurt industry consists of the following must know statistics. Annual sales increased by 21 percent between 2008 and 2013, generating approximately $2 billion in revenue. The frozen yogurt industry employed more than 16,000 people between 2008 and 2013.
Frozen Yogurt Industry Statistics
Total industry frozen shop locations and annual sales and revenue for the business.
1. Number of frozen yogurt shops in the United States: 820
2. Annual sales: $194,910,000
3. Annual payroll: $46,855,000
4. Number of paid employees: 5,379
5. Annual number of frozen yogurt servings: 121 million
6. Frozen yogurt sales increase from 2010 – 2011: 8%
7. Average liquid capital required to open a Frozen Yogurt store (non-franchise): $50,000
8. Average liquid capital required to open a Frozen Yogurt store (franchise): $175,000
9. Average price of a commercial frozen yogurt machine: $6,500
Costs of Opening a Franchise
The frozen yogurt industry is primarily made up of franchise brands owned by individual franchise owners. This benefits both the franchiser and franchisee operating more efficiency and profitable for each company owned unit. Increased name recognition will provide the franchiser with brand loyal customers while benefiting from the collective growth within the franchise network.
Popular Frozen Yogurt Brand Franchises
A list of 10 popular brand franchises in the frozen yogurt industry and average start-up costs, according to Entrepreneur.com. These account for the yogurt machines, store construction, franchise fee, equipment, signage, and more.
10. Baskin-Robbins USA Co: $100.69K – $390.20K
11. Cold Stone Creamery: $286.07K – $474.32K
12. Dippin' Dots Franchising LLC: $117.05K – $246.94K
13. Forever Yogurt: $277.35K – $478.45K
14. FreshBerry Natural Frozen Yogurt: $165.75K – $386.20K
15. The Haagan-Dazs Shoppe Co. Inc: $145.05K – $457.29K
16. TCBY: $143.80K – $343.39K
17. Spoon Me Franchising LLC: $183K – $491K
18. Menchies: $218.32K – $385.16K
19. You Say When Yogurt: $83.15K – 196K
Customer Statistics
20. Which do you prefer?
Frozen yogurt: 78.9%
Ice cream: 8.8%
Gelato: 10.9%
Snow Cone: 1.5%
21. Do you consider frozen yogurt to be better for you than ice cream?
Yes: 94.6%
No: 5.4%
22. How often do you eat frozen yogurt?
At least once a month: 45.3%
Weekly: 40.5%
A few times a year: 9.7%
Daily: 4.5%
23. What are your favorite toppings?
Fruits: 37.2%
Chocolate: 35.3%
Candy: 22.1%
Nuts: 5.4%
24. What is your favorite frozen yogurt flavor?
Vanilla: 40.8%
Chocolate: 34.1%
Tart: 25.1%
What It is Like to Own A Frozen Yogurt Shop
The owner of a new Cherry on Top frozen yogurt store in Huntington Beach, California shares his first hand experience on what it is like operating the shop and dealing with the brand.
Overall Yogurt Consumption in the United States
The frozen yogurt industry has been experience an average 9% growth between 2008 and 2012. The total dollars spent per consumer has increased as well as annual consumption. American consumers consumer less than half the amount of Western Europeans.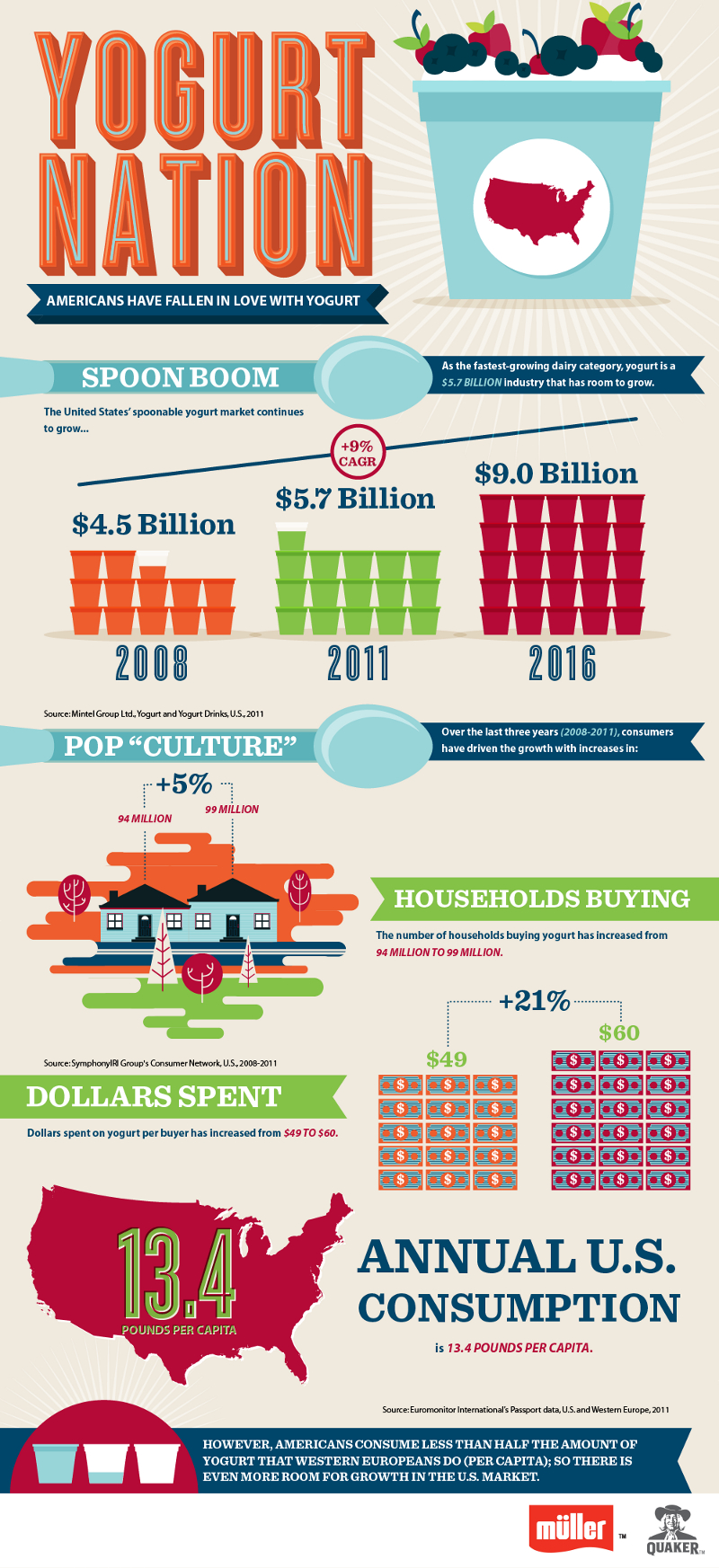 Top Cities for a Frozen Yogurt Shop
The top three cities for opening a frozen yogurt shop is Boston, Oklahoma City, and Cincinnati. Boston produces the highest monthly and daily sales of frozen yogurt than any other United States city.