Esports are multiplayer video games that are played competitively, just like a professional athletic event. The games are played in front of spectators, players are often formed into teams, and they compete against one another for massive prize pools, jackpots, and salaries.
Esports games can be computer-based or console-based. Games such as Rocket League and Overwatch have even formed professional leagues that compete for world championships.
Organized competitions have almost always been a part of video game culture. Until the late 2000s, however, the competitors in these events were usually amateurs. Since 2010, professionals have taken esports gaming to new levels and created structures where significant earnings are possible.
What makes the esports industry such an attractive option is that any gamer with the right skill set has the potential to be competitive and turn pro. As video game culture continues to rise in influence globally, the esports industry will be growing with it.
Important Esports Industry Statistics
#1. In 2017, the global esports market had an estimated value of $493 million. Global revenues from esports activities are forecast to reach at least $1.6 billion in 2020. (Statista)
#2. The annual growth rate of the esports industry is averaging 40% year-on-year growth. In 2015, the worldwide revenues generated by esports activities was $325 million. (Statista)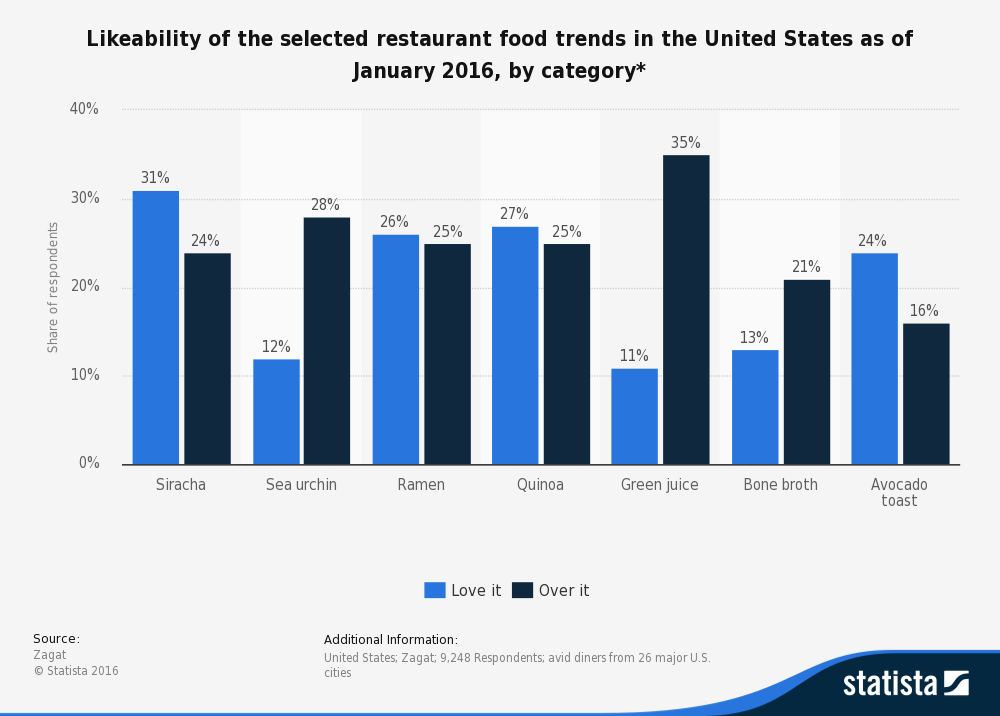 #3. About 80% of the revenues that are generated by the esports industry come through advertising or sponsorships, according to 2016 figures. (Statista)
#4. Asia and North America represent the two largest markets for the esports industry in the world today. The North American market generated $275 million, while Europe generated $270 million. Asia led the way, generated $328 million in 2016. (Statista)
#5. The payout for the sixth edition of The International, an esports event involving Dota 2, provided a purse of over $20.7 million to 80 gamers who qualified for the event. That's about twice the payout available during the PGA's The Masters event each april. The winning team split a grand prize of $9.1 million. (Sports Illustrated)
#6. There are an estimated 148 million esports enthusiasts that are active in the industry around the world. About 22% of American males in the Millennial age demographic watch esports, which puts the industry on the same level as baseball and hockey in the United States. (Sports Illustrated)
#7. Twitch, acquired by Amazon in 2014 for almost $1 billion, receives over 2 million unique esports streamers every month. It's currently ranked in the Top 100 of the world's most popular websites. (Sports Illustrated)
#8. Shows that feature esports have made it to cable television in the United States as well. TBS aired a show called ELeague and its first season ratings averaged 271,000 viewers per episode. (Sports Illustrated)
#9. There are an estimated 2.1 billion people who play mobile games in the world, but mobile esports is a small component of the industry. About $60 million in prize money was awarded in 2015 from mobile gaming. (Sports Illustrated)
#10. In 2016, there were 18 gamers who were able to earn more than $500,000 in esports prize money. Nearly 200 esports professionals were able to earn more than $100,000 in prize money. These figures do not include team salaries, sponsorship funds, or advertising revenues generated by livestreaming their gaming sessions. (Sports Illustrated)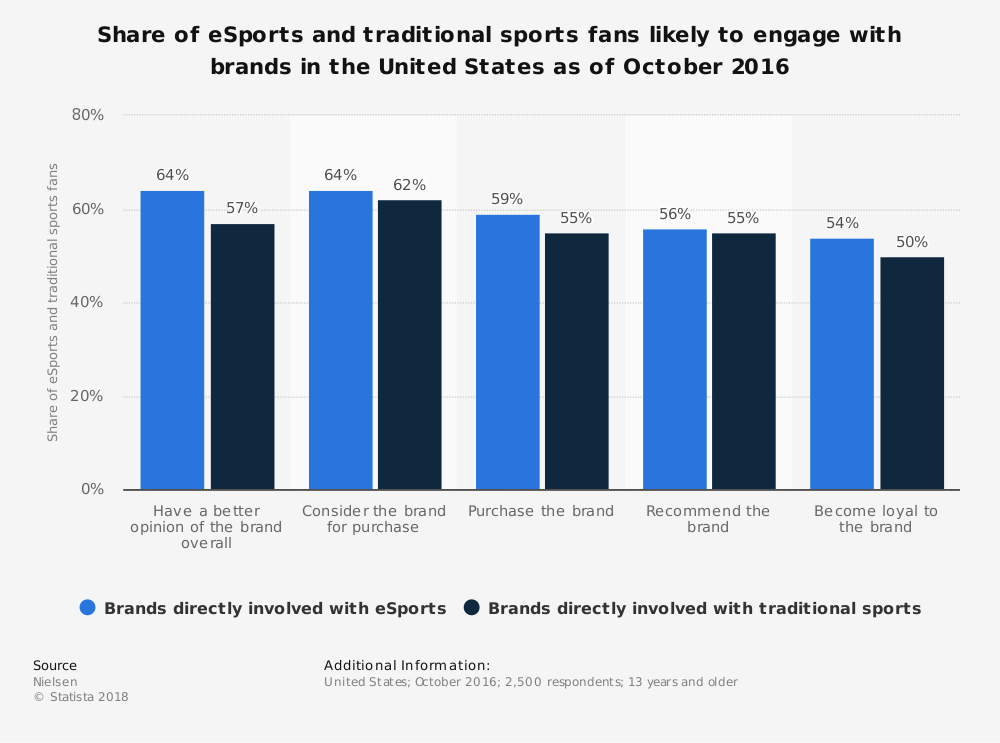 #11. Over 70 million people around the world are believed to watch esports events on a regular basis – and that is according to figures that were collected in 2013. (Red Bull)
#12. More than 32 million people tuned in to watch the League of Legends World Championship for season 3. (Red Bull)
#13. The average person who watches esports will stay engaged with the event for an average of 2.2 hours. In comparison, the average user watching videos or live TV on a platform like YouTube or PlayStation Vue will watch just 5 hours of online video per month. (Red Bull)
#14. Early estimates suggest that revenues in 2017 exceeded all expectations, with a potential final figure of $1.5 billion globally. If that figure is accurate, then the esports industry could generate revenues as high as $2.3 billion by 2022. (DOT Esports)
#15. In 2017, Dota 2 and League of Legends were the two largest games with active monthly players, with a combined total of 94 million active accounts. Players involved with these games watched over 4.2 billion hours of content on various platforms in 2017. (DOT Esports)
#16. For unique viewers that watch their favorite esports teams on livestreams, two-thirds watch them on both Twitch and YouTube. About 1 in 5 players watch Twitch exclusively, while 11% say that they prefer to watch YouTube exclusively. (DOT Esports)
#17. League of Nations leads the esports industry in total monthly viewers, with 286 million unique viewers in total on all platforms. PlayerUnknown's Battlegrounds came in second, with 202 million viewers, even though the game doesn't have a formal esports presence as of yet. (DOT Esports)
#18. The average age of a person who plays video games in 2016 was 35. 29% of gamers fit into the under-18 age demographic. 27% of gamers are in the 18-35 age demographic. 19% of gamers are between the ages of 36-49. The 50+ age demographic makes up the remaining 26% of the population. (Statista)
#19. On the gaming platform Raptr, League of Legends accounted for 22.92% of all playing time for gamers on a PC. This was followed by Counter-Strike: Global Offensive, Fallout 4, and DOTA 2 at 6.88%, 5.78%, and 5.09% respectively. (Statista)
#20. Most gamers prefer shooters than other gaming formats in the United States. 27.5% of all video games sold fit into the shooter category. Action games come in second, with 22.5% of the market. Sports games are 4th, with just 11.7% of all sales. (Statista)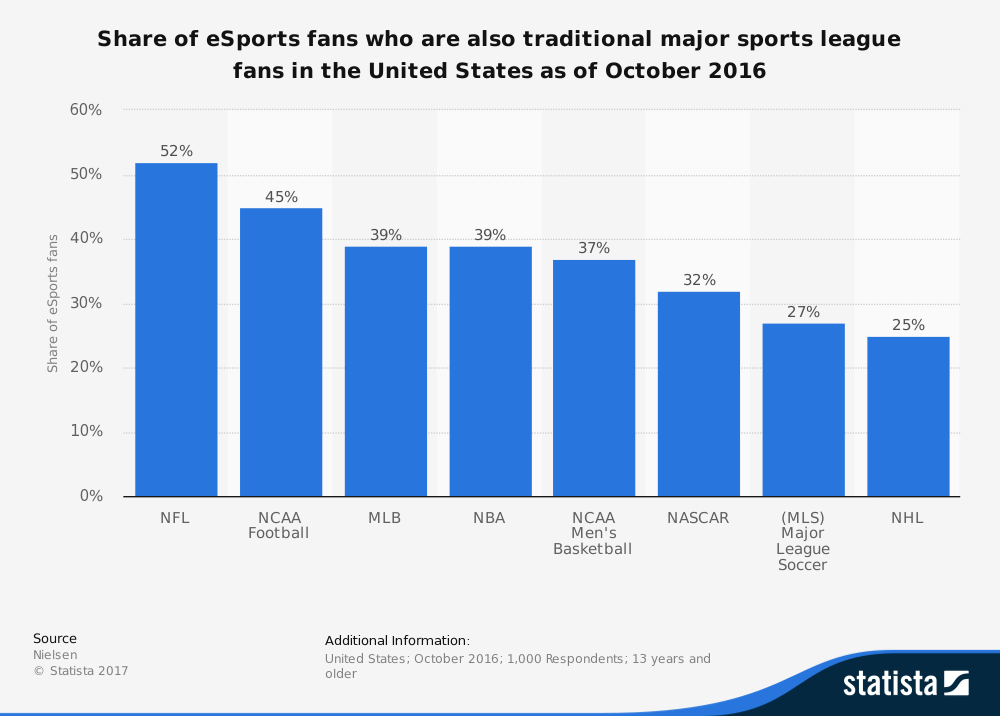 #21. Although the esports industry is perceived to be dominated by men, that is far from true. Since 2008, at least 40% of all active gamers in the United States are women. (Statista)
Esports Industry Trends and Analysis
The massive levels of annual growth in esports is not likely sustainable over a 10-year forecast. From 2015 to 2016, the growth rate was over 50%. In the past 5 years, the industry has achieved year-over-year growth of over 40%.
That doesn't mean the esports industry will no longer be successful. It will simply be maturing into an industry that has the potential to reach gamers around the world with exciting events for their favorite games.
Look for more gaming franchises to enter the esports industry in coming years. Fighting games have often resisted joining the esports movement in the past. The amount of revenues that are possible within this industry may change that in the future. New titles and evolving events will encourage industry growth as well.