National Boss Day was started in 1958 intended to honor the hard work and dedication of outstanding leadership and management in the workplace. However, you do not have to wait until this special day to show appreciation for your boss. Many employees find the best leadership is when the boss is able to roll up their sleeves and get the job done with the employees. Many employees are pretty satisfied with their current leadership, making it a perfect opportunity to send your boss a thank you message. The following compilation below are from preexisting thank you messages too bosses intended to inspire your own unique sentiment.
A big thank you boss, for the guidance you have provided me on the deal project. I am really thankful and appreciate your effort and guidance all the way. You have been a really helpful and special person.
As a supervisor you are truly an inspiration to your staff. Your strong leadership skills, along with the support and dedication you show to your team, has earned you much deserved respect and admiration. I feel lucky to be a member of your staff.
Boss, as you bid farewell from the organization, I take this opportunity to thank you for all the guidance, help and support you have provided me. You have always taken effort in making my work efficient and I appreciate and gladly thank you for the entire effort boss.
For my boss, I send heartfelt thank you messages through texts for the promotion you offered me. I am very much grateful to you and happy for the promotion.
For my dearest boss, I send thank you messages through texts for the bonus you offered me on Christmas. I am very pleased to have the bonus and wish you a happy Christmas celebration.
For my dedicated boss, is send thank you wishes for you as you leave the organization. It was a real pleasure working under you all these years.
For my good boss, I send thank you wishes in your resignation for the support and help you provided me during your work tenure. It was indeed a pleasure working with you.
I send thank you messages for the recognition of my hard and sincere work effort. I am very grateful for the recognition and thank you with all my heart.
I send thankful wishes for you, boss, for the earnest support and help you have provided to me during my work tenure in the organization. I am very thankful and grateful to have you as my boss.
It is remarkable what a little faith can do, and it is the faith that you've shown in my abilities which has given me the confidence to realize this project. Thank you for trusting me.
I would like to express my gratitude to you for being a role model and an inspiration. Thanks for teaching me so much.
Many thanks boss for your birthday wishes. Your wishes made my day much more special and happy throughout the day.
Nothing can do justice to the amount of wisdom and experience that I've drawn from you. You have been a friend, philosopher, and guide. Thank you.
Thanks a bunch my boss for the everyday support and help you have extended all throughout my career till today. I appreciate and thank you for the guidance and support your have given me in this efficient organization.
Thanks for imparting skills that have shaped my career and professional life. Your mentoring has meant so much to me. I can never really thank you enough.
This letter is to express my appreciation for all of the hard work, long hours and late nights you put in to make your business a success, in an effort to prevent layoffs and retain your employees. I'd like you to know that none of this has gone unnoticed by the workers, and we are grateful for your kindness, loyalty and commitment to all of us.
Through this email, I thank you for the promotion reward you have given me. I am really grateful that you have recognized my hard work in the organization and have promoted me to the next level. I really appreciate it and extend my thank you with all respect to you.
Through this text, I send thank you wishes for the gifts you sent me on my birthday. I am very pleased to have received the gifts from you and eagerly await your presence in the birthday celebration in the evening.
Working with you was a privilege. I may have changed jobs, but what's not changed are the valuable lessons you've taught me. Thank you for being the perfect mentor, boss.
Your organizational skills, professionalism, and kindness create an office environment that is enjoyable to work in. Thank you so much for extending compassion and flexibility whenever one of us needs a day or two off to care for a sick child at home. I appreciate having the opportunity to work here.
You've stood by me in these taxing times, and I can never thank you enough for it. All I can say is that you've been way more than just a boss, and I'll forever be grateful to you.
The below infographic provides some interested statistics as to the current satisfaction level of employees in the workplace. One in every five employees posses some level of managerial responsibility.. One of the most important aspects of this role is to ensure a positive relationship is maintained between the employee and manager. Many bosses are revered as good leaders when they deal with problems immediately and strive to serve others before themselves.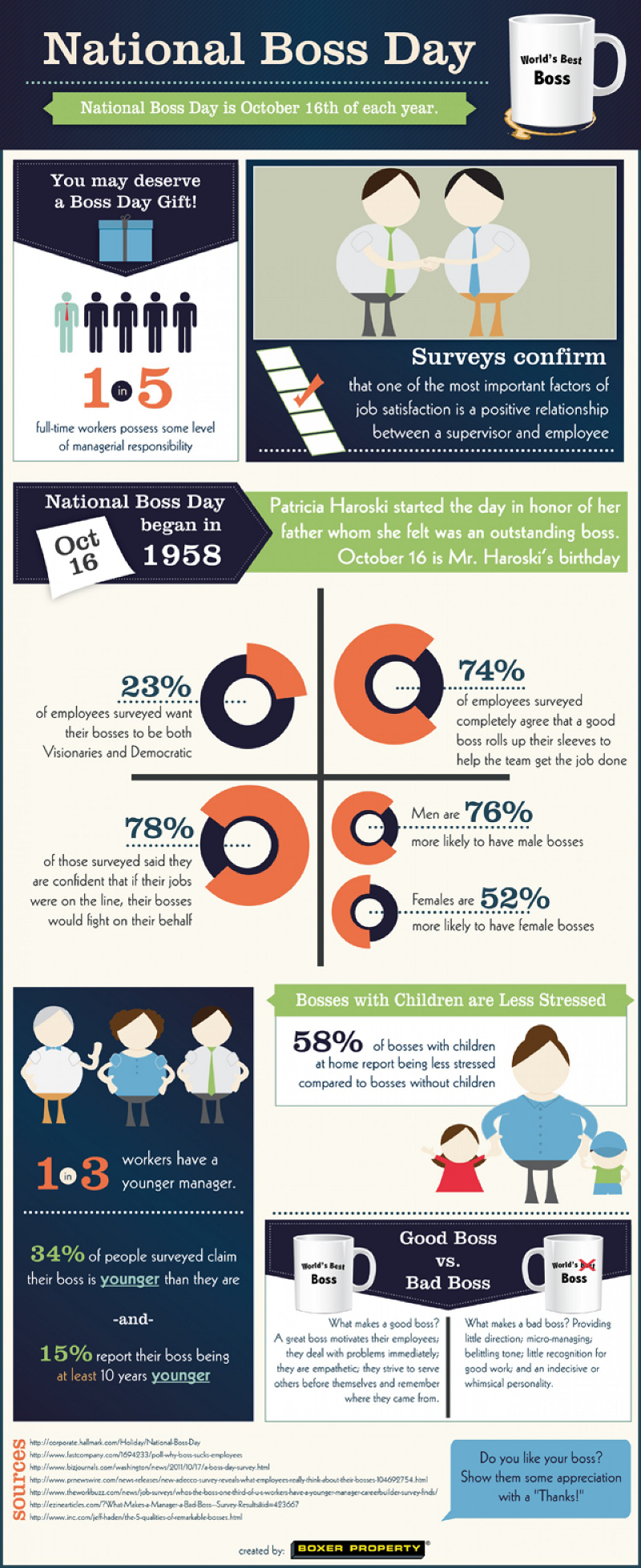 Here our most popular
message posts
that cover just about every occassion.