Nepal has been a country in crisis since 1996. A decade-long civil war between the Maoists and the government was fought, attempting to overthrow the monarchy. A peace accord was signed in November 2006, but more than 19,000 people were killed during the war. Another 150,000 people were displaced, which meant industries had to scramble for workers.
To stay afloat, the Nepal carpet industry began making a push to hire child laborers. The Guardian recounts the tale of a girl named Sanju, who worked in a carpet factory in Kathmandu. Her parents sent her there to work and her employer had her active from 4am to 8pm every day, 7 days per week. She stitched until her fingers bled.
More than 10,000 children may be employed by the Nepal carpet industry right now, even though the conflict has been over for more than a decade. The Department of Labor in the U.S. estimates that one-third of Nepal's children under the age of 14 are engaged in some form of labor.
That has led to factory audits, government raids, and non-government organizations attempting to rescue child workers. Since 1996, over 1,000 child workers have been removed from Nepal's carpet industry.
Important Nepal Carpet Industry Statistics
#1. Remittances from Nepal's carpet industry now comprise almost 29% of Nepal's GDP. In terms of overseas exports, hand-knotted wool carpet is the second-largest industry for Nepal. (World Bank)
#2. At its peak, the industry employed more than 1.2 million people, both directly and indirectly. There were over 3,000 firms in operation. That was in 1993 and 1994. (IPS News)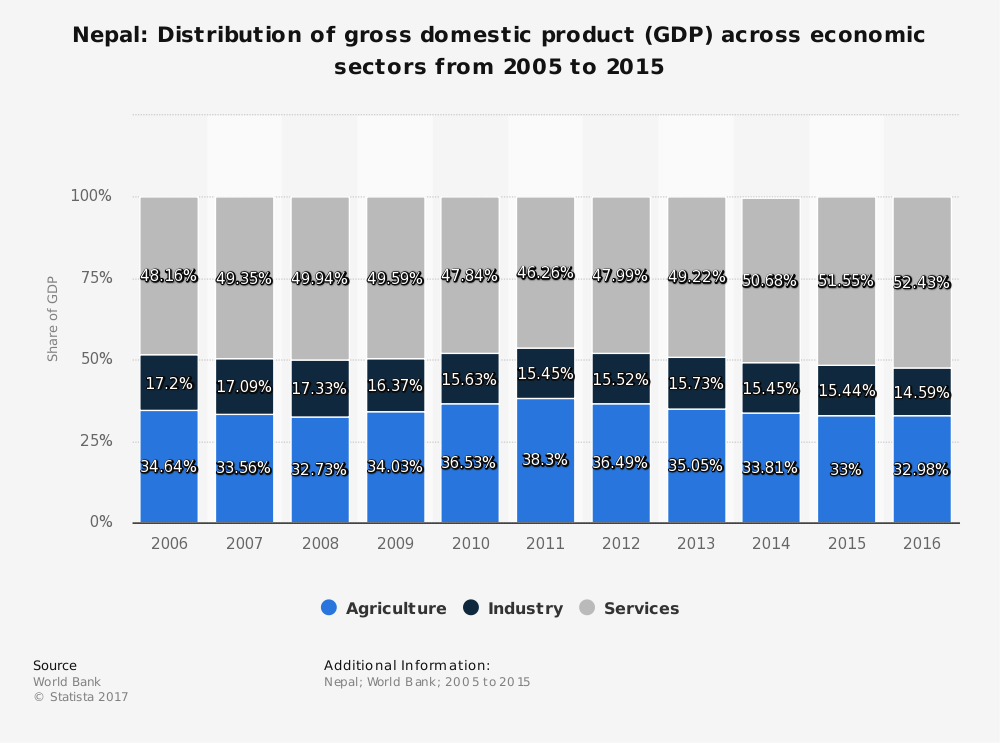 #3. In 2000, despite seeing a decline in carpet exports of over 21%, the total value of Nepal's carpet industry was still about $140 million. In 2009, total exports had been halved from those rates, dropping the value of the market to $71.5 million. (IPS News)
#4. There are currently just 600 carpet firms still in operation within the industry today. Combined, they offer direct or indirect employment opportunities to about 100,000 people. (IPS News)
#5. About 500 villages are completely dependent upon carpet-making as a source of revenue, struggling to compete because wages in India are even lower than they are in Nepal. Workers charge about $60 per month in Nepal, while charging just $32 per month in India. (IPS News)
#6. Germany is almost always the top importer of carpets from Nepal. In 2000, they imported $91.3 million in carpets. In 2009, Germany imported less than $20 million in carpets. (IPS News)
#7. Carpet costs in Nepal are also directly tied to wool imports since there is no localized sheep production for the industry. In the last fiscal year, the industry imported over $402,000 worth of wool from New Zealand. (IPS News)
#8. In 2009, the United States became the largest importer of carpets for the Nepal carpet industry for the first time. Almost 350,000 square meters was imported with a total value of $29.2 million. (IPS News)
#9. More than 40 countries currently import carpets from Nepal. Germany has come back to take on about 45% of the total carpet exports the industry is able to produce. (Nepal Ministry of Commerce)
#10. In FY 2014-2015, export volumes within the Nepal carpet industry continued to decline. Volumes were down by 8.49% and export earnings were down by 3.48%. The total value of exported products was worth $62.48 million. (Kathmandu Post)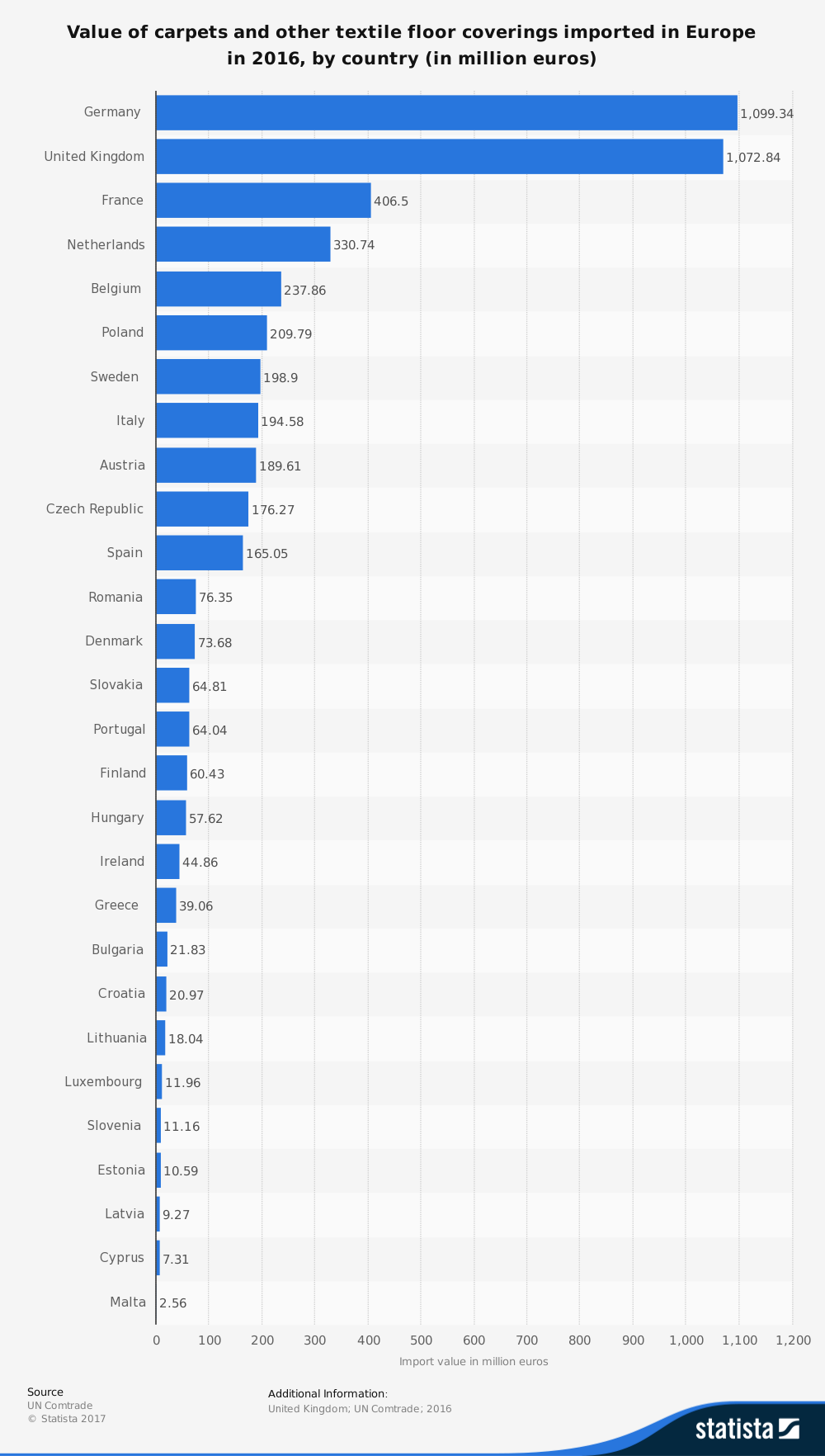 #11. The United Kingdom and Canada imported about $7.5 million worth of carpet from the Nepal carpet industry in FY 2014-2015. (Kathmandu Post)
#12. Paramount Carpet Industry led the way for total exports in terms of quantity. More than 23,000 square meters of carpet was exported in total, with a value of $1.24 million. (Kathmandu Post)
#13. Only two other exporters, Himalayan Art Carpet and NP Rugs Industries, were able to achieve more than 20,000 square meters of exports in FY 2014-2015. (Kathmandu Post)
#14. Although wool is the primary source of material for the carpets, the industry uses silk and help, along with fabric blends, to produce customer-specific carpets that are sometimes available on-demand. (Nepal Carpet Exporters Association)
#15. Fibers that are used by the carpet industry cannot be less than 4 inches in length. The diameter must not be more than 39 microns. It must also have a vegetable matter content of less than 0.5% and a grease or fat content that is less than 1%. (Nepal Carpet Exporters Association)
#16. Labor costs within the carpet industry are higher in Nepal than anywhere else in South Asia. The total cost per worker in Nepal is $1,789. In Sri Lanka, it is $1,619. In India, it is just $943. In Bangladesh, it is just $789. (SIT Digital Collections)
#17. Between 2010 and 2011, the labor costs for carpet manufacturers in Nepal increased by 35% because of labor union and government demands. (SIT Digital Collections)
#18. At the same time, market efficiencies in Nepal are amongst the lowest in all of Asia. Wages and productivity to not rise equally within the Nepal carpet industry, which makes the sector become less competitive on the global stage. (SIT Digital Collections)
#19. According to labor laws in Nepal, workers must be given a permanent position after being employed for 240 days. After such an award, it becomes difficult to dismiss an employee for almost any reason. (SIT Digital Collections)
#20. 10% of the yearly profits of a company in the Nepal carpet industry must be spread out evenly amongst its labor force. (SIT Digital Collections)
Nepal Carpet Industry Trends and Analysis
There are many negative factors that are driving the Nepal carpet industry downward. Child labor is one issue, as is the overall quality of the work being produced. When it was thriving, the carpet industry was exporting 60-knot products. Today's consumers are demanding 80-knot products, especially in the United States.
The industry has its roots based in the skills that were brought to Nepal by Tibetan refuges that fled the Chinese government in 1959. The first hand-crafting centers were setup in 1960 by the Red Cross. Within a decade, because of conflicts in the Middle East, Europe had turned to Nepal for carpets.
Now, because of conflict once again, Europe has turned away. The devastating 2015 earthquake created problems for the industry as well. It has created new labor shortages, which have caused manufacturers to once again look at hiring children.
If Nepal can subsidize worker training and reduce imports that are required for the industry to function, then there is the potential of future growth for the Nepal carpet industry. If not, there is a good chance that the industry will continue to compress until there is virtually nothing less.