A person's hair is one of the most critical elements that are responsible for the self-perception of beauty. This fact applies to both men and women. When a person does not have the hairstyle that they want, then it can lead to a potential drop in their self-esteem.
Women are especially sensitive to this part of their self-image. When hair loss occurs for a woman, they can spend endless hours trying to hide the problem as a way to maintain their self-esteem. It is here where the hair extension industry can become extremely valuable.
Over 16,000 tons of various hair products, ranging from human hair to wool, were exported in 2011 for the preparation of wigs and hair extensions. That was roughly 4,000 tons higher than the year before. The total export value for the industry totals approximately $1 billion annually. Imports offer about the same amount to the industry.
Essential Hair Extension Industry Statistics
#1. The global hair extension industry is expected to reach a market value of $10 billion by 2023. This outcome would result in a CAGR of 9% for the industry. (Research and Markets)
#2. Total revenues for the hair extension industry in the United States reach $346 million in 2017. There were over 1,000 businesses active in the industry for the year. (IBIS World)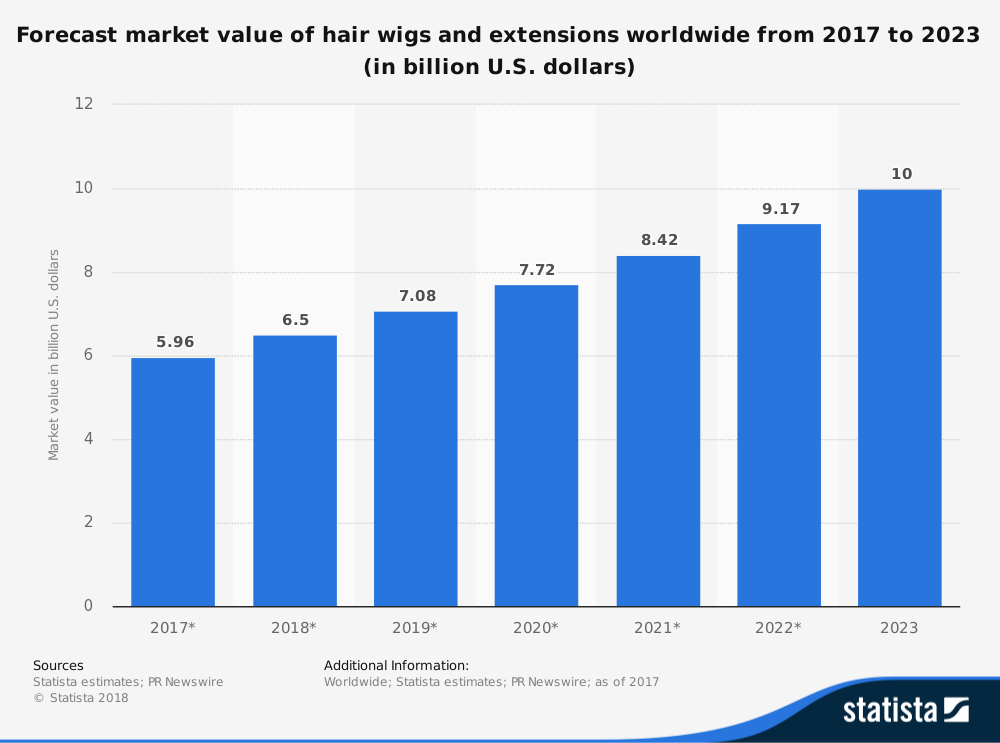 #3. The hair extension industry currently employs roughly 3,000 people in the United States. (IBIS World)
#4. China exports more hair for the creation of extensions and wigs than any other country in the world. They sent over 7,000 tons to the market in 2011 what's the value of over $56 million. (Final Step Marketing)
#5. India is the world leader in terms of total value when exporting hair products for extensions and wigs. They sent approximately 2,000 tons of product to the export market at the cost of $220 million in 2011. (Final Step Marketing)
#6. The United States ships about 3300 tons of product that the hair extension industry uses to create useful items each year. This action results in a value of $14.7 million for the industry. (Final Step Marketing)
#7. 34% of women say that they use hair extensions as a part of their beauty regime regularly. 87% of those who said that they were wearing industry products refuse to tell others about their lifestyle choice. (Final Step Marketing)
#8. 76% of women say that they wear hair extensions because it adds value to their look. (Final Step Marketing)
#9. From 2006 to 2010, Great Lengths Hair Extensions reported 70% growth for the hair extension industry. In 2010 and 2011, there was a 28.5% increase in the number of salons in the United States which offered extensions or wig services. (Professional Beauty Association)
#10. The supply chain for human hair worldwide is growing at an incredible rate of 40% each year. (Final Step Marketing)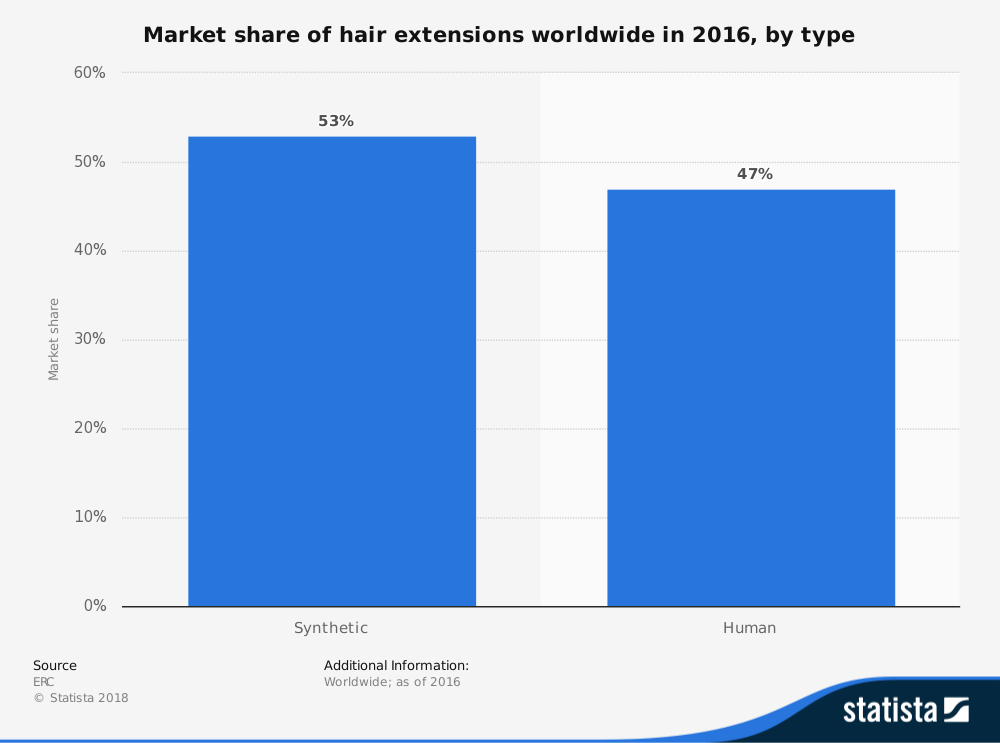 #11. Women in the United States will typically keep their hair extensions in place for 4 months before the product requires additional treatments because the hair dries out. (Final Step Marketing)
#12. China tripled its imports of Indian hair to 1.1 kilograms in 2011. They ordered just 800 pounds in 2009. (Final Step Marketing)
#13. The annual median wage for someone working in the hair extension industry in the United States is roughly $23,000. Opportunities within the sector are expected to grow at an above-average rate of 13% through at least 2027. (Bureau of Labor Statistics)
#14. Interest in hair extensions in the United Kingdom has tripled since 2005. The enthusiasm for wigs in this market has slightly decreased over the same period. (Final Step Marketing)
#15. About 90% of the world's population has a hair color that is dark brown. That means it is challenging for the hair extension industry to receive blonde hair that looks natural. Rarity often dictates the price. (Final Step Marketing)
#16. Roughly $90 billion is spent worldwide on hair care products around the world. This revenue includes products that help to reduce dryness, provide cleanliness, and nourish the hair in multiple ways. Shampoos, conditioners, colorants, and sprays are combined with the hair itself to create this number. (Statista)
#17. 81% of women say that they are satisfied with the results of their hair extensions and coloring work after they see their reflection for the first time. (National Institutes of Health)
#18. 72% of men and women say that they purchase industry products because it helps them maintain even mess with their overall look. (National Institutes of Health)
#19. Only 2% of people in the United States consider the look of their hair extensions or wig to be permanent. 49% say that their look is semi-permanent, while 40% describe their investment as being a temporary improvement for their self-esteem. (National Institutes of Health)
#20. 62% of people in the United States say that they suffered an adverse reaction that included a headache after receiving hair dye while having their looks improved. 38% reported problems with their scalp itching. One-third of those who receive hair extensions or tints say that they lost some of their natural hair because of the services they received. (National Institutes of Health)
Hair Extension Industry Trends and Analysis
The hair extension industry will continue to grow out at an impressive rate for the next five-year period. Expect the global industry to achieve the target CAGR of 9% that multiple industry analysts expect is possible. If income levels continue to rise in the U.S., India, and China, then this growth rate could double in some markets.
Even women who cannot afford the cost of human hair for their extensions will seek out artificial alternatives that help them to complete the look that they want. Although high-end providers can still charge upwards of $4,000 for a complete service, there are discount firms active in the industry that offer an entire set of extensions for under $100.
There are also more online providers willing to offer custom products to consumers when they provide custom measurements. The full impact of this service option is not yet known because of how new it is, but it could contribute a significant amount to the overall revenues that the industry generates each year.
The market for human hair is growing very quickly. Unless beauty preferences rapidly change in the next decade, the hair extension industry looks to keep building upon its success.