What makes car sharing an attractive option over car rentals is a reduction in limitations. Everything is self-service, which means there are no office hour limitations. Vehicle locations are distributed throughout communities or available on-demand through reservation systems. That makes it possible for people to travel where they want, whenever they want.
There are several factors which are encouraging car sharing services to grow in urban communities. A rise in traffic, with longer wait times in congestion, plus shifting thoughts about vehicle ownership are all converging together to support the rise of the car sharing industry. The industry has grown large enough that The Economist reports that one active carsharing vehicle replaces 15 privately owned vehicles.
Important Car Sharing Industry Statistics
#1. In 2017, Uber registered 17.7 million smartphone users had accessed their car sharing app. Another 16.6 million people were mobile-only users. 6.8% used a desktop to book a ride, while 1.2% used a tablet. (Statista)
#2. There were 44.8 million people who used sharing economy services in the United States in 2016. That figure is expected to double by 2021. (Statista)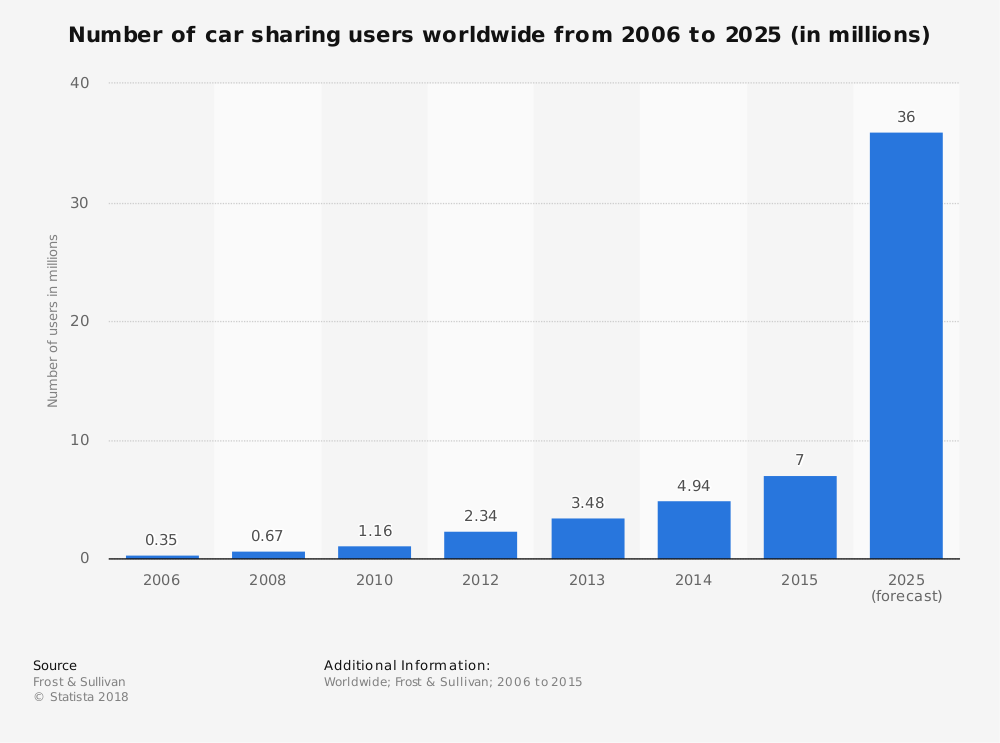 #3. About 7 million people used a car sharing service at least once in 2015. (Statista)
#4. The current value of the car sharing industry is $1 billion in the United States. From 2012-2017, revenues grew at an average annualized rate of 21.3%. (IBIS World)
#5. There are currently 168 businesses operating within the car sharing industry in the United States. Excluding contract drivers, they provide employment opportunities for about 3,600 people. (IBIS World)
#6. In 2010, revenues from car rentals was valued at $335 million. Hertz held the largest share of car rental revenues, at 21%. They were followed by Avis (15.9%), National (12.7%), and Alamo (12.4%) (America Association of Airport Executives)
#7. The current value of the global car rental industry is $58.2 billion, directly supported by the performance of the travel industry. Global GDP growth went from 3.1% to 3.5% in 2017, which led to an increase in traveling. (Carlson Wagonlit Travel)
#8. In 2006, the car sharing market development in Europe was just 0.2%. In 2014, it had risen to 2.2%. By 2020, the market development may reach 15.6%, with more than 15 million users within the industry. (Deloitte)
#9. In 2016, Germany had 1.2 million active users within the car sharing industry. There were also 150 providers and 16,000 cars active within the industry, making it the largest market in Europe. (Deloitte)
#10. Although 88% of people are aware of car sharing services that are available to them, just 2.5% of people actually use the service. (McKinsey)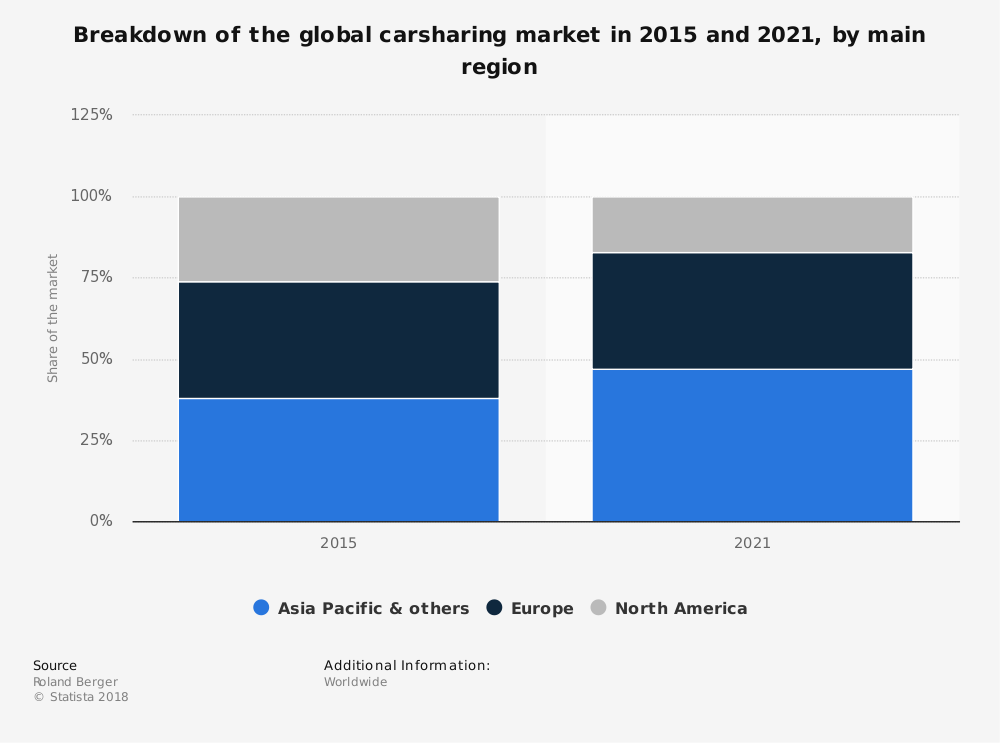 #11. 75% of consumers within the car sharing industry actually own a vehicle themselves. They see services like Lyft and Uber as an additional car that is available to them instead of a replacement for a vehicle. (McKinsey)
#12. When a fleet of shared cars with 10% of the vehicles being electric is compared to a fleet of private vehicles, there is a 13% reduction in carbon dioxide emissions over the lifetime of both fleets. (McKinsey)
#13. There are currently more than 1,000 cities around the world which have permitted car sharing services. (World Carshare Consortium)
#14. The largest car sharing company in the world today is currently car2go, with more than 2.5 million registered members. They also have a fleet of 14,000 vehicles, with 26 total locations over 3 continents. Zipcar comes in second, with over 750,00 registered members and 11,000 vehicles available. (Zipcar)
#15. In the United States, about 1.4 million people are currently registered members of a car sharing service. There are another 511,000 registered members in Canada, with 10,000 registered in Mexico. (U.S. Environmental Protection Agency)
#16. Over 17,000 vehicles are currently registered to car sharing services in the United States. Canada has over 7,400 vehicles registered. In Mexico, just 39 vehicles are registered, which is a decrease of more than 50% from 2015 figures. (U.S. Environmental Protection Agency)
#17. The average household in the United States saves a minimum of $154 per month after joining a car sharing network. Some households are able to save over $430 per month. (U.S. Environmental Protection Agency)
#18. In North America, households which use car2go services exclusively reduce their greenhouse emissions by up to 18%. (U.S. Environmental Protection Agency)
#19. For people who use Zipcar, 80% of people say they don't own a car because of the availability of car sharing. 43% of Zipcar users say that they either sold their car or put off buying another one because of the service. (U.S. Environmental Protection Agency)
#20. The U.S. South has experienced the largest benefits with car sharing services, seeing a reduction of urban vehicle miles traveled by 4.3%. Canada has experienced a 5% reduction in vehicle miles traveled. (U.S. Environmental Protection Agency)
Car Sharing Industry Trends and Analysis
The car sharing industry is only going to keep growing. Look for more options to reach consumers in more cities around the world through 2028, with an increase in vehicle choice being a point of emphasis. Look for vans, electric vehicles, and luxury vehicles to begin pulling a larger share of the market.
At the same time, look for car sharing networks to continue developing and expanding as well. Car rentals will continue to provide needed services at formal transportation hubs. The industry could be valued at more than $6 billion as soon as 2020. By 2028, the value of the car sharing industry could top $10 billion for the first time.
There are some pain points that must be considered along the way. Drivers with services like Uber and Lyft have been exploring unionization options, which could increase consumer prices. Shifts in the global economy may reduce growth projects as consumers reduce their travel plans.
As a whole, however, the industry appears to be healthy and continues to thrive.