A luxury hotel can be of any size. There are no set standards which define this category, though most within the luxury hotel industry would bill themselves as providing a 4-star or 5-star experience.
Several different segments make up this industry. You will see regional statistics, holiday statistics, and location-based statistics. Holiday hotels, for example, were valued at $21 billion in 2017, while the airport hotels segment brought in a market share of 8% for the overall industry.
Although North America is the key geographic location for revenue generation, the Asia-Pacific market continues to expand rapidly. Through 2028, it is expected to see an annualized rate of growth of more than 5%.
Interesting Luxury Hotel Industry Statistics
#1. Global hotel industry revenues in 2015 were over $495 billion. In the United States, about $200 billion in revenues was generated. (Statista)
#2. British hotel chain InterContinental Hotels Group, which owns more than 4,800 hotels around the world, generated $24 billion in revenues in 2015. Other members of the 4,000-location club include Marriott International (4,424) and Hilton Worldwide (4,278). (Statista)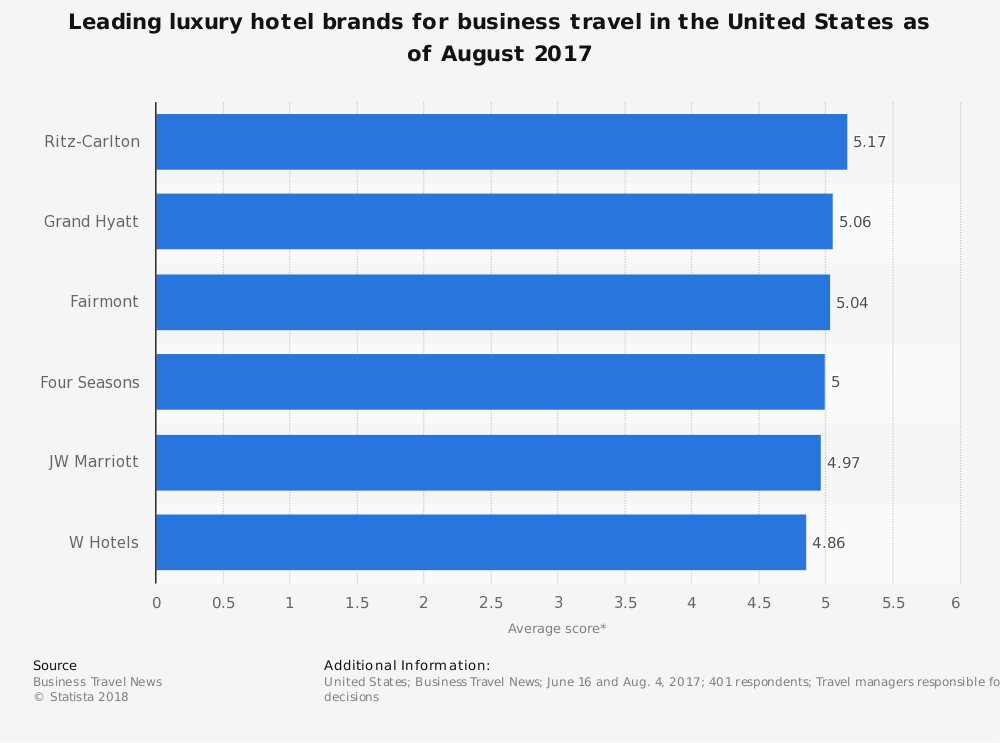 #3. The highest occupancy rates in the world for the luxury hotel industry are found in the Asia-Pacific region. In 2017, this geographic region was able to average an occupancy rate of more than 68%. (Statista)
#4. Even though North America has one of the lowest occupancy rates in the world, the U.S.-based industry continues to see consistent year-over-year growth. In 2017, the occupancy rate in the Americas was just over 54%. (Statista)
#5. The average daily rate for a luxury hotel in Europe is $118.23, though the most expensive city in the world for travel is Tel Aviv, where the average stay is $272.75 per night. A room in Geneva averages $308 per night. (Statista)
#6. 65% of the complaints that are received by luxury hotel managers involve the noises being made by other guests. (Statista)
#7. 72% of Americans will book their hotels using an online travel agency for assistance. (Statista)
#8. Only 38% of luxury hotel owners believe that one-quarter of their current guests will return for another stay at some point in their lives. (Statista)
#9. In total, there are more than 700,000 resorts and hotels that are located around the world. These locations total 15.5 million rooms for visitors to use on a daily basis. About one-third of the available hotel rooms in the world today are located in the United States. (IBIS World)
#10. One of the most expensive rooms in the United States is found at the Mandarin Oriental in New York City. Their rates begin at $995 per night. The Ritz-Carlton Central Park offers rates at a similar price point. (Luxury Hotels)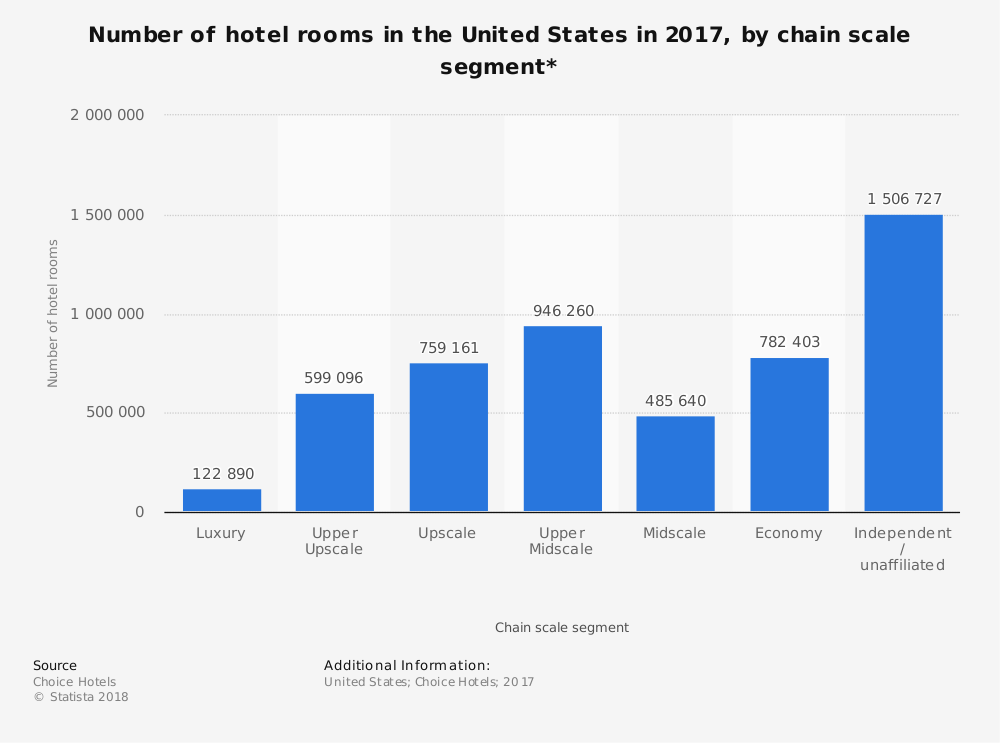 #11. Once taxes and operating costs are removed from the price of a luxury hotel room, businesses are able to record an average of $81 in revenues for each occupancy nightly. (Hotel News Now)
#12. About 15 million people are employed in hospitality positions across the United States, including in the luxury hotel industry. Employment growth in this sector has risen by 17% since 2004. (Bureau of Labor Statistics)
#13. The average hotel manager in the United States earns a salary of $57,000. Geographic location influences this salary, as those in coastal areas tend to make more than people in the Midwest or South. (Bureau of Labor Statistics)
#14. The average hourly wage of a hospitality worker employed by the luxury hotel industry is $14.46 per hour. Only 3.2% of hospitality workers were members of a labor union, while 3.8% of workers were represented by one. (Bureau of Labor Statistics)
#15. The average age of someone working within the hospitality segment of the luxury hotel industry is 40. About 55% of the employees hired by luxury hotels are women. (International Labor Office)
#16. The First World Hotel in Malaysia is recorded as the largest hotel in the world, providing over 7,300 guest rooms. It is also a very affordable place to stay, with average room prices topping out at $83. You can book a room at this luxury hotel for as little as #12. (Travel Pulse)
#17. NYC is the top destination choice for travelers embracing the luxury hotel industry in the United States. It is only one of two markets with an occupancy rate above 85%. Oahu Island, HI is the other destination. Destinations with occupancy rates above 75% include San Francisco, Anaheim, San Diego, Miami, Seattle, and Orlando. (Cushman and Wakefield)
#18. Only 26% of the rooms that are listed for occupancy in the United States are listed as being "upscale" or "upper upscale." In total, just 1.2 million rooms qualify for this designation. In comparison, 1.5 million rooms list themselves as "unaffiliated." (Cushman and Wakefield)
#19. Transaction activities at full-service hotels in the United States stood at $26.6 billion in volume in 2016. Although that makes it one of the best years since 2005, it comes nowhere close to the $57.6 billion in revenues generated in 2007. (Cushman and Wakefield)
Luxury Hotel Industry Trends and Analysis
The luxury hotel industry continues to be a global force for revenue generation within the travel sector. Through 2028, the industry is expected to continue growing at a rate around 3%. Considering the growing trend of sharing sites, such as Airbnb, the ability to grow when there is high levels of competition indicates how strong this industry happens to be.
Because the U.S. generates a majority of the global revenues for this industry, the state of the local economy influences occupancy rates, travel times, and hotel selection. Households are more likely to stay with a non-luxury property when times are tough, reserving their finances for activities during their trip.
With the lower occupancy rates in the U.S., there is a lot of potential for growth as well. Around $200 billion in unsold hotel rooms are present in the market each year. By increasing occupancy rates in just the U.S., total revenues for the global industry could rise by more than 15%.
With 41% of travelers booking accommodations because of business needs, there is a need to cater to this segment as well. Two out of three business travelers are men, between the ages of 35-54, and most work in a managerial position. Even though they only stay one night, the average revenues generated by a business traveler are almost double that of a vacationer.