The Indian shipping industry provides a vital role to the economy of the country. In the average year, 90% of the trading that is done by the government is done via the sea. Maritime transport is a critical component of the nation's ability to sustain itself and support more than 1 billion people.
Although the number of firms which are active in the Indian shipping industry are fluid, during any given year, there may be as many as 55 shipping companies. About 40% of them deal with coastal trade, while 50% focus on overseas trade. The remaining companies operate in both types of trade for the industry.
There are currently 515 vessels which support the industry, with a GRT of 7.06 million, and together they work to support 8% of the entire trading activities in the world market. India has the 14th-largest fleet in the world, in terms of deadweight tonnage, with about 1 in 4 ships engaged in overseas trade.
Important Indian Shipping Industry Statistics
#1. 95% of the trading volume that comes through India, along with 70% of its overall value, is done through maritime transport. (India Brand Equity Foundation [IBEF])
#2. There are 12 major ports associated with the Indian shipping industry, along with 200 intermediate or minor ports that are used to help transport goods and services. (IBEF)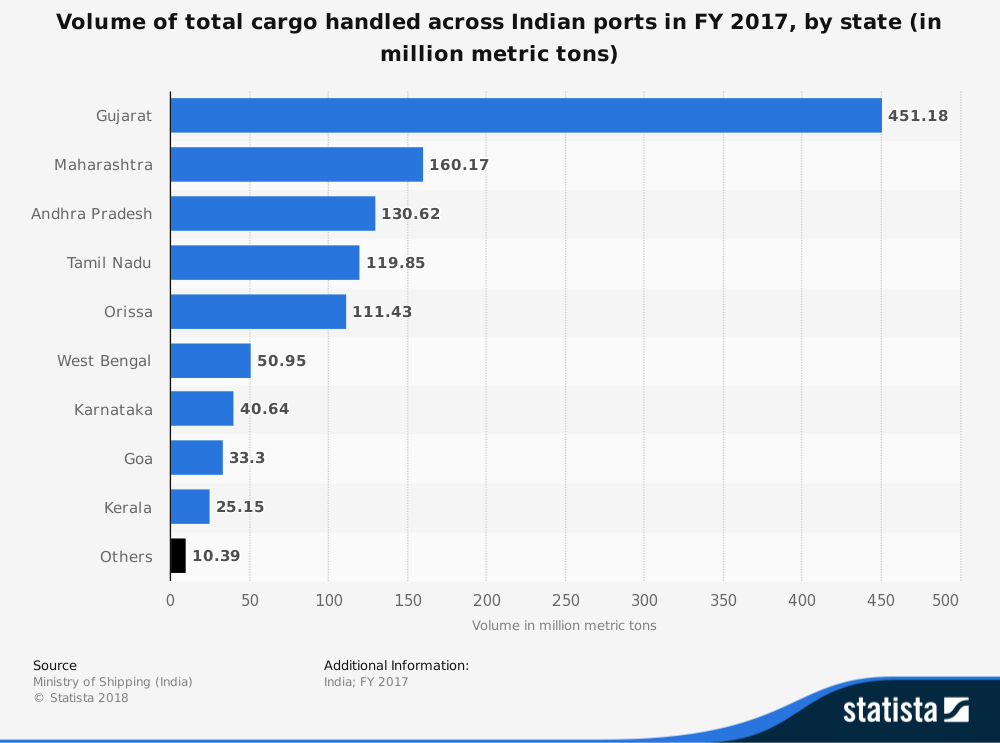 #3. India is the 16th-largest maritime country in the world, managing over 7,500 kilometers of coastline. To help manage shipping along the coast, the government allows for FDI (foreign direct investment) of up to 100% for harbor construction and port maintenance. (IBEF)
#4. In 2017, the cargo capacity in India was rated at 2493 MMT (million metric tons), which is an increase of more than 600 MMT from 2015 figures that were released. (IBEF)
#5. Cargo capacities at major ports grew to 1065 MMT in 2017, up from 966 MMT in 2016. Total capacity as of December 2017 at the 12 major ports was over 1300 MMT. (IBEF)
#6. Net profit at the major ports working with the Indian shipping industry have increased from $178.4 million in 2013 to $529.6 million in 2018. The operating margin at these ports has also increased, going from 23% to 44% over the same time period. (IBEF)
#7. The freight market in India is valued at $30 billion. Of that amount, only 8% of the freight of Indian flagged ships is carried. (Indian Mirror)
#8. Although India is responsible for 8% of global trading activities in the world today, the industry is responsible for only 1.3% of trading values in the global market. (Indian Mirror)
#9. 12 out of the 26 states in India have some type of shoreline that can be used to support the shipping industry. In addition to the 7,500km of coastline, there are over 14,500 kilometers of navigable waterways that could be used to support the industry if drought issues could be relieved. (Sea News)
#10. The Indian shipping industry has seen a steady decrease in the average turnaround time at ports since 2015, when the average turn was 87.3 hours. In 2018, the average turn was 63.3 hours. (Make in India)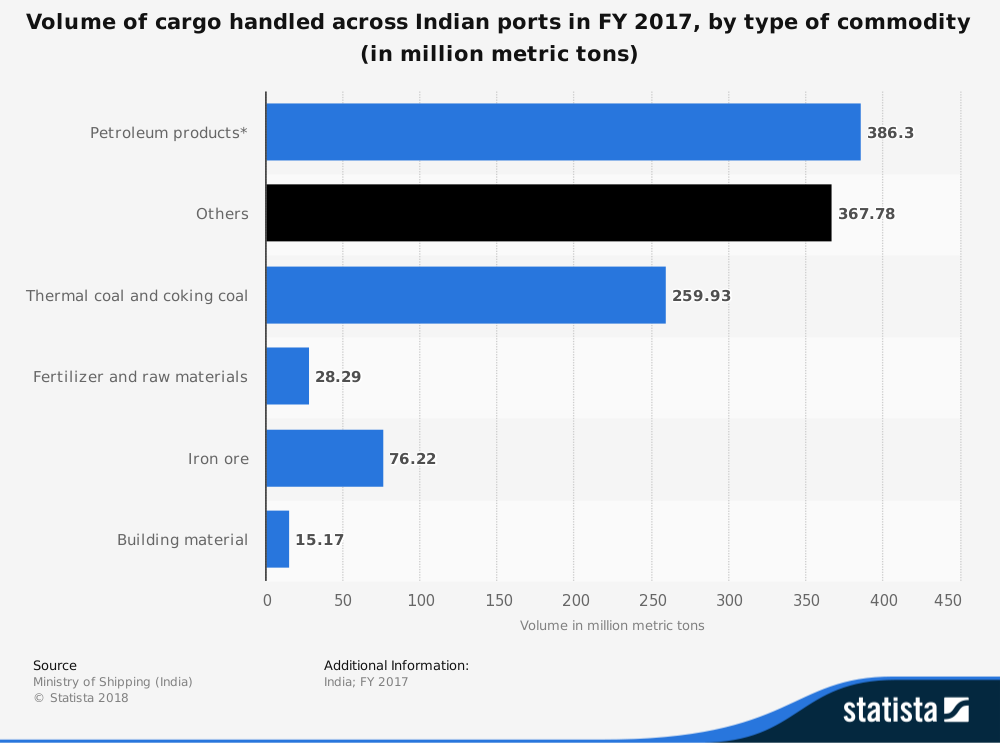 #11. The average output per ship in 2018 was 14,900 tons in 2018. In 2015, the average output per ship, per berthday, was 13,100 tons. (Make in India)
#12. Petroleum, lubricant, and oils are the most common products handled by the shipping industry in India, accounting for 33.7% of the total cargo handled. Container shipping comes in second, responsible for 19.7% of activities. This is followed by steam coal (13.7%), coking (7.6%), and Iron Ore (6.7%). (Make in India)
#13. The 12 major ports for the Indian shipping industry are responsible for 57% of the cargo traffic that is currently handled. (Make in India)
#14. Shipyards which help to support the Indian shipping industry have less than 1% of the current repair and global orderbook. Although the last figures released came in 2002, the industry had a 0.1% share of the global market. (Economic Times of India)
#15. There are currently 27 shipyards which help to support the building and maintenance of maritime vessels which support the Indian shipping industry. Because of its proximity to the coast, most of these shipyards are located in the southern states. (International Journal of Innovative Research and Development)
#16. Most of the work that comes through the shipbuilding industry of India is meant for overseas work. In 2010, however, there were 71 domestic orders placed for new ships that would help to support the shipping industry. (IBEF)
#17. Seaborne trade in India has been growing at a rate that is double of what the rest of the world has seen. In 2017, that growth rate was measured at 3.3%. (Invest India)
#18. Annual cargo traffic handled by the Indian shipping industry has doubled to 1 billion tons pa since 2005. (Invest India)
Indian Shipping Industry Trends and Analysis
The Ministry of Shipping in India set their target capacity to be 3130 MMT by 2020, expecting a steady drive from the private sector to make this happen. The 200 non-major ports are expected to generate over 50% of this capacity, though the expected shipping traffic is expected to be under 1700 MMT at this time.
Projects to expand capacity, to the value of $10 billion, have been identified and are expected to be awarded to contractors between 2018-2023. This will help the shipping industry in India to continue growing as well.
In 2020, however, a sulphur cap is expected to hit the industry. This could cause fuel costs to increase by as much as 300%, which could severely restrict this expected growth.
As the Middle Class begins to expand in India, even more opportunities are expected. Growth in maritime and over-land shipping methods will build as incomes continue to build. Although overall growth may be hampered at first because of the need for infrastructure upgrades, this industry may turn out to be one of the fastest-growing industries in the world over the next 10 yeas.